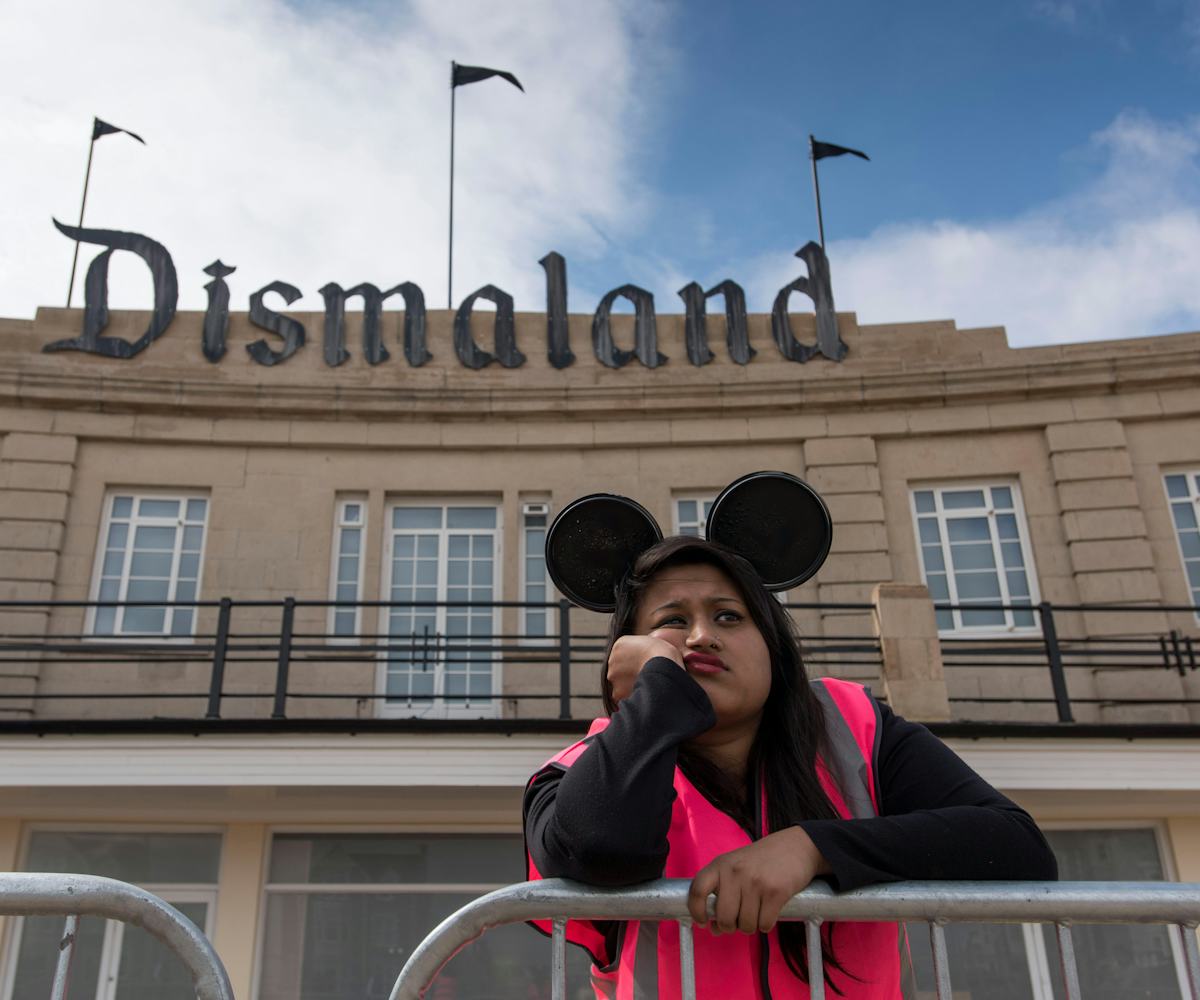 Photo Matthew Horwood/Getty Images
welcome to dismaland, the best worst place on earth
bansky's version of disneyland is a very un-magical magical kingdom
Surely, there are places on Earth no one would want to vacation—the ship-breaking beaches of Bangladesh, the lawless slums of Mogadishu, all of Syria. But artist Banksy, God bless 'em, has rallied his considerable power and influence to create a horrible place that you would want to spend your tourist dollars on: Dismaland.
Photo by Christopher Jobson for Colossal
A rotten, satirical version of Disney's various theme parks settled in the completely uninteresting Weston-super-Mare, England, Dismaland is billed as "The UK's most disappointing new visitor attraction." It's a funny slogan, though perhaps a false one, as artists Damien Hirst, David Shrigley, Bäst, Espo, and many, many others have contributed works ranging from small, two-dimensional pieces to massive, towering installations—each one a tribute to misery, mediocrity, and the lesser, uglier parts of modern life. 
Photo by Christopher Jobson for Colossal
Take, for instance, Dismaland's puppet theater. Whereas your normal theme park might offer furry, cheery animals yucking it up with the kids, Dismaland's website says its offers, "A puppet revue show constructed entirely from the contents of Hackney skips—it's 'Fly Tip Theatre' by Paul Insect and Bast. Self operated." Want to get your portrait drawn by a traditional arcade artist? Well…"Nettie Wakefield renders your likeness in an exquisite pencil drawing, but only the back of your head. Surprisingly revealing." Getting the picture? Click over to Colossal for a full, stunning tour. No, do it, now.
One of the greatest pop-up art projects of all time—and we mean that—Dismaland will only be open until late September and, if periodic outages on the website are any indication, tickets will be sold out faster than you can hopelessly sigh, look down at your feet, and notice you're standing in a puddle of toxic waste. Do tell us if you go.
(Via Colossal)