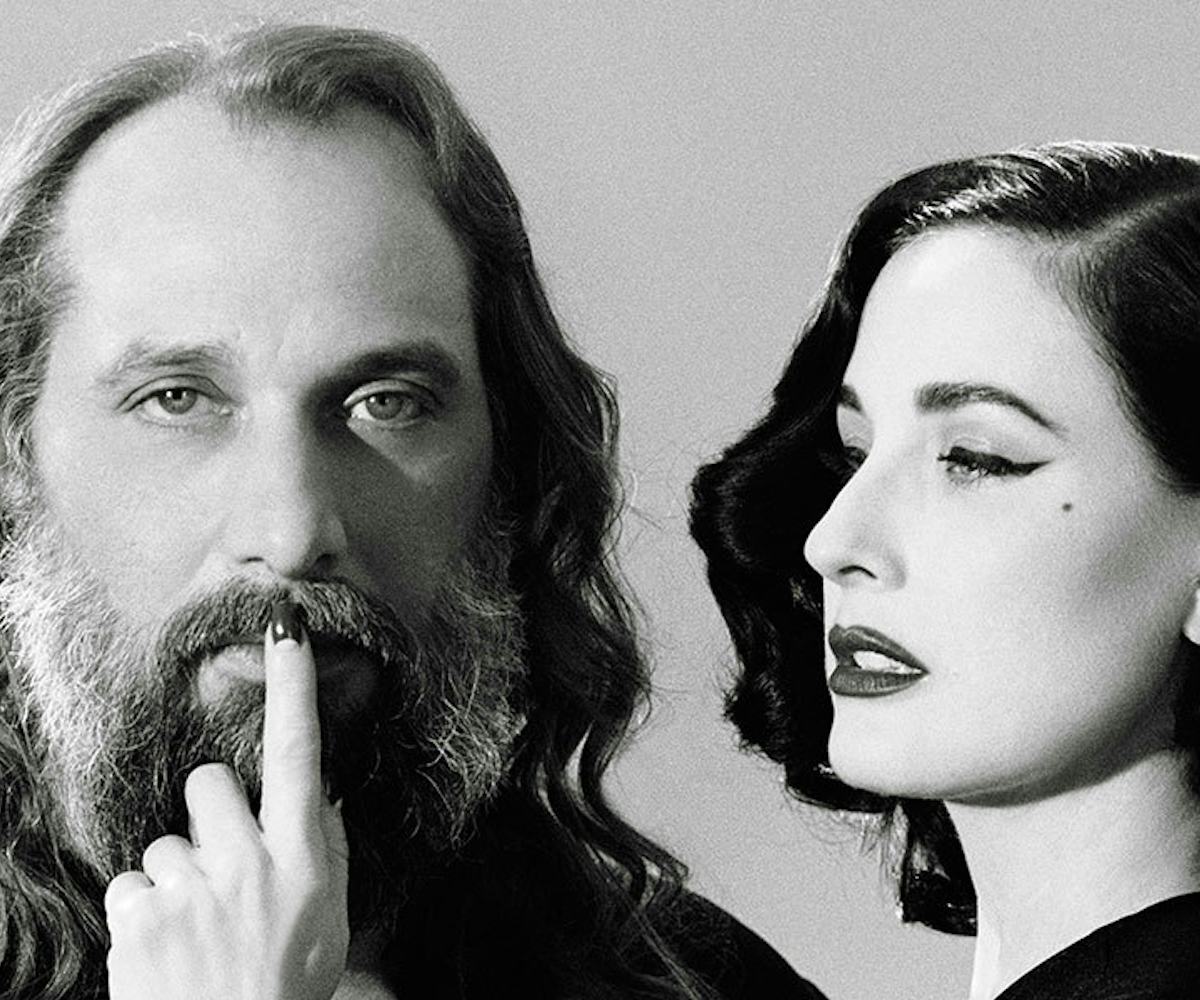 Photo by Camille Vivier
Dita Von Teese On Relinquishing Control And Becoming A Singer
Dita Von Teese had just gotten back to her home in L.A. from being in Europe when we recently had the chance to chat about her eponymous debut album. Dita Von Teese is a fascinating debut, in that it's akin to a musical portrait of the living burlesque legend, one created by French musician Sébastien Tellier. Think of Dita Von Teese like a photo shoot, with Dita as the model and Tellier as the photographer. In effect, Dita Von Teese remains a muse, even when it comes to her own music.
For Dita, being a muse is about letting go of control. "It's really nice to let someone else take over and provide guidance and for me to ask questions, 'I don't know what that means, can you explain that to me?' I like not having to explain things to other people," she says. For this project, Dita had to learn to be comfortable with her singing voice. Though she's collaborated with other artists like Die Antwoord, this was the first time in her career where her singing ability was front and center. "It's a weird thing," she says. "The song that I like to listen to is [my] duet [with Sébastien],("Porcelain"), because I really like hearing his voice on it."
Despite her hesitation, from a listener's perspective, Dita has found her groove in the camp of Serge Gainsbourg and Jane Birkin. Whispy, feminine, and effortlessly alluring, Dita's managed to translate her burlesque performance into a vocal one. Tellier's compositions, then, elevate it to luxurious heights. As you'll read ahead, Dita Von Teese has "never been anyone who's overly confident with anything," but instead of wallowing in any insecurities, she's turned it into something else. Ballet turned to burlesque, muse turned to music. With Dita Von Teese, a star isn't so much born but transformed.
How did this project come about?
I was a big fan of Sébastien's music. When I was in Crazy Horse a few years ago, I was sitting backstage figuring out who to invite to the premiere—French celebrities and some friends of mine. I wondered if we could invite him. So we did; he came, and we met briefly backstage. I didn't think anything of it, but then a couple years later, his manager and record label wrote me and said that Sébastien wrote a whole record for me. My initial response was, "But you know I'm not a singer, right?" I lip-synch to my own voice when I perform, an Irving Berlin song I reworked for burlesque, so he probably got the idea I sang from there. I mean, I spent months making that song. They said something like, "Yeah, he's aware. This album was written for you, and it wouldn't work with anyone else." 
What made you decide to do it?
It came down to my willingness to go to a place of vulnerability and put myself out there in a new manner. It seemed like a really stupid thing to not take the chance. The thought that I could make a French pop record was more exciting than anything. This isn't really a pop record, but it's a French record, nonetheless. That's an amazing little tidbit moment in my career. Well, it's not a tidbit, it's a full Sébastien Tellier record. It's another feather in my cap.
Would you say you fall into the camp that believes the most exciting things are born from intimidation?
Absolutely. There are many moments in my life where I've had many self-doubts. I've never been anyone who's overly confident with anything that I do. Would I be a burlesque star if I weren't a failed ballet dancer? Would Sébastien have asked me to do this record if I were a really strong session singer who's been working on her voice her whole life? I doubt it. I think my shortcomings and willingness to step outside of my comfort zone have helped me in a lot of ways. Even in my moments at the Crazy Horse—I was so intimidated by, you know, not having the kind of dance talent the other dancers had. But I pushed myself to learn and to try things that weren't easy for me.
Your belief in yourself has to outweigh the doubt. 
That and believing you've got the right guidance. For me, when it comes to things I don't know about, like music, having somebody believe in me is the most important thing. It's really nice to not be in charge in a way and to take direction and be guided in something by somebody who believes in me.
Having someone create something for you, too, isn't so bad. Would you consider this record to be a musical portrait of you?
It's a little bit of a fantasy, I think. Sébastien and I got to know each other as best we could in a year or so. Ultimately, it's his fantasy of whom I am. I thought it was quite a fun perspective to come from. I wanted it to feel like a Sébastien Tellier record above all.
What did you discover about yourself through his vision of you in the music?
What I think is interesting is listening to what Sébastien created and how others, like yourself, interpret it. People keep asking me about the lyrics and, well, I don't have an answer for a lot of it because it's Sébastien's lyrics; his wife wrote some of the lyrics, too, but I can't tell you who they're exactly about. They could be about anyone! They could be about anyone that we all know. That's the wonderful thing about music, isn't it? You get to interpret these songs through your lived experiences.
You bring your own baggage, your own whatever to whatever you're listening to.
Exactly. You hear what you want to hear.
So what do you hear when you listen to it? 
It's a really interesting experiment to hear my own voice because I don't even watch videos of me performing except to criticize myself. So it's hard for me to actually listen to the music. I've seen some people that love nothing more than to listen to their own voice and sing along with it but I just, I don't. I do like to listen to our duet, though; I like hearing Sébastien's voice.
What do you hear in Sébastien's music then?
I remember when I first learned about his music, I had a French boyfriend that played it for me. I remember him playing it for me, and he was very emotional about it. It was sensual and emotional and touching, and then it would shift to being really fun and lively. There was a major dose of humor to it, too. His music always has a place in my production playlist. I like the whole psychedelic sensuality aspect to his music.
How do you feel about being a muse?
It's a very high compliment. I enjoy it because I think it's nice to not be in control all the time like I am with my shows. It's nice to step back and find a place of softness after running my business and all the decisions that come with it. Having someone else guide feels good. It's hard for me because I am truly obsessed with what I do but in a different way. I'm grateful for this opportunity because it disrupted my work cycle. It feels different. 
Most definitely. And how empowering it is to take your passions and align them with another to help bring their passion to life.
It's a twist on what I'm doing already. 
Dita Von Teese drops February 16.