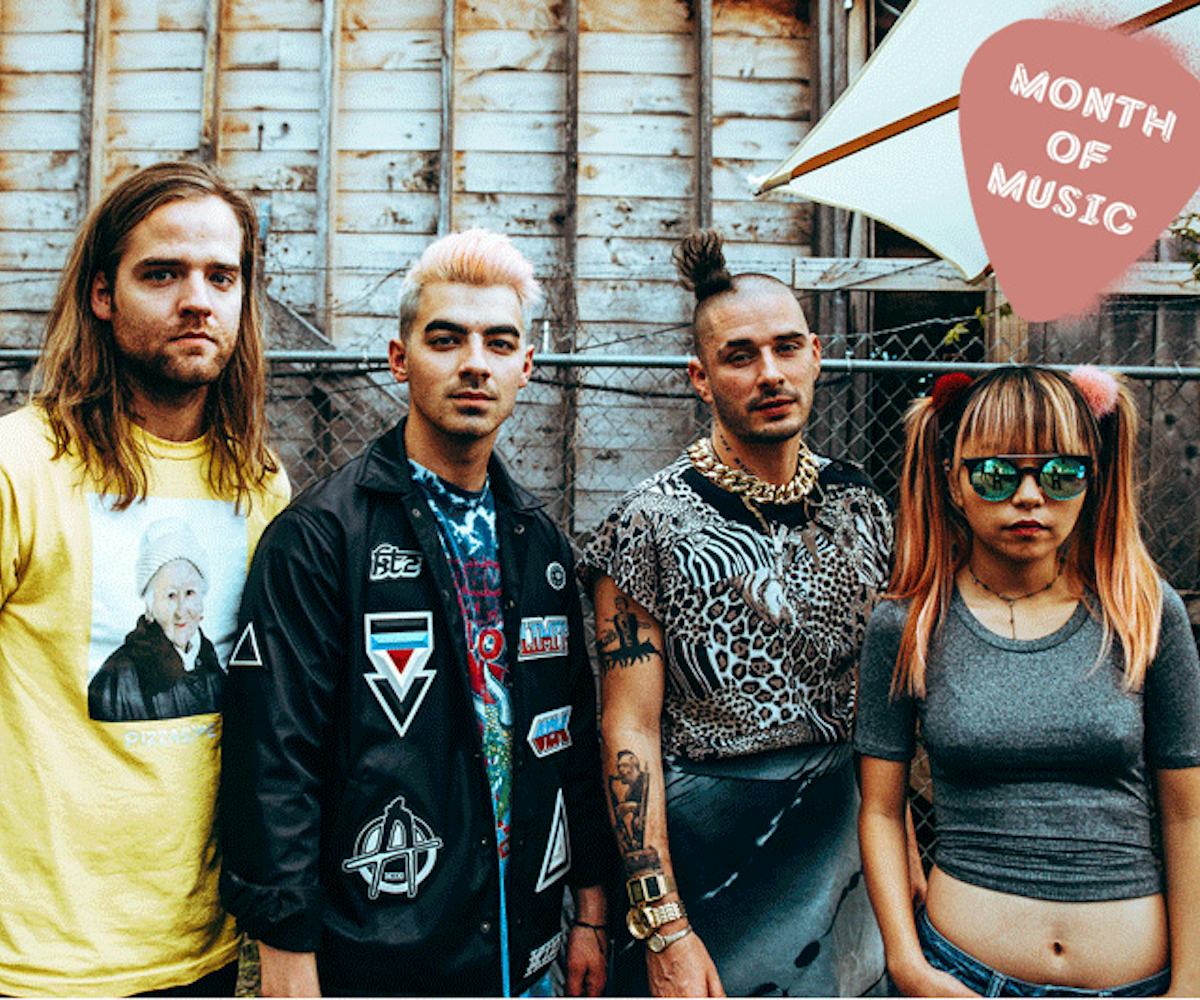 Photographed by Kara Smarsh.
DNCE Are Just Here To Have A Good Time
We share music because we want to connect with others on a deeper level. We want to relay and relate to a message that can't be said with just words. This April, NYLON is dedicating six days a week to introducing you to new artists and budding favorites. With interviews and GIF portraits done down at SXSW, NYLON's Month of Music is an exercise in finding aural pleasures outside of the Top 40. It's an exercise in challenging you and ourselves to not stick to one genre. But above all, it's a celebration of bold voices and sheer talent. Enjoy.
There's a hyperactivity to DNCE. The new quartet, fronted by Joe Jonas and backed by some serious standouts like JinJoo Lee (Ciara and Charli XCX's former guitarist), Cole Whittle (Semi Precious Weapons), and Jack Lawless, the drummer from that little ol' band The Jonas Brothers, have skyrocketed to Vevo certifications, top chart statuses, and a new opening gig on Selena Gomez's forthcoming Revival tour. DNCE hasn't even released an album yet. Talk about having your cake and eating it, too. This kind of notoriety isn't new by any means, but the rapid rise and a swelling fanbase certainly are. Everywhere DNCE goes, a little chaos ensues. They shake people up and get audiences moving with their unabashed willingness to just let loose. DNCE is not a band made up of larger-than-life personalities; it's made up of four friends who just want to have a good time. It's a good thing everyone else does, too.  
What song of yours fits the following situations?
Getting ready in the morning?
Joe Jonas: "Jinx," because you don't want to screw anything up.
Me time?
Cole Whittle: "Pay My Rent," because you've got to uphold your responsibilities to the universe and maintain your existence.
Hooking up?
DNCE: "Cake By The Ocean."
JJ: 1000 percent.
How did you all know you wanted to work with one another?
JJ: As cheesy as it sounds, just being friends for so many years, playing together once before and realizing it could be interesting was it. Also, timing.
If any artist, dead or alive, could cover your music, who would you want it to be?
JJ: Probably Will Ferrell's character and his stepbrother in Step Brothers.
CW: I'd like to hear Prince cover "Toothbrush." And Run-D.M.C. do "Cake By The Ocean."
Have you ever been starstruck?
CW: Absolutely. We were in the presence of Grumpy Cat, recently. We couldn't even speak. She tried to talk to us and we couldn't even do it. Oh, and Willie Nelson.
When was that?
CW: That's Joe's story. Well, his dad's story.
JJ: My dad chased Willie Nelson down the street, but I think I'd freak out, too, if I met him.
At the end of the day, how do you wind down and ground yourself?
JJ: Watching our favorite TV shows.
Jack Lawless: We don't really wind down. We just crash and burn.
C: We go 1,000 miles per hour until our bodies just stop, and we wake up the next morning.
Photographed by Kara Smarsh.