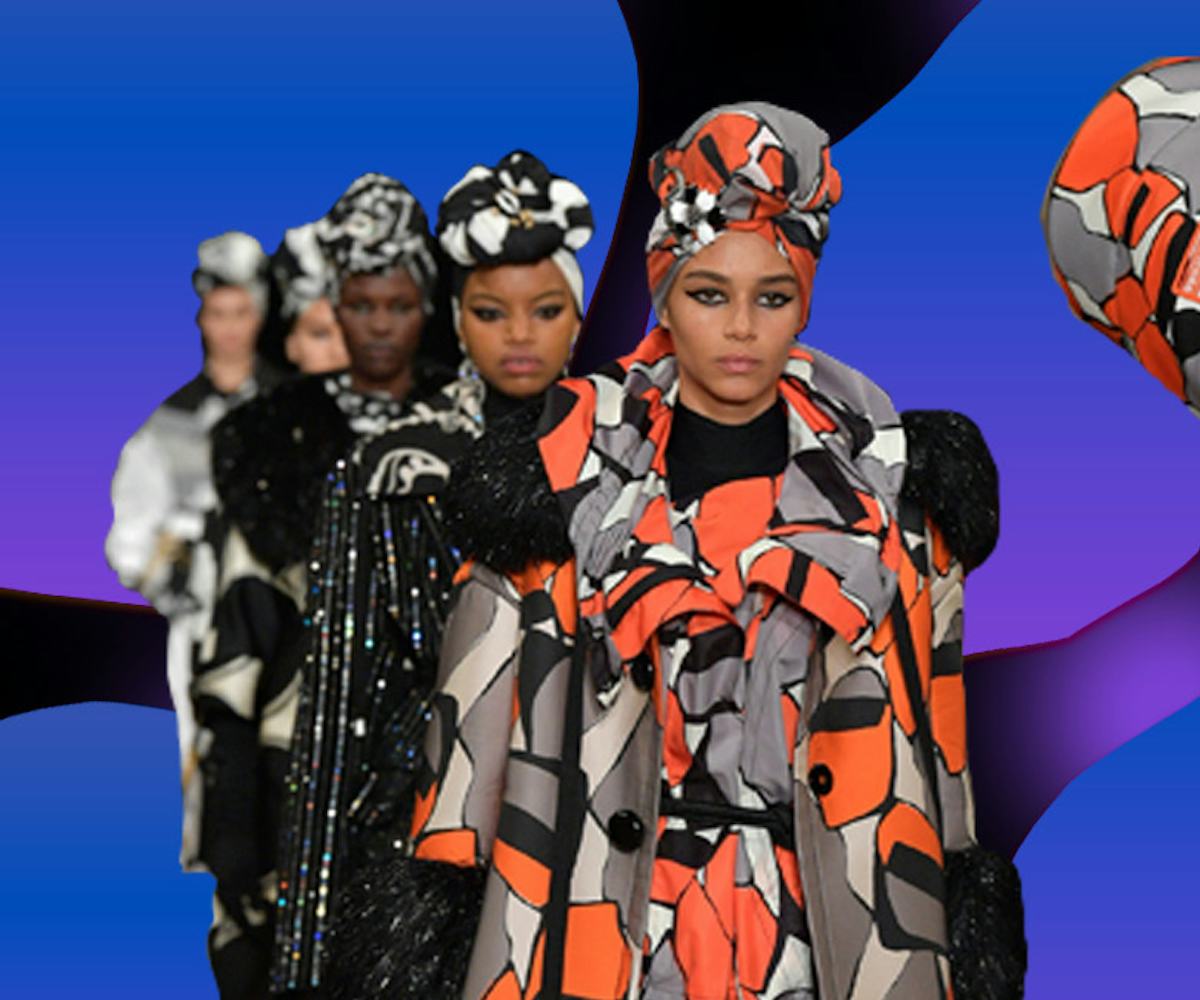 Do Fashion Shows Still Matter In 2018?
We poll editors to see what they think
Here's some insider information not many people know: A lot of fashion week is spent just… waiting around. You wait to sign in to a show, you wait to enter, you wait for the show to actually start (which rarely—if ever—happens on time). The runway show itself is 10 to 15 minutes. Then, you wait again as everyone tries to squeeze out of the same exit once it's over. This has long been the case, but in 2018, when a lot of shows are live-streamed and even more are posted on social media in real time, the value of physically attending fashion shows has started to dwindle—especially for industry insiders.
Has what used to be an opportunity to view collections before the general public, simply turned into something decidedly less exclusive—a photo opportunity for influencers and aspiring street style stars? Are fashion shows even relevant today? We posed the latter question to editors, and while the short answer is yes, we learned that their purpose has shifted—and differs from person to person. So, ahead, see what editors look for in a show these days, how the changing times have made them more selective about who gets their attention, and how Instagram (and the influencers that come along with it) has changed everything.
Lauren Caruso, editorial director for Bandier
"It's all a bit of a circus, but the days where fashion editors dictate the trends are coming to a sharp end. Buyers and editors, instead, use re-sees to decide what they're going to invest in, and that one-on-one time is more valuable to the relationship than going to the show, which is more of a sign of support than market research. Of course, nobody's contending that big features in high-profile publications mean nothing, but people didn't buy Gucci because a magazine told them to; they bought it because a swarm of Instagrammers wore the same t-shirt within days of each other—while attending Fashion Week. Designers are under pressure not just to create a collection that's acclaimed from a technical standpoint, but from an Instagram standpoint. Most top-tier influencers aren't covering the shows in a thoughtful or journalistic way and, instead, their presence and series of Insta Stories are often enough to put a small designer on the map. For major brands, they might show up wearing the designer's wares in a way nobody thought of before. That's the value.
That's why so many are taking to newer and less expensive platforms to show their collections. But the by-product is that Fashion Week is inherently more inclusive and increasingly democratic, which is great. More voices means more collaboration, and more opportunity for hard work to get noticed. I hope the net continues to widen over the upcoming seasons—even if that means editors have to get more creative about the way they cover Fashion Week as a whole."
Tanisha Pina, associate market editor for Racked
"Going to New York Fashion Week in 2018 feels like having to go to the doctor, remembering to do my taxes, and all of those other things I have to do but don't feel like doing. As an attendee, it feels a lot less about the actual collections, the innovation and the creativity, and way more about being seen—from blogger mania to editors borrowing clothes to wear throughout the week for street style ops, and my entire Instagram feed full of the same blurry photos. That's not shade, either. I know some people love it for those reasons. But for me, it just means I'd much rather just catch up on Vogue Runway or M2M from the comfort of my own desk.
Plus, shows notoriously run 20 to 30 minutes behind and last all of eight minutes, so it's hard to justify being out and about when I still have actual work to get done. I think the presentation format works so much better for that reason alone: You can pop in and view the collection as fast or slow as you want on your own time, and actually see the clothes. For the brands, I imagine they get a lot more for their money doing it that way, too. All that said, there are definitely still some collections that I get excited to see IRL, like Sandy Liang, Adam Selman, Maryam Nassir Zadeh, and Ulla Johnson. They're never not good."
Jenna Igneri, associate fashion and beauty editor for NYLON 
"I think fashion shows are becoming more and more irrelevant as time goes on. Thanks to technology, anyone can view a fashion show or presentation from anywhere in the world—sometimes even live—so that glamorous feeling of exclusivity has long been lost. Fashion Week has become much more of a spectacle overrun with bloggers and influencers and street style photographers, taking away from the focus of the actual collections themselves.
As a digital editor, I won't be working with the clothes being shown for months and months after seeing them, so it makes much more sense for me to attend a preview where I'm touching and seeing the collection up close and closer to when I'd be working with the pieces. And, since imagery is all available online and on social media instantly anyway, I can still cover the breaking news and trend stories emerging from NYFW without having to physically be there."
Erin Cunningham, fashion news director at Refinery29
"For me, the internet and the way we create and consume content has changed Fashion Week dramatically. Because, amidst going to shows, the digital media world is still operating business as usual, publishing content both related and unrelated to Fashion Month. There's this need to be behind your computer and out in the market at once, and it can be quite demanding. Over time, to make it more manageable, I've really honed in on what designers I really want to see and WHY. With SO much happening, it's impossible to be in 10 places at once.
To me, there needs to be a purpose, whether it's on-site coverage, social, or just something that will bring personal satisfaction and enjoyment. Because, at the end of the day, this is a job; but, beyond that, it's also a passion point for so many people who work in the industry. Going to London Fashion Week last February was one of the most exciting experiences of my career—the shows were small, in incredible venues, and the clothes were immensely creative. My first show ever was Oscar de la Renta in 2012, and it was held in their office on 42nd street. And that's what LFW reminded me of. You look around the room and realize that everyone there really CARES about their job. It's doesn't feel like a who's-here-just-to-get-their-photo-taken spectacle. That's what we need more of. Fashion shows where people can actually SEE the clothes!!!!"
Irina Grechko, managing editor for NYLON
"While one can argue that, with how fast the high-resolution images from the runways and presentations pop up on the internet, there is really no reason to indulge in the pomp and circumstance typically surrounding fashion shows, there is still no way to relay the movement of a skirt full of fringe until it swooshes right in front of your eyes or how a certain type of paillette catches the light at a certain angle. Now is especially an interesting time for fashion shows as designers are stepping out from behind the runway veil and making political stances and fighting for important causes, which rarely happened before Trump's election.
This, though, also means that it is just as interesting to observe what designers are doing in lieu of showing at Fashion Week shows. Whether they are creating magazine-worthy lookbooks (à la what Rodarte did with its fairy-tale-like shoot featuring celebrities like Kirsten Dunst, Chloe and Halle, and Rowan Blanchard) because they are tired of adhering to the traditional fashion calendar. Or, using the resources typically reserved for fashion shows to donate time and money to important causes (see: Rebecca Minkoff, who is focusing her efforts on activism in alliance with The Women's March). My eyes this season are just as much on the runway as they are off."
Maria Bobila, associate editor at Fashionista
"As much as I complain about running around the city from show to show each fashion week, I still get excited about seeing what each designer has in store for the season. However, I do think the value of a fashion show differs for each designer. For up-and-coming labels, fashion week is a great time to showcase a designer's vision to the industry at large. But throwing a show or presentation is a huge investment, so it doesn't exactly have to happen with the very first collection, and it's definitely not the one and only option when it comes to building buzz.
I actually see fashion shows as a challenge for more established designers because they're the ones that are trying to maintain relevancy, whether it's by creating super-aspirational looks to translate well on social media, or picking a memorable location for attendees to see the new collection. We're living in a time where we value experience over stuff, so a white-box venue with a plain runway won't cut it these days, no matter how good the clothes look. It's instances like that where I could have saved myself the travel and time to simply see the collection on my iPhone." 
Jessica Andrews, digital fashion editor at Teen Vogue
"Runway shows aren't over, but they are evolving. When I started out in this industry over 10 years ago, ready-to-wear shows were much more practical in nature; they were mostly attended by editors and buyers and the focus was purely on the clothing. Now, with the advent of social media, there's an element of spectacle that wasn't there before. Shows today are decidedly consumer-facing with a heightened celebrity presence and this competition to generate the most buzz on social media; the clothes are sometimes an afterthought. I prefer to skip those types of shows and wait for the photos online because, if I can't even see the clothes amid the hoopla of the front row or the celebrity guest performance, I can't do my job effectively.
That said, I do think showmanship still has a place in fashion, especially when a designer uses the runway show medium—music, setting, designs, even the casting—to convey a powerful message. Pyer Moss, for example, used the runway show format to great effect with the brand's Spring 2016 collection about police brutality. The designer Kerby Jean-Raymond played a short film about racially-motivated police killings and sent boots splattered with blood and "I can't breathe" shirts down the runway. When a runway show provides social commentary or tells a compelling story, then it can be not only culturally relevant but a very powerful moment." 
Julie Tong, fashion market editor at Yahoo Style
"I think the way I approach NYFW has evolved as the industry evolves. As print media has expanded into digital media, you can watch nearly every show as it happens, so the immediacy and access are less restricted than before. You don't necessarily have to attend a show to cover it, which I think has its pros and cons. There are also differences working as a digital fashion editor vs. print fashion editor. Working in digital enlists a different set of demands when attending a show (i.e. publishing a story ASAP afterward), which, in turn, tightens the flexibility of one's schedule to attend more shows. However, I do think NYFW has become much more commercialized and less focused on the creative beauty that is a fashion show to its detriment.
It is difficult to say what needs to change, but what I can say is that I find myself drawn to shows that have a purpose, a message, and a story that is clearly reflected in all facets of a show—from the production to the setting to the models cast and, of course, the clothes. But at the same time, I loved Marc Jacob's stripped-down fashion shows at the Park Avenue Armory the past few seasons where there was no music and no fancy staging—just the clothes and the click-clack of the model's heels. There's something really beautiful about that."