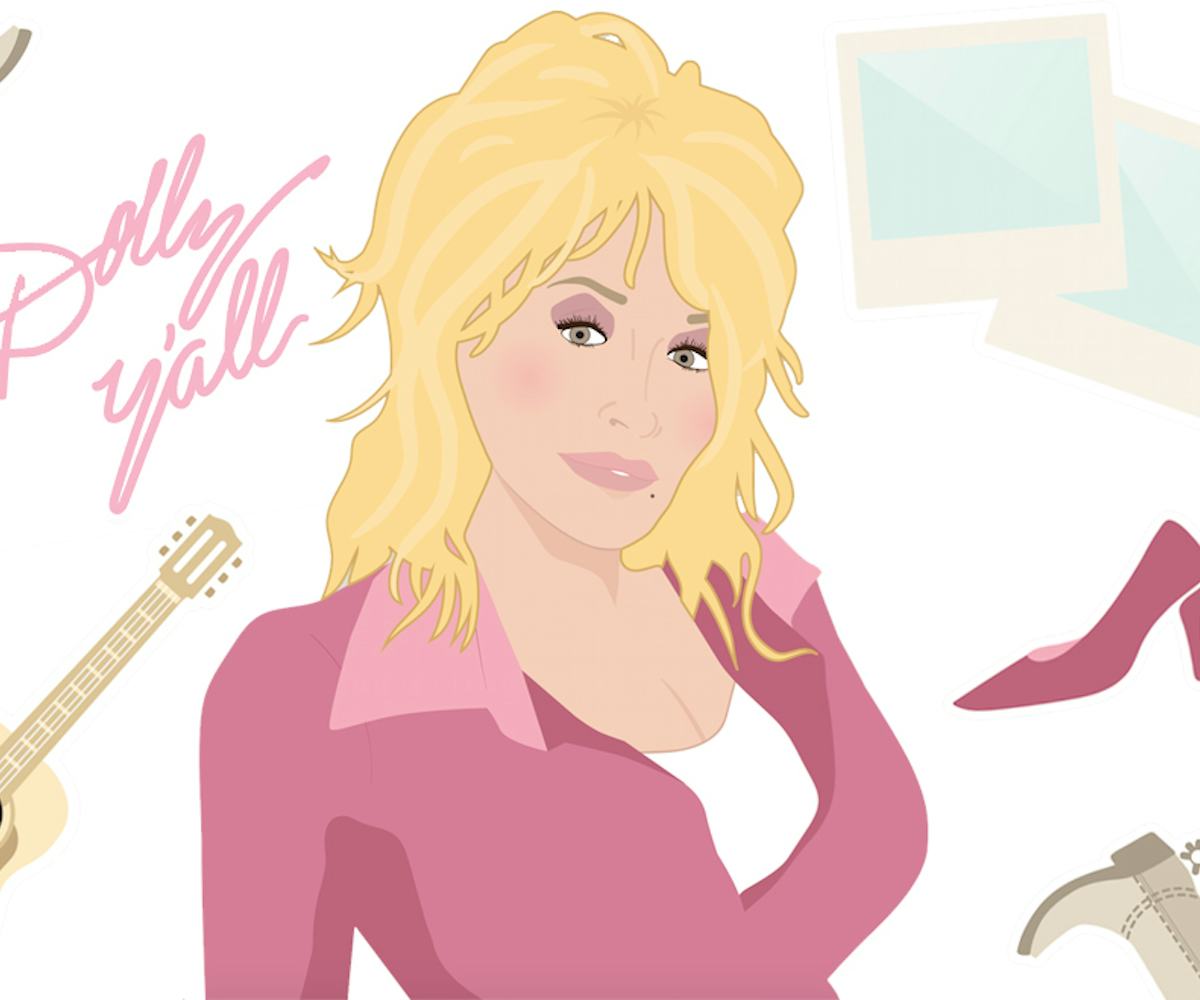 Illustrated by Kara Smarsh
Dolly Parton Is A Treasure, 'Pure & Simple'
An interview with the humblest of legends
If you don't know who Dolly Parton is, who are you and where have you been? Her decades-long career is extraordinary. There is not one demographic or generation her influence does not touch. (Go see her on tour for proof.)
Today, Parton's 43rd studio album, Pure & Simple, comes out. Produced mostly by Parton herself, the 10 tracks are quintessential country, wholesome in their delivery, and earnest in their optimism. It captures the universal appeal that has elevated Parton to icon status—though, she'll be the first to tell you she's a "working girl" first. That humbleness is her signature, after all. And who would honestly pass up an opportunity to speak with her? Think what you want about country music, Dolly Parton exists in a genre all her own. Here, we talk with the "Jolene" singer about fame, the big L, ordinary people, and the responsibility of being an icon.
Pure & Simple is rooted in the big L: Love. What are your tricks for keeping love alive?
I don't know that anybody has tricks for keeping love alive. You should just let love flow and let love grow, let it be. And certainly you have to nurture it, it's just like a plant: You have to keep it watered and fertilized.
What are, in your opinion, the greatest love songs?
Some of my favorite love songs may not have been the greatest hits. There's that song Barry Mann and Cynthia Weil did—they also wrote Here You Come Again, my first crossover record—it's called "Sometimes When We Touch." That song is so deep to me and to anybody that's been in a long-standing relationship; you're so raw and honest with each other, you knew each other so much. There's a line in there, "Sometimes when we touch, the honesty's too much, and I have to close my eyes and hide." It's like oh god, don't say that! It cuts too deep; it hurts too real. That, to me, is one of the greatest songs ever. And of course, I'm proud of "I Will Always Love You," that type of love song that I've written—there are so many great songs out there!
Where did writing this album take you? What challenges did you come across?
It was easy for me to write, because there were love songs I knew what I was going to do [with] and had a beat on that. It was my and my [husband] Carl's 50th anniversary, so that had my heart open to that type of thing—that's what gave me the idea, otherwise it wouldn't be a good year to do an album of just love songs. The songs were easy to write, and the only challenge was getting it done in time. I hadn't planned to do a record; I didn't have time to do a record. Usually, if you do a great record, you need to take time to write it and work things out; it takes months. We didn't have months, we had weeks. That's one of the things that inspired Pure & Simple. I thought, "Well, this is what I do best anyway," so it was just a little of God's work saying it's time for this. I thought it turned out really good. I didn't have time to talk it down or get a producer, so I just produced it myself with Tom Rutledge and Richard Dennison in my little studio. I pretty much produced it, and they just helped us out.
At this point in the game, you're a bona fide icon. How has your relationship with that title changed over the years?
I never look at myself as an icon. [Laughs] I always joke that the way I look, it's more of an eyesore. Actually, I don't think I've changed personally over the years. I think that people see me as someone they've grown with and grown accustomed to. I'm kind of a like an older sister, an aunt: People have grown up with me so long that I'm a familiar fixture in American households. The fact that people are looking for some sort of inspiration, especially young girls—you look to some of us old ones, like Loretta [Lynn], me, others that are still around. That I've been held up to such a high standard is touching, but it's also scary because it's such a big responsibility. I don't know that I deserve all the accolades, I'm just a working girl. You never know how people are going to view you until you're older. I used to think about that when I was young, "Will I have a good reputation?" "Will people remember me well?" "How will they see me?" It touches me that I've been able to accomplish and become what they call an "icon," but I'm still a working girl.
If given the opportunity, would you trade fame for the simple life?
No, I don't have to change fame for a simple life. My life is my life. It's a way of life with me, and I'm famous, but I have a simple life. It's the simple things when I'm home. That's one of the reasons I've stayed sane, and that's one of the reasons I have the success I've had. I never got caught up in some whirlwind, a little dust devil just spinning around until I spin out. I try to keep the basics there, try to stay close to my family, my roots, my values, my principles—the things that matter to me. Those things are basically simple. I have the kind of big, outgoing personality where I can handle all of that stuff. All of the glitter and all of the glare, you can't throw a light bright enough for me. I can handle it. I don't get blinded by the light; I like walking in it. And, hopefully, I'll always be standing in some kind of light—hopefully God's light.
How does it make you feel when someone asks you what it's like to be a woman in the industry?
People are always asking me what it's like to be a woman in the business, but I'm glad I'm in the business. I'm glad I'm a woman. I think it's great that women have been able to do so well and are doing more now than we ever did. I never thought about it in terms of being a woman in the business, I wanted to be in the business. I'm an artist. I love the fact that I've been able to maneuver better than a lot of women do, because I'm from a family of six brothers, and my dad and uncle, who all understand me and like me. I love and am definitely for women; we've come a long way and have a long way to go. It makes me proud to be a woman, and to be a woman in the business who's achieved so much, but a lot of it has to do with hard work and talent.
What can today's music lovers, consumers, and even casual participants learn from country music?
There's a lot to be learned from country music. Through stories is how you tell them. I've always said that it's ordinary people telling ordinary stories in an extraordinary way—especially with good music, good arrangements, and good vocals. I really think music touches the core and hearts of people, and it will always be around for that very reason.
Photo courtesy of Dolly Records