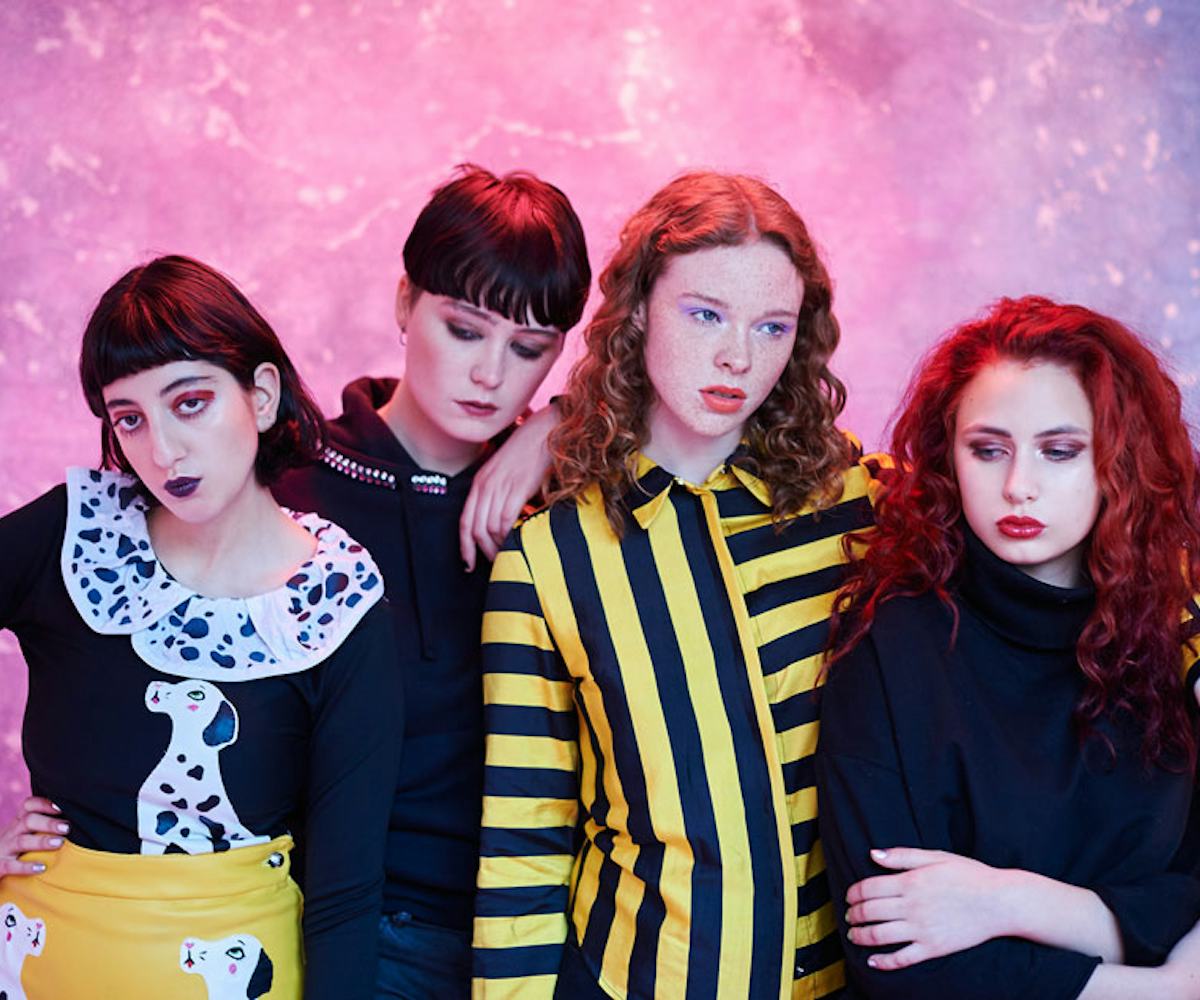 Photographed by Stella Asia Consonni
Dolores Haze's Punk Rock Version Of Glam
fashion forward with dolores haze
Hailing from Sweden, the charismatic and engaging punk-rock band Dolores Haze has already conquered the U.K.'s indie scene. It happened rapidly yet remarkably, the shambolic quartet took over London and surroundings in just a few shows. Raw power, a wry sense of humor, and a stark attitude defines their live performances and glamorous style. We managed to meet up with the badass band for a photo shoot, and they showed us more of their fashionable side. Flip through the awesome gallery above, and find out more interesting bits about the band's downright charming roughness in the interview, below.
Photographed by Stella Asia Consonni; Photo Assistant Pablo di Prima; Styled by Francesca Prudente; Make up by Celine Bopp using Bobbi Brown; Hair styled by Takuya Uchiama using Bumble & Bumble; Set Design by Penny Mills
When did you meet and how did your collaboration start?
Groovy Nickz:
Groovy Fuck and I met in the spring of 2012, at a friend's birthday party. We were about 15 years old and drank 2.2 percent cider. I wanted to start a band and Groovy Fuck told me that she had a guitar. The following week we started playing together. I played bass on an electric guitar. We needed a drummer, so we put up ads all around the city saying "DRUMMER WANTED." One person called and it was Foxy Sagz. We never thought we would have found our best friend and best drummer through an ad. It just clicked. However, there was still something missing. We were hopeless teenagers just starting to fall in love with the grunge scene and we wanted to find our own Thurston Moore. So, when Lucky Lollo and I accidentally met at a concert in the fall of 2012, she asked me about our band and I knew from the tone of her voice that she wanted to join. Said and done, the week after we were playing together and the following month, we booked our first concert.
White jacket by The Ragged Priest, Printed top by Topshop Unique.
Does your name come from Nabokov's novel Lolita?
Yes, Dolores Haze is a reckless character from Nabokov's novel
Lolita
. Even though the book is about a dirty old man, the young girl Dolores Haze is a truly fascinating character.
Black jumper & dress by Ashley Williams
Where do you get your sound from?
We often get mistaken for a Riot Grrrl band since we are girls in a rock band. However, we are not involved in any political agenda. Riot Grrrl is a feminist movement and even though we support feminists, our music is not connected to any political issue and we don't feel the urge to talk about feminism every time we are talking about our music. The fact that we exist is enough.
Mustard print jumper by Shrimps
Could you briefly tell us something about the current independent music scene in Sweden?
People here just love to produce their own stuff. We have a lot of solo artists in the independent scene trying to break through, some of them are really good and some of them are just pure shit. A couple of our friends sometimes arrange shows at this yellow house called "Gula Villan" [Yellow House] in the suburb of Stockholm. They always book some of the best independent acts, which is really inspiring. We had our release party there before we got signed, it's still one of the best shows we've played.
Green coat by Shrimps, Green sheer top by Clio Peppiatt
You defined your music style as "goth sex" and "diva couture." What's your relation with fashion and style?
Main goal is to look expensive, even though you may not have paid much at all for your outfit. We love to experiment with all sorts of styles and even come up with our own. One of our favorites right now is to mix the porn-star look with a more uptight one in order to look hot and cold at the same time. And yeah, people tend to put us in fashion context because they probably think we are inspiring. We are and have previously worked with several fashion brands since they think it's nice to work with rock stars like us, and we like to combine music and fashion.
Green coat by Shrimps, Green sheer top by Clio Peppiatt
You have already played in a few renowned independent venues in London and two major festivals in the U.K., what's your next move?
We just played this showcase event in London for important festival bookers. It was the most awkward thing ever. However, we think they liked us, and hopefully we're doing a lot more festivals next year. Right now, we are looking forward to releasing our debut album titled The Haze Is Forever, which is coming out November 13. Then hopefully, become popular.
Green coat by Shrimps, Green sheer top by Clio Peppiatt
You just launched your great new Accidental EP and recently released the single "Touch Me," which sounds slightly more mellow and dreamy. Is that the direction of the new album?
It feels like we have been working on this album for so long that we have lost the grip. But yes, some songs are definitely going in a more mellow direction, while others are showing the more rough side of Dolores. We'd say it's kind of an introduction to everything we are. It will probably make some people a bit confused, hopefully in a good way.
Black jacket by Mary Benso
If you could choose any band or celebrity, who would you like to play with or meet and why?
It would be nice to have chocolate cake with Leila K. She is an amazing and important part of Swedish music history.
Red & Navy dress by Christopher Kane
How you define yourselves in three words?
Lovesick, drunk, disgusting.
Black & White coat, Stylist's own, Silver velvet top by The Ragged Priest, Black patent skirt by House of Holland
Black top & boots, band's own, Red print trousers by Claire Barrow 
Dalmation top & skirt by Clio Peppiatt, Black embellished hoodie by Ashley Williams, Black & yellow striped shirt by House of Holland, Black roll neck, band's own