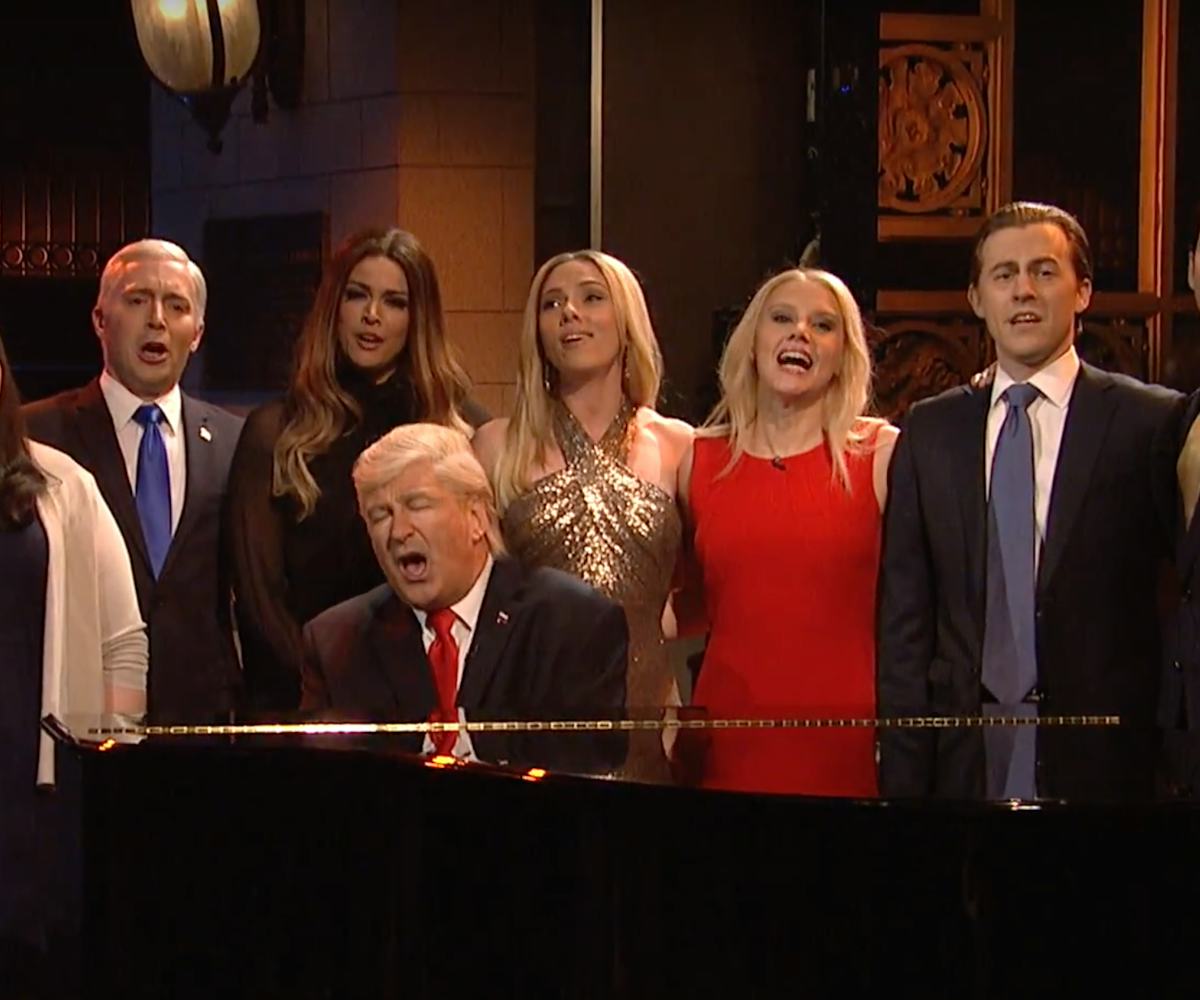 Screenshot via YouTube
Alec Baldwin As Donald Trump Crooned 'Hallelujah' On Last Night's 'SNL'
This seems like it's from another timeline…
Shortly after the election, Kate McKinnon (playing Hillary Clinton) opened Saturday Night Live with an emotional rendition of the recently-departed Leonard Cohen's "Hallelujah." As most Americans mourned for the future of our nation, McKinnon's voice was a terribly cold comfort. Now, only a few months later, the world seems to have barreled head-first into a full-on alternate reality dystopia. In what seems like a moment from an entirely different, much darker historical timeline, Alec Baldwin reprised his beloved Donald Trump impression to reinterpret McKinnon's performance to better capture our current political situation.
Joined on stage by various SNL regulars playing Trump's revolving cast of incompetents, which included Kate McKinnon as Kellyanne Conway, Beck Bennett as Vice President Pence, Aidy Bryant as Sarah Huckabee Sanders, Alex Moffatt as Eric Trump, Mikey Day as Donald Trump Jr., Scarlett Johansson as Ivanka Trump, and a literal grim reaper as Stephen K. Bannon, Baldwin crooned the forlorn jam. "I'm not giving up, because I didn't do anything wrong," said Baldwin as Trump as the song wrapped up. Gesturing to his nefarious cohort, he proclaimed, "But I can't speak for these people." The phrasing was a nod back at McKinnon's performance of the same song, which she concluded by saying, "I'm not giving up, and neither should you. And live from New York, it's Saturday night."
The opening was a subtle nod to the President's increasingly explosive list of scandals in the past few weeks, which have had many news sites proclaiming this the beginning of the end for the radical right-wing regime. It's hard to tell what will come next, but we do know we won't have SNL around for the next few months to help us get through it. Last night's episode was the finale of the season.
Check out the performance, right here: