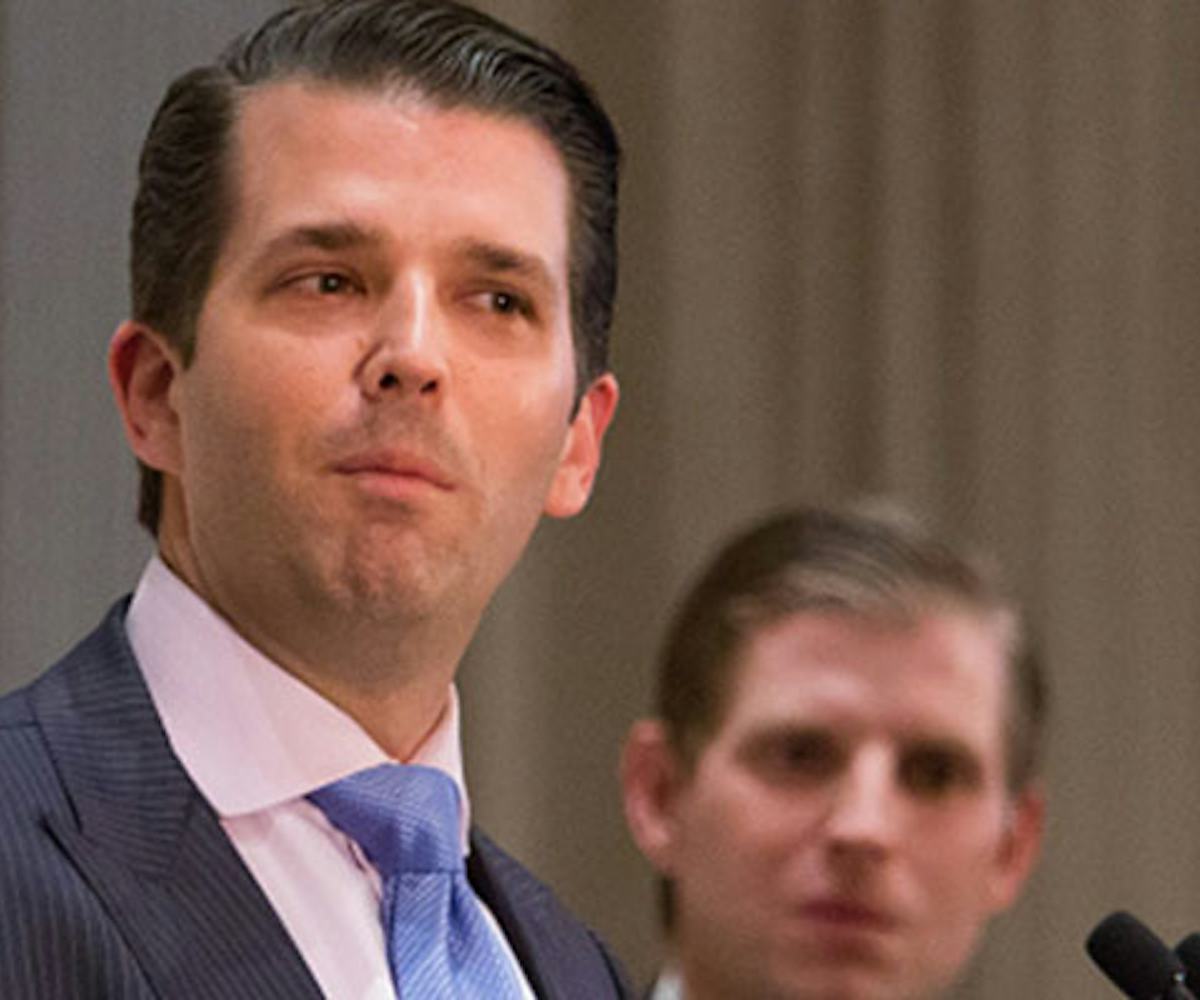 Ben Nelms/Bloomberg via Getty Images
Donald Trump Jr. DM'd With WikiLeaks During The 2016 Election
In an attempt to make his dad like him as much as Ivanka, Donald Trump Jr. decided to respond to WikiLeaks when the organization slid into his Twitter DMs during the 2016 presidential election.
According to messages, obtained by The Atlantic, Trump Jr. communicated with WikiLeaks from September 2016 to at least July 2017. During the mostly one-sided exchange, WikiLeaks asks for things like Trump's tax returns, saying it would be better to release it through them than have a "biased source" like MSNBC leak them. WikiLeaks then urged the campaign to reject and challenge the election results if Trump lost, to refuse to concede and claim the system is rigged. It also requested that Trump, once elected, make Australia appoint Julian Assange as ambassador to the United States. 
These messages are currently being reviewed by congressional investigators who are looking into the Trump campaign's possible collusion with Russia. Federal officials believe WikiLeaks worked with Russian hackers to disseminate information, like the Democratic National Committee's leaked emails. 
Trump Jr. later released screenshots of his correspondence with WikiLeaks. "Here is the entire chain of messages with @wikileaks (with my whopping 3 responses) which one of the congressional committees has chosen to selectively leak," he wrote. "How ironic!" It's unclear if he knows what "ironic" means. (Using words he doesn't understand is just another way he's trying to be like Ivanka.)
The Wall Street Journal's Byron Tau pointed out, however, that this exchange isn't as harmless as Trump Jr. is making it out to be. For instance, on October 12, WikiLeaks sent him a link to leaked emails, encouraging him to pass it along to his dad. "Strongly suggest your dad tweets this link if he mentions us," the group wrote. "There's many great stories the press are missing and we're sure some of your follows [sic] will find it. Btw we just released Podesta Emails Part 4." 
Fifteen minutes later, Trump tweeted the link, writing "Very little pick-up by the dishonest media of incredible information provided by WikiLeaks. So dishonest! Rigged system!"
Before the election, when asked if the campaign was working with WikiLeaks, Vice President Mike Pence said, "nothing could be further from the truth." 
Now, we'll just have to wait until another Indictment Day to see if Don Jr. will ever learn what consequences are.