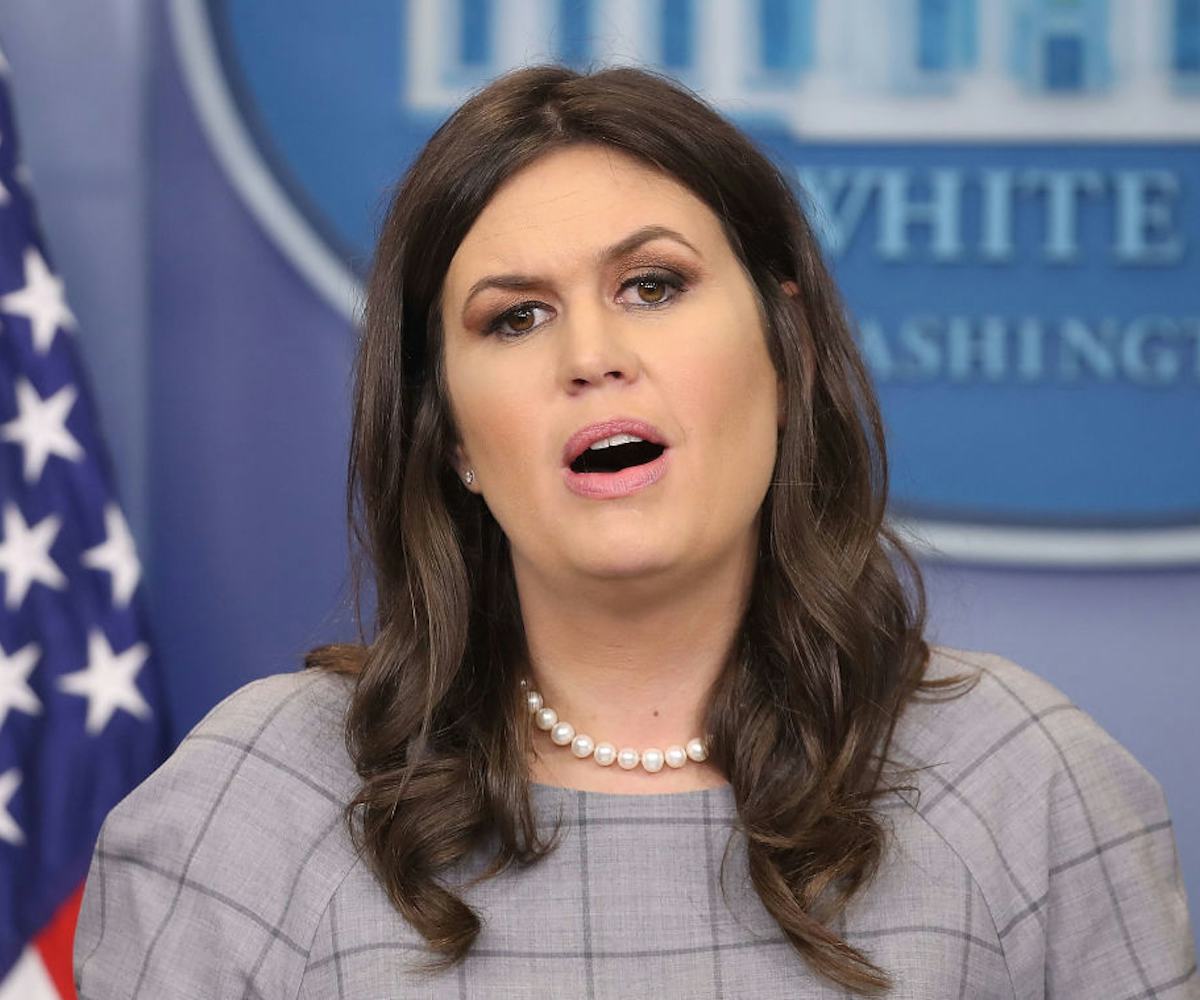 Photo by Win McNamee / Getty Images
The White House Has Officially Stated That All The Women Accusing Trump Of Sexual Assault Are 'Lying'
"All I can say is it's totally fake news. It's just fake. It's fake."
One of the primary refrains of the Trump presidency has been that anything even remotely defying the narrative of the current administration's unparalleled success is "fake news." The phrase was coined as stories circulated about the prevalence of misleading (and often propagandist) articles being shared on social media and has since morphed into Team Trump's mantra, used to dismiss headlines ranging from their bungling of Puerto Rico's recovery to a growing Russian espionage scandal. The latest thing they've described as fake news? Anyone accusing Trump of sexual assault.
While the rhetoric around Trump and sexual assault has always been beyond questionable (see: "locker room talk"), the White House has now officially gone on-the-record to show that they in no way take seriously the handfuls of complaints coming from women who say the President has acted inappropriately towards them.
"At least 16 women accused the president of sexually harassing them throughout the course of the campaign ... Is the official White House position that all of these women are lying?" asked reporter Jacqueline Alemany at White House press secretary Sarah Huckabee Sanders' press briefing on Friday.
"Yeah, we've been clear on that from the beginning, and the president's spoken on it," Sanders responded before quickly moving on.
Only a week before had Trump himself been vehemently dismissive of the allegations: "All I can say is it's totally fake news. It's just fake. It's fake. It's made-up stuff, and it's disgraceful, what happens, but that happens in the—that happens in the world of politics."
Meanwhile, the showrunners of the CW superhero drama Legends of Tomorrow have installed a literal plaque on their set to memorialize the exact spot where Trump made his notorious "grab them by the pussy" comments, an event that—we guess—has now been officially retconned as "fake news," too.