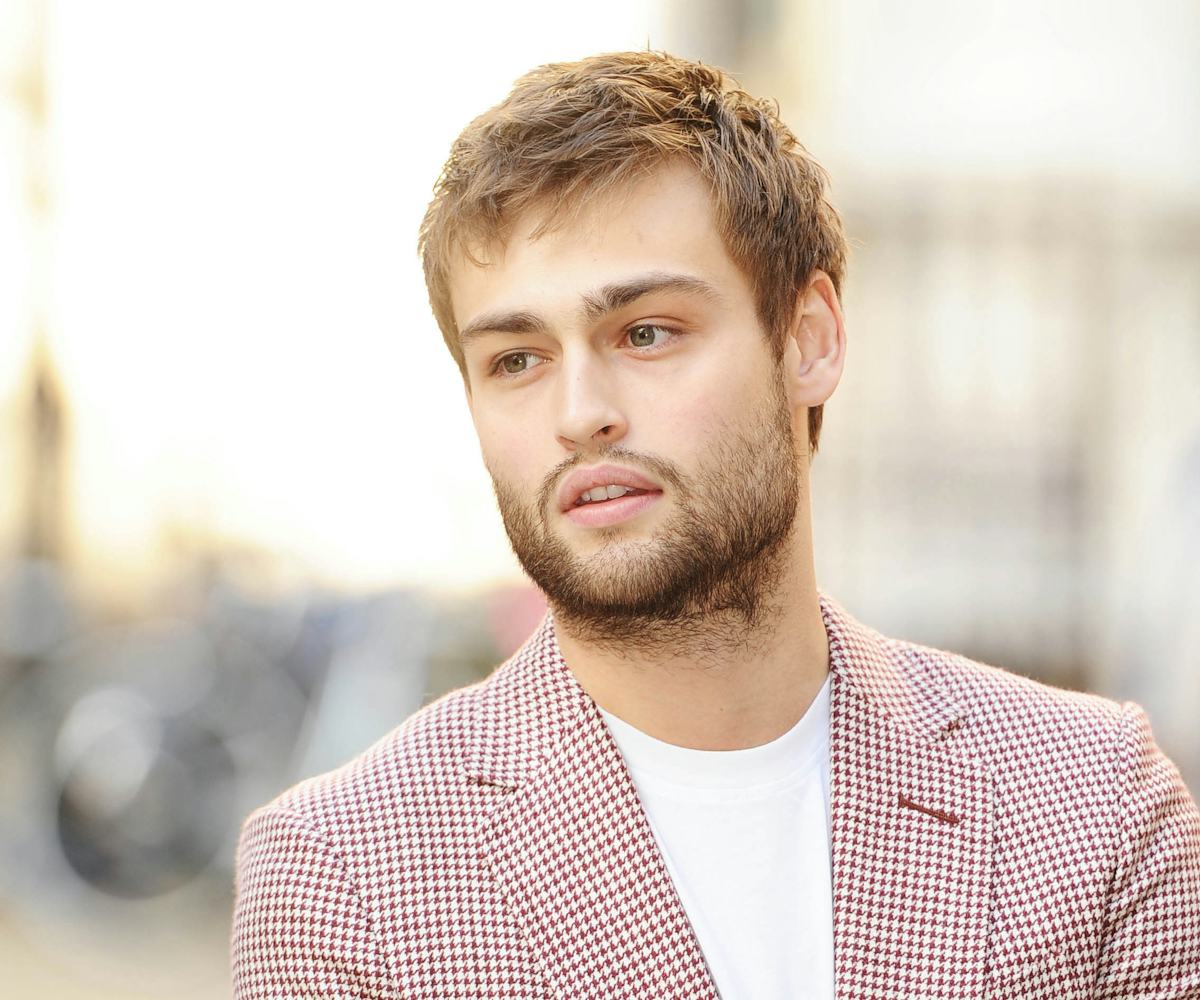 Photo by Stuart C. Wilson/Getty Images
Douglas Booth Fights For Girl Power In 'Pride And Prejudice And Zombies'
After a turn as a Gothic playboy in Jupiter Ascending and then an elitist Oxford student in The Riot Club, Douglas Booth will step into the shoes of a more likable character—in Pride and Prejudice and Zombies. The actor will portray Charles Bingley in the big screen adaptation of the parody novel by Seth Grahame-Smith, which arrives in theaters today. In a twist on one of Jane Austen's most beloved stories, the film inserts those classic characters straight into the zombie apocalypse.
With disaster looming, the Bennet sisters, Mr. Darcy, and more will showcase their superior fighting skills in order to save England from imminent doom, all while following the epic love story of the original novel. We recently hit up Booth to talk about why zombies are a great fit in the Regency era, why the Bennet sisters are like the Spice Girls with swords and what it was like filming the romantic horror comedy flick.
How would you define Pride and Prejudice and Zombies in your own words?
It's hard to sum up into one word. It has great romance, horror, comedy. They needed to create a new word for it. I just think it's so much fun. You really invest in the characters and all of the beats from the original novel stand up. What's entertaining is just seeing how that story will play out. How will that original story that many of us know so well—how will that change and how will their [the characters'] story arcs differ with the zombie apocalypse happening?
Why do you think zombies work so well in Regency England?
What's interesting is it highlights a lot of the themes from the original novel. It's just different. I haven't seen it before. I haven't seen zombies in Regency England and it's not like other zombie films that I've seen. It's more about a love story and a romance but just set alongside the apocalypse.
With a character as well-known as Mr. Bingley, how do you make him different?
I just make him my own, really. It's really nice to play because it's coming off the back of
The Riot Club
and
Jupiter Ascending
, playing sort of not-very-nice characters. So it's lovely to turn up and be this warm, puppyish sort of best friend. 
He isn't the best fighter in this film and Jane ends up saving him a few times. How did you like that role reversal?
I love it. I love the girl power in the movie. It's so refreshing, that it's all flipped on its head a bit like that. I hadn't seen that before so that was really good fun to stand on the sidelines and see the girls absolutely slaying it. It's like the Spice Girls with swords. 
Did you have to do any special training for the role?
Not really, not too much. I had to do some horse riding but I've ridden since I was a kid and I love to ride so it was just a pleasure. The girls are the ones who had to sweat it out and come back from fight rehearsals completely bruised and aching. 
Are you a big zombie film person? 
I like zombie films. I love
Shawn of the Dead
, really enjoy that film.  
This movie is a lot of fun to watch. What was it like making it?
So much fun. It's such a wonderful group of people. I had the most amazing time. I've worked with Matt [Smith] before, he's a good friend of mine. I've known Lily [James] since she was at drama school so it's just so much fun, such a good group. And we always have so much fun when we're together. 
What were some memorable moments of filming?
I think Lily had a thing where there were lots of zombie dummies on the floor but also scattered extras. You couldn't quite tell who was who and she didn't know that. I think she thought they were all dummies. And she improvised taking out one of their heads with her boot, like stomping on it, and it didn't move. And then someone called cut and the poor extra, a real person, went "Oww!" Unfortunate, poor guy. But he was fine. Luckily, she had a delicate foot so she wasn't stomping too hard.  
What would you say to Austen purists who might be hesitant about a film like this?
I just hope they'd enjoy it. I think if you love Austen, why wouldn't you want to see it with a twist? They do the same with Shakespeare, they set it in different places and they mix it up. I think the source material is so strong that it can take having quirky new twists like this put to it. If you love the story, you would have seen it done straight many times. So hopefully you'd quite enjoy the quirkiness of seeing it with a different spin on it.  
You're also set to star in A Storm in the Stars as Percy Shelley, one of the major English Romantic poets and husband to Mary Shelley. Can you tell me anything about it?
I'm about to start shooting it when I get back. Elle Fanning's playing Mary Shelley. Bel Powley's playing Claire Clairmont. It's brilliant. I didn't actually know how interesting Shelley was. He was a romantic poet, but he was an anarchist. He was really fascinating. I'm doing loads of reading up on him and doing research. I can't wait to start. 
Is there a role or genre that you're looking to explore next?
You know, I've love to do an action film.