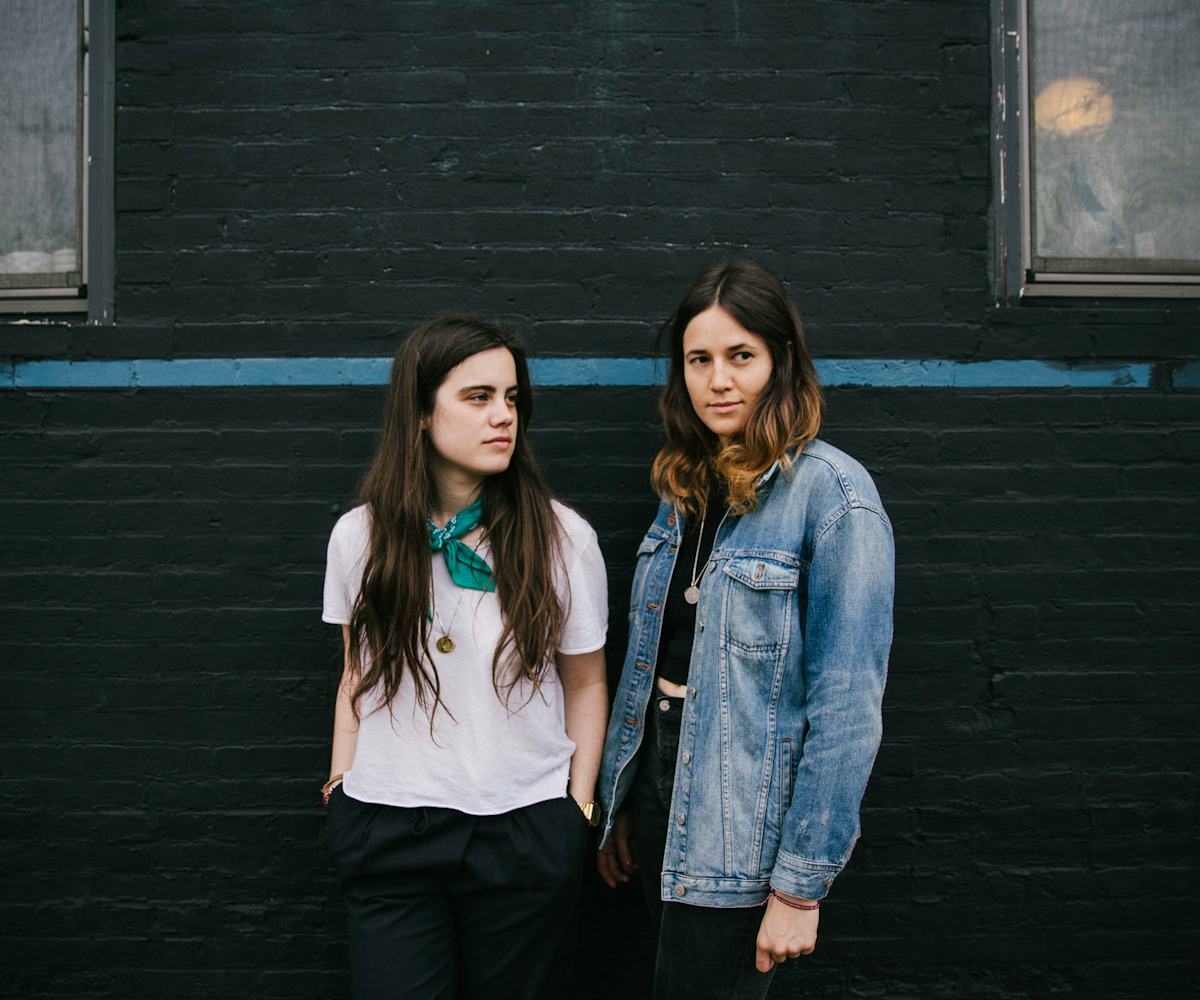 Photo by Colin Kerrigan
The Dove & The Wolf Brings Nostalgia With This Wistful New Video
"How can I let you go, and still keep you close?"
Philadelphia-based, French best friends Paloma Gil and Lou Hayat were in the midst of putting together their first full-length as The Dove & The Wolf when they made the trip to Paris in late 2015 to renew their U.S. work visas. Then, the November terrorist attacks hit, and a visit that should've taken one month ended up lasting five. The aftermath of that experience led to I Don't Know What to Feel, a five-track offering that speaks volumes of heartbreak, loss, and, at some points, hope. Now, the duo is back with the video for standout track "The Smell of Us," and we're premiering it right here.
In the visual, a white-wigged protagonist aimlessly wanders through Atlantic City, New Jersey, echoing the song's theme of wanting to give yourself entirely to a person (or even a place), but not knowing how much time you have left together. "How can I let you go, and still keep you close?" the duo asks.
The pair self-released I Don't Know What to Feel in June, deciding after the events in Paris that "it needs to be now." Listening to "The Smell of Us" and watching its wistful video, we can understand why.
Watch the entire visual below, and read on for the friends' thoughts on crafting the album, shooting the zero-budget video for "The Smell of Us," and making the journey back to the U.S.
You each grew up on opposite sides of the Atlantic Ocean. How did you meet and come together as a band?We met online in 2004, pre-MySpace. We played together the first day we met in real life, but it took us eight years to finally write a song together and start this band.
How old are you both?We're 52 [together]. Do the math.
Where was the video shot and how long did shooting take? What was it like seeing everything come together for the song?We shot the whole thing over two days. We started at Ortlieb's in Philadelphia, a bar where we play a lot, and the rest was shot in Wildwood, Atlantic City, and Ocean City in New Jersey. We shot a big part of the video in a shitty motel room in Wildwood, and that was our only real expense. That town is amazing for people watching. The only people in the motel that day were our crew, a couple in their late eighties, and this woman on an inflatable pink flamingo who never left the pool the entire time we were there. We could have made the video about her, or anyone in Wildwood for that matter. The most amazing moment of the shoot was going to Ocean City at sunrise and seeing dolphins. They were super close to the shore, right where the waves were breaking, and I think we can kind of see them in the last shot of the video.
In the video, you never truly see the main character's face. Is there a reason for that?That was Dave [Jannetta's] idea and the whole concept was his, but it maybe has something to do with the fact that it's not about the character and who they are, but more about their feeling of nostalgia in relation to their senses.
Why did you settle on the sense of smell to describe the relationship in the song?When we wrote the song, we didn't think about it, and we just wrote what felt right.
How did being in Paris during the November attacks influence your writing on I Don't Know What to Feel?It's still hard to wrap our heads around what's going on in Paris and in the world. Ask us again in 20 years. But we will say that what happened changed our way of seeing things, and these songs are definitely a result of our time in Paris.
You made it back to the U.S., but unfortunately, attacks continue to mount here as well. How do you feel being back?We don't really feel safe anywhere, but we won't stop writing and performing. That's what matters to us the most.
What do you like to do together when you're not writing and recording music?We like to play shows and perform our songs for an audience... or just karaoke.
Where do you see the band going from here?Everywhere, hopefully.