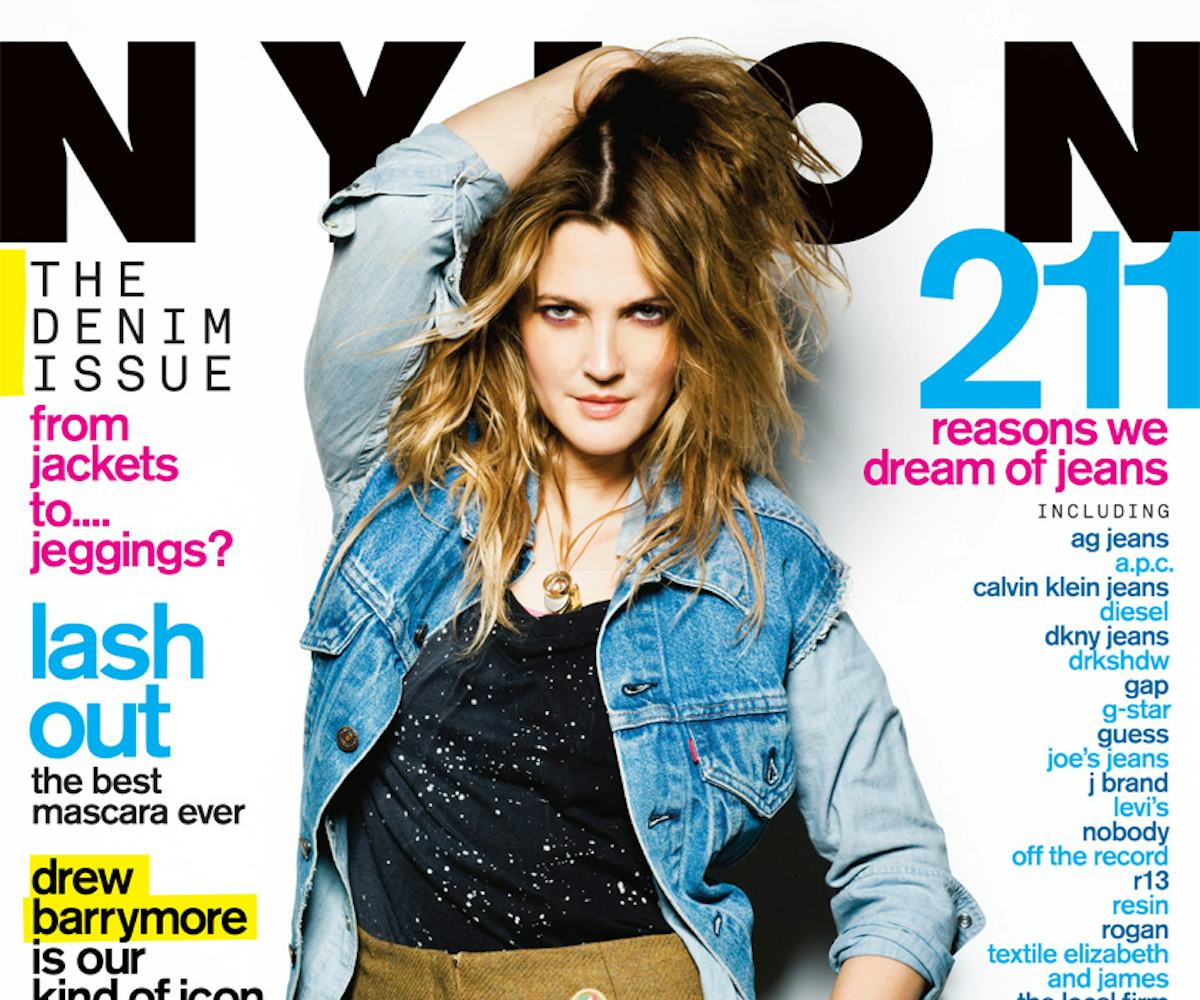 photographed by marvin scott jarrett
flashback friday: drew ever after
reread our 2010 cover story with drew barrymore.
Our Flashback Friday just got way cooler. Now you can read archive NYLON cover stories online with the click of a button. This week we're time traveling back to 2010 with the cover of our August denim issue where the Drew Barrymore showed off her fave jeans while talking with writer Holly Siegel about her heritage, production company, and 50 First Dates. Read on for more. 
On the wall out-side of Drew Barrymore's office, in a charming ivory duplex in West Hollywood, hangs a picture of Pippi Longstocking, the fictional heroine of Astrid Lindgren's 1945 children's book about a sassy, self-educated nine-year-old who lives alone in a Swedish village save for a monkey and a horse. Inside, Barrymore is sitting cross-legged on a round, floral carpet. 
"I was Pippi Longstocking for Halloween once," I tell her. 
Barrymore looks up at me and smiles winningly. "Oh, I am going to like you," she says, getting up. "Sorry, I just have to get naked for a second because I'm wearing sweaty gym clothes." She disappears around a corner and remerges a few moments later in a soft, gray sweater and loose, bleach-splattered jeans. Barrymore sits back down on the floor, crossing her legs underneath herself. Her dirty-blond hair is pulled back in a ponytail and her slightly tanned and even skin looks to be makeup-free. There are no chairs--her office is more like a library, filled with bookshelves instead of a desk or a computer--so I sit across from her, as if we're about to play cards. She drinks cola through a straw out of a big Styrofoam cup. 
"Pippi Longstocking was my role model as a kid," she says, smiling to reveal a bottom row of teeth that aren't quite straight. "Thank God for that red-headed creature because she wasn't worried about age or gender or strength or ability. She just felt like anything was possible. She could do anything. And that was such an affecting thing in my psyche as a kid. It really formed me."
Barrymore, it's safe to say, is one of the world's most famous actresses--one of the few who can go by first name alone. This month she stars in Going the Distance, a romantic comedy that's sure to be a box office hit, further cementing her status as an American Sweetheart alongside Sandra Bullock and Cameron Diaz. Considering she was born into the business, it's easy to write off Barrymore's success. But, like Pippi, she's a scrapper, a hardworker who has achieved most of her dreams on her own. She may have made her TV debut before her first birthday, but she also entered rehab when she was only 13 years old. Recovering from something like that--and going on to start her own production company, star in dozens of celebrated films, win a Golden Globe, and become a director--takes much more than family connections. Birthright can you only take you so far.
There has never been a family of actors quite like the Barrymores, whose history in the trade dates back to the early 19th century. Barrymore's great-great-grandfather, a comedic actor named John Drew, emigrated to America from Ireland and married the London-born Louisa Lane in 1850 and together they opened a theater in Philadelphia. Louisa was a well-known actress in her own right; one of her co-stars was none other than John Wilkes Booth.
Louisa's daughter and Barrymore's great-grandmother, Georgie Drew, made her stage debut at 15, and later married actor Maurice Barrymore. Their son, John Sidney Blyth, began working at 14 and had an unparalleled box office run with a 10-picture, multi-million dollar contract he signed in 1932. His funeral, in 1962, was attended by W.C. Fields, Gretta Garbo, and Errol Flynn. 
Many people know the story from this point. John Sidney Blyth's son, John Drew Jr., and his wife, Jaid, were not exactly PTA members, and Barrymore had an astonishingly salacious childhood, even by today's standards. She was smoking, drinking, and passing out at Studio 54 by the time she was 10 years old. During all of this, she also managed to become a promising actress, starring in her first big-screen feature, Altered States, at five and beating out hundreds for the role of Gertie in E.T.: The Extra-Terrestrial, when she was seven.
In 1990, Barrymore authored a post-rehab autobiography, Little Girl Lost, with a People magazine correspondent named Todd Gold. The book--authorized by Jaid--reads like an E! True Hollywood Story. Barrymore's personal narrative is interrupted every few paragraphs with long asides from Gold, who comes across as a sympathetic, but obsolescent guidance counselor, insisting that Jade was unaware that her daughter was doing drugs during their late nights out together. Barrymore emancipated herself from her parents shortly after the book was published. 
Little Girl Lost was on my older sister's bookshelf when we were growing up, right next to Judy Blume's Letters to Judy, a collection of tales of trauma--incest, teen pregnancy, kidnapping--sent to the author by her readers. Upon hearing this fact, Barrymore's expression becomes serene.
"You have to not pretend to be perfect, because that's not only boring as fuck, but it's just not real," she says, fiddling with a chain around her neck that holds multiple gold charms, including a Cartier Love wedding band. "So I feel so liberated in that way. I just really want to be true to myself. That's essential in life. I would never be able to put on a charade. I would totally fuck it up."
While she talks, Barrymore absent-mindedly massages her left foot (her toenails are dark blue and there is a jailhouse tattoo of a moon on one big toe), cracks her knuckles, and stretches. Everything else in the room is still, every surface covered with artfully arranged items: a typewriter (she collects them), a record player, a megaphone, three identical Hacky Sacks lined up in a row. By the window on her right, there's an empty glass fishbowl. A blue Post-It note stuck to the rim reads "RIP."
"A lot of times in life, there's a big gap in what you're supposed to do with work and figuring out who you are and how you're going to succeed in this world," Barrymore continues. "Success being only measured by doing what you want to do and what makes you happy--not success as in power--and figuring that out or trying to accomplish that, you realize, takes a tremendous amount of homework and passion and diligence. I happened to go through it from 14 to 19." A wry smile passes across her face.
"I had a big gap in my life where I wasn't allowed to work at all because no one would hire me, which was great because I think you need that humility. You have to have everything taken away, or you have to have a major reality check, so that you always appreciate what you have."
Most people would not recall being unemployable as "great," especially not in an industry that doesn't offer many second chances, and which coronates new stars every day. But Barrymore is someone who can see the lesson in every story. In her teens, she appeared in a string of bad movies, receiving more attention for her outrageous behavior (flashing her breasts on the Late Show with David Letterman, posing for Playboy) than her acting prowess. But in 1995, a chance meeting changed her career. While she was filming the high school drama Mad Love, she befriended Nancy Juvonen, who was visiting the set because her brother was working on the film. Barrymore dared Juvonen to move to Los Angeles and start a production company with her. The two ended up launching Flower Films. In the years that followed, some of Barrymore's most successful work has been in Flower productions that she both produced and starred in, including the Charlie's Angels franchise (a television show is in the works), Donnie Darko, and Never Been Kissed. 
Barrymore has increasingly taken on more serious roles, like that of Edie Beale in 2009's television mini-series Grey Gardens, for which she won a Golden Globe and a Screen Actor's Guild Award. "I think I'll always keep it mixed up," she says. "I did romantic comedies throughout my twenties, but I'm just not in that place right now where I want to make a movie about waking up and realizing I slept with the CEO of the company and now I've got a fake identity or have a sort of Three's Company moment of like, Oh my God, we're misunderstanding each other! I'm in a place in my life where I'm really into reality rather than fantasy."
In reality--that is, off-screen--Barrymore has been wearing more hats, including that of director (of 2009's coming-of-age roller derby heartwarmer Whip It) and as the co-creative director and face of Cover Girl cosmetics ("the whole look we're presenting is really clean and graphic--it's just been so much fun"). She's even an executive producer of VH1's couples therapy show, Tough Love.
A self-confessed music nut, Barrymore says she still finds time to see bands two or three times a week. But that's work, too: She's always thinking about where a song may fit on a film soundtrack. (Whip It has more than 75 music cues, which Barrymore acknowledges is "an exorbitant amount.") "I saw the xx the other night, they were fucking brilliant. I saw Miike Snow the other night, fucking brilliant," she says, nodding her head emphatically at the fucking brilliants. "I'm always listening to music. I'm just constantly learning and researching.
"I love my job because I get to, like, train for roller derby or train for Kung Fu or learn about journalism or learn about Greenpeace and whales and scuba diving and activism and marine biology. I get to live in the mind frame of Edie Beale in Grey Gardens and do nothing but live in that temple of what that person thought and felt, and read her journals  every night and shut out the world. I get to have these very different lives." 
Which is not to say that Barrymore doesn't have her own expertise and experience to bring to her work. In her new film, Going The Distance, she plays Erin, a 29-year-old aspiring journalist interning in New York City for the summer, who meets Garrett (real-life on-again-off-again boyfriend Justin Long) at a bar and challenges him to a game of Centipede. ("I had a Centipede machine in my house for years," says Barrymore. "It's my favorite game.") Despite intending the relationship to be just a summer fling, the two end up embarking on a long-distance relationship.
"I relate to the long distance of it all immensely. My whole life has been a long distance relationship because of my job," she says, shrugging. "I'm always in different places. Ironically, with all this, 'We're now more connected than ever with technology,' I don't think we've ever been farther apart. I think it's bullshit. Everyone feels more connected but they're weirdly disconnected."
Going the Distance does a great job of illustrating this fact, most clearly in a scene where Barrymore and Long's characters attempt to have phone sex. "You know, phone sex going awry is just a funny concept to me and I thought, This is going to be one of those scenes where we have to go balls out, and if it doesn't work, it's going to be editing room floor crap," she says, laughing. 
It's an attitude that Nanette Burstein, the movie's director, was thankful for. "First of all, [Barrymore is] a tremendously talented actress with really good comic timing, which is hard to find--and she's so experienced," says Burstein. "I love the scene when she goes out and gets drunk with her work buddy. She came up with such funny lines when she's being carried out of the bar that were not in the script. It's reallyhard to play drunk." Barrymore even ended the scene with a face plant. "She does her own stunts," marvels Burstein. "In that scene, they had to fall out of the bar. In some movies, they would have a stunt person do that. She was like, 'No way, I'm doing it!' She's done much crazier things in Charlie's Angels."
Barrymore and Long were an item while they were making Going the Distance, and the chemistry shows on screen. "There's a lot of honesty here," says Barrymore. "Justin and I have actually been through this stuff in this case. We wanted to be revealing about what a couple goes through and what their joys are, and honest fucking laughter—that's Justin making me laugh for real. And when we're emotional in a movie, we've fucking been there. It's heart-wrenching, and it's tough." Barrymore cocks her head to one side.
"I related to the character. She doesn't want to give up her life and her sense of identity and her dreams and her goals and everything she's been working towards for a relationship—but she also doesn't want to sacrifice love for a career. I mean, aren't we all going through that?" She pauses. "I don't know what the male equivalent is, 'cause I'm not a guy. But certainly I know that's what my girlfriends and I all go through. So I read this [script] and I was like, I love this. It's not about mistaken identity or trying to become the president of the company or being in a fucking time machine. And I still like watching fantasy movies, and I might go back to making them, but to me this one is really fucking funny, but it's really fucking real."
Happy to do his part in the realness-keeping department, Justin Long shows his bare ass multiple times in Going the Distance. "It's funny because usually it's the girl who's naked. I was like, 'That's right, bitch. The tables are turned!'" says Barrymore with a laugh. "It was a running joke in the movie. It's actually been trimmed down--there were more. There was one cut where you saw everything!"
Next up for Barrymore is Whales, the true story of a Greenpeace activist (played by Barrymore) in the late '80s. "It's one of those stories where the world sort of came together, to put all their agendas aside and kind of understand each other for this intention of saving these three California gray whales," she says. The movie films in Alaska, where Barrymore has never been. "I hate being cold, but I just love this film so much." She stops for a minute, like the weather has only just occurred to her. "I'm going to be in the Arctic Circle for four months."
Barrymore has yet to stock up on thermals. "I never have time for shopping," she admits. "I like it... I think? If I ever do go shopping, I hit thrift stores, 'cause I know I'll find new pieces around a job or a shoot. I've been wearing the same fucking pair of jeans for 10 years. For a person who doesn't go shopping all the time, I live for clothes. I love combining patterns that aren't supposed to be together and layering and dressing for different moods. Some days it's preppy, some days it's super punk-rocker, some days it's girly, some days it's grunge. I just think you have to play the character that you're feeling that day." Now practically sprawled out on the floor in her denim and cashmere, it seems like today she can be characterized as comfortable.
"I've been raised in costume houses," she says. "There's such a discrepancy between the fucking runway and the red carpet. Everyone has to play it so safe, it's so boring! I love the runway. There's so much art and drama and fucking groovyness and it's so inspiring. God forbid anyone takes a risk in Hollywood. They get crucified, and it just shouldn't be that way."
For someone who had such a rough--and public--childhood, Barrymore is remarkably optimistic. She has continued to evolve as an actress—curbing her famous tendency to speak out of one side of her mouth for Grey Gardens—and has demonstrated tremendous business acumen (Flower Films has grossed well over a billion dollars). When she talks, she peppers her speech with the phrase "...but here's the good news," as if she has already processed and eschewed any negative idea before it reaches her lips. "I seem to keep finding fact in the polarity in life," she says. "Really, if there's positive, there's negative. But good news: If there's negative, there's positive. I just feel like I'm surviving and understanding those truths and embellishing and loving the positive and trying to navigate and be OK with the fact that there just is negative. That's the way of life." Another sip of soda, another smile. 
Now, Barrymore is doing what she loves and taking on new, exciting projects all the time. She recently started writing short stories and constantly finds inspiration in the books that line the shelves of her office. One of her favorites is Tom Robbins's post-modern fairy tale Still Life With Woodpecker. When Barrymore starred in 2004's 50 First Dates, she requested that her character--whose memory loss necessitates that her beau, played by Adam Sandler, court her every day--be reading the book each morning. "Not only is it my favorite book," she says, putting down her cup, "but the book is about--it says on page two--How do you make love stay? I thought it was apropos on several levels." -- HOLLY SIEGEL