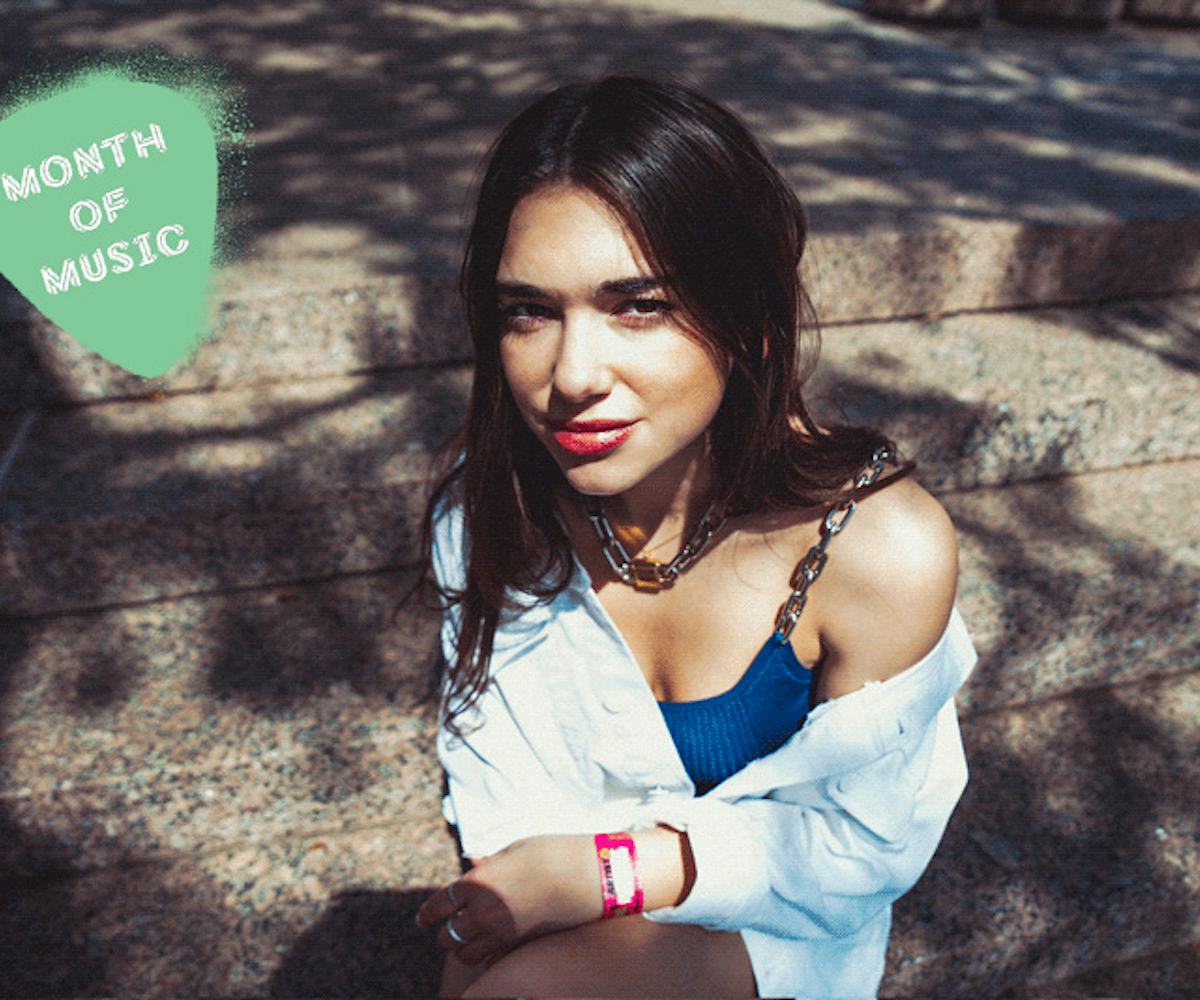 Photographed by Kara Smarsh.
Dua Lipa Is Pop's New Hip-Hop Fusion Bird
We share music because we want to connect with others on a deeper level. We want to relay and relate to a message that can't be said with just words. This April, NYLON is dedicating six days a week to introducing you to new artists and budding favorites. With interviews and GIF portraits done down at SXSW, NYLON's Month of Music is an exercise in finding aural pleasures outside of the Top 40. It's an exercise in challenging you and ourselves to not stick to one genre. But above all, it's a celebration of bold voices and sheer talent. Enjoy.
There's no denying the allure of Dua Lipa. The London-native, who's found her way in the great City of Angels, has swiftly become a pop princess-in-waiting. Her sound graces the underbelly of hip-hop with sultry flair. Songs like "Last Dance" and "Be The One" tout the bravado of youth, with a mature sense of where she is and where she's going. In person, she's magnetic. There's no denying the future for Dua Lipa is bright. Prepare to be blinded by it.
What song of yours fits the following situations:
Getting ready in the morning?
"Last Dance."
Me time?
"New Love."
Hooking up?
"Be The One." [Laughs.]
Can you recall a moment in your life—whether it's a song, a show, a video—that convinced you, you wanted to be doing music?
My father is a musician, so I listened to a lot of different types of music growing up. But Nelly Furtado and P!nk's first album, M!ssundaztood, changed my life. I was so young when it came out, so I sang along because I loved it. As I grew up, I'd still listen to it and the lyrics started to make more sense. I love "Like A Pill," I love "M!ssundaztood." Even the Nelly songs, I had no idea what I was singing until later on. They're my favorite songs, ever.
If any artist, dead or alive, could cover your music, who would you want it to be?
Michael Jackson.
Have you ever been starstruck?
I haven't really met that many famous people. It's a bit weird. It hasn't happened yet. I don't know how I'd react if I met Nelly Furtado or P!nk. We'll see how that escalates.
At the end of the day, how do you wind down and ground yourself?
I shower, do a face mask, light a candle, and get into bed. I try to not look at my phone 30 minutes before bed.
Photographed by Kara Smarsh.