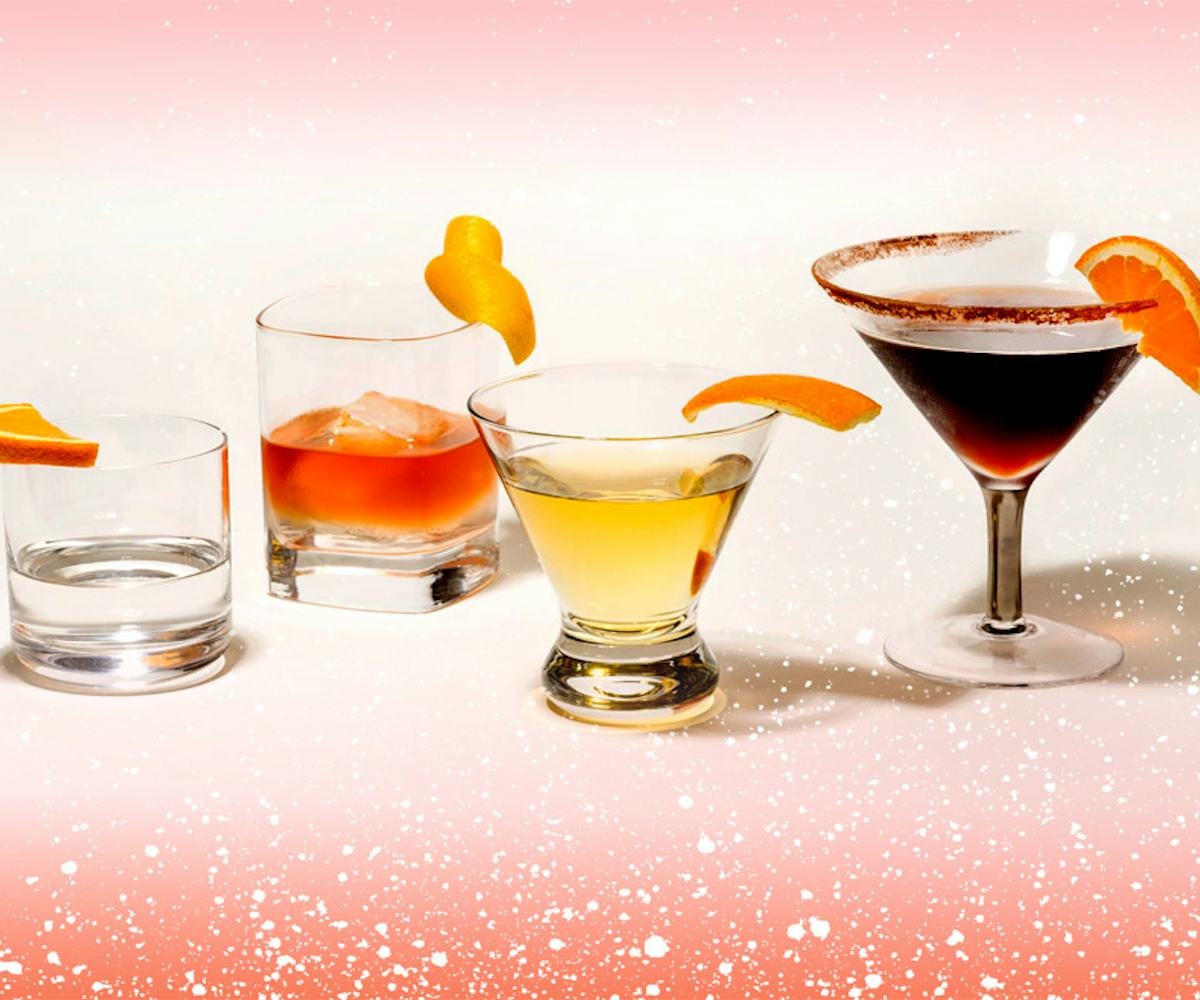 photo by eric helgas. styled by leslie pariseau.
a cocktail recipe for every holiday feeling
drink your feelings, whatever they are
At this point, your holiday shopping is (hopefully) done and all your presents are wrapped. Plane tickets have been paid for, holiday parties have been RSVP'd to, and you pretty much know what you'll be wearing to everything. The only thing left to do? Start drinking.
But, it is the holidays, so if you're going to drink, don't just grab the first beer you find in the fridge. Tis the season for elaborate cocktail making—and how you make said cocktails depends very much on what sort of holiday feelings your having. Stressed? More whiskey. Delighted? More bubbly. Something more complicated? Mulled will do.
Read on for these feelings-based holiday cocktail recipes, and let us know if they sound like they'll do the trick. 
The Genuine Excitement
By Erik Eastman
2oz Prairie Organic Gin
1oz Cocchi Torino Sweet Vermouth
.5oz St. George Spirits Spiced Pear Liqueur
1/4t Easy & Oskey Grapefruit Bitters
Good quality dry Sparkling Wine
Lemon twist
Stir gin, vermouth, pear liqueur, and bitters over clean ice for at least 30 seconds. Strain into a champagne flute or coupe glass. Top with 2 or 3 ounces of the sparkling wine. Go throw a party your friends will talk about until next year.
The Lost Baggage Elixir
1.25 oz. The Black Grouse
.25 oz. Honey Syrup
1 oz. Red Wine (a tannic Pinot Noir is recommended)
.5 oz. Cointreau
.5 oz. Bitter Truth Apricot Liqueur
1 oz. Orange Juice
.25 oz. Allspice Dram
Shake and strain over ice in a wine glass. Garnish with an orange slice and cinnamon stick. Take a sip and breath deeply. Baggage—both material and emotional—can't bother you now.
The Bitter Truth: I Hate What You Got Me
1 oz. Campari
1 oz.  Wild Turkey 101 Rye
1 oz. Apple-spiced Vermouth & Port Infusion
Stir ingredients with ice and strain into a chilled cocktail glass, garnish with an orange peel. Think about the nicest way to ask if there's a gift receipt. 
Annual Frustrations
Created by Mark Drew
2 oz. NOLET'S Silver Dry Gin
0.75 oz. fresh lemon juice
0.75 oz. star anise syrup
1.5 oz. fresh pineapple juice
0.5 oz. chilled water
To make the star anise syrup: Take 10 star anise pods and gently toast in a pan over high heat. Add one quart of water and one quart of caster sugar. Stir to combine, and bring to the boil. Once the strip starts boiling turn heat down and allow to simmer for 20 minutes. Remove from heat and allow it to cool to room temperature before using.
Place all ingredients together in a measuring jug, and stir thoroughly to combine. Using a small funnel, pour the drink into bottles, ensuring that the lip of the bottle is wiped clean. Cap bottles and chill for a minimum of two hours before serving. Remember that you can't change your family, and that's okay.
Mulling Over 2014
Created by Joe Brooke
1 3/4 oz. The Black Grouse
2 oz. Hot Mulled Cider
3/4 oz. Orange Blossom Honey Syrup
1/2 oz. Lemon Juice
Build in a Toddy glass and stir. Garnish with a cloved orange peel. Let go of regrets, and get ready for an amazing new year.