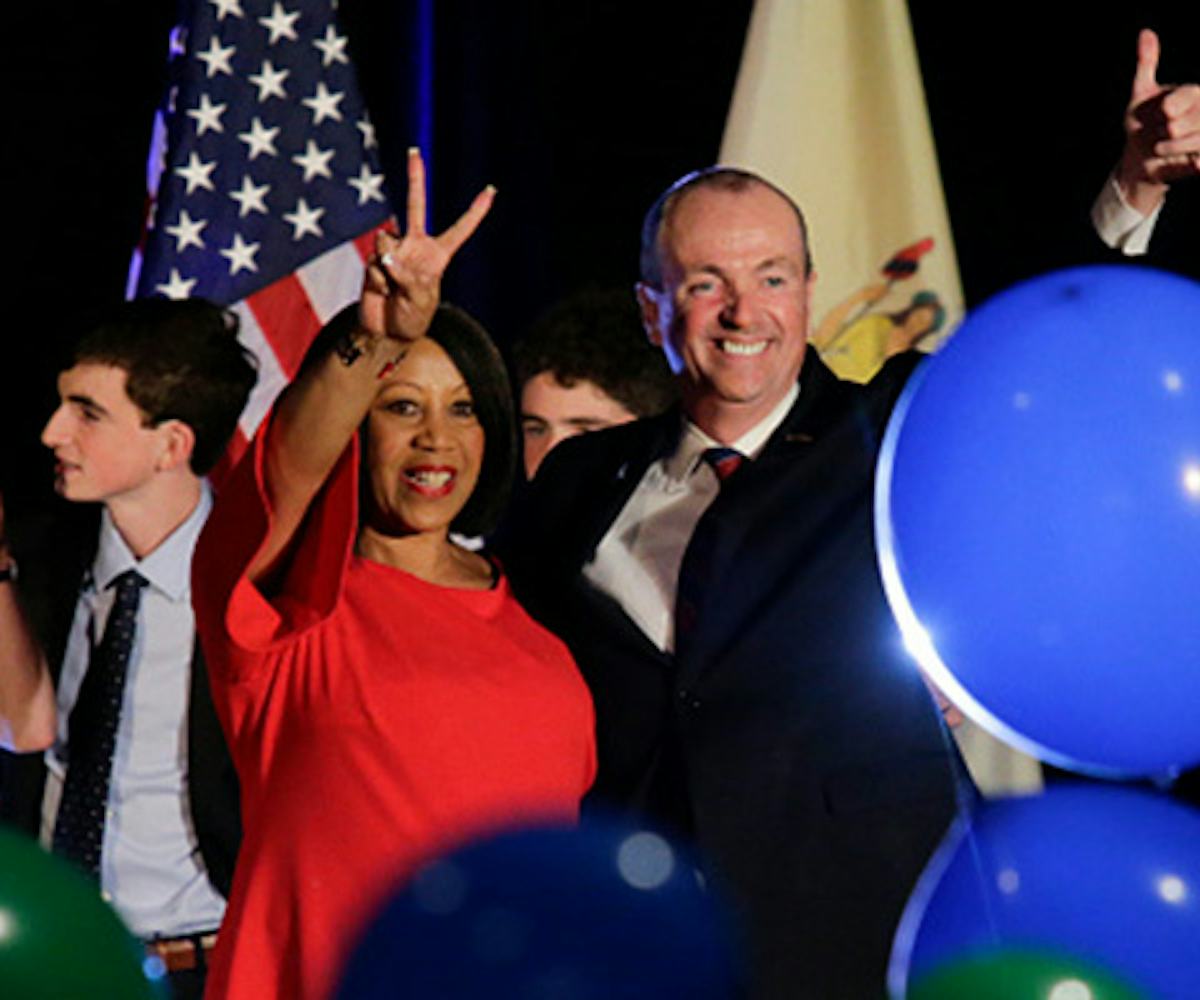 Photo by Eduardo Munoz Alvarez/Getty Images
Election 2017's Historic Wins Spell Trouble For Trump-Loving Republicans
On Tuesday night, Americans discovered that maybe there's light at the end of this tunnel. If Donald Trump is a giant disgusting rain cloud covering each day, on Election Night 2017, we saw some rainbows. Two trans women were elected, with one being the first trans woman of color to hold public office. Both Virginia and New Jersey now have Democratic governors. A lot of the people who won are pro-abortion rights, pro-gun control, and pro-civil rights.
First, Andrea Jenkins became the first out trans woman of color elected to public office in the United States. "When people try to enact policies that are going to be detrimental to [marginalized] communities, I can be that voice to derail that, to stop that, to resist," she said in a video for the Victory Fund, a committee dedicated to increasing the number of openly LGBTQIA public officials in the United States. "Representation is power, and we need more of it."
Danica Roem, a 33-year-old journalist in Virginia, made history Tuesday night when she became the state's first openly transgender elected official. She beat Robert Marshall, the 73-year-old who authored the anti-trans bathroom bill and who frequently referred to himself as Virginia's "chief homophobe." And Roem was even too classy to gloat about this epic upset.
Chris Hurst, a TV anchor in Virginia whose girlfriend Alison Parker was shot and killed on live TV in 2015, unseated Republican and three-time incumbent Joseph Yost in the 12th District House of Delegates. Yost has an A-rating with the National Rifle Association, while Hurst ran on a platform of reducing gun violence. "Now the possibilities are unlimited and it's time to identify what the common priorities really, truly are with this new dynamic, politically, now in the Commonwealth," Hurst said after his win, "and then go achieve results that actually give tangible, positive benefits to people's lives."
Civil rights lawyer Larry Krasner, who is known for defending activists and suing law enforcement, won as District Attorney of Philadelphia. "He immediately becomes the most progressive, reform-minded District Attorney of any major city in America," activist Shaun King wrote on Twitter. When addressing crowds after his win Tuesday night, Krasner said his goal is "transformational change" to the justice system which has "systematically picked on black and brown people." He added, "This is what a movement looks like."
Vi Lyles became the first black woman to be elected as mayor of Charlotte, North Carolina. "With this opportunity you've given me, you've proven that we are a city of opportunity and inclusiveness," Lyles told supporters after her historic win. "You've proven that a woman whose father didn't graduate from high school can become this city's first female African-American mayor."
There were also six other towns who elected a black mayor for the first time, including Jonathan McCollar in Statesboro, Georgia; Brendan Barber in Georgetown, South Carolina; Mary Parham-Copelan in Milledgeville, Georgia; Wilmot Collins in Helena, Montana; Booker Gainor in Cairo, Georgia; and Melvin Carter in St. Paul, Minnesota. 
Ravi Bhalla won the election in Hoboken, becoming New Jersey's first Sikh mayor. "Thank you for having faith in me, for having faith in our community, faith in our state, and faith in our country; this is what America is all about," Bhalla said Tuesday night. "We've been through a bruising campaign... but now is the time we come together and see who we can work with to bring this city forward."
Kathy Tran became the first Asian-American woman elected to the Virginia House of Delegates and the first Vietnamese-American elected at any level of office in Virginia. She defeated Republican Lolita Mancheno-Smoak.
Virginia also elected two Latina women to office, Haya Ayala and Elizabeth Guzman. Both of the women beat out Republican incumbents, according to USA Today. "I am humbled by the faith that my future constituents have placed in my candidacy and our message," Ayala said in a statement. 
New Jersey is finally out of the shadow of Chris Christie and has elected Democratic Governor Phil Murphy. He supports liberal views, including increasing taxes on millionaires, upping the minimum wage to $15, legalizing marijuana, and enforcing stricter gun laws. He won alongside his running mate Sheila Oliver, who became lieutenant governor of New Jersey and is one of two black Democrats elected to lieutenant governor position last night. 
So, while we still have three more slow, painful years with this blabbering sack of spider veins, Election Night 2017 has given us something we haven't felt in a very long time: hope.