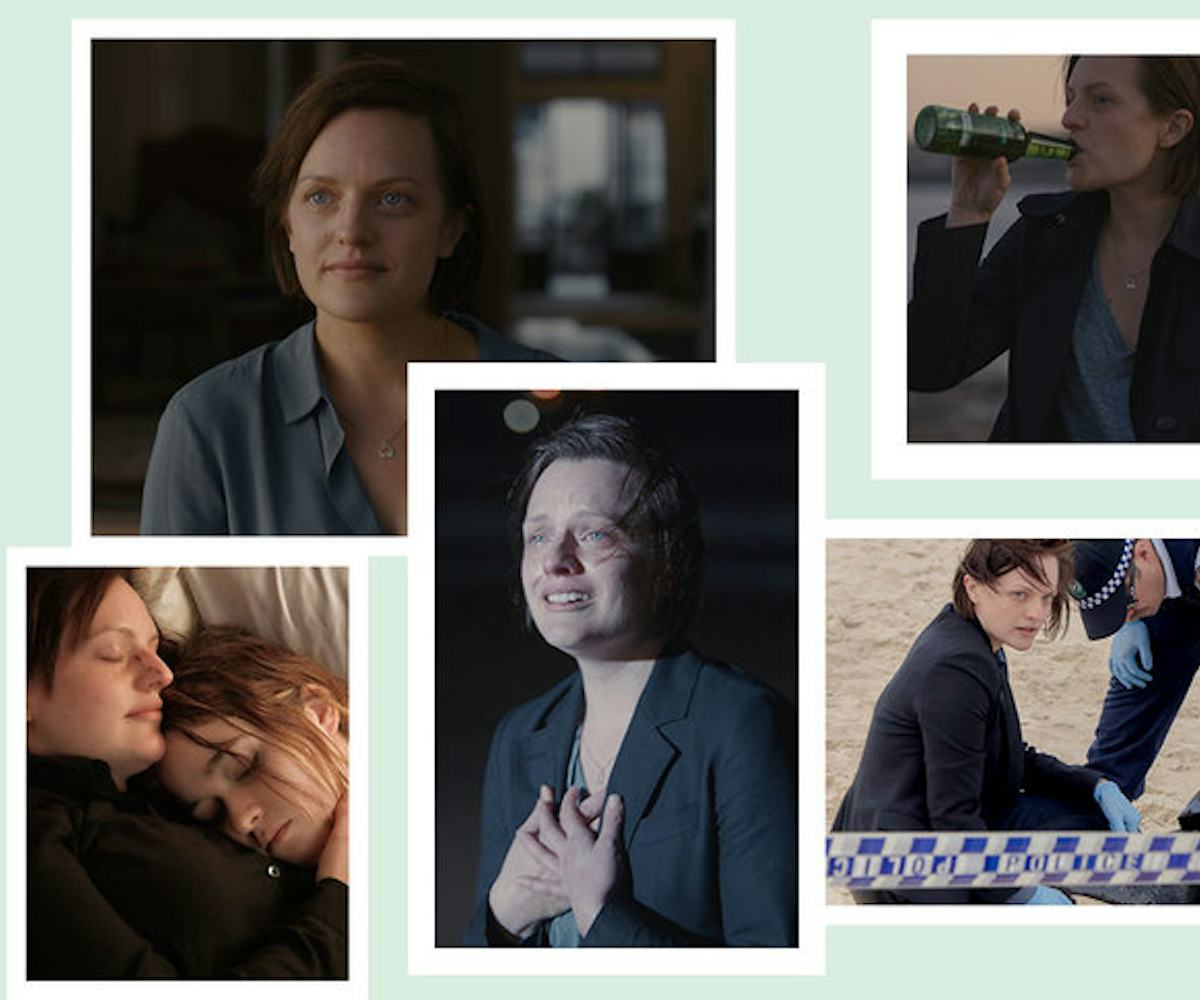 Photos courtesy of See-Saw Films
Elisabeth Moss Is Already A Winner
After seven noms, Moss is due a win
Elisabeth Moss has been nominated for an Emmy seven times between 2009 and 2015, but she has yet to take home the win. This year, she has another shot, as she's up yet again in the Outstanding Lead Actress in a Drama Series category, and this time, it's for the hugely successful critical darling The Handmaid's Tale, which she not only stars in but serves as Executive Producer.
"It's something that is incredibly gratifying," Moss told NYLON. "I don't think that anyone quite understands that when you say what an honor it is to be nominated and how great that feels, that it's really not lip service. Oh of course everyone says it's an honor to be nominated, but it is—especially now in this landscape of television where there's so much good content out there and so many amazing shows and so many amazing performances, especially from women. And so when you're picked out of all these performances to be in this tiny little group—it's amazing."
At 35, Moss has become one of the most respected actresses of her time. Although she's been working since the early '90s, it was her turn as attempted glass-ceiling-breaker Peggy Olson on Mad Men that started bringing in both attention and accolades, and her leading role in Jane Campion's miniseries Top of the Lake solidified her stardom. As Sydney-based sex crimes detective Robin Griffin, Moss is a headstrong loner who prefers her relationships free of obligation, and whose past trauma consistently comes back to haunt her while also serving her in the way she's able to solve cases. The success of the first series led to its second, Top of the Lake: China Girl, debuting on The Sundance Channel this Sunday.
On screen, Moss is formidable and serious—now, sitting with her iced coffee at the Beverly Hilton, she's friendly and laughs openly and freely. Her China Girl co-star Gwendoline Christie raved about her friendliness, thoughtfulness, and her sense of humor.
"I loved every single day that I had working with Lizzy. I really, really did," Christie said. "And I loved working with someone who is so committed to the work so that we could both try anything together, trust each other implicitly. I mean really though, I felt very held by Lizzy and very supported and very secure. And when you feel like you have support and security as an actor, then you're able to do anything—you can be totally fearless. When things are real stable like that, I feel that's when real creativity happens. You're not afraid to try anything. That's certainly the way this made me feel. I was so excited to be telling this story—this unconventional story that unfolds in a way we're not used to seeing on television."
Christie's Miranda is Robin's new shadow, which Robin is outwardly unhappy about.
"She doesn't want any friends—she certainly doesn't want a partner," Moss said of her character. "She doesn't want any of this, and she doesn't want Miranda, who is so open and so, like, free and just is doing all the wrong things and is being far too loud—she doesn't want any of that. That's the opposite of what she wants."
But Moss loved having Christie—"a sparring partner"—around, and together, they work to solve the case of a young Asian girl whose body was found in a suitcase in the ocean. Working with the few leads they have, Robin and Miranda are able to slowly unravel the tragic story of a young woman whose life had an interesting connection to Robin's biological daughter, whom she gave up for adoption at birth (played by Campion's real life daughter Alice Englert). Robin's past—some of which was central to the first Top of the Lake but not so distinctly that newcomers couldn't watch China Girl and follow—is terrifying, but so is her present. This installment gives her even more difficult, violent scenarios to play, possibly even worse than The Handmaid's Tale, though the latter is the one viewers have said was "too hard to watch." Moss enjoys that sentiment—although she jokes "people seem to have not had too much of a problem." (The show itself is up for an Emmy, too.)
"I think that it should be hard, and we intended for it to be very balls to the wall and if we had done anything less, we would have been nailed to the wall—pun intended," Moss said. "We would have been nailed to the wall for not going far enough and not being dark enough. We had to be true to that book and true to the gravity and the circumstances. And we did sort of make sure that there was a little bit of humor—dark sense of humor—a little bit of levity, a love story, that here were these elements of slightly lighter elements of life so you could watch it and it wasn't something like swallowing a bitter pill. But I think it's great—I think it should be hard to watch, and I think you should push through that and watch it."
As someone who has been subject to rape, assault, and other forms of brutality on screen, Moss said she's "never said no" to anything in a script. She truly thinks hard for a moment, just to be sure. "I look forward to somebody trying to finally give me something that I'm like 'No, that's too—I'm so sorry,'" she said, following up with, "I  probably wouldn't necessarily torture an animal or something. I'd draw the line at that. That's my—as an animal lover, I think I would draw the line." She laughed. "But you never know!"
The kind of fearlessness Moss has is part of what makes her such a rare breed. She's less concerned about vanity than she is about telling an honest, compelling story—and her characters have been better because of it. As Offred the Handmaid in The Handmaid's Tale, Moss narrates her character's true thoughts and feelings about the stifling, suffocating world she's forced to endure, juxtaposed with the expected actions and motions she's meant to go through day to day. While Robin could just as easily be forced into a Gilead-esque situation in today's patriarchal existence, she'd surely deal with things much differently than Offred—not better or worse, necessarily, but in her own way. Moss brings a specificity to each role she plays, becoming wholly that person in their less than ideal reality.
Still, she can't pick favorites. All of her roles, Moss says, have been enjoyable, and for different reasons.
"It's hard not to pick Offred because I'm still playing her—so it's hard not to," she said. "I'm also gearing up for the second season and I'm very much in that headspace and executive producing, and so I'm very much in that world, and hard not to think of that right now as being fulfilling. When I was doing Peggy, that was most fulfilling; when I was doing Robin, that was the most fulfilling. I tend to be very involved and fulfilled by the current character that I'm playing. It's not me being coy, there really isn't a favorite. I can't do anything else. I have no interest in doing anything else and I don't think anyone wants to see anything else."
Should she finally take home her first Emmy later this month for the role of Offred, that could change things, though Moss maintains she feels like she's already won.
"You have to feel that way as well because you don't have any control over these things," she said. "You might as well take the win."