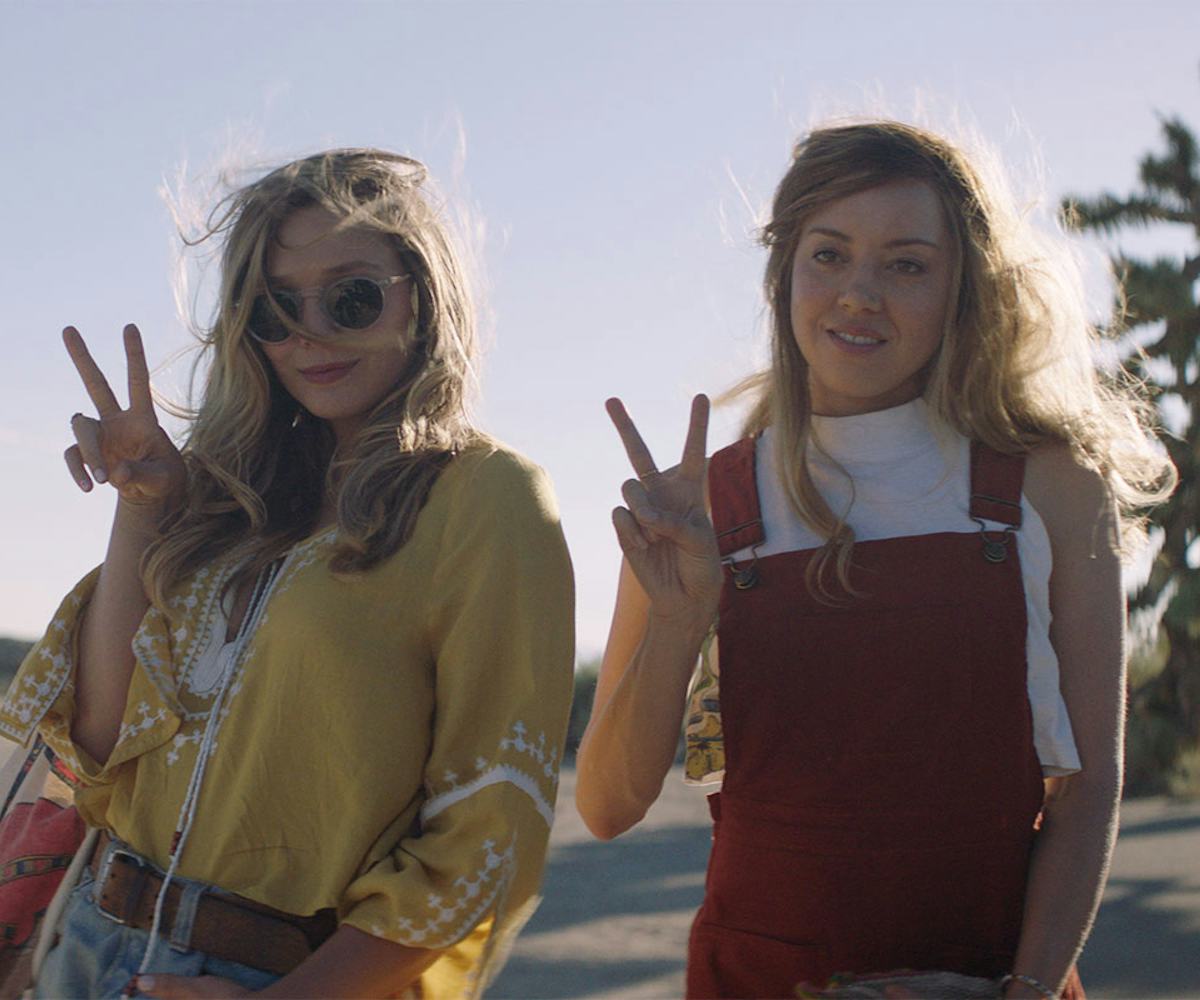 Elizabeth Olsen And Aubrey Plaza Tackle The Dark Side Of Instagram
A conversation with the stars of 'Ingrid Goes West'
In Ingrid Goes West, Aubrey Plaza plays the titular mentally unstable loner who becomes obsessed with Taylor Sloane, a seemingly perfect Instagram "influencer" played by Elizabeth Olsen. Ingrid, using money from a recent inheritance, moves out to L.A. to find Taylor, mimic her in every way possible, and eventually befriend her. Her plan works, and as we watch the two become BFFs, a sense of looming dread mounts, knowing that this will all come crashing down once Taylor invariably discovers the truth. But the oil-black comedy is far more than a Single White Female reboot for the IG generation. First-time director Matt Spicer has crafted a deeply unsettling satire about social media's capacity to distort reality on both sides of the spectrum. The movie premiered this weekend at the Sundance Film Festival, where we caught up with Plaza and Olsen to talk about their relationship with Instagram and balancing their public lives with their private ones.
Do you see this film as a cautionary tale?
Aubrey Plaza: No, I don't think so.
Elizabeth Olsen: I don't see it as one. People are going to interpret this movie in a lot of different ways, which is what's great. It makes you think.
Aubrey, you just joined Instagram a couple of weeks ago. What was the impetus behind that?AP: Well, I had gotten off Twitter, so I didn't really have any public anything, and honestly, I was just hanging out with my childhood best friend, and she just kind of convinced me to do it. I just felt like I had these movies coming out, I'm starting to produce more, and I wanted a way to share stuff that I was excited about.
What were your impressions of Instagram as people who don't engage with it?EO: We were just talking about that. We were given the permission to become obsessed with it. Matt created my character's Instagram account, so I could follow a certain amount of people, and I ended up following all of my best friends and following things that make them laugh that they screenshot and send to me, and I got hooked. I found it completely addicting; I wanted to look at it all the time.
Why have you avoided getting an account?EO: So many reasons. Honestly, if I were smarter from a business standpoint, I would just be on it.
AB: That's not always true. Your work speaks for itself.
Very true. Look at Jennifer Lawrence, who's not on any social media.EO: She's Jennifer Lawrence. But it's hard to do certain things, like get certain covers or get certain campaigns, and those things do help people see your movies.
Before making the movie, were you guys aware that people like Taylor Sloane exist in real life?EO: Kind of. I was aware they existed, but I never humanized them.
Do you follow a bunch of them to prepare for the role? What were your impressions of them?EO: I did. Some of them, to me, seemed like people who just love themselves and have sick bodies, and others seemed like businesswomen who have a great taste and are tastemakers. Is that a thing?
I believe the term is "influencers."EO: Influencers, right. Well, I actually think they're really great at taking pictures, and they have interesting style even just from an interior design point of view. I found it fascinating.
Do you think the film skewers people like that? Can it be viewed as a takedown of that culture?EO: I think that's what satire is for. If people take offense, awesome. It's not like we're trying to offend people.
As actresses, are you able to relate to the idea of presenting a public version of yourself and in a way putting on a performance that's different from who you are in privateAP: Yeah, as a public person, there's always a level of protection, for me anyways, and [to Elizabeth Olsen] definitely for you. There's always a line, and you always navigate it differently.
Is it a difficult line to navigate? AP: Yeah, I'm not good at it. I've been told by many people. It's definitely a skill, I think, to be able to present yourself in the way that you want to be presented. I have a hard time being myself in certain kinds of situations because I don't really want to be myself, because I don't want people to know who I am, but I guess that comes with the territory.
Do you think having an air of mystery is essential to your job?EO: I think sometimes you watch these great actors on film, and it's hard for you to stop thinking, Oh, that's so and so. I never want that to happen. I mean, I love Patricia Clarkson's career.
How does a first-time filmmaker like Matt Spicer get the two of you in his movie? AP: I knew him a little bit socially, but my agent sent me the script, and it's a really great script, and I was so excited about it when I read it, and we had a meeting, and I just harassed him until he gave me the part. Elizabeth Olsen was our fantasy Taylor. And we cannot believe that she did it.
EO: My friend told me about this script before the producers that are on it got involved, and he loved the script, and he was like, "Hey, there's this hilarious movie that you'd be perfect for, because I know want to do a comedy, and no one knows that about you." And then when my team sent it to me, they didn't know that I had already known about it. And I read it, and I was like, "Yup, I'm in."
Do you guys see this as a satire of Los Angeles as a whole? There's a scene that very clearly mocks Cafe Gratitude.EO: Yeah, totally. I also love Cafe Gratitude. [Laughs]AP: Me too. I want to eat cauliflower samosas, now. I want them.
EO: My friends all actively became involved in my Taylor Sloane phase last summer, and our catchphrase became, "There's a little bit of Taylor Sloane in all of us." It's so dorky.