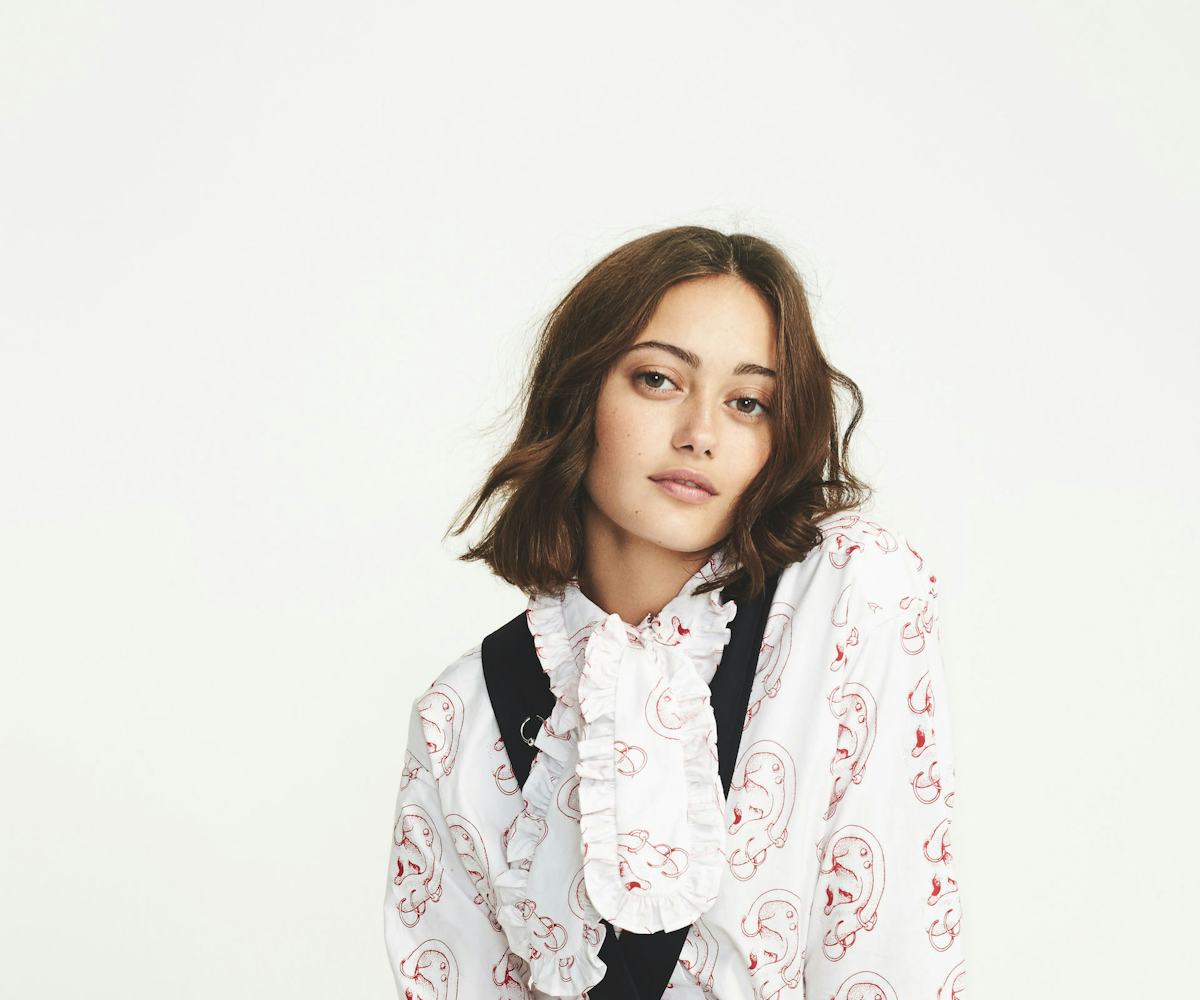 Photographed by Aitken Jolly. Styled by Jeanie Annan-Lewin.
Ella Purnell Is Tim Burton's Newest Leading Lady
You know you want to be a Purnellephant too, okay?
The following feature appears in the September 2016 issue of NYLON.
"I always feel like sugar cubes aren't big enough," says Ella Purnell, dropping another square into her coffee, dispelling any notion that she is an archetypal Hollywood starlet. Further proof: The night before, a special delivery landed the 19-year-old Brit with seven tubs of Ben & Jerry's, one of which she's already polished off. As if her unregulated eating habits aren't proof enough of her down-to-earth demeanor, when I ask how often she visits Los Angeles, she says once a year is enough. "I'm quite easily influenced," she says. "Twenty-four hours too long and suddenly I'm in a yoga class with a smoothie and a dog in my handbag." She wrinkles her nose and laughs. "I love London too much and I'd miss my friends. Also, I can't actually drive."
This is Purnell in a nutshell: charmingly scatterbrained, enthusiastic and curious, talking animatedly about everything from filmmaking and the agony of wearing high heels to reincarnation and learning to play the saxophone. On the back of successful roles in Intruders (2011), Kick-Ass 2 (2013), and Maleficent (2014), she's become something of a teen idol, amassing close to 30,000 followers on Instagram who live and breathe all things Ella. There's a name for them, too—the Purnellephants. "They're so lovely, I feel like they're my mates!" she says of her fans. "I didn't really have idols growing up, but some of my friends were huge fangirls. People just dismiss it, but it's really important to have someone to look up to, so I try to interact as much as I can. A little like can make someone's day, and I'm happy to do it." She's quick to clarify, though, that she's not shy about blocking bullies and haters. "Social media can be so damaging," she says.
Today Purnell—casually dressed in checked Zara pants, an American Apparel tee, and Stan Smith Adidas sneakers—has philanthropy on the brain: "I have a dream to create charities and hubs for people where hopefully something can change," she says. "I don't want to inspire people to look pretty and buy makeup. I want to inspire them to knit scarves for Syrian refugees." Lounging around North London's Loft Studios, where preparations are underway for her NYLON shoot, she's armed with piles of what appear to be schoolbooks. They're actually Purnell's personal notebooks, crammed with jottings on Educate2Eradicate, a women's rights charity for which she's the events and PR manager. "I'm so stressed," she says before passionately launching into the charity's mission statement. "We have this big fundraiser tomorrow and it's all completely on my head."
No wonder she needed ice cream, I offer. "Exactly!" she says with a laugh. "I picked it up for breakfast, too, but my mom said no."
Born and raised in East London, Purnell studied acting, singing, and dance at the respected Sylvia Young Theatre School, and was always drawn to creative industries. She made her London stage debut in Oliver! as an 11-year-old, and scored her first feature film, Never Let Me Go, co-starring Carey Mulligan and Andrew Garfield, when she was 12. This year she'll appear in Tim Burton's Miss Peregrine's Home for Peculiar Children, alongside Eva Green, Dame Judi Dench, Samuel L. Jackson, and her rumored real-life love, Asa Butterfield. In the film, which is based on the popular books by Ransom Riggs, Purnell plays Emma Bloom, a soft-spoken orphan whose particular "peculiarity" is being able to manipulate air. "It was totally surreal," she says of working with Burton, whom she's admired for a decade. "The day I found out I got the part I was in complete shock, but then [I felt] this immense pressure, too. It took a few days to sink in, but once I got on set and met everyone, and got my costumes, the professional part of my brain kicked in and it was just like another job."
After suffering bouts of anxiety while growing up, Purnell says she's forever reminding herself that "nothing is permanent," and she doesn't take her career for granted. While she admits that loneliness is a side effect of the business ("especially when you come from a big family, and if you're doing a film where there aren't many people your age—you can spend six months pent up in a hotel room," she says), she affirms that the downsides, for her, are far from grave. "People make out like it's really hard to be famous, but I'm quite happy-go-lucky," she says with a smile. "I can't see myself complaining about that very often."
All clothing and accessories by Ashley Williams. Hair: Josh Knight at unit 30 using Bumble and Bumble. Makeup: Valeria Ferreira at Caren using Diorskin Nude. Photo assistant: Izaak Jolly. Postproduction: Touch Digital. Special thanks to Loft Studios and Film Plus.