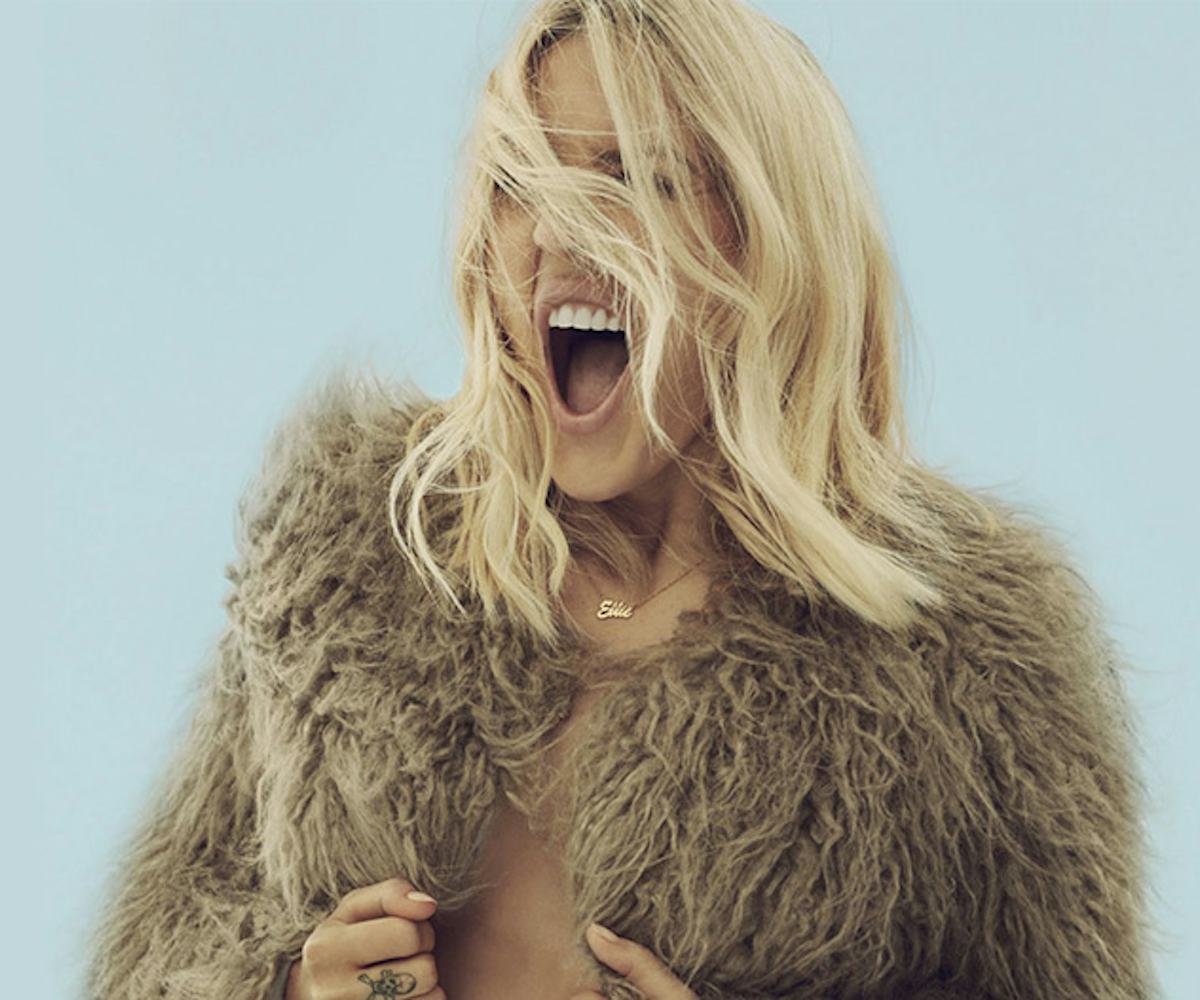 Photo: Courtesy of Interscope.
Ellie Goulding's 'Delirium' Is One Of 2015's Best Pop Albums
the brit has found her footing.
If Halcyon was Ellie Goulding's breakup album, Delirium is her redemption one. The sweeping orchestral elements of her sophomore album are traded for a pure pop production—a departure from the indie-electro fusion she got her start with. But her personality is not lost in the big-name producers' work. On the contrary, it's amplified to new heights and expanded across pounding, dance-floor-ready tunes.
In fact, if this collection of songs—a staggering 16 tracks, one of this year's biggest—were sung by anyone else but Goulding, Delirium would sound like an album riding the coattails of pop trends that are losing their "it" factor. "Keep On Dancin'" toys with the same minimalist world as Madonna's "Devil Pray"; "On My Mind," the album's single, sounds a bit like a Calvin Harris song; "Don't Panic" in infused with the same '80s influence found in CHVRCHES outstanding sophomore album. It's Goulding's unique vocals that challenge the influences each song pulls from:  One thing that's always set Ellie Goulding in a tier above her peers is how she uses her voice as both a vessel for a song's narrative and an instrument. Her embrace of electronic music allows her to manipulate her vibrato into sounds normally reserved for synth boards. Take "We Can't Move To This," one of the album's biggest jams: Goulding stretches, shrinks, and layers her voice in ways that build a tight tension only to be released in a bombastic chorus. Later, in "Devotion," she creates a hypnotic mix of higher-pitched vocals that dance around her grounded production in a cosmic way.
Delirium is about self-discovery. Its lyrics cut through the bullshit of figurative language and go straight for the truth. Sure, some might long for the grandiose verbiage of Halcyon, but Goulding doesn't need metaphor to cope anymore. The dust of whatever relationship that project was inspired by has settled. She's found a great love, and created an album earnest in its pop tendencies and bold with its honesty. And the best part is she didn't sacrifice any bit of herself for it. Though serious at times, Delirium is nothing less than celebratory. It's a drunk-on-life LP that, at its highest point, is bursting with the ecstasy of complacency. And at its lowest, joyful enough to keep you moving.
Ellie Goulding has arrived.