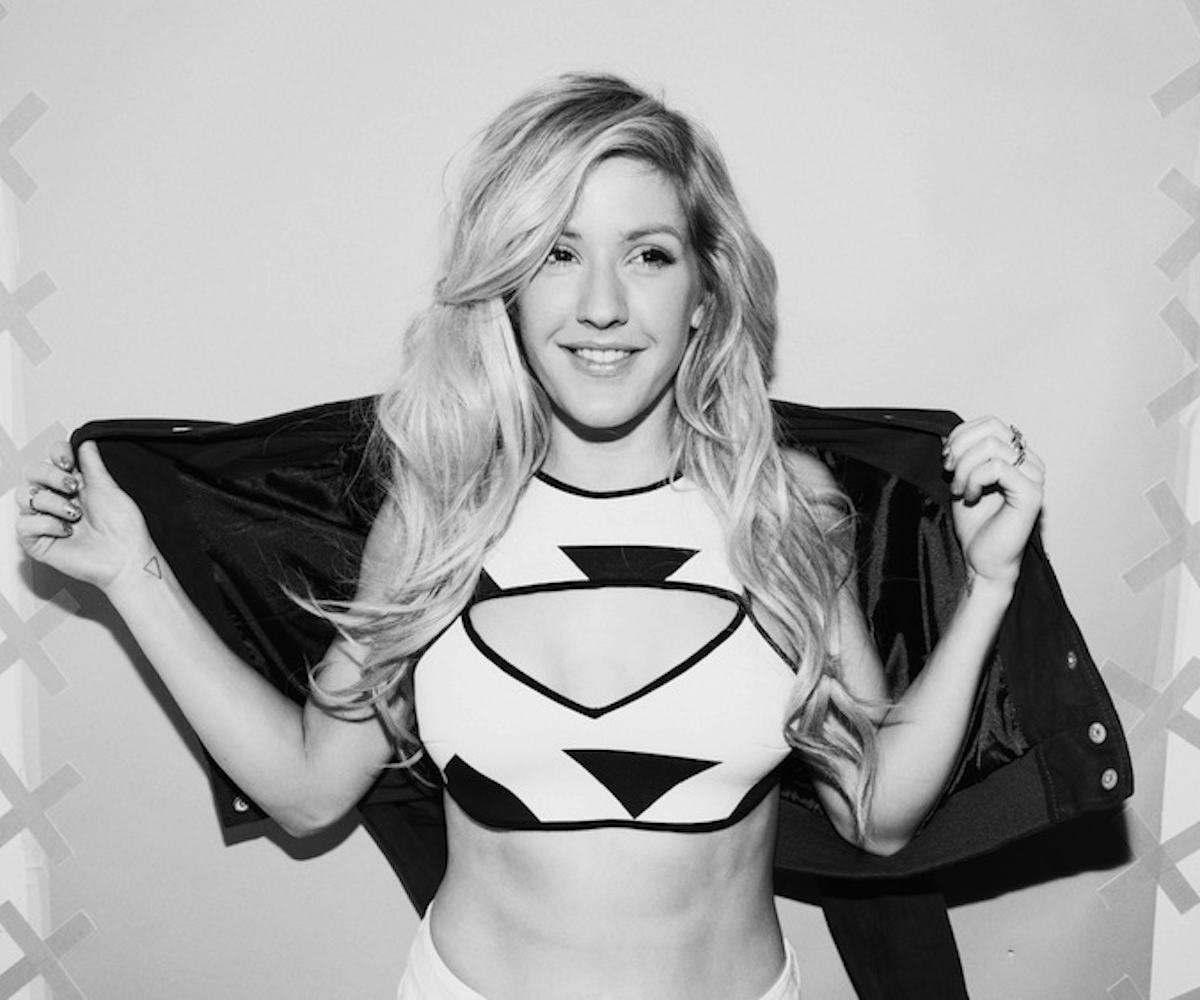 photo by isa wipfli
the insider: ellie goulding
the star talks music, fashion, and becoming a full-fledged brand.
"Before we start, do you mind if I grab a green tea?" Ellie Goulding asks politely, her English accent especially pronounced. "Sorry, but I think I need this today," she laughs.
She is sitting a coffee shop in Lower Manhattan the morning after the singer's second sold-out show at Madison Square Garden. Considering she spent the majority of the two-plus hour performance banging on floor drums, running around the stage, and breaking out into spontaneous dance moves, it's no wonder she needs a boost. This is in addition to nailing her signature high notes, of course, in singles like "Burn," proving that even in a music scene in which robotic choreography and lip synching have come to be expected, there's at least one pop star in the game who's still going for the real thing.
The 27-year-old has not only continued to sell out shows almost five years after the release of her debut album Lights –-but thanks to a slew of radio-friendly singles and a cool-girl vibe, she's reached the music industry sweet spot, beloved by indie and pop fans alike. The fact that Goulding's glimmery, sing-along track "Anything Could Happen" had a prime cameo on HBO's Girls didn't hurt the cause, either. "I certainly have fans that have been around for a very long time and I'm very grateful," she says. "When I was growing up there were a few bands that really stuck with me, and it makes me so happy that I've stayed with them." She doesn't even mind when clusters of concertgoers stalk out her dressing room before, during, and after shows, which has been known to happen more than once. In fact, she sort of loves it. 
Goulding grew up in the small town of Lyonshall in the United Kingdom, playing clarinet in school and teaching herself the guitar. After winning a handful of singing competitions, she dropped out of the University of Kent to pursue music full-time. Needless to say, it was the right move: Since the release of Lights it's been a whirlwind ride for the musician, winning the coveted BBC Sound of 2010 award, touring with Bruno Mars, and due to the high demand, releasing an expanded version of her 2012 Halcyon album entitled Halcyon Days.
The 21 tracks on the deluxe edition include everything from Goulding's trademark electro- inflected dance jams "Only You" and "My Blood" to a stripped-down cover of Alt-J's "Tessellate." The LP was written mostly in the seaside town of Dingle, Ireland, an experience that Goulding remembers as "almost religious." She says she wants to return there to write her next release—once she figures out what she wants it to sound like. "I'm slowly grasping my next sound with the music I'm listening to. It's such a random mix of hip-hop and R&B and classical and rock music, so it really can go any way," she explains. "But my voice is my main thing, and so whatever it is, I always want it to be the feature."
This might be the case, but judging from her Instagram, Goulding has the potential to morph into a full-fledged lifestyle brand. Along with the photos of adorable kittens ("fans know I love cats, and so they send them to me and I make up captions"), she also features workout inspiration and outfit selfies in which she wears brands like NastyGal and Margiela. "I seem to have gotten a huge Instagram following not only for fashion, but also for food and fitness," she explains.
Just don't expect her to go the Goop route. "I like making little statements through fashion," she says, taking a final sip of green tea as she notices her friends waiting outside the door. "Not necessarily big or controversial statements, but just small ones. Even though I'm very serious about a lot of issues in the world, I like to be silly and keep it light—I like to keep people happy."
jacket by levi's, top by this is a love song, shorts by claudie pierlot.