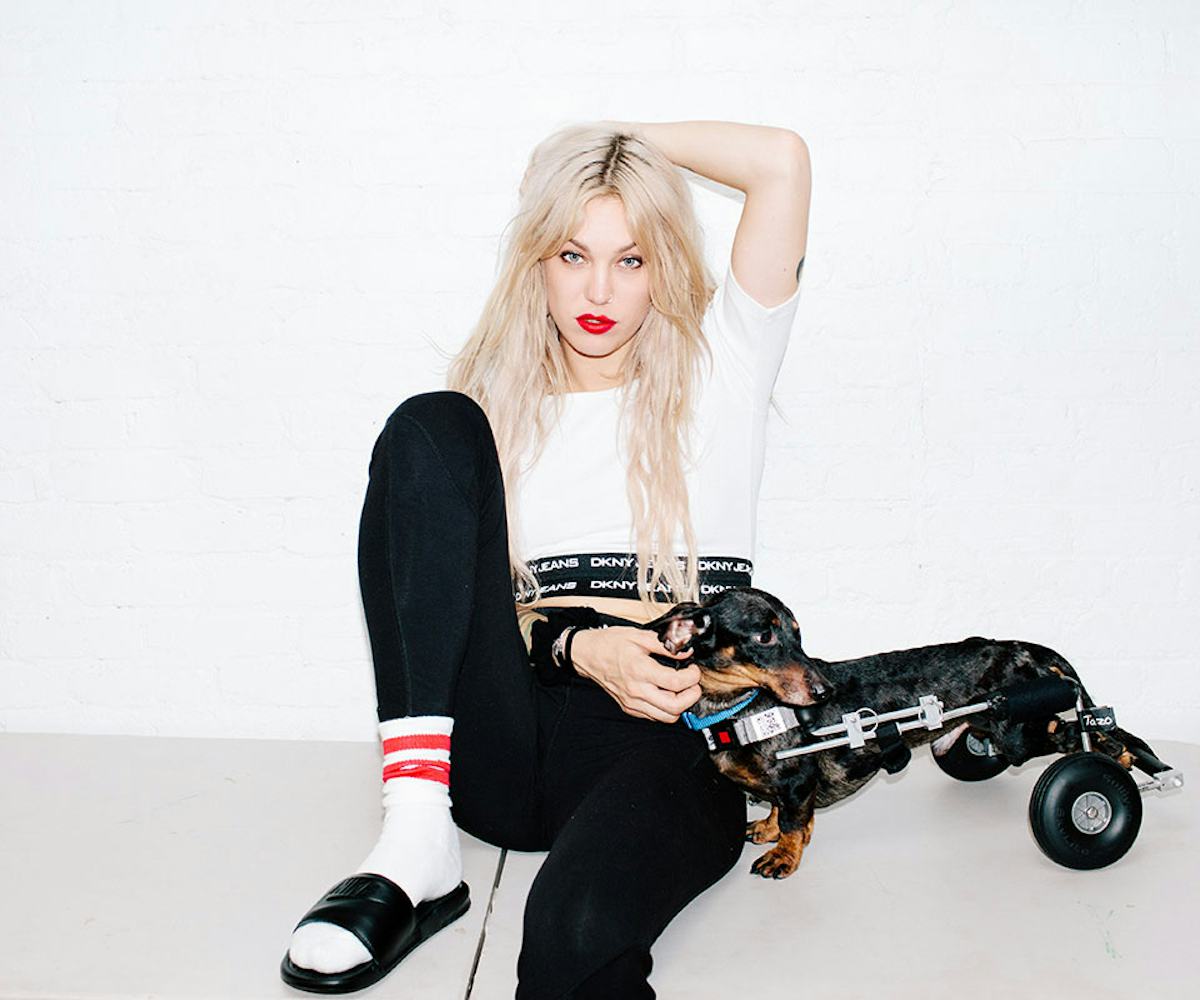 Photo by Atisha Paulson
elliphant is here to pop pop music
let the "revolusion" begin
To say Ellinor Olovsdotter, better known as Elliphant, is provocative would be an understatement. The Swedish export is that and then some. Her music goes hard and she lives hard—though, not in the way you probably think. She's an animal rights activist, too. She's a well-traveled machine who makes music reflecting her worldliness. Whatever they put in the water in Sweden is partly to blame, but her success boils down to her no-apologies way of living. Her North American debut album, Living Life Golden, drops September 25, and if lead single "Love Me Badder" is any indication, fall is going to be a wild one. 
We caught up with the polyglot while she was in New York and chatted with pop's rising cool girl. Oh, and we played with puppies* because everyone knows puppies make everything better.
Photographed by Atisha Paulson; Styled by Marissa Smith.
*All the dogs in this gallery are up for adoption! Learn more here.
What's the party scene like in Sweden and how has it influenced your music?The party scene is pretty good. I've gone to amazing reggae concerts in Sweden my whole life. When I was fifteen I started going to a lot of underground techno parties, and we had a lot of forest parties. There's a big, open-air party scene in Sweden. People work very hard there. People are working all year round playing records in clubs just to bring in money. It creates an inspiring culture.
Sweatshirt and pants by Melody Ehsani x Reebok, Elliphant's own sneakers.
Elliphant poses with Cameron, a newly adopted lab mix. Jazzy, however, is still up for adoption.
How would you describe the sound on your upcoming album Living Life Golden?I call my music "provocative pop music" because it's not really following any genre. It's all over the place, really. The album is going to continue being a reflection of that. It's calmer than anything else I've released, I can tell you that. It's a more compact experience, but not flicker-y. There are a lot of questions about home, you know. What is home? It's about home life and love—two things I find to be very paradoxal. It's straight-up.
Exciting. There's definitely soul in what you do. Now, if you could describe the album with an Emoji, what would it be?Fuck. It would be the one with the flowing grass and flowers.
Bathing suit by Stussy, pants by Adidas Originals, shoes by Nike.
Elliphant poses with Winter, a newly adopted American Bulldog mix.
You travel a lot, no? What's been the most exciting place you've visited?You know, I never thought about coming to America. I was never planning on going, and I think coming here was a gift given to me through music. America is a very cool place. I've met a lot of people working [toward] the same thing as me—and I've been treated really well. I've had such a good two years here, [the United States has] given me the world. America has really been the biggest surprise.
That's really encouraging to hear! Did you have any preconceived notions of what Americans would be like?We've always had American television where I come from. I saw all the big American movies growing up, so I think we kind of adopted American culture in Sweden. To answer your question: no.
You're in Los Angeles now, right? How has living in L.A. been? It always seems like this is the place where people go to be chill.Yeah, it's super chill. It works really well for me. I was born in the city, so I don't have that city urge—I long for nature. L.A. is more in the direction of what I need as a human. What L.A. has really done for me, though, is given me the opportunity to make music with amazing people. I've been working constantly since I got there.
Top and leggings by DKNY, socks by American Apparel, shoes by Nike.
Elliphant poses with Tazo, a Dachshund available for adoption here.
Did you ever think that one day you'd be working with people like Diplo and Skrillex?Honestly, I didn't even know who they were two years ago. Then suddenly, all these people called me. Diplo was the first person who I kind of knew. He was sharing my videos and playing my songs on Radio 1. We became Twitter friends. I think Skrillex got my number through Diplo, and then came Dr. Luke. I'm really thankful for [Diplo] for that—Skrillex and I became instant best friends. He came to Sweden two days after he called and stayed for a week, and hung out with me in the studio.
That's incredible. What's the best advice they've given you?It's not advice per se, but Skrillex always pushes me when I'm depressed and think that maybe it's not worth it. He always pushes me back on track.
Top and leggings by DKNY, socks by American Apparel, shoes by Nike.
Can you speak to the story behind "Love Me Badder?"It's actually the first song I wrote by myself. On the way back from a session, Dr. Luke called and said, "Come by and meet my really good writer, Tiran." (He made my favorite song, "Man Down," with Rihanna.) We started playing some tracks, and when we got to this track—we were eating sandwiches—he blew out everything in his mouth and said, "Turn off the fucking song!" because he had an idea. He went in and recorded the whole song in maybe two takes. I was supposed to write my own lyrics to that. We got so attached to the simplicity of the lyrics. In the end, I changed the lyrics from "better" to "badder."
What about the video?There could have been so many different videos for this song, actually. These two hipster dudes that want to make films gave it that film-y vibe. It's something I've never done before. I just trusted them.
Have you found it difficult navigating the hip-hop and pop scene as a woman?We have a big hip-hop community in Sweden, but no, I've never thought about it. For me, I don't really see myself as an MC. I have big respect for the hip-hop community and where it comes from. At this point in my career, I wouldn't say I'm an MC—I'm an artist that is just creating music.
Jacket by Adidas Originals, leggings by DKNY, socks by American Apparel, shoes by Nike.
Elliphant poses with Charles, a Pit mix available for adoption here.
I feel that. Has anyone ever told you to tone it down or to not say certain things on the radio?Yeah! I mean, sometimes I try not to swear because it's easy to not listen to someone who is constantly swearing. I think about it a little bit, but I'm pretty free with my language.
What would you say is the biggest misconception about you?That I'm a total badass. I don't mind it, but I'm actually very nice and I really believe in life. I'm pretty humble and shy. I'm scared of the dark and I cry a lot. I'm really sensitive. I'm more cuddly and nice than people would expect.
How do you hope to inspire women with your music?I want to inspire women to not try so hard. Women have been treated really hardcore in the past, and I think it's just time to chill. I'm have so much respect for women who fight for women's rights. I think the pressure on women is hysterical—especially the pressure from women on other women. I want to represent the first real woman born free of that.
Top by DKNY, Elliphant's own sunglasses and earrings.
Elliphant poses with Apricot, a Yorkie available for adoption here.