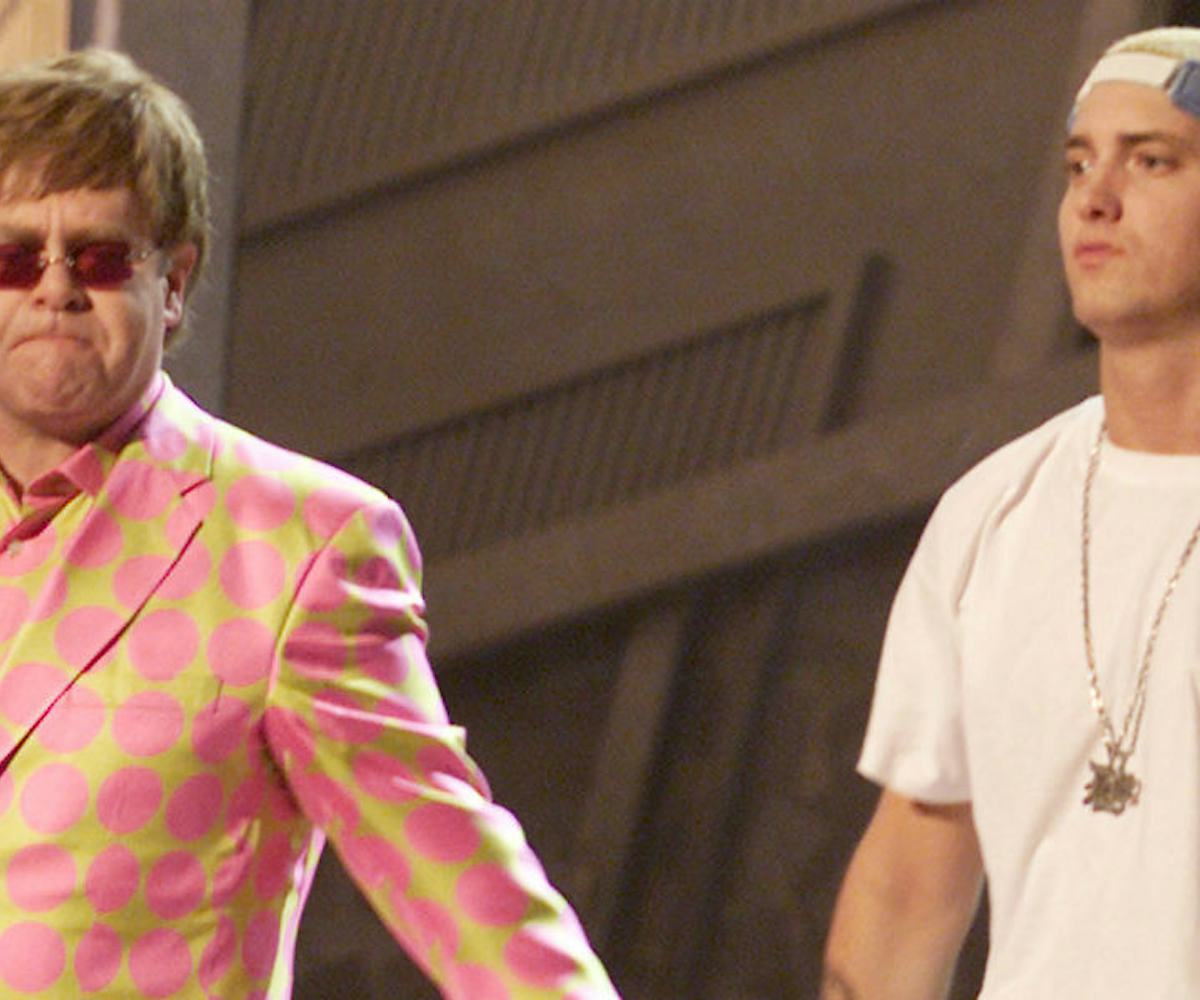 Photo by Kevin Winter/Getty Images.
Eminem Says He Was Probably On Drugs When He First Met Elton John
That and more is revealed in the latest issue of 'Interview'
Eminem and Elton John share a special friendship. Take the first couple of lines from their recent discussion for Interview magazine.
"Hi, Marshall," John opens.
"How are you doing, cunt?" Eminem responds.
"I'm very well, you old bastard..." John counters.
It seems like an odd pairing on the surface, but here are the things that overlap in their lives: They're both musical artists. They've also both dealt with sobriety issues—Eminem's been clean for nine years, John for 27. That's pretty much where their similarities end though. In fact, when the pair first met, the rapper recalls it being around the time he first started using drugs. Despite the whole opposites thing, the 2001 Grammy awards, where they performed "Stan" together, John says, was the "start of a lovely friendship." And it's clear, as the conversation continues, that they both share a bond and appreciation for one another that extends beyond throwing insults back and forth.
And so, during John's interview with Eminem, we learn quite a few things about the 45-year-old rapper. Like, he enjoys taking breaks in between projects, he's put out albums that he's not proud of, and he's not at all as aggressive as his songs might make him out to be (John describes him as being "quite a shy person"). Ahead, we highlight our favorite parts of the discussion, which includes Eminem's take on the cypher that shook the internet and Donald Trump.
On his upcoming album, due out December 15: "I've been working on it for over a year. You know how it is—you make songs, and as you make the new ones, the old ones get old and you throw them out. The album is called Revival. It's a reflection of where I'm at right now, but also I feel like what I tried to do was diversify. I've tried to make a little something for everyone."
On becoming sober: "Getting clean made me grow up. I feel like all the years that I was using, I wasn't growing as a person."
On taking breaks: "I studied Dre a lot. I don't know if you'd call it a mantra or what, but he believed that if you never go away, it's hard for someone to miss you. And I realize that some people see going away as, 'Oh, he's irrelevant now,' but I feel like if I don't go away, I get sick of myself. It's never been my thing to be in the spotlight all the time."
On the artists he's into right now: "J. Cole. Travis Scott. Kendrick is great. My friend Royce da 5'9″ is incredible. Joyner Lucas is really good. Tech N9ne, too."
On "The Storm" performance: "It was about having the right to stand up to oppression. I mean, that's exactly what the people in the military and the people who have given their lives for this country have fought for—for everybody to have a voice and to protest injustices and speak out against shit that's wrong. We're not trying to disrespect the military, we're not trying to disrespect the flag, we're not trying to disrespect our country. But shit is going on that we want to make you aware of. We have a president who does not care about everybody in our country; he is not the president for all of us, he is the president for some of us. He knows what he's doing."
On the best advice he's received from Dr. Dre: "When I first got signed to Aftermath, we had many discussions about how I wanted to bring in my group D12 and put them on right away. Dre said, 'You've gotta build your house before you can let your friends come in,' and it made so much sense to me. In hindsight, waiting was probably better because eventually we got Shady Records and were able to sign them to it. He also used to say, 'It can be in bad taste as long as it don't taste bad.'"
Read the full interview here.