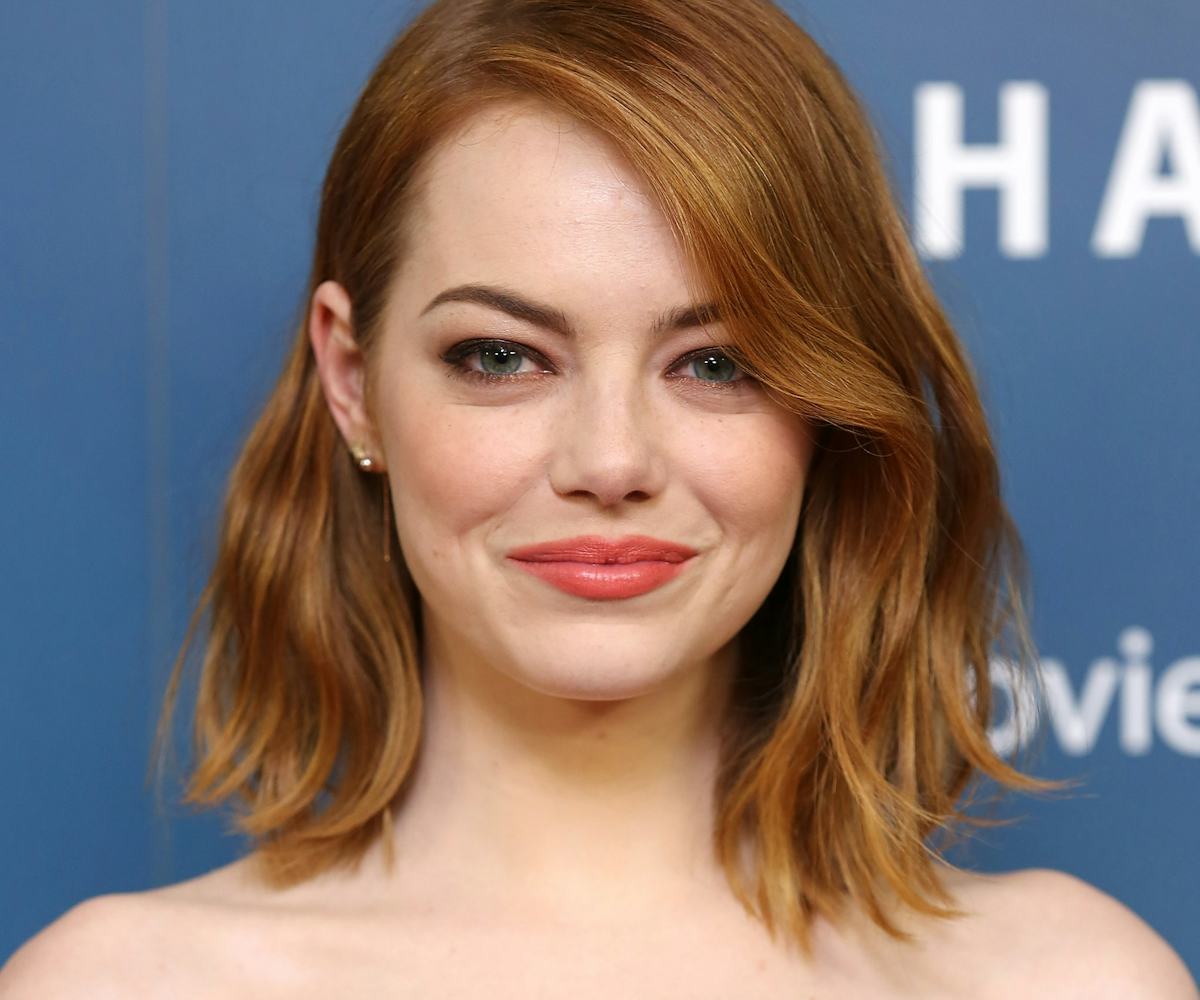 Photo by Tim P. Whitby / Getty Images
emma stone's 'aloha' character is causing controversy
The recently-released rom-com Aloha could have been an opportunity to showcase the rich culture of the Hawaii, as the islands set the backdrop for a love story between a military contractor (Bradley Cooper) and a biracial (quarter-Hawaiian, quarter-Chinese, half-Swedish) junior pilot. It could have been an opportunity to cast a native Hawaiian in a massive feature film or at the very least, to cast a woman of color in a leading role. But the studio needed to sell tickets (even though they didn't, really), and the part of Allison Ng went to Emma Stone.
With a Swedish, English, and Irish heritage, Stone is simply another actress of European descent, and while she may be a talented actor, her casting as a biracial character not only pushes her role into the realm of disbelief, but also does a disservice to Hawaiians. The casting sparked outrage amongst Hawaii natives and residents, who see this blatant whitewashing as an unrealistic depiction of their heritage.
The Media Action Network for Asian Americans released a statement in regard to the film's treatment of racial depiction. "60% of Hawaii's population is AAPIs [Asian Americans and Pacific Islanders]. Caucasians only make up 30% of the population, but from watching this film, you'd think they made up 90%," says MANAA Founding President and former Hawaii resident Guy Aoki. "It's an insult to the diverse culture and fabric of Hawaii."
In light of this portrayal, Hawaiian residents and natives have also voiced frustrations with the film's title, a Hawaiian word that is imbued with cultural significance. Many see the titular use of  "aloha" as a bastardization of the word that is not only a greeting, but also a term used to convey love and grace. It is seen as disrespectful for a profit-seeking film to use a term that it has no claim to, when it also only uses Hawaiian residents and natives in the film as extras.
However, in the face of criticism, Sony has emphasized director Cameron Crowe's extensive time researching the culture of Hawaii. The company points to the cameo of Dennis "Bumpy" Pu'uhonua Kanahele, a Hawaiian nationalist activist and descendent of King Kamehameha, as proof that the film does attempt to show Hawaiian culture in an authentic way. However, with an all-white cast and few attempts to illustrate Hawaii as something other than a colorful backdrop for an unbelievable rom-com, Aloha remains an emblem of some of the many problems of Hollywood.
(via The Daily Beast)
UPDATE: Cameron Crowe, who no doubt saw the uproar overtaking the Internet in the last few days, has released a surprising apology on his website. You can read it below:
From the very beginning of its appearance in the Sony Hack, Aloha has felt like a misunderstood movie. One that people felt they knew a lot about, but in fact they knew very little. It was a small movie, made by passionate actors who wanted to join me in making a film about Hawaii, and the lives of these characters who live and work in and around the island of Oahu.
Thank you so much for all the impassioned comments regarding the casting of the wonderful Emma Stone in the part of Allison Ng. I have heard your words and your disappointment, and I offer you a heart-felt apology to all who felt this was an odd or misguided casting choice. As far back as 2007, Captain Allison Ng was written to be a super-proud ¼ Hawaiian who was frustrated that, by all outward appearances, she looked nothing like one. A half-Chinese father was meant to show the surprising mix of cultures often prevalent in Hawaii. Extremely proud of her unlikely heritage, she feels personally compelled to over-explain every chance she gets. The character was based on a real-life, red-headed local who did just that.
Whether that story point felt hurtful or humorous has been, of course, the topic of much discussion. However I am so proud that in the same movie, we employed many Asian-American, Native-Hawaiian and Pacific-Islanders, both before and behind the camera… including Dennis "Bumpy" Kanahele, and his village, and many other locals who worked closely in our crew and with our script to help ensure authenticity.
We were extremely proud to present the island, the locals and the film community with many jobs for over four months. Emma Stone was chief among those who did tireless research, and if any part of her fine characterization has caused consternation and controversy, I am the one to blame.
I am grateful for the dialogue. And from the many voices, loud and small, I have learned something very inspiring. So many of us are hungry for stories with more racial diversity, more truth in representation, and I am anxious to help tell those stories in the future.
Thanks again,
Cameron Crowe