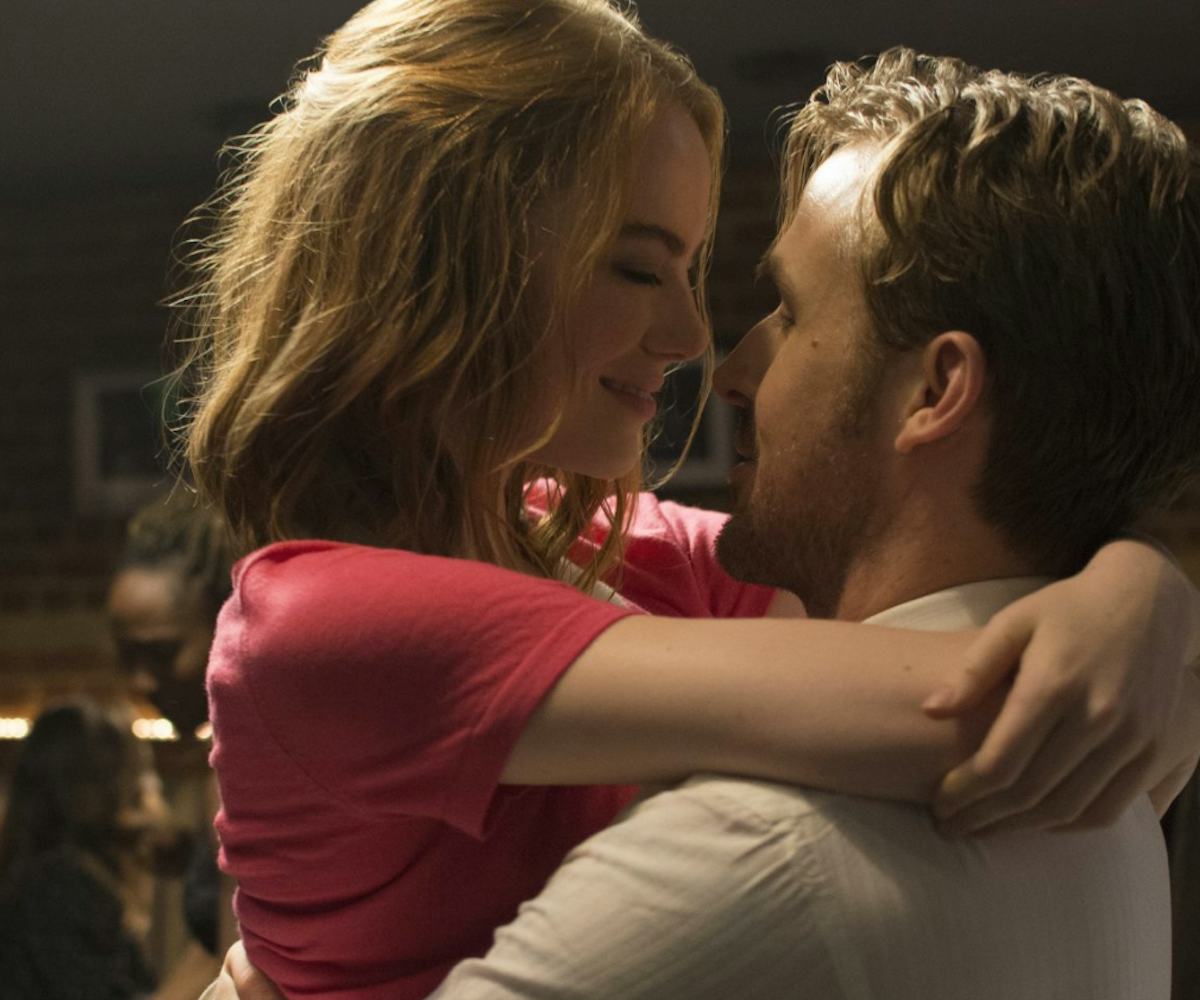 In 'La La Land,' Emma Stone And Ryan Gosling's Chemistry Soars To New Heights
There's a scene early on in Damien Chazelle's enchanting, retro musical La La Land where an aspiring actress named Mia, finding her way home from a demoralizing night out in Hollywood, stumbles across a clandestine piano bar. Drawn in by a series of mournful notes, Mia gazes across the room in awe of their point of origin. That would be Sebastian, who we soon learn is his own kind of starry-eyed striver, a hard-line jazz purist who dreams of one day opening his own club. At this point, they have yet to make eye contact, but the scene manages to crackle with effervescent intensity. It ends with Sebastian getting fired for once again veering away from the bar owner's strict Christmas-themed setlist to play his own stuff, and storming out of the bar, too angry to notice Mia or care that she was trying to compliment his skills. He shoves her out of the way and disappears into the night. But at the exact moment when Mia and Sebastian make first contact—even though it's in the form of a dismissive shoulder bump—sparks fly.
This brief but crucial scene fizzes and pops in part because of Chazelle's direction (when Mia sees Sebastian, the restaurant fades to black, and it's just the two of them, bathed in spotlight), but is more a byproduct of the crazy chemistry between the two leads playing Mia and Seb. That would be Emma Stone and Ryan Gosling, and La La Land marks their third movie together. Forever linked by That Scene in their first collaboration, 2011's Crazy, Stupid, Love, they happened to be the best thing about 2013's bloated misfire Gangster Squad, him as a smooth-talking detective and her as an alluring gangster's moll. But in La La Land, Gosling and Stone elevate their cinematic compatibility to soaring new heights, justly earning them comparisons to some of Hollywood's everlasting romantic duos.
Chazelle, who initially planned on casting his Whiplash star Miles Teller opposite Emma Watson, has said that Gosling and Stone's chemistry reminds him of legendary screen duos like Humphrey Bogart and Lauren Bacall, and Fred Astaire and Ginger Rogers, who the two stars effortlessly channel throughout much of La La Land. "They feel like the closest thing that we have right now to an old Hollywood couple," Chazelle said. Imagining Teller and Watson in these roles feels impossible now, a tribute to how perfect Stone and Gosling are for Mia and Sebastian, and for each other.
Like all great movie romances, Sebastian and Mia begin their courtship as adversaries. After their encounter in the piano bar, they meet again at a pool party in the Hollywood Hills. This time he's playing keyboard in an '80s cover band, and she's the only guest drinking a can of Mountain Dew. She thinks he's a jerk but is drawn to him. He thinks she's just another wannabe actress, but detects something extra. Eventually, they end up looking for their cars on a deserted street during the waning minutes of magic hour, overlooking the glittering lights of the city sprawl below. Against a lavender sky backdrop, Gosling and Stone perform a master class in movie flirtation, casually tossing barbs and quips back and forth like a two-person juggling act. This, of course, blossoms into an incandescent song-and-dance number, with Stone and Gosling twirling and harmonizing, tap dancing, and spinning in a showstopping scene that is immortalized on the film's poster. It is the moment Mia and Sebastian fall in love, and feels like a bottled-up version of on-screen chemistry, so flawless it had to be cooked up by scientists in a lab.
Stone and Gosling's chemistry is well-documented. The scene in Crazy, Stupid, Love when her character returns to his house for a late-night tryst is iconic on account of Ryan Gosling's eight-pack, but to watch it again is to see two profoundly likable actors bounce off one another like they're teammates on the Harlem Globetrotters. She can't handle his hotness ("It's like you're Photoshopped!") and he can't resist her authenticity. The scene culminates in a reenactment of the famous lift from Dirty Dancing, a retroactive foreshadowing of their rapport in La La Land.
Speaking to Entertainment Weekly last summer, Crazy, Stupid, Love co-director Glenn Ficarrawas was asked about the first time he noticed the Stone-Gosling connection. "It was very evident very early," he said of the audition process. "We had narrowed down to a few incredibly talented candidates for Emma's part. They all read with Ryan, [who] was off screen, and I think in most cases they were a little taken by Ryan's presence, so nervous at the sight of Ryan. When Emma came in, she sat down, she was ready to go; Ryan walked in, immediately flubbed his first line, and she just laid into him, like, 'Oh, you're killing this buddy.' She was the only one not to be intimidated by him, and in that moment John and I knew." Ficarra also spoke of their ability to improv together, with many of their on-the-spot banter making it into the final cut. "We let them go, we let them talk about whatever they wanted, we poured a couple of drinks, and they just riffed," he said. "They really amuse each other in real life." Speaking to Vanity Fair at last fall's Toronto Film Festival, both Stone and Gosling credited the improvisation during that first audition for Crazy, Stupid, Love with forging the blueprint that they would continue to revisit, all the way to La La Land. "You sort of bond in a way pretty quickly when you're challenging each other in that way," Stone said.  
IRL chemistry, itself an elusive quantity, would seem to be the key to unlocking chemistry on the screen. If Brad Pitt and Angelina Jolie clicked in Mr. and Mrs. Smith, it's probably because they were falling in love behind the scenes. (Not coincidentally, last year's dour By the Sea, shot toward the end of their marriage, was dead on arrival.) But real-life romance is not a prerequisite for finding your cinematic soulmate, as Tom Hanks and Meg Ryan have proved. Gosling and Stone have never been romantically linked, but based on interviews, it's evident they think highly of each other, both as actors and as people. "Well, it was scary to work with Emma because she's so good," Gosling has said of working with Stone on Gangster Squad. "She's so unique. Ultimately, it was the best, because there's nothing that you do that she can't roll with or turn it into something, even if you throw her a bunch of bad ideas. She somehow magically turns them into good ideas."
Between the two of them, it's Stone's moonstruck performance that has amassed the most awards season buzz. She's currently a frontrunner for the Best Actress Oscar, and most of the reviews have singled her out as being the movie's beating heart. But for any award she wins, it'll be Gosling who tops her thank-you list. Late in the movie, Chazelle revisits that early scene in the piano bar, when Mia first watches Sebastian play. When that scene first played out, there were sparks. The second time it plays out, there are fireworks.