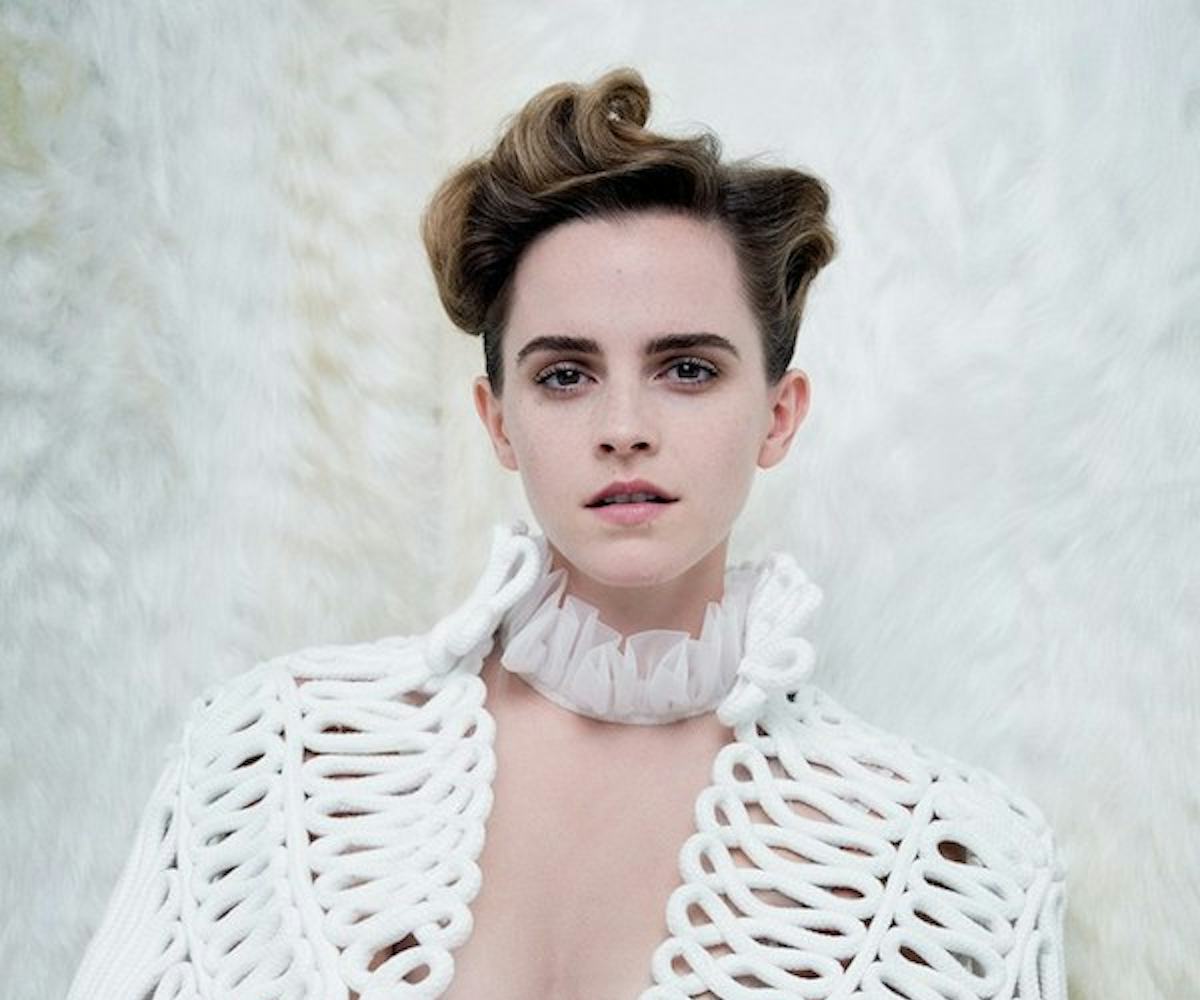 Image via VanityFair.com
Emma Watson Doesn't Understand Why She Can't Show Her Body And Still Be A Feminist
"Feminism is not a stick with which to beat other women"
Emma Watson doesn't get all the hubbub about her boobs. In her recent Vanity Fair spread, one out of twelve photos shows Watson with mostly-exposed breasts and, because we can't have nice things, to many this means Watson can no longer call herself a feminist.
When the cover and spread were initially released, they were met with a rash of misogynistic headlines and comments. The Sun put out the headline "Beauty and the Breasts" (which, come on, that's just lazy), radio personality Julia Hartley-Brewer argued that boobs are the reason women aren't taken seriously, and The Independent said that poor Emma Watson just doesn't know what she wants. Several Twitter commenters followed suit, saying things like: "@VanityFair @EmmaWatson what a bossy spoiled brat." Watson herself is confused this is an issue at all and has fired back, saying feminism is all about choice and the ability to choose how to express yourself without repercussion.
In a new interview with Reuters, Watson addresses the controversy, saying, "Feminism is about giving women choice, feminism is not a stick with which to beat other women with. It's about freedom, it's about liberation, it's about equality… I don't really know what my tits have to do with it." Fans have stuck up for her in agreement, with tweets like "@EmmaWatson I believe feminism is means to empower choice. You, Emma Watson, are beautiful!! <3" and "@VanityFair @EmmaWatson Those who suggest your pics are antifeminist don't understand #feminism is the reason you can have such pics public."
While we're glad Watson has had so much support and hasn't shirked from the criticism, there is also some contention in light of previous comments made about Beyoncé's visuals for her eponymous 2014 album. In an interview that year with Tavi Gevinson for Wonderland magazine, Watson said: "As I was watching [the videos] I felt very conflicted, I felt her message felt very conflicted in the sense that on the one hand she is putting herself in a category of a feminist, but then the camera, it felt very male, such a male voyeuristic experience of her." Gevinson replied that while Beyoncé can sometimes be contradictory, ultimately what she puts out there is an image of a woman in control and with a sense of agency, both within herself and with her sexuality. With this Vanity Fair image, it seems as though Watson is doing just the same.
Though Watson's previous comments create a problematic comparison for some who criticize (especially in light of the very real problem of not granting agency to black women in the feminist community), the photo is artistic, it's self-empowering, and ultimately, it's also Watson's choice to put herself out there in that way. Every woman should be able to do the same without fear of mockery or slander, but clearly we're not there yet.