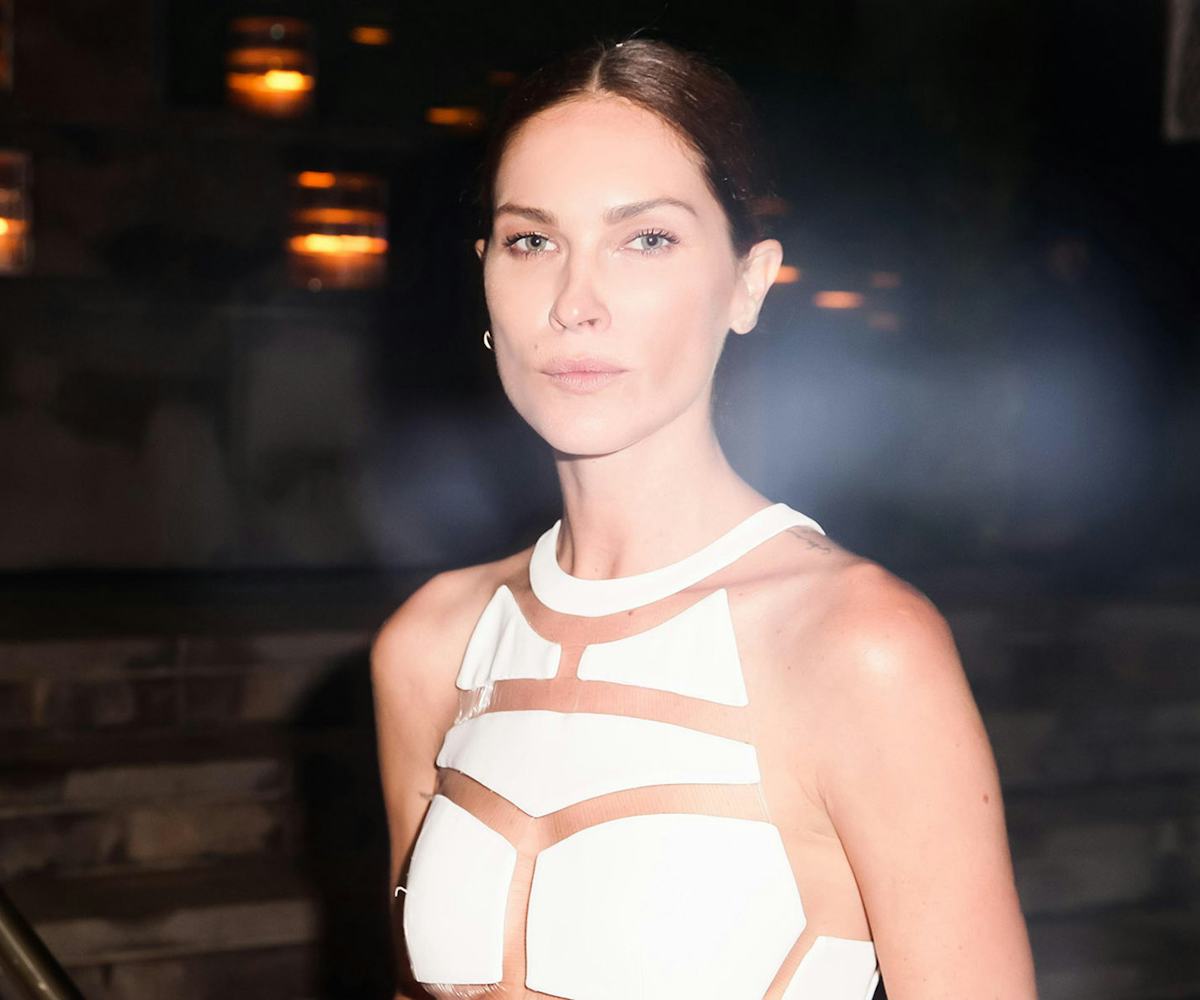 photo by mateo prandoni/bfanyc.com
the insider: erin wasson
get in the headspace of the "styled to rock" host.
We've been obsessed with Erin Wasson since we saw her apartment on
in 2008 and fell in love with her giant loft, messy hair, and heaps of tattoos. The model muse to Karl Lagerfeld and Alexander Wang is a Texas-born badass in real life, who counts curating art shows and designing a line of cowboy boots with Ash as her non-modeling gigs.
Oh yeah, and she's about to debut as a host of the Style Network's new show
alongside Rihanna, RiRi's stylist Mel Ottenberg, and Pharell. (Dream cast!) We caught up with the model at a party hosted by Vevo and the Style Network to get her tips on the best music videos to get inspired by and what she does to get inspired.
Read on to hear her tips and also get the scoop about her VMAs outfit (a sheer dress with black undies underneath and a turban, ICYMI), because, how could we not ask!?
Hey Erin! What are you favorite music videos to watch to get inspired?
I love
. There's something about Ciara where she has kind of like a closet stripper vibe. [laughs] Her moves are just so hot.
What are you looking forward to this fall?
What's really exciting about New York is that not only do we have Fashion Week, but we have all the most prolific art galleries doing some of the dopest openings. My friend Jeff Elrod, who happens to be from Irving, TX, is having an opening at the Gagosian Galleries which is really thrilling. Fall is that time when New York gets infiltrated by eccentricities and craziness, and there's an a palpable energy.
Are you still living in New York? I remember seeing your New York apartment on The Selby years ago and thinking that is how I want my apartment to be.
I've been bicoastal between New York and LA for ten years. Todd Selby is a really dear friend of mine, so when he started doing the Selby, I was one of the first people that he photographed. It's funny because I'm always saying, "Todd can we get a redo because my apartment doesn't look like that anymore. I'm actually moved in!" As anything that you say on the internet, it's frozen in time.
What things are you obsessed with right now?
I'm obsessed with all things always because I'm an obsessive person, but right now I"m really obsessed with art. I've taken a perspective where everything we do is artistic. I curated a show in California with a group of New York and L.A. artists that opened on Friday the 13th. For me as many things creatively that I can get my hands on and the more people that I can get excited about making cool stuff, the happier I am. I guess that's my obsession.
Are you superstitious about dates, like Friday the 13th?
Not really, I'm a karmic person, though. Treat people good; it's going to come back to you. If you know you've done something really dirty, than that's going to come back and bite you in the ass. You have to be conscious and try not to be a dirty person.
What's one of the best art shows you've seen recently?
I was upstate in New York recently at a wedding and I visited Opus 40 which is a pretty bitching place in Saugerties, New York that is like a life long working art project made out of stone. If anyone is ever Upstate, I would highly recommend Opus 40.
As a model, how do you get inspired before a shoot or a project?
I have such a rad group of friends. We get together, and my dog is there, and we're listening to records and making cocktails. When you look around and you have all your best friends having the best night ever, it's pretty east to show up [to a shoot] and have a good spirit. It doesn't have to do with much else, and [modeling] transcends fashion at some point.
What's the best thing to do to relax?
A bath. I'm such a bath whore. At the end of the night, for me a hot bath and a fuckin' joint, and I'm the happiest woman on earth. I watch very little television. I tend to watch movies. I was watching
Badlands
the other night. Sissy Spacek! It's too good! I was also watching
Desperately Seeking Susan
. I forgot about that jacket that Madonna wore with pyramid on the back that apparently was owned by Jimi Hendrix. She coined it at the pawn store. It's so cool.
Tell me, what's one beauty product you swear by?
I'm an eye cream whore. I really think that it's beautiful, that moment of ceremonial process that a woman gets to have be it a bath or be it how you take care of your skin. You're taking yourself down to your purest form. Japanese women are so into the cleansing process, I love that.
Before you go, tell me about your VMA outfit. It was so unreal.
Alexandre Vauthier, man, he's the gangster of haute couture. I just wanted to create an idea of eccentric romanticism. Some would say it was bold presumptuous for a woman to wear something that's, for whatever reason, provocative for some people, but I look at it from an artistic perspective and not a scandalous perspective. For me I really felt the dress was insanely comfortable and I knew what vibe I wanted to emit of eccentric romanticism. That's what I was doing that night.