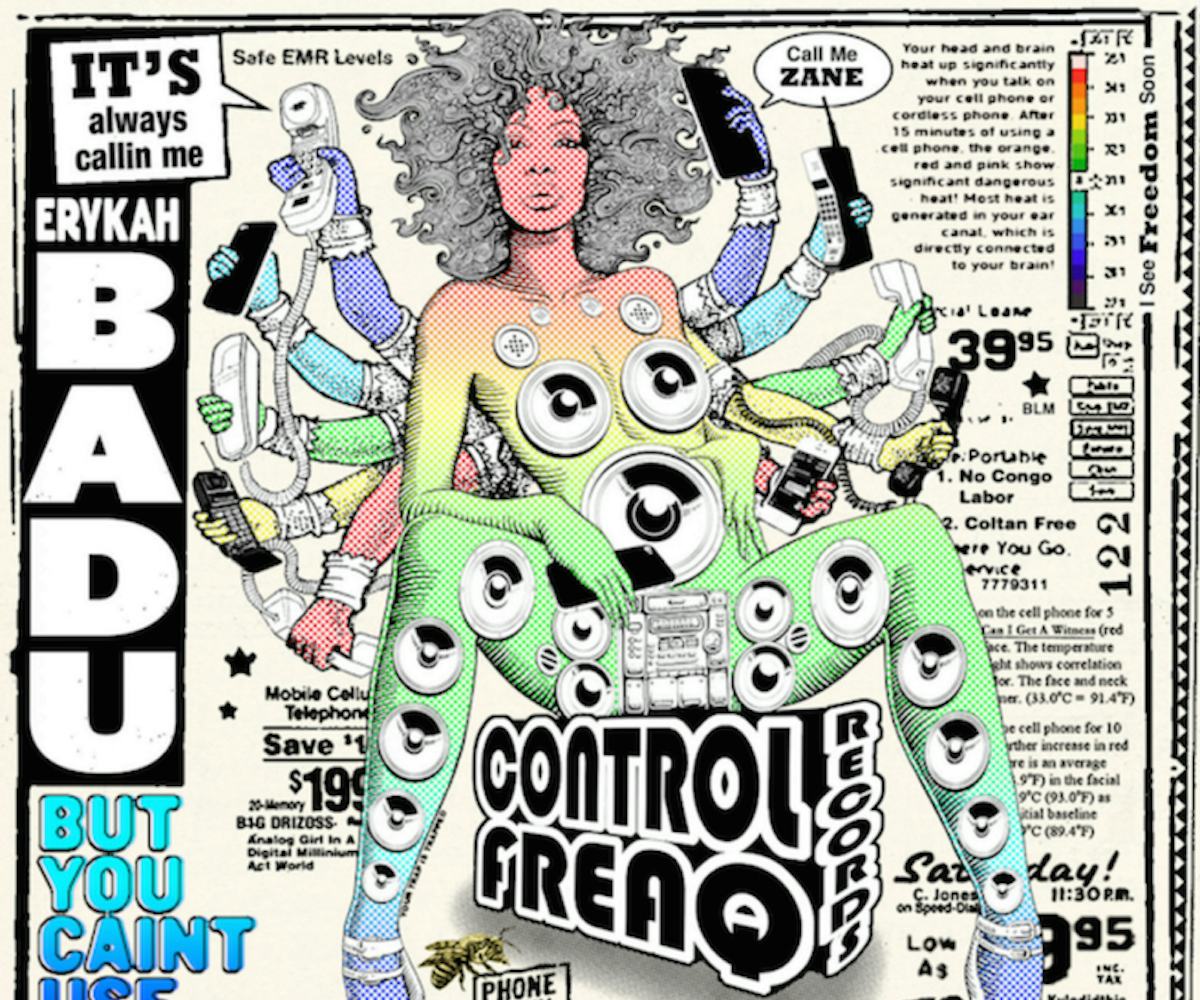 Photo via @fatbellybella Twitter
Erykah Badu's New Mixtape Is A Reminder Of Her Timeless Appeal
"but you cain't use my phone" is here
Of the many things we were thankful for this holiday weekend, Erykah Badu's mixtape, But You Caint Use My Phone, is undoubtedly near the top. When we spoke to Badu a couple of weeks ago, she gave us some insight into what we could expect from the mixtape—namely that it would feature reinterpretations of songs with phone-related themes, referencing her "Hotline Bling" remix (named "Cell U Lar Device" in the track list) as an example.
Sure enough, follow-up tracks "Phone Down" and "Hello"—the latter of which features former beau/elusive rap hero André 3000—demonstrate the various ways in which she interprets the theme throughout the 11 songs, using it as a running metaphor as she highlights the different stages and emotions in a relationship. She also drops some eccentric knowledge, in true Badu fashion: The intro to "Dial'Afreaq" informs listeners about how cell phone radiation interferes with bees' dependence on earth's magnetic fields, hence the phrase "Save the bees" appearing on the mixtape's artwork.
BYCUMP proves just how skilled Badu is when it comes to applying current musical trends to classic sounds. In fact, she was dubbed the "Queen of Neo Soul" by modernizing soul music to fit into the R&B-centric landscape of the late '90s and early aughts. On the mixtape, her first work since 2010's New Amerykah Part 2 (Return of the Ankh), she does it again, adding a modern feel to her soulful sound, with help from Andre 3000, producer Zach Witness, and a rapper who sounds almost exactly like, but is not, Drake (and is actually Badu's artist, ItsRoutine). As promised, she applies this skill to rework chart-toppers in the way that she did with "Hotline Bling," namely New Edition's "Mr. Telephone Man," Usher's "U Don't Have to Call," and the Isley Brothers' "Hello It's Me." Still, the lyrics and interludes remind us of the Badu that first hit the scene, in such a way that makes her transition to a slightly revamped sound completely organic.
At the end of the day, though, BYCUMP is essentially a fun project for Badu, and it's easy to tell from her lightheartedness heard throughout. She even spent the weekend talking to fans about how to spend the mixtape proceeds via "burn out" phone, the number to which is hidden within the single's covert artwork that she tweeted. But whether or not she intended to, with BYCUMP Badu proves that her mastery of mixing and matching soul, funk, R&B, and hip-hop is essentially timeless.
But You Cain't Use My Phone is available now on iTunes/Apple Music.