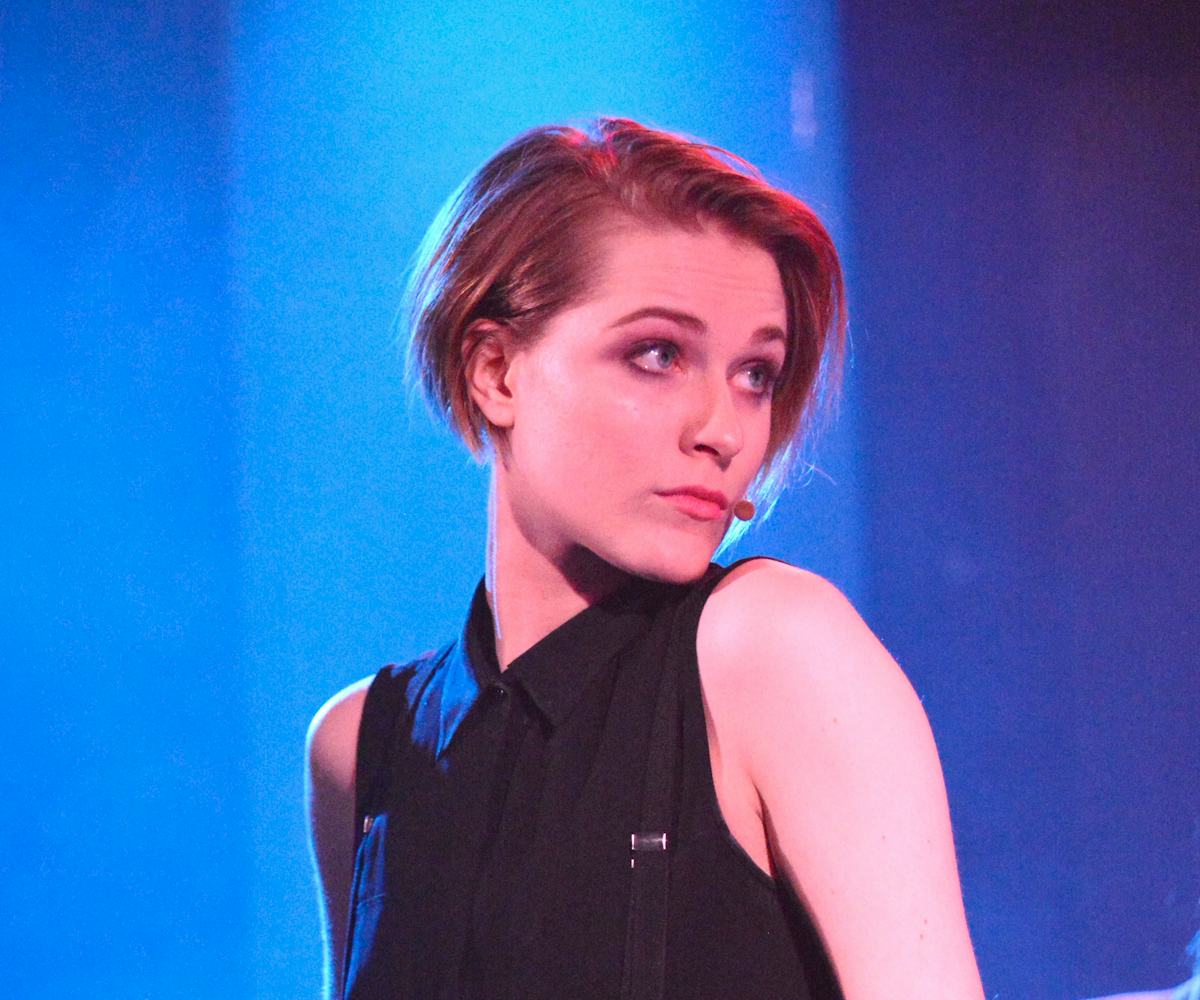 photo by abel armas
evan rachel wood takes on john hughes
up close with her as she channels teen angst
Two inches away from me, Evan Rachel Wood's butt is suspended in mid-air. She moves it back and forth to the rhythm of the Beatles' version of "Twist and Shout." Her dirty blonde hair covers her blue-green eyes, and she swipes tendrils of it from her face. A necklace dangles over the middle of a sleeveless Rascals T-shirt that's rolled above her belly button, and a black bra peers through the sides. Among the many tattoos on her body are the numbers "7-29-13," which appear on her right arm, representing the date her son was born.
"Spread your legs really wide!" yells instructor Spencer Liff, the well-known choreographer for the last six seasons of FOX's So You Think You Can Dance and, coincidentally, Evan's love interest in the musical film Across the Universe.  "Lift a cheek and present a hole. Go from side to side!"
No one at rehearsal laughs but me.
Rumer Willis, Demi Moore and Bruce Willis's oldest daughter, looks over, smiles and then strikes a pose in a purple sports bra and baggy pants. She's singing along to the tune with the rest of her cast at Blackbird Dance studio in Los Angeles. In a week, they will open a run of the musical For the Record: Dear John Hughes, a cabaret-inspired play featuring songs from the director's classic movies. Wood, Willis and Lindsey Gort, the young Samantha Jones on The Carrie Diaries, will all be playing the same role on different nights. They will switch off as Allison Reynolds (aka "The Basket Case") from The Breakfast Club, Jeanie Bueller from Ferris Bueller's Day Off, and Watts from Some Kind of Wonderful.
The idea for the play was hatched four years ago in the backyard of co-creator and executive producer Shane Scheel's house in Los Feliz. He was working at the Gersh Agency and knew that there were few places for many musical actors to showcase their talent in Los Angeles. He left the agency and decided to start producing live shows with music director, arranger, and co-creator Christopher Lloyd Bratten, who helped Scheel come up with the concept of singing songs from movie soundtracks and performing them live.
The idea for this concept was moved to Bar Vermont, where performers would do a Quentin Tarantino Night. Co-creator, writer, and director Anderson Davis also helped bring this idea to life. Tracie Thoms, an actress from Tarantino's flick Death Proof, even performed a scene at the bar one night. The Saturday performances were getting so much buzz around town that, a year ago, they decided to make a real production out of it at the DBA stage in Hollywood. "They were very different shows back in the day," says Shane, laughing. "But it's so enjoyable to see the idea come to life like this."
Wood got involved in the performance after seeing the Tarantino production last year. "I was just blown away," she recalls. When she heard that the team was putting on a John Hughes-inspired version this year, she knew she had to be a part of it. Wood grew up watching Hughes's films, and knew all the words to the parts before she started rehearsing. "I started out in musical theater, and that's where my heart is," she says. "It's so rare that you find good, immersive, exciting theater in LA. The fact that I get to dance on top of the audience's seats and be interactive is why I love doing this play so much. And, of course, John Hughes holds a special place in my heart."
During a break from practice, Wood sits next to me on a bus bench outside the studio, and we talk about the play. She's out of breath and sweaty, but her eyeliner manages to hold up perfectly. "This play is a lot of work," she confides. "There isn't much downtime. I think I finally got to clean my room today. But if I'm too bored or too stagnant, I get anxious. I think that's why a play works so well for me."
Photo by Abel Armas
Wood explains that she started singing when she was six years old, but she had to learn to drum for her role in the show. She even carried sticks around with her for weeks to practice everywhere. She rehearsed many times in front of her mother to make sure she had the drum parts down pat for the song "Turn to the Sky" by The March Violets from the Some Kind of Wonderful soundtrack. "I just try to breathe as much as possible," she says. "The real test is if people are watching. You can get it down so perfectly in an empty theater, but the second there is an audience, everything changes."
I'm not supposed to ask Wood about her personal life. It was made clear to me that she doesn't like talking about it. Granted, many people know her dating history, but I ask anyway.  She's immediately forthcoming and open about dating Marilyn Manson. Maybe this is the exact reason she was engaged to him. She doesn't care what people think. Maybe it's also why she admits that she was made fun of a lot for it, but it didn't matter. She's actually quite open and honest, especially about her bisexuality. Once she heard actress Fairuza Balk discuss about it when she was young, she knew she could be open, too.  
She pokes fun at herself and allows others to do it. "I think people always laugh at me when they look at my dating history, and say 'Well, you certainly don't have a type!' And, well, I don't think I do, either." She also doesn't mind sharing her emotional scars or admitting that she wasn't popular in high school.
But she's still sensitive. At 25, Wood gave birth to her son (the father is her husband, Jamie Bell). He's inspired her to be in touch with her emotions. "There are a few scenes in this play that I can't do without crying," she says. "Being a mom made me more in touch with my emotions, and it just does something to you where you can cry at the drop of a hat. I think my empathy has grown because of it. When I had my son, a light went on and it opened all these doors, and now I feel more motivated and inspired. He gives meaning to everything that I do."
Photo by Abel Armas
A few minutes before curtain, an amped-up Wood stands backstage. She notices me and gives me a warm hug before making her final preparations. She takes out some mascara and touches up her long lashes. Her sculpted hair is pushed to one side of her face, and she's wearing suspenders fastened to black pants and slung over a sleeveless top, an '80s diva come to life. "I'm usually shaking before the first show that I do," she admits. "It's like being on a drug. It's addicting performing live."
Wood joins a circle of her castmates and some crew members, and they clasp hands. She thanks them and says she's "so fucking proud" to be part of the production. Before I take my seat, she turns to me and says, "Every time it's over, you are waiting for the next fix, you are waiting to get back on the stage and do it all over again."
A few songs into the play, Wood and her co-stars sing "Changes" by David Bowie right above me. She lies on top of the booth I'm in sitting in, singing each word with gusto. Her voice is powerful and clear—the kind of singing you wouldn't expect from a movie star. She can dance well, too.
Toward the end of the first act, Wood is on stage as "The Basket Case" from The Breakfast Club. I'm watching the scene and can't help but notice how great she is as this character. She grew up hanging out with geeks, theater kids and weirdos. She considered herself one of them, and it's easy to see why.
"Don't think I'm being weird, but what if she wants you to kiss her?" her character asks the snarling, rebellious bad boy "Criminal" played by Zach Villa.
"Well, then I guess I'm just going to have to kiss her," he says.
"Great, well, I just think, maybe you should consider whether or not you feel you can deliver a kiss that kills."
"What, you think I can't?"
"Pretend I'm a girl. I mean, pretend I'm her. Amanda. I know it's a big stretch, but try it."
Wood kisses him. It starts innocently, but then turns passionate. He grabs her waist and she runs her hands through his black hair.  Suddenly she pushes him away in embarrassment.
"Lesson's over. You're cool," she says.
"You're blushing," he responds.
"Yeah, right. The day I blush—"
In that moment, in the last line before she exists off stage, I understand what she told me earlier in the week.  She said all eyes always used to be on her. Everyone used to tell her how to dress, how to do her makeup, how to be a sophisticated lady in Hollywood. She felt uncomfortable, terrified even, but held it in. She finally found a way to be comfortable and find her own identity. It's the same message that John Hughes related for all teenagers: be who you are.
For tickets and showtimes to Dear John Hughes, go here.