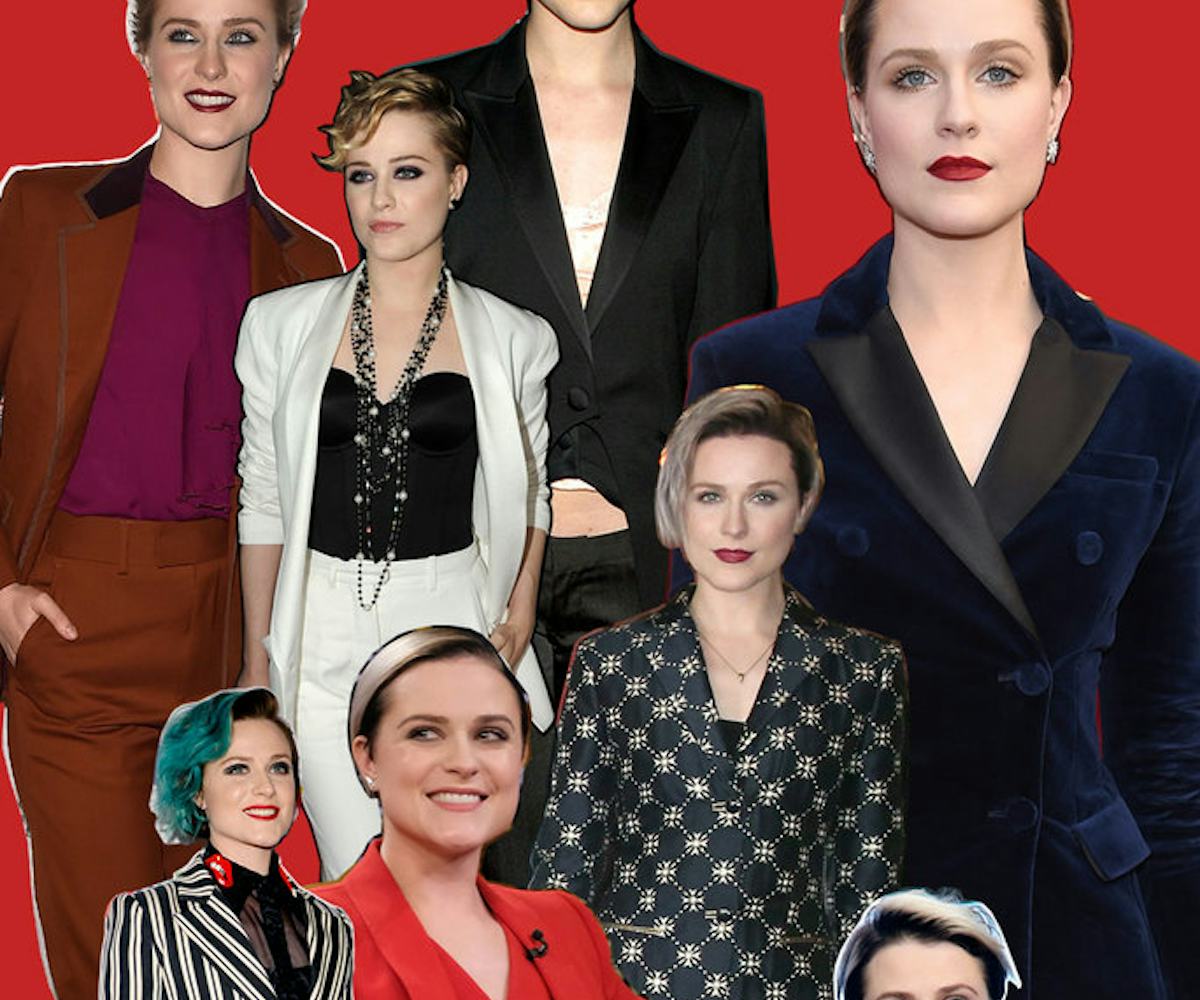 Collage photos via Getty Images
An Ode To Evan Rachel Wood's Pantsuits
When it comes to red carpet fashion, Evan Rachel Wood consistently makes her way to the top of our best-dressed lists, always keeping us anticipating her next appearance—and wondering what epic pantsuit she'll wear next.
There's been a definite upswing in the popularity of the pantsuit, something widely credited to our girl Hil. However, Wood has been slaying the pantsuit game for over a decade at this point, and in honor of her 30th birthday today, we felt her affinity for pantsuits deserved some recognition of its own.
What we must remember is that Wood isn't just wearing pantsuits because they look great on her; she's making a serious statement to women everywhere. "I've been to the Globes six times, and I've worn a dress every time," she told Ryan Seacrest at this year's Golden Globes. "I just want to make sure young girls and women know that they aren't a requirement. Just be yourself because your worth is so much more than that." Now, that's something we can get behind.
Check them out 15 of her most epic pantsuit looks of all time, below.
Premiere of The Missing, November 2003In true early aughts fashion, ERW rocks what we call the "low-rise pantsuit."
Premiere of The Ides of March, September 2011Back in 2011, Wood went for a black-and-white ensemble.
Premiere of The Ides of March, September 2011At her next premiere, Wood was as dapper as ever in a pinstriped suit.
Warner Bros. and InStyle Golden Globes After Party, January 2012Wood went for this sleek, fitted number to complement her freshly blonde locks.
The Art Of Elysium's 7th Annual HEAVEN Gala, January 2014Opting for a two-tone suit, ERW paired a sparkly red blazer with simple black trousers.
The L.A. Gay And Lesbian Center's An Evening With Women, May 2014We're obsessing over this casual pantsuit look (and her reverse dip dye!)
Premiere of Into the Forest, September 2015In true fall fashion, ERW switched up her typical red carpet suit looks by incorporating some color into the mix, pairing a brown two-piece suit with a maroon blouse.
The Television Critics Association Summer Tour, July 2016During a panel at the TCA summer tour, Wood wore this menswear-inspired, boxier style.
The Tonight Show Starring Jimmy Fallon, October 2016ERW was a vision in red when she dropped by the set of The Tonight Show to talk with Jimmy Fallon.
The Critics Choice Awards, December 2016The actress opted for this sleek black suit to accept the award for Best Actress in a Drama.
W Magazine's Best Performances Party, January 2017Days before this year's Golden Globes, Wood wore this stunning printed pantsuit, pairing the navy getup with maroon pumps.
The Golden Globes, January 2017At this year's awards ceremony, Wood rocked this killer tux-and-pussy bow blouse combo.
The Screen Actors Guild Awards, January 2017This year's SAG Awards called for a formal navy velvet suit.
PaleyFest Los Angeles, March 2017ERW perfectly mixed navy and black with this ensemble for March's PaleyFest.
BuzzFeed Inaugural Queer Prom For LGBT Youth Los AngelesWood served us some Beetlejuice vibes at this year's BuzzFeed Queen Prom For LGBT Youth, in the best way possible.