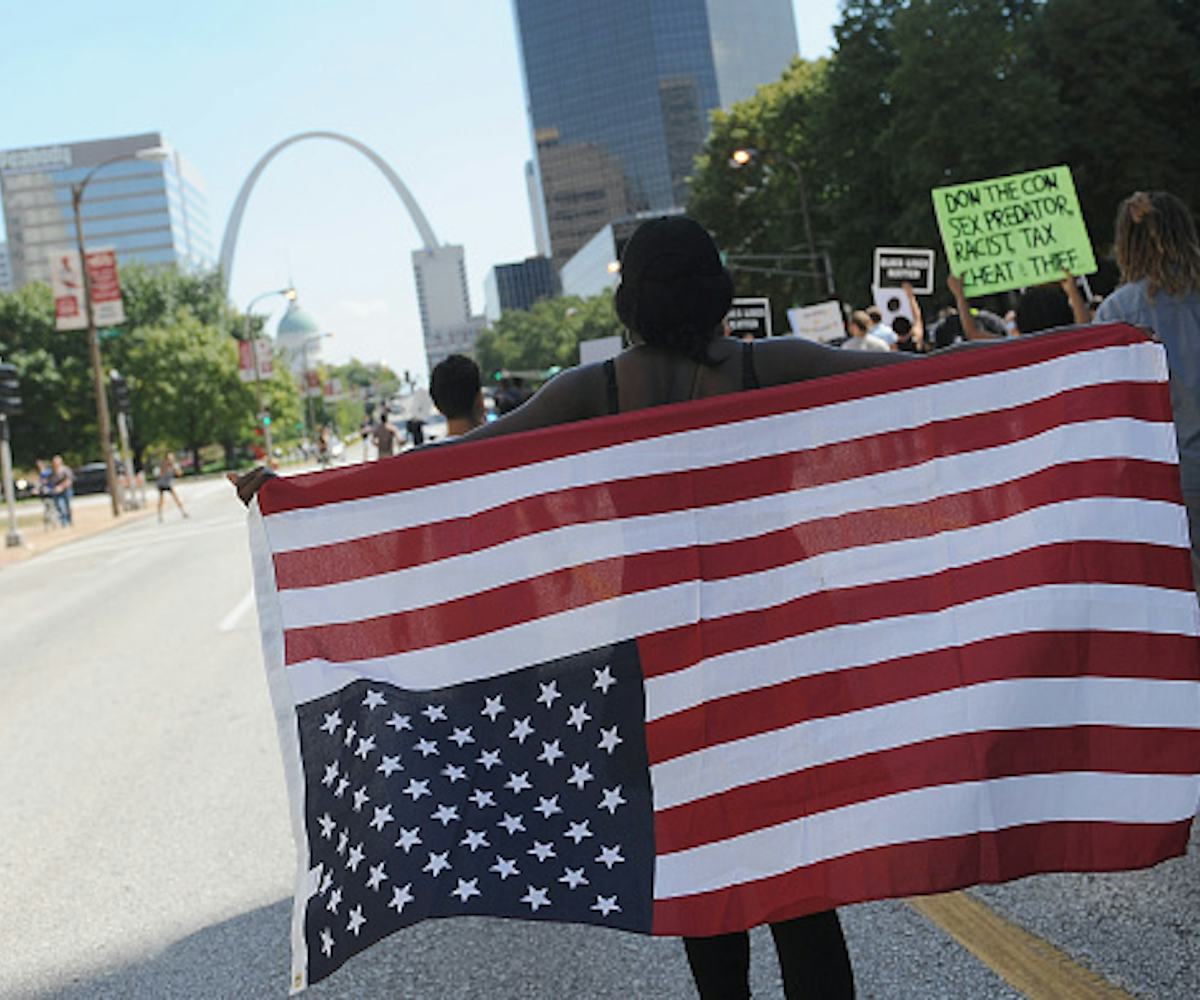 Photo by Michael B. Thomas/Getty Images
15 Things Every American Should Read Right Now
In honor of Dr. Martin Luther King Jr.
It would be easy enough to say that now is a time of great divisiveness in our nation—easy, and not wrong. Our national discourse feels like its hit a new low, thanks to the fact that the president, who drives much of the conversation, is a racist fearmonger. It would be a normal response to want to hide from all the vitriol being spewed forth from the highest office in the land. And that's fine, really. Take a break from Twitter. Turn away from the news for a little while. But don't tune out and turn off completely. Instead, read one of the following things as a reminder of why it's important to fight for justice in this country. Our past is clouded with horrific things, terrible people, and injustices galore. But it is also filled with people who fought these aspects of our society, and worked toward making a better future. So educate yourself and join the fight. This is the time to do it.
"Letter from Birmingham Jail" by Reverend Doctor Martin Luther King Jr.
Why not start your reading with this seminal piece by Dr. King? Writing in response to several white clergymen who cautioned King that his participation in nonviolent demonstrations were "unwise timely," King made clear that he and his fellow activists knew "through painful experience that freedom is never voluntarily given by the oppressor," and that rather it "must be demanded by the oppressed." He expresses his dismay with the inaction of white moderates, and concedes that "few members of a race that have oppressed another race can understand or appreciate the deep groans and passionate yearnings of those that have been oppressed." Though King is speaking to his own time and experiences, his words ring true with crystal clarity today, and should serve as a rallying call for all who seek to carry on in his truly radical tradition.
"Trump's Fixation on Haiti, and the Abiding Fear of Black Self-Determination," by Doreen St. Felix
One of the most incisive cultural critics writing now, The New Yorker's Doreen St. Felix just published a must-read piece on Trump's bigotry and obsession with Haiti, a country which exemplifies the idea of black self-determination—and has paid the price for this throughout its history. This article also serves as a mini history lesson, as a reminder not only of all that the American education system fails to teach its students about this country's destructive role throughout the world but also of the ways so many black leaders have been whitewashed right out of our history books. Read this, and use it as a launching point to find out more about America and Haiti and so much more.
The Big Truck That Went By: How the World Came to Save Haiti and Left Behind a Disaster by Jonathan M. Katz
The earthquake that devastated Haiti eight years ago this January left hundreds of thousands dead and billions of dollars of damage. While it was the deadliest, most devastating earthquake in the history of the Western Hemisphere, the disaster didn't end once the ground stopped rumbling. Katz was a journalist living in Haiti at the time of the quake, and his account of the many ways in which the recovery effort went horrifically wrong is illuminating and infuriating—and essential to read.
Our Own Backyard: The United States in Central America, 1977-1992 by William M. LeoGrande
So few Americans have any idea of the extent to which we have been involved with destabilizing and terrorizing so many of the countries who are our closest neighbors. It's an important thing to think about when Trump calls a country like El Salvador a "shithole," because, without the support of clandestine U.S. government organizations, El Salvador would not have had to deal with the specific set of problems its had for decades now. LeoGrande's book is an insightful, thorough accounting of America's intervention in the affairs of its neighboring nations.
Killers of the Flower Moon: The Osage Murders and the Birth of the F.B.I. by David Grann
I've written about Grann's before, calling it "one of the most fascinating, horrific American stories ever told, it's a must-read for every single person who lives in this country, as it explains a good deal about the original sin with which all Americans are born." And this still holds true! Read it now and think about the irony of Trump and his ilk decrying the arrival of new immigrants, when this country is still so soaked in the blood of its original inhabitants.
The Buddha in the Attic by Julie Otsuka
Along with historical accounts and criticism and journalism, fiction is always a place to turn to in order to be exposed to experiences different than your own, but capable of teaching you much about the world around you. Case in point: Otsuka's moving portrait of a group of Japanese "picture brides," who came to California from Japan to marry American men. These women not only needed to acclimate themselves to a strange land, but they also had to come to terms with raising children who would try and distance themselves from one half of their culture. 
Freedom Is a Constant Struggle: Ferguson, Palestine, and the Foundations of a Movement by Angela Y. Davis
Longtime and justifiably celebrated activist Angela Davis offers here a collection of speeches, essays, and interviews which draw a connecting line between the many struggles against state oppression that have happened and continue to happen around the world. Davis makes clear that all resistance to injustice is part of a grand tradition, and that we must fight to keep that tradition alive, particularly when it comes to issues like prison abolition. Which, speaking of that...
Just Mercy: A Story of Justice and Redemption by Bryan Stevenson
Our prison system is a disgrace, and "reform" is too mild a concept to fully address the kind of change that needs to take place. A great step toward understanding how much we need to do to right the wrongs of our incarceration system is by reading Stevenson's book, which traces his own experience as a young lawyer who founded the Equal Justice Initiative and began to truly understand what justice and mercy were once he saw the lack of both those things within our legal system. 
Citizen: An American Lyric by Claudia Rankine
Read this gorgeous, powerful poetic treatise on the state of racial aggression in America today, and get a better understanding of what it means to exist in a system of patriarchal white supremacy. Rankine's language is beautiful and lyrical, but that doesn't soften the blow of realizing that any former common gesturing toward a "post-race" world was nothing more than a cruel joke.
Stir It Up: Lessons in Community Organizing and Activism by Rinku Sen
And if you need some practical strategies to deal with all your anger, look to this book by longtime activist Rinku Sen, which can help you put your frustration into action.
A Queer History of the United States by Michael Bronski
American queer history certainly didn't start with the Stonewall Riots, and that's what activist and scholar Michael Bronski makes clear in this comprehensive look at gay, lesbian, and transgender history in America, dating all the way back to 1492. Using primary sources, cultural artifacts, as well as literature and other art forms, Bronski recontextualizes much of what we're taught to be true about queer America. It's an enlightening and engrossing read.
Sour Heart: Stories by Jenny Zhang
Simply put, this is one of my favorite books I read in the last year; Zhang's series of stories connects eight Chinese immigrant families, and relates the beauty and grotesqueries of their lives, without ever resorting to anything maudlin or exploitative. Rather, Zhang gives the reader a visceral reading experience; you'll feel this book not just in your mind or your heart, but in the depths of your gut.
We Were Eight Years in Power: An American Tragedy by Ta-Nehisi Coates
Taking the title of his book from a Reconstruction Era lament, Coates ties together that time period with one 150 years later—the Obama years—in order to demonstrate how close many Americans believed we'd come to a new period of racial justice, only to realize that we were farther from any mythical promised land than we'd ever dreamed.
The Book of Unknown Americans by Cristina Henriquez
This novel beautifully pays tributes to the men, women, children—the families—who have come to the United States from Latin America and worked to build new lives. It's told from the vantage of many different voices, including Micho, who acknowledges at one point: "We're the unknown Americans, the ones no one even wants to know, because they've been told they're supposed to be scared of us and because maybe if they did take the time to get to know us, they might realize that we're not that bad, maybe even that we're a lot like them. And who would they hate then?" 
Sing, Unburied, Sing by Jesmyn Ward
And finally, Ward's National Book Award-winning novel is a lyrically written epic; it contains an odyssey of a road trip, monsters both real and fictive, and a ghost or two. It also portrays perfectly the conundrum of race and love and family in this country, depicting the ways in which we're all inextricably bound together, and how those binds are strangling so many of us; even though many others are working to get free—and some will succeed—the scars from where once we were held will linger on forever.