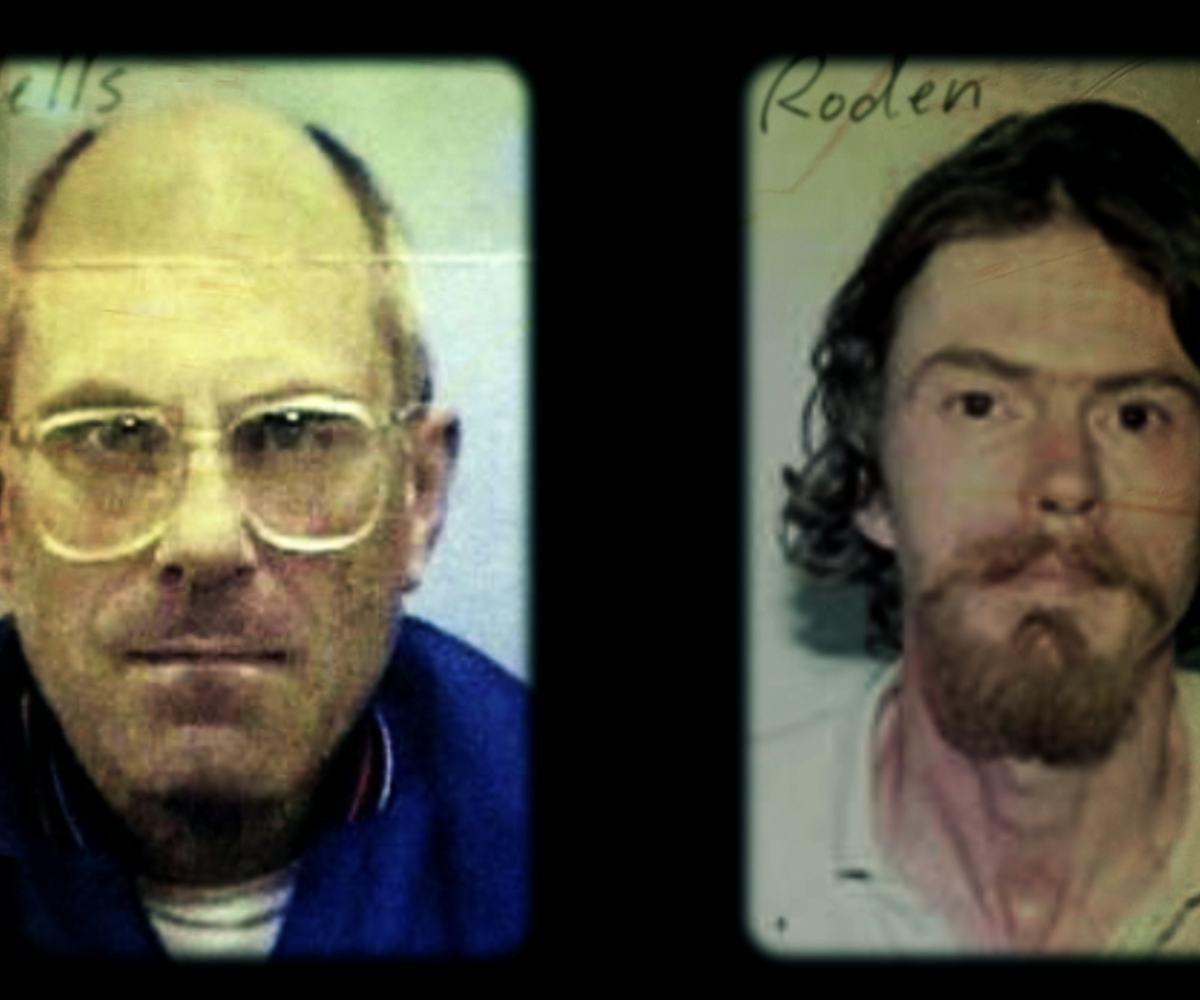 Photo via Netflix
Netflix's New True Crime Docuseries Is Straight Out Of A Horror Movie
On August 28, 2003, in front of law enforcement and emergency personnel, Brian Wells was blown up by a collar bomb that was locked around his neck. The 46-year-old pizza delivery man had been sent on a deranged, overly complicated scavenger hunt and, in desperation, had robbed the PNC bank in Erie, Pennsylvania, in the hopes of obtaining the code to unlock the collar. Wells didn't make it far though. On a nearby stretch of pavement, he was surrounded by police. "It's going to go off. I'm not lying," he said before being killed by the blast—a grisly moment that is documented on video. A month later, a body was found in the basement freezer of a house adjacent to where it was believed Wells was forced to put on the collar. And that was when Trey Borzillieri's interest was piqued.
The co-director and executive producer of Netflix's new docuseries, Evil Genius: The True Story of America's Most Diabolical Bank Heist, Borzillieri was instantly fascinated by the bizarre murder and the body in the freezer, which the FBI initially dismissed as an unrelated incident. Spurred by curiosity, he drove to Erie himself and began knocking on doors, and eventually got to know a local woman infamous for her notorious string of dead lovers, Marjorie Diehl-Armstrong.
Written and directed by Barbara Schroeder, Evil Geniusis a chilling, convoluted tale that takes the case further than any FBI investigation. The result of 15 years of work, the Duplass brothers-produced docuseries has everything a true crime fanatic could want: a grisly murder, a crazy game straight out of a horror film, and a complicated web of relationships between multiple toxic, narcissistic personalities. As such, we felt the need to speak with Schroeder and Borzillieri ahead of the series' debut to get the bottom of what happened and find out how they untangled a mystery that the FBI was never able to truly solve. Needless to say, it's a must-watch. Read our Q&A below.
So how does one even stumble upon a story like this? And why did you feel that this was the story you needed to tell?Trey Borzillieri: For years I was interested in finding stories that were [able to provide] the audience with a participatory journey. Then by chance, I was in Buffalo, New York—which is very close to Erie—in the August of 2003 when Brian Wells robbed the PNC bank. 
After that event, some information began to trickle out. But there was evidence, found at the scene, which indicated that it wasn't Brian's doing—he was forced perhaps to do it. And it just reeked of this huge mystery. Then about a month later, the frozen body was found in the garage in a freezer—right next to the dirt road Wells went to deliver the pizzas. But when the FBI came out, they said the two cases were not connected, and that just blew me away. So from that point forward, I did everything I could do to start capturing and chronicling [the incident]. I went to Erie and started knocking on doors, doing interviews. 
In 2013, I reached out to Barbara; I had seen a great movie that she did, Talhotblond, and we teamed up and started getting deeper truths in the story.
You both also worked with the Duplass brothers on this project, and I've been really fascinated by how they're on this crazy documentary tip lately with like Wild Wild Country and Evil Genius. What was it like working with them?Barbara Schroeder:We worked mostly with Mark and, by extension, Jay. But I think the Duplass brothers are everything right about Hollywood right now….They're hitting some home runs. I mean Wild Wild Country was awesome. [Trey and I] got so deep into the story and chasing down leads, so it helped for Mark and Jay to bring fresh eyes to the case. And then when we started working with Netflix, there were some very creative people there, [and they did the same thing]. We felt very well taken care of by everybody that helped bring this film to fruition, because it's a very complicated case.
I like referring to it as like a mind-bending game of Clue. There are so many questions that are still left unanswered, so it really helped to have the Duplasses. Mark was the one who heard about it though and said, "Wait, how has this not been made into a documentary before?"
What was the experience of writing this like? With all these different story lines, theories, and testimonies.BS:A lot of charts. A lot of flow charts. Yeah, it is super-complicated, and that was probably the biggest challenge—trying to tell this without overwhelming people. It's easy to go down a rabbit hole when you have a story that's this complicated. But the drive to get the answers to these questions is what propelled and guided us as we laid it out and wrote. You know, [it's like] keep it simple. The story kind of tells itself, and it's what I like to call the "oh my god" moments, like "wait, what?!" moments, you know. So we spent a lot of time making sure that the ride was the best one to go on without confusing the audience.
All the layers are incredible; how many stories have a one-of-a-kind bank heist and then two other murders? It's really one-of-a-kind. Probably the most complex and intriguing cases I've ever covered.
And even if you did read everything online, there's some new information that the FBI was unable to get that Trey was able to get. And we don't want to spoil it, but there is a revelation from someone involved in the case that kind of spins the story in a whole new direction. We call this person an elusive eyewitness because the FBI did talk to them, but they lawyered up and then shut up. But then Trey continued a relationship with this person, and it's the most mind-blowing confession I've ever heard.
Trey, I know you have this like kind of crazy relationship that you cultivated over a decade with Marjorie, too. How did that affect the production process?TB: Oh yeah. I mean, when I first reached out to her, she was apprehensive. I was apprehensive, to say the least too. But she turned out to be someone that I could have never imagined. [I think from the film,] you get a feeling for the depth of the relationship that we had. She was scary, fascinating, dynamic, and sometimes she even showed her soft side. And as I got to know her, she became more forthcoming with information. But, to be honest, she would see any opposing opinion with a, like, reptilian indifference.
BS:And Trey also had to endure these verbal onslaughts from her. I mean, in one interview, you'll hear her say, "I'll sue your fucking balls off if you say that, Trey." Then she turns around and in another conversation is very sweet and engaging and signs off with a "love you." It's interesting you get to see Marjorie try to play Trey, and then you see how Trey uses the confidence that he got with Marjorie to ultimately get to some deeper truths.
I did read one article about the case that basically said Marjorie implicated herself. Did you come to a similar conclusion? BS: Yeah, we worked with a state trooper who was our main consultant on this, and he had a great line. "The biggest break in this case came because Marjorie's still talking." She couldn't help herself. She and the other co-conspirators also wanted to show the world how smart they were.
TB:You know, she was convicted and sentenced to life. That was what she got for opening her mouth. And for the show and the deeper truth, [you can tell by the end of the film that Marjorie] was very much looking forward to coming out.
She was the one who kind of named the film for us, because she said, "I'm not some evil genius." But if you look at all the co-conspirators, [they managed to circumvent a lot]. I mean, bottom line, even after all the work we've done, there was a victim here. Brian Wells, the pizza delivery man, who was publicly executed, and to this day, no one has been charged with his murder.
Were there any other parts of making this film that surprised you?TB:I was tracking this case from right when it happened. [At that point, it] was just darkness. You didn't know where it was gonna go and, at the end, the federal investigation went cold for two years. But there are so many twists and turns, and it was utterly shocking to me seeing where this story went. You'll see the end is almost just as shocking as the way it started off—with that footage [of Brian Wells being executed].
BS:I think I was most surprised by the fact that this was a major FBI case, and that's a rare designation. 9/11 and the Oklahoma City bombing—those are major cases. But this was such a complex case that the FBI gave it that kind of designation. And while they closed the case and got a couple of co-conspirators behind bars, they still can't tell us for sure who is the mastermind, who wrote the clues, who built the bomb.
That lingers in Erie. People that lived through it... there is a lingering question. Even though the FBI will tell you that [they got it], a lot of people don't believe that. And that's a whole other labyrinth.
Evil Geniusis now streaming on Netflix.