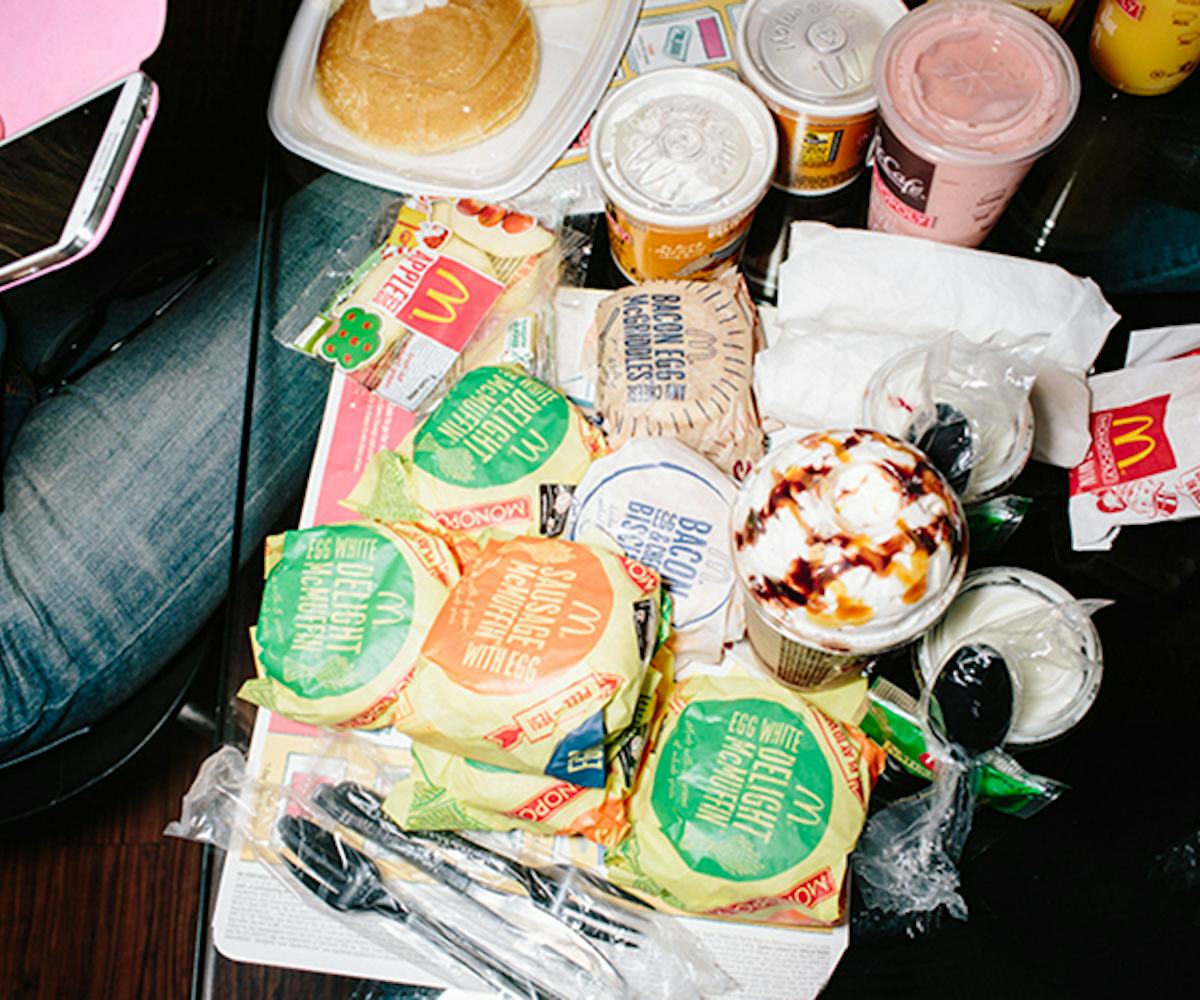 Photographed by Ryan Lowry.
Flashback: NYLON Visits The McDonald's Headquarters
dani stahl explores the wonderful world of the golden arches
Of all the logos in the world, what is more iconic, more universally recognizable, more quintessentially It than those omnipresent golden arches? Like millions of girls around the world, as a kid, I was fueled by McDonald's, at least some of the time. My dad used to take me to one in Midtown Manhattan, where I'd dive into what was then "The #2": two cheeseburgers, soda, and fries.
As I've grown up and become more dedicated to maintaining a balanced diet (which, in my world, tends to rely heavily on green juice and SkinnyPop), my McDonald's visits have become less frequent. So, needless to say, I was excited to discover that as my thinking on food has evolved, so has McDonald's.
Naturally, I have to check this all out for myself, so I book a flight to Chicago to visit the company's global headquarters. I arrive at the W Hotel close to midnight and get a decent night's sleep before waking up bright and (very) early for my breakfast with the McDonald's team at the famous "Rock 'n' Roll" location in downtown Chicago. There are many, many delicious-looking treats spread across the table, along with a bunch of McDonald's artifacts, including some beloved old-school Happy Meal toys.
I spring for the Egg White Delight McMuffin with Canadian bacon, white cheddar, and egg whites (which the company claims are likely fresher than the ones in your local supermarket) that has only 250 calories and 18 grams of protein. Good morning!
Once I'm sufficiently fueled, I head back to the kitchen to meet the staff and make a McMuffin of my own. En route, a curious kid asks what I'm up to, and when I explain that I'm on assignment for NYLON, he gets super excited and engages me in a serious fashion chat. Convinced that I have just met the coolest guy in Chicago (what's up, Joey Nenni!), I'm extra excited to show him my skills. I master the egg mold, which enables me to get a perfectly round egg no matter how un-masterfully I crack it. Once I figure out that the key to making the McMuffin is to toast the English muffin at the same time, my work is done.
The next stop on my journey takes me to the city's Near North Side, where second-generation franchisee Nick Karavites operates one of the 18 McDonald's locations owned by his family. He's a really cool dude—he plays guitar in the band RepliKa and, as a surefire contender for the biggest McDonald's superfan in the metro area, he's the perfect person to train me to make my first Big Mac. (Drumroll, please.) Even if I did know the ingredients of that Special Sauce—which I don't, I swear—I wouldn't share them. But I can tell you that each Big Mac receives two squirts of it. I wish I could do anything as efficiently as McDonald's can produce this burger, which, not like I'm counting, only has 550 calories and is made in under a minute. Everything is customizable, so I consider ditching the middle bun to shave off some carbs, but eh. You know what they say: If it ain't broke….
Next up–the fry station. To be clear: Fries are an occasional indulgence, not my way of life. But am I willing to break my good pre-Fashion Week behavior to accommodate the delicious, soft-on-the-inside-but-crispy-on-the-outside fries? Of course. I just opt for a small. (Who believes me?)
Next, I drop by the brand-spanking-new Ronald McDonald House downtown, which provides gratis housing for families while their children receive hospital care, before heading to the McDonald's campus in the leafy suburb of Oak Brook. I meet with Chef Jessica Foust to show off my Big Mac skills (I can do it in 56 seconds—she timed me) and sample the new McWrap. My favorite is the Sweet Chili McWrap with grilled chicken, and just nine grams of fat. (Again, not like I'm counting.) But before I go, I make sure to sample another one of my favorite menu items: the McNugget. Holy Sweet 'N Sour sauce! 
All too soon, I'm heading back to the airport and admiring my new tote bag, which looks just like a fry container. The girls at the office are going crazy for this. After meeting with so many members of the McDonald's team, I was excited to discover that both of our food philosophies are maturing. The company is seriously aware that even the smallest changes they make have a huge impact all around the world. And even though McDonald's is changing, it's still a classic. It has staying power. And isn't that, essentially, what being It is all about?