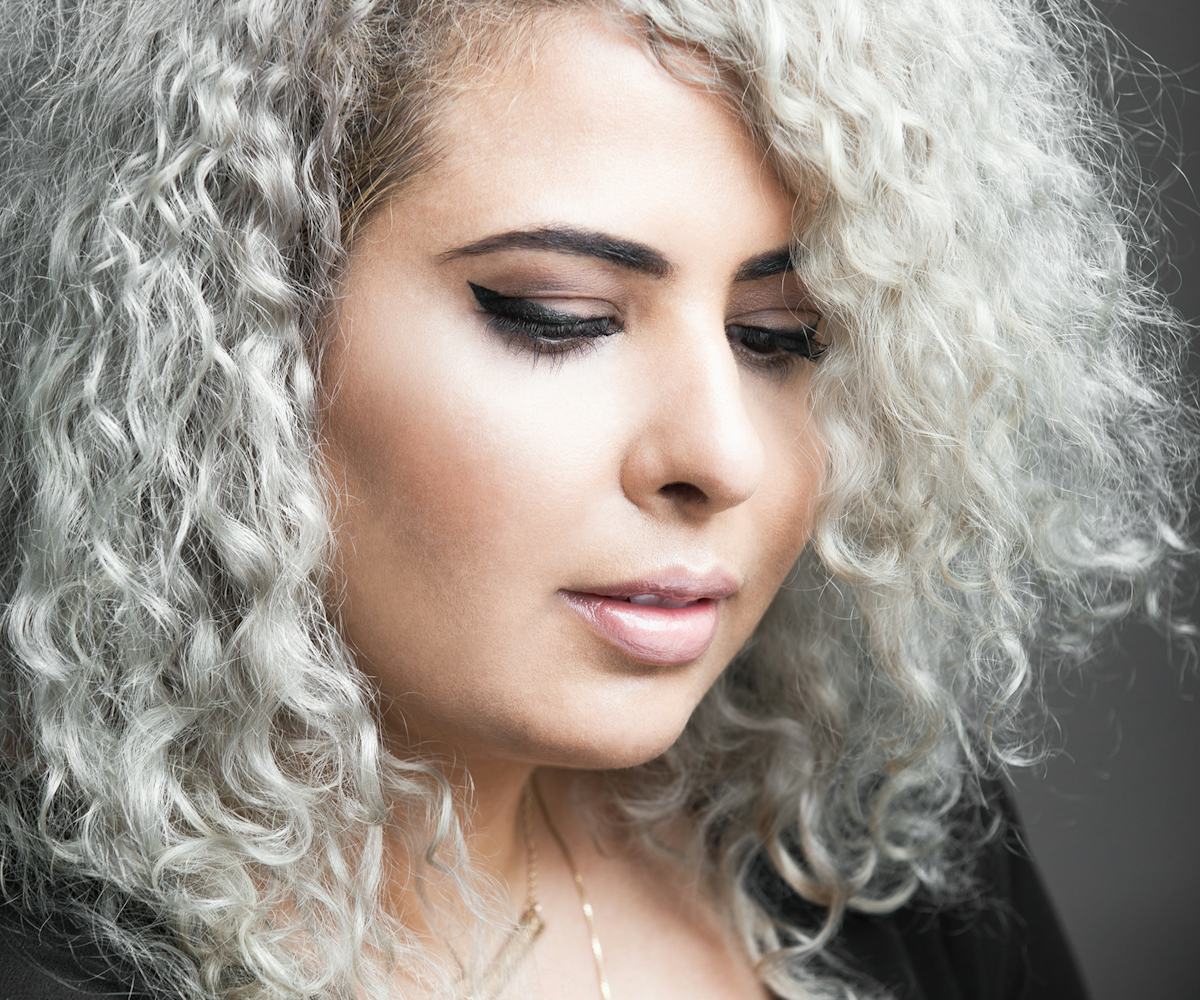 Photographed by Sarah Kjelleren.
Meet Fadia Kader: Your Model For Kicking Ass In the Music Biz
She's our June/July Girl We Heart
The following feature appears in the June/July 2016 issue of NYLON. 
Fadia Kader wouldn't be here if it wasn't for Shonda Rhimes. "This is rare for me," says the 33-year-old senior music partnership manager at Twitter. "I don't like being on camera. I get nervous." Planted on a couch in a small photo studio in SoHo, New York, wearing a cozy black tunic, she's nevertheless embracing the blinding lights. "I used to say no to things that required me to be in a public platform. Then I read Shonda's book Year of Yes, and I was like, 'This is gonna be my year of yes.'"
As one of Twitter Music's crucial liaisons for hip-hop and R&B, Kader herself is cautious about oversharing. The ability to thrive as a quiet force is what makes her admirable. "In the times that I do give something of myself on social media, I give something authentic," says Kader. "I'm not that flashy person. I feel like that's worked against me, but ultimately, I'm fine with that. I keep to myself, but I get shit done."
Her main duties include overseeing album reveals, live streams, and Q&A sessions with the likes of John Legend, DJ Khaled, and Pusha T. "My role is to connect the dots between the music industry talent and Twitter as a platform."
Had the cards fallen differently, Kader might've landed in culinary school. Before applying for a position at Twitter, she'd settled on leaving her post as director of brand partnerships and strategic marketing at the iconic Def Jam Records to pursue her passion for cooking. "I'm grateful for my job, but I was never a record industry girl. I'm an underground darling," she explains.
Born in Kuwait and raised between Amman, Jordan, and Tennessee and Atlanta in the U.S., Kader is the youngest of seven siblings. Her mother passed away when she was little and her siblings took turns caring for her when she was growing up, and she moved often. "I never felt secure in one place and that's translated into my career," she says. At 22, working in fashion, she helped run boutiques for Big Boi's wife and best friend, as well as Bow Wow's mom. Despite having no managerial experience, Kader jumped at the chance to manage a local rap duo. "I like to be challenged, so I was like, 'Yeah,'" she says. "I had to learn how to be their publicist, their agent, how to book their shows."
While her path to Twitter sounds enviable, Kader has a classic New York story. In 2007, she moved to the city from Atlanta with $75. "I had sold my car for $5,000, but the night before I was leaving [and the buyer was going to come to pick it up], I put my wallet on top of the trunk while pumping gas and then drove away. The wallet fell off in the middle of the road." Though being broke wasn't part of the plan, she adapted. "Thank God my friend let me stay with her and I had a job, but those first two weeks were intense."
A career in music has come naturally, if stressfully, for Kader, a vinyl fanatic whose bookshelves are stacked with records. Explaining how she got here is the hard part. "Young women come to me, like, 'How can I go about your career path?'" she says. "It's hard 'cause it just flowed. I trusted my instinct. I said I'm gonna sacrifice everything and be broke as shit, but I'm gonna learn." 
Click through the gallery to read the rest of the feature. 
Kader's Musts