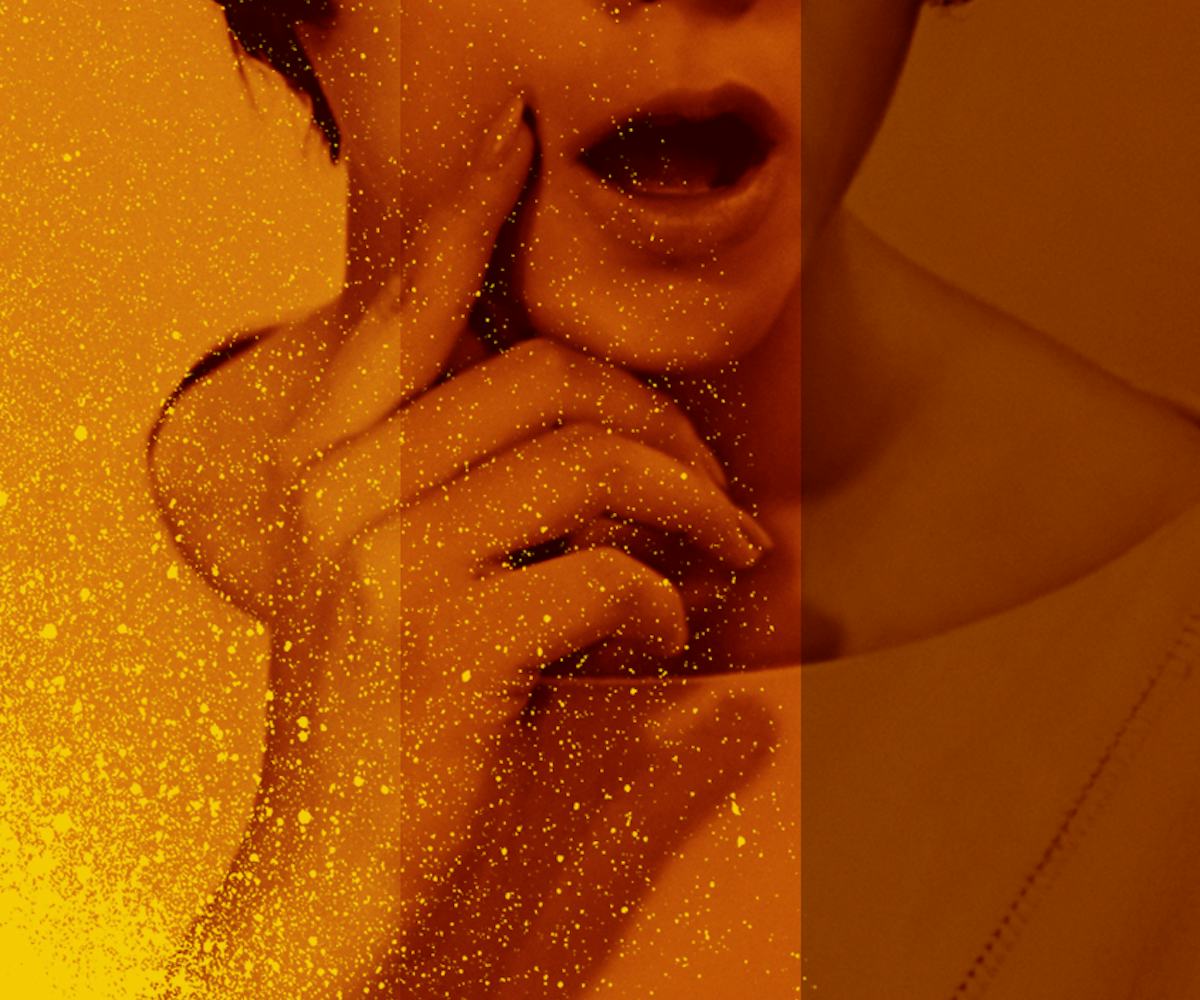 Photo via Getty Images
how to fake a tan—and get away with it
the cool girl's guide to faking it
Picture Jane Birkin's eye-dusting fringe, flared denim, and easy tees. Or Brigitte Bardot's tousled hair, bikinis, and St. Tropez tan. Eternally on point, right? Time may march on, but true style stays the same age. Even though we know better than to tan the old-fashioned way, like Bardot famously did, or even take it indoors—a JAMA Dermatology report released this month confirmed that indoor tanning dropped from 11.3 to 8.6 percent among 19- to 20-year-old women between 2010 and 2013—we can't help but pine for that full-body, golden-skinned glow.
But faking a tan that doesn't look, well, dated, is crazy challenging (just ask the ubiquitous orange-hued party girls of 2003). Achieving a natural-looking, sun-kissed tan without the sun requires thoroughly modern products and a Jedi battle plan. This summer, we're bypassing this year's sure-to-look-dated #sunburnart tanning trend and going for an authentic sunless tan that not only carries us into fall, but becomes a part of our timeless style, thanks to these tanning tips from beauty's biggest experts.
Prep Your Skin
Whether spray tanning or self tanning, exfoliating is the first step to nailing an even bronze that lasts. By using a dry brush or oil-free scrub to buff away dead skin cells, you're not only clearing the way for tanning product to land on the top layer of the epidermis, you're also ensuring any makeup, deodorant and oil residues—all of which can interfere with a tanning products' even application—are a goner. Oil-free scrubs can be hard to track down, so try making your own with mashed banana and brown sugar or try H20+ Sea Moss Black Sand Body Scrub, which smoothes skin with coconut shell powder, sea salt, and volcanic black sand.
Prepping skin anytime before you apply tanner will help, but if you really want to nerd out about it, the best time to exfoliate prior to faux tanning is about eight hours before application, according to St. Tropez Skin Finishing Expert Sophie Evans, who tans celebs like Victoria Beckham and Rashida Jones. "When we take a warm shower or bath and have products on our skin, the pH balance of our skin may rise, causing the self-tanning agent can go darker or lighter," she says. "Skin with a neutral pH balance will get more perfect self-tan color results."
Nab a Natural-Looking Spray Tan
If you have more money than time, try a spray tan to naturally tone your body. Using sugar or walnut-based solutions, techs can cover your whole body in about 20 minutes, including drying time. The art of getting a realistic and healthy-looking spray tan is in finding the right salon to do the deed. First, skip joints that leave the spraying to an automated machine, or worse, an inexperienced tech—both can use too much product, to scaley results. Here, minutia matters—like spraying at too close a distance, pressure used, and speed at which the sprayer is passed over the body—so skip the Groupon offers and research salon services to ensure you're in reputable hands before booking. Call the salon to ask about methodology (some cleverly named services simply call for applying self tanner to your body by hand), product used (typically, sugar and walnut-based formulas don't carry such a chemical odor), how to prep for the appointment (waxing and mani-pedis should be done prior), and how to maximize your tan's life span (avoid using oil-based products). "If a salon can't answer your questions or if they don't tell you what to do to prep for an appointment, think twice about booking," advises Rachel Sterling, a spray-tan expert at Stript Wax Bar, a celeb haunt in Los Angeles.
Once in the salon, take a less-is-more approach. Most solutions take four-to-eight hours before a true color can develop, so it's best to wait out the final results. Another pro tip: Don't freak if your tan seems to shed with your first shower; pigment swirling down the drain is likely not the spray tan solution itself but bronzer, which helps temporarily color your skin while the tanning solution develops. Finally, if you're the kind of girl to do her makeup every day, consider skipping a spray to the face altogether, since applying makeup on top of a spray tan can make skin look dirty.
DIY With Self Tanner
At-home tanning lotions have come a long way. Not only have they become less orange-y in tone, they're also easier to use. The low-maintenance girl looking for a little lift simply needs to apply a tinted body lotion, like Prtty Preshuan Skin Tight Body Lotion, a Gwyneth Paltrow favorite that adds a weekend-in-the-tropics tone without streakiness or a funky odor. If looking for a quick bronzing solution for bare limbs, chest, and neck, Becca Luminous Body Perfecting Mousse does a fantastic job of naturally darkening skin a step and evening skin tone; thanks to micro fine light reflecting pigments, it made our freckled-splotched arms look golden, not sparkly.
Some of the most believable tanning products are those that build on themselves day after day. If you have the time to cultivate a gradual tan, you'll be rewarded not only with an authentic glow but skin care benefits. Some newer formulations are designed to be applied in the shower to help cut hastle. James Read Day Tan Body is stocked with anti-aging ingredients like hyaluronic acid and algae extracts and builds on itself to create progressive color.
Finally, if not using a gradual self-tanner, don't worry too much about choosing a product shaded just a few steps darker than your natural skin tone. As Evans points out, "A good self-tan [product] will adjust to suit your skin color and pigmentation." So choose your tan color to fit the darkness of the tan you want, instead. A good rule of thumb, according to Evans, is to select a gradual self-tan product for a light, weekender tan, a traditional self-tanning product to mimic a week in the sun, and the darkest formulas to capture the depth of a two-week vacay.
Sideline Streaks
Oftentimes, the key to a convincing makeup job is to blend, blend, blend. But self-tanners work differently. Fight the instinct to rub in a self tanner—it can cause streaking. Instead, Evans instructs to use an amount ample enough to glide onto the skin, evenly coating it without applying too much pressure. "Allow the product to sit on the skin so its ingredients can sink into the epidermis and develop properly," she says.
Dodge Dark Spots
You spread an even layer of product along the skin, so why do dark spots develop when using self-tanners? Blame the more pigmented areas and dry patches of skin. Avoid splotchy results by liberally moisturizing these areas with an oil-free lotion to act as a barrier before applying self-tanner. Other areas to hydrate? Hands, knees, elbows, hands, inside of wrists, and feet—parts of the body on which a lighter color will look most natural. "Skin on these parts of the body tend to be dryer and are notorious for going a lot darker so moisturizing beforehand is a must," Evan says. Finally, by using a mitt when applying tanner—including gradual tanning lotions—will absolve hands turning freakishly dark, a common faux-tan giveaway.
Don't Over-Apply
Using more product does not create a deeper tan. "Applying 20 coats of self-tanner on my legs in one application will result in the same color as one coat, since self-tanner only colors the very first layer off the epidermis (the layer that sheds)," notes Evans. Save time and money and avoid suffering a sticky, messy finish by applying only as much product as the skin can absorb. "If you want to go darker [than what the skin absorbs], you have to wait for the self-tan to develop, which is normally four to eight hours, then shower, then apply more or apply the next day," she says.
Add Glow to the Face
Faces don't tan at twice the speed of limbs. So when creating a game plan for a glowing complexion, be selective with your approach. If makeup isn't your bag, add a radiant tone with a light gradual tanning lotion laced with anti-aging properties, like St. Tropez Gradual Tan Plus Anti-Aging Face Cream, which contains antioxidants and hyaluronic acid. Similarly, a sheer, water-based skin tint, like By Terry Tea to Tan does a fantastic job of adding healthy color to the face and body when in a rush. Otherwise, a golden glow can be added and better controlled with makeup alone.
Quinn Murphy, a makeup artist who gives Gigi Hadid and Kate Upton their luminous complexions, shared this blueprint for a model-worthy glow: "Try applying a teardrop-size of darker foundation than you might normally wear around the edges of the face—under the cheekbones, on temples, under the jaw line and on the bridge of the nose—and blend with a damp blending sponge," he offers.
Don't be shy about the going deep with the shade selection. "Because you're applying them very sheerly, you'd be shocked at how dark you can really go," he adds. He notes that shades made for other ethnicities may work best when coloring the face to match a tan body. For example, Caucasians, can venturing into shades made for Latinas. If picking the right shade has you stumped, Sarah Tanno, a makeup artist who works with Lady Gaga, suggests adding a bronzing liquid like Giorgio Armani Maestro Bronzer into foundation and blending down past the neck.
Next, highlight high points of the face with a gold or Champagne highlighter and accentuate the cheekbones with a sienna or golden-hued bronzer, Murphy suggests. Tanno uses Tom Ford Shade and Illuminate to highlight the bridge of nose, forehead, and other high points on the face and lightly brush on contour under the cheekbones. "These products are very buildable so you can continue to add color without looking too makeup-y," she says.
Finally, no matter what your faux tanning MO, don't forget to to protect your neck (and face and body) with SPF when loading up on makeup and tanners. After all, there's no better way to slow photoaging and minimize cancer while creating a tan for the ages.