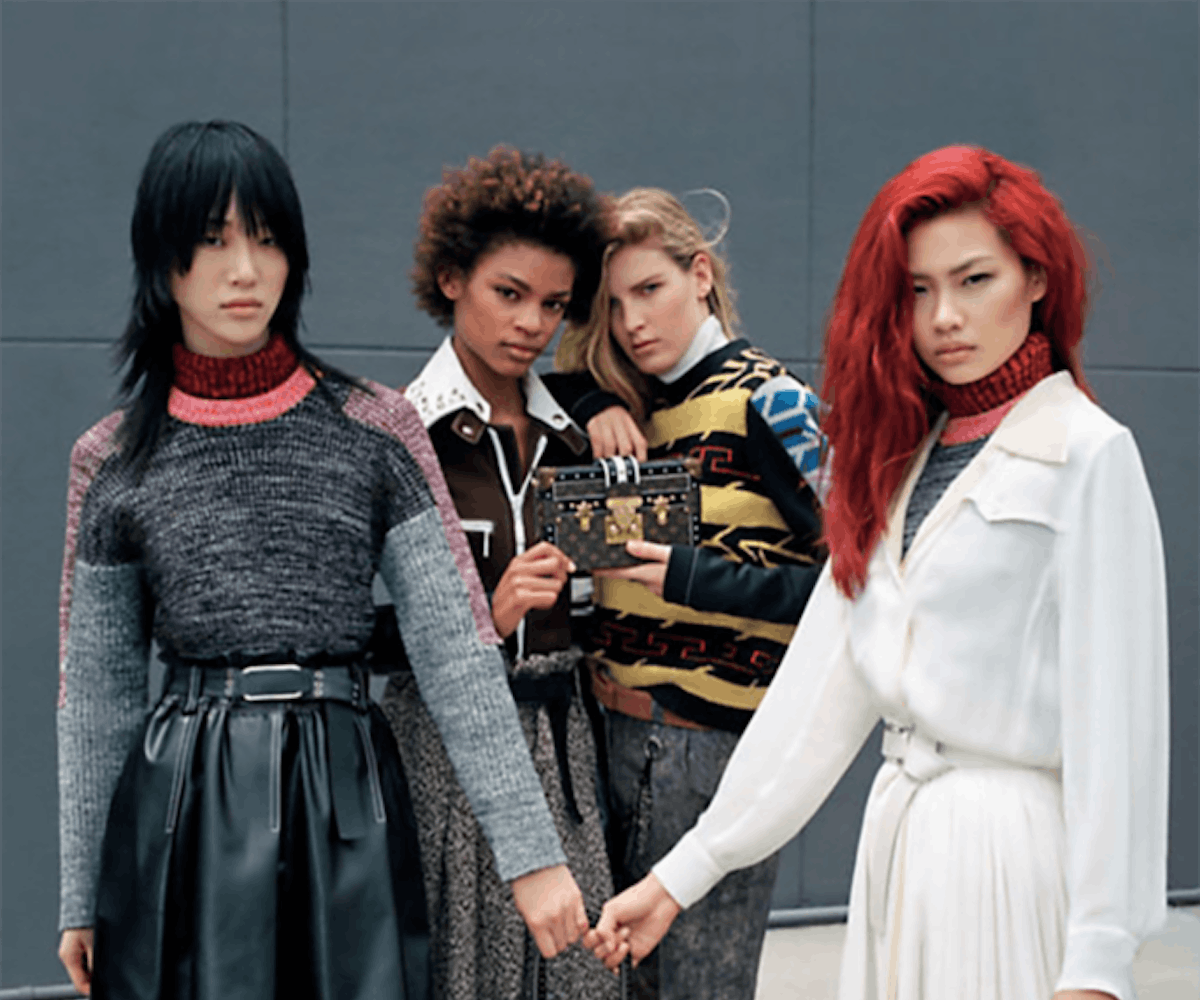 Photo via Louis Vuitton
For The First Time Ever, Fashion Ad Campaigns Are More Diverse Than Runways
There were major steps forward for inclusivity in fashion
With New York Fashion Week just around the corner, The Fashion Spot has just released the findings for its latest Diversity Report, examining the runways and fashion print campaigns of the Fall 2017 season. Last spring, we were pleased to find out that—for the first time ever—every single designer that showed during New York Fashion Week featured at least one model of color in their presentation. This year? Another first: Ad campaigns have surpassed the runways in terms of inclusivity.
For the Fall 2017 ad campaigns, the number of nonwhite models featured in print ads rung in at 30.4 percent. This was a significant jump from Spring 2017's 24.5 percent, and also handily beat the runway's 27.9 percent. However, this doesn't mean that runways are failing on the diversity front: The Fashion Spot also reports that, this season, runways featured their most diverse range of models since the survey started two-and-a-half years ago.
Another milestone? A record 26 plus-size models walked the New York runways this season. Unfortunately, in terms of campaign representation, the number of plus-size models has actually dipped by a tenth of a percent. In terms of age, 14 models over the age of 50 were used in campaigns, compared to the mere two used in Spring 2017, and age diversity on the runways has been reported to be steadily on the rise.
There is still much to be done in terms of transgender visibility, though. This season, transgender models were the least represented group, making up only six out of the 457 castings. The Fashion Spot notes that this is an increase from prior seasons, but there's still much work to be done. 
Of course, this is always the case. While we're glad to see improvement in some areas, runways and ad campaigns are still not truly representative of our population. And a number of brands around the world failed to show diversity in either campaigns or on the runway. Hopefully, though, now that this issue is being openly discussed, improvement will continue. The world is watching.