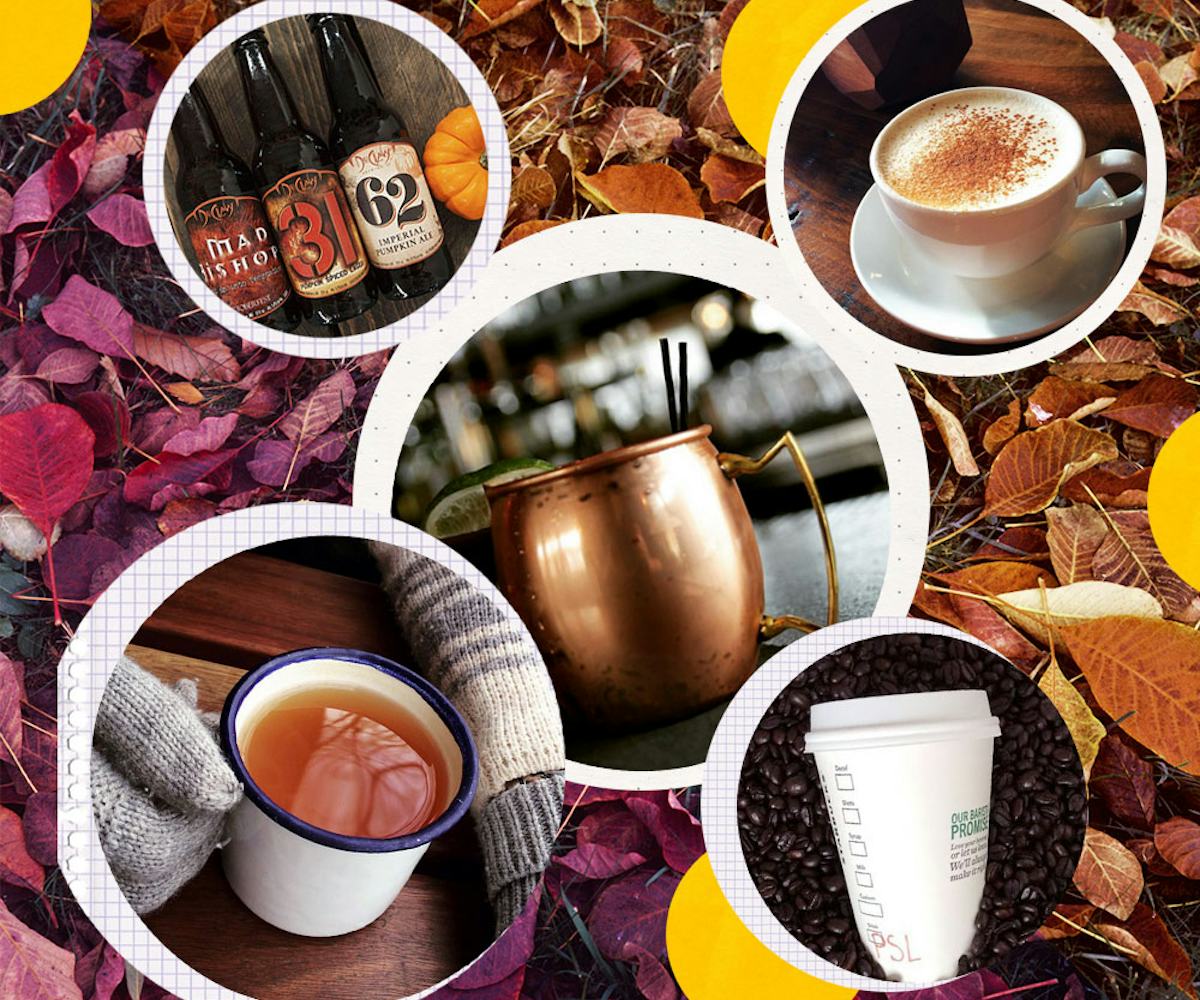 drink photos via instagram
What Your Favorite Fall Drink Says About You
pumpkin spice lat-hayyyyy
This year, the kind folks at Starbucks proudly announced its infamous Pumpkin Spice Latte is now the official beverage of fall. (I don't know who allowed this to happen, but here we are.) It even got a verified Twitter account. Anyway! Thanks to the PSL's official unveiling on September 8, 2015, fall unofficially arrived and with it came all of the fall drinks.
Like clothing and emoji preference, what you sip/slurp/chug/salivate over during these crisp months (sorry, West Coast) says a lot about you. We all know the PSL's associations, but what about the pumpkin beer? The now super-trendy Moscow Mule? Mulled wine? Surely these concoctions reflect our unique personalities in ways the zodiac does not. Well, slip on those UGGs, slide into those Lululemon pants, throw on your North Face Denali, and find out ahead—unfiltered and foam-free.
The Pumpkin Spice Latte
Ah, yes! Fall's Official Beverage™. It's a meme we can consume! It's the official drink of sorority life! What hasn't been said about this here saccharine drink? We're going to let Lohanthony tell you what you are instead of us. Love you! Bye!
The Chai Tea Latte
Okay, Miss Thing. We get it. You like the cold weather and embrace all things Fall: leaf Instagrams, grainy photos of your L.L. Bean boots, the #authenticlife. But you would never, ever be caught dead with one of those PSLs. Those things ruined fall! You've got elevated tastebuds—buds that crave the taste of Christmas over spiced pumpkin. Rock on with your pseudo-countercultural self. Oprah loves you!
Hot Mulled Cider
You're, like, really, truly fall. You thrive on nostalgia and really live the life most people fake on Instagram. I'd wager you grew up in New England and ventured to real apple farms where you did real apple picking. You lived the life lifestyle magazines romanticize come autumn, and that's really great. You've got no time for those overly sugary coffee drinks. You know, understand, and appreciate the finer crisp weather ones. This is your season. Embrace it.
The Moscow Mule
For whatever reason, the Moscow Mule has become super trendy. West Elm and Pottery Barn have a plethora of mugs designed specially for this drink! That's how you know you've made it. Anyhow; you're an autumnal rebel. Who needs warm drinks when cold ones give you all the vitality you need? A good buzz trumps any caffeine high—and the more ginger the better. You seek adventure and get your rocks off on genuine conversation. Some might see you as the Cool Girl™, and that's because you are. You drink the literal cool drink AND you're just really, really cool. Cheers.
Pumpkin Beer
Let me put on my announcer voice for this: PUMPKIN BEEEEEEER! Some might think pumpkin beer is the PSL of beers, but no. Nuh-uh. Pumpkin beer is where it's at and so are you. Like Kesha, the party doesn't start until you walk in. And what did you walk into the party with? That's right: pumpkin beer. You know there's a good time to be had in (almost) anything. You've got such a chill air around you, random people you interact with on a daily basis—like the cashier at your local bodega where you buy your pumpkin beer—tell you their life stories. No matter how strong the pressures of the world may be, you don't get down on yourself. You've got all the good vibes and are willing to share 'em all. You celebrate everything, but it's time we celebrated you.
Mulled Wine
Elegant, refined, and quiet, the mulled wine drinker appreciates life's introspective moments. You page through Martha Stewart Living and Pinterest, and plan dinner parties based on the images you like. You're a true Mrs. Dalloway. You buy the flowers yourself and always keep your vases full. Life's rituals give you peace and a rich group of friends give you perspective. You've most likely planned a wine tasting come Spring. Perhaps you're even looking into a literary tour. If you ever pen a memoir, let us know. We'd soak up every word because your nuanced perspective on life is rare, and like a fine wine, only gets better with time.