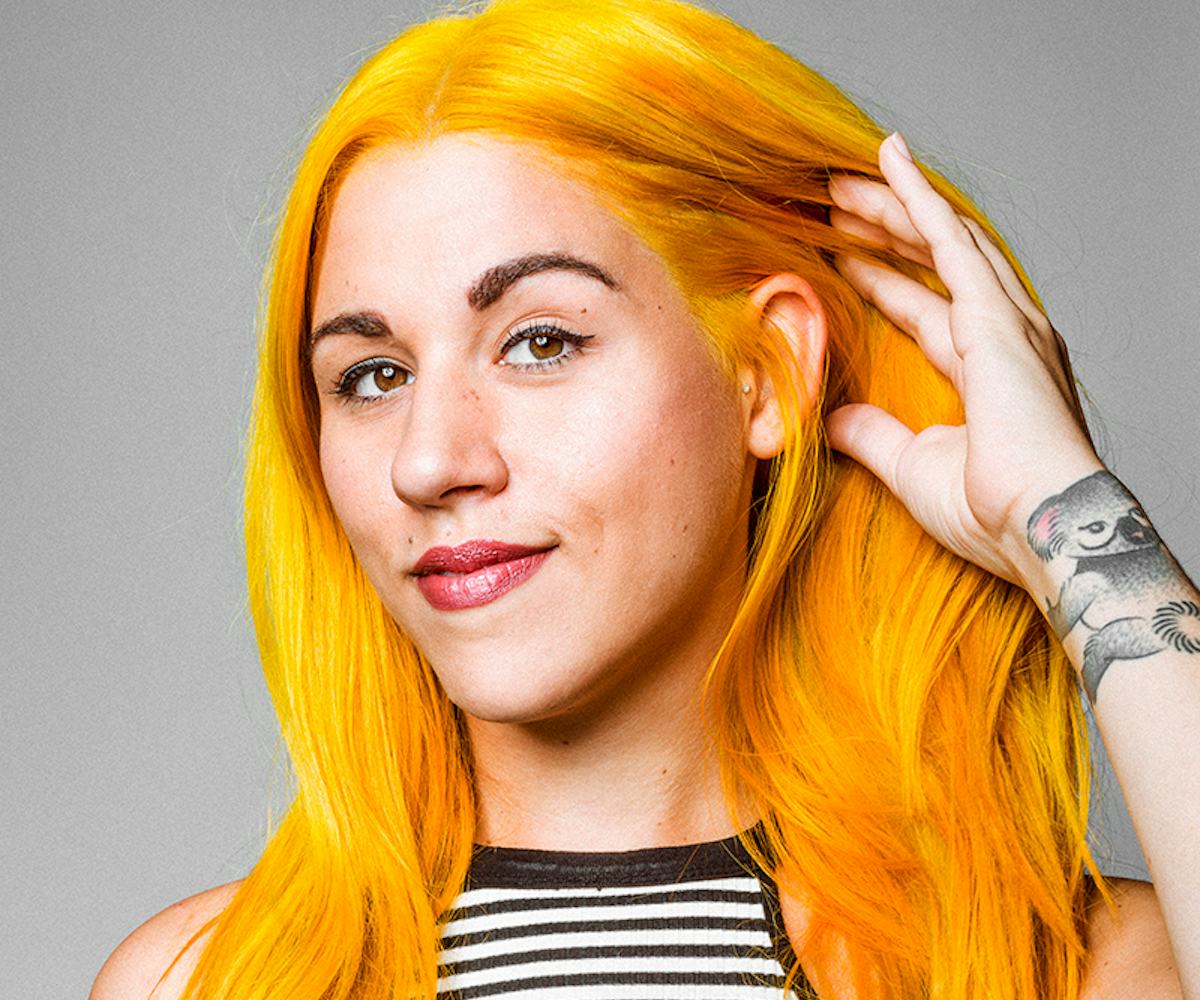 Photo by Savanna Ruedy
6 Hair Makeovers That'll Inspire You To Go Bold This Fall
Get your scissors and bleach kits ready
When it comes to our look, we can all agree that change is good. As the new season rolls around, nothing is more refreshing than kicking it off with an exciting update, whether it's trying out the season's latest makeup trends or opting for an entirely new hairdo.
Now that the sweltering temperatures have subsided and we don't have to worry too much about humidity and excessive sweat messing up our 'dos, what better time to completely change our hairstyle to something new and exciting?
We tapped six NYLON and Socialyte employees to simply go for it—whether they had a serious chop or neon orange on the brain—and make their hair dreams come true. With some of New York City's most talented hair stylists and colorists at some of the best salons participating in this transformation, these lucky six are starting off fall with fresh and amazing new looks.
Click through the gallery to read each of their stories, and prepare for some serious fall makeover inspo.
Keryce Chelsi Henry, associate editor at NYLON
I've always played with the idea of rocking blonde hair but never fully committed to it, instead opting for safer routes like a brown-to-blonde ombré or blonde highlights. Back in July, I took a stab at it and used an at-home dye kit to give my curls a honey blonde hue... and it left my hair reddish brown. I had pretty much given up on going blonde until I saw that my ultimate hair icon, Kelis, bleached her tresses at the end of the summer, so for my fall look, I went into full fangirl mode and decided to follow suit.
I met with Colleen Flaherty from Spoke & Weal in SoHo for my makeover. Upon inspecting my hair, she had some good news and bad news: The good was that my failed at-home dye session lifted my almost-black natural hair color quite a bit, which meant she wouldn't have to strip my hair too much. The bad was that, due to some heat damage and the blonde highlights I already had, there was a chance that some of my hair could snap off in the process (no big deal). To determine whether or not I'd be going bald during this salon visit, Colleen tested out the bleach on a couple of strands in different parts of my head. The hair was still attached to my scalp minutes later, so we decided it was safe to go all in and strip the color from my hair, then use a toner to bring the shade down from a yellow to a more sandy blonde.
I gave the most comically cheesy gasp when the toner was washed out of my hair; the color couldn't have been more perfect. Plus, not only did I still have hair on my head, but my curls had an extra pop to them. Having natural hair has turned out to have its major pros and cons for this look because, on one hand, I don't shampoo my hair often so I don't have to worry about washing out the color, but on the other, I now have to be extra cautious about maintaining my hair's moisture. That means deep conditioning my hair weekly (my favorite is the Alter Ego Garlic Mask) and using a more moisturizing leave-in conditioner (I've started using the OGX Coconut Curls Curling Hair Butter). And, because I'm so obsessed with this hair color, Colleen will be seeing me every five weeks or so to touch up my roots.
Tere Cortes, client relations manager at Socialyte
I bleached my hair blonde a couple of years ago when the "platinum blonde short hair" was trending, and while it was really fun having it, it took almost two years to bring my natural color back. I let my hair grow out for a while, but the ends were still showing all the signs of bleach damage, making it look very dry and sad. Because of this, I've been wanting to chop my hair for a while now, and this fall felt like the perfect timing.
We made the appointment at Sally Hershberg Salon in uptown Manhattan, where Mia Santiago helped me finally have that sophisticated cut that I've always wanted. After having the most relaxing hair wash, she went in for the chop. Mia was great because she put a lot of thought into how to style my hair, keeping my face structure in mind. I also wanted a haircut that would be pretty effortless to style for every day, so she worked her magic to make it modern and easy.
After the haircut, Mia began to dry my hair. Since I'm not the kind of girl who gets a blowout often, she used the Sally Hershberg 24K Superiority Complex Texturizing Paste along with the Root Envy Ultimate Root Boost Spray to give it more of an undone texture. The result? Me, very happy and obsessed with my new look.
Lauren Cohen, head of marketing and entertainment at NYLON
I've always had extremely fine hair that would only grow to a certain length before tapering off into nothingness. While the perks of a quick hair dry and having a mere fraction of the "get ready" time of just about every other female I know are great and all, I've always pined for long, full and flowing locks to balance and round out my stronger facial features. For as long as I can remember, I'd heard rumors about the damaging effect that extensions can have on your hair, but this fall, I wanted to test out this theory in hopes of proving it wrong.
At the hands of Frank Rizzieri and his extensive (pun intended) research, development, and expertise in the world of Aveda, he's created the answers to all my hair nightmares: the VoMor Hair Extensions System. I met Frank at his salon oasis in TriBeCa, Fourteenjay, where he and his Aveda Color specialist, David Adams, outfitted my head with the perfect color-matched extensions, customized to work perfectly for my specific type and texture of hair.
These tape method extensions are extremely lightweight, multitoned, easy to maintain, and, most importantly, can withstand the test of time with a little TLC. If you're thinking about making the investment, I'd say they're worth every penny.
Hayden Manders, staff writer at NYLON
My relationship with my 
hair
is heated. Quite literally, in fact. I've been flat ironing my curls every single day for nearly a decade. No matter how many strangers, friends, lovers, and 
hair
stylists gush over the thick curls that reveal themselves post-wash and/or cut, I obsess over making sure they're as straight as possible. (Do I carry a travel-sized straightener with me wherever I go? Yes, I do.) "I would kill to have curly 
hair
like yours," I hear all the time. Well, I'd kill to have 
hair
as straight as yours.
Thanks to 
, I don't have to kill. Warren and his keratin treatment magic at 
smoothed my 
hair
out in ways I've only dreamed about. We opted for the strongest option, which meant I couldn't wash my 
hair
or get it wet for three days post-treatment. This was no problem, really, because I wash my 
hair
once a week, and even though Warren said not to obsess over tiny bouts of moisture, like sweat from exercise, I did because my 
hair
was finally moving in a way I never thought possible and I wanted to keep it so. I was also told to avoid wearing hats or putting my 
hair
up—something I've come to love doing with its new length—because the keratin had to set straight and any sort of band, tie, or hat would leave a dent. It's a good thing I learned to embrace my face sans hat a few months ago. 
For the next two weeks (the time Warren suggested I go between seeing him and my colorist), I felt prettier and more confident than ever. Honestly, I was nervous to reintroduce color to my 
hair
, for the keratin easily validated me growing my 
hair
out longer than it ever has been before. But, I needed something else. I needed something even more drastic because I hate the areas between extremes. 
So, I turned to my old friend bleach and said hello to the one color I've never had on top of my head: orange. 
, the lead stylist at and co-owner of 
, is a true wizard of color and painted my Olaplex-infused bleached 
hair
with five different colors: coral on the sides; orange on the roots; mixtures of pinks and reds and oranges all over the top. He took a darker shade and defined each color section with a balayage technique, which added depth and texture. I'm particularly obsessed with the "natural" section he left that may or may not be inspired by a particular 
hair
style 
Hayley Williams rocked in a certain Zedd music video
that I showed during my consultation. (It totally is.) 
I left Seagull thanking Shaun for bringing my queerness back. For, really, he and Warren have. A makeover is supposed to help bring out a new side of yourself, something fresh. For me, this has been more about exploring my younger self—a self I enviously look back on because of his fearlessness—with grown-up products and treatments. (No more DIY bleach jobs, cheap 
hair
dye, and constant flat ironing for this head of 
hair
.) Perhaps, one day, I'll learn to love my curls. (I do happen to think they look nice in that before photo.) But it's time to fall back into that fearless self I know is still alive and well. He just needed to be bleached out.
Katherine Martinez, director of e-commerce at NYLON
With the exception of a judgment lapse from 2007 to 2008 when I tried out an asymmetrical bob à la Rihanna (read: hairstyle that quickly became synonymous with the suburban soccer mom "Can I speak to the manager?" starter pack), I have always had ultra-long hair. My hair was my security blanket, my face curtain, and my winter scarf (long enough to tie into three knots under my chin). Long hair connoted femininity in my mind, and while I saw other girls rocking short choppy styles, I constantly made excuses as to why I couldn't pull them off.
I'd been craving an update to the boho balayage I'd been rocking for a few years, so when this makeover opportunity came, I took a big gulp and volunteered to be sheared. Entering
, tucked away in Greenpoint, Brooklyn, felt like visiting a relaxed bar with an old friend (complete with complimentary rosé and reclaimed wooden furniture). Kenna got to work, taking off eight inches of my long shiny locks after triple-checking that I did indeed want to commit to the cut (I promised I wouldn't cry). When I asked halfway through the appointment if hair growth vitamins really worked (you know, 
just in case 
this was a terrible idea), Kenna said that they were effective but were also associated with an increase in back hair (no thanks!).
In the end, Kenna kept a long layer through the chop, so it wasn't so bulky through the perimeter. I went back and forth between mourning the loss of my length and shaking my mane in slow motion like Rachel Leigh Cook did while walking down the stairs in 
She's All That. 
After living in the medium-length bob for a few days, I was hooked. A weight had 
literally
been lifted off my shoulders and my blow-drying time was cut proportionately.
The following week, colorist Jenna Viney took me on the second leg of my hair journey. She focused on creating softer highlights at the root, but heavier pieces on ends and front section (balayage) to keep the style beachy. Viney followed up with a toner to "shadow" my root with dark brown natural ash and toned midshaft/ends with medium brown neutral ash. Finally, she finished it all off with a clear gloss to seal and keep things super shiny. I've been using color-safe shampoo to protect my color since.
Lori Trigonis, social media associate at NYLON
Three terrible years ago, I bleached all the life out of my hair and attempted a DIY pink look (the #TBTs of which are still scarring...), and it's been a road to recovery ever since. The idea of coloring it again would bring on flashbacks to the healthy hair I thought I'd never see again. At the same time, I love making snap decisions, so when the opportunity for a hair makeover was presented to me, I immediately agreed before I had finished hearing what I was getting myself into. 
I tend to go from one to 100 pretty quick, so when the topic of picking a color came up, I figured either go insane or go home. One Tuesday afternoon, I headed over to Eva Scrivo Salon to meet with my guardian angel of hair color, Merikate O'Connor, where we decided on neon yellow because why not? She tackled my problematic hair one step at a time—my roots, my green chlorine tips, and so on. Five hours later, after using PRAVANA's ChromaSilk VIVID's color, I appeared at the other end of the tunnel as an actual human ray of sunshine. She handed me to over to Stephen Thevenot, who pulled up to my chair with a tray of razors, and, with that, gave me the best haircut of my life without taking any length off (which is usually pretty crucial when you've been as mean to your hair as I've been to mine).
After the final blow-out, I was barely recognizable (and I mean this in the best way possible). Before I left, O'Connor gave me some parting guidance in the form of the entire Shu Uemura line of hair products. The Ultimate Remedy Extreme Restoration Shampoo, Duo-Serum, and Color Lustre Reviving Balm in Golden Blonde are now my saving grace, and all I'll need to keep on shining.