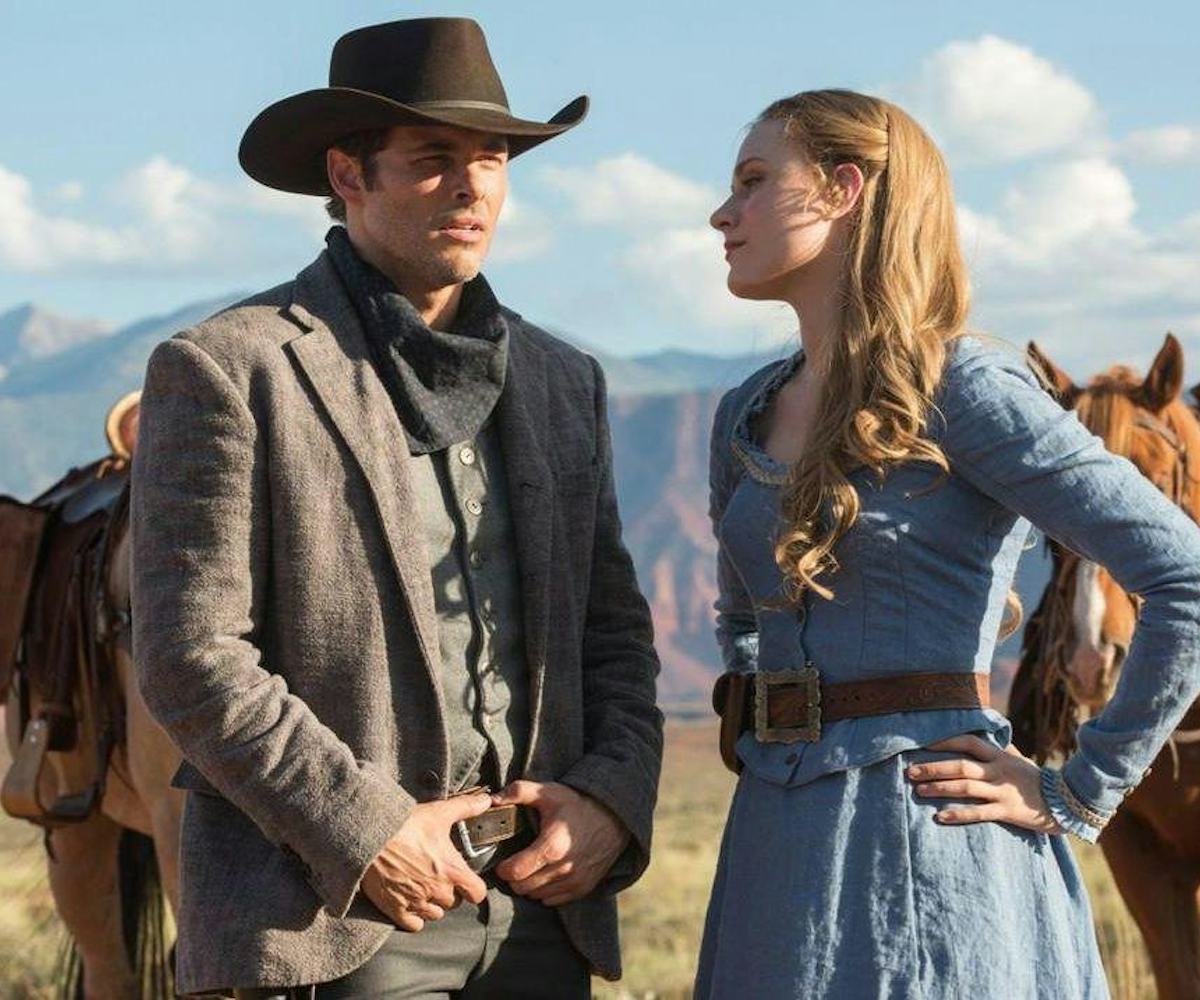 Photo courtesy of HBO
In The Era Of Peak TV, These Are The New Fall Shows You Absolutely Need To Check Out
It is undeniable: We are currently living through the era of Peak TV. If you live for plot twists, character development, and cliff-hangers, then there's no better time to be alive. But for even the most endurance-tested bingers, the overload of shows can be maddening. And as if to torture us, content creators (and the networks that enable them) show no sign of slowing their roll. Last year, there were 409 scripted shows on television. Next year, that number will surge to 500. 
How, amidst all these limited, anthology, and regular series, does one choose what to watch? Reading this article is a start. Here are the 13 shows coming this fall that we guarantee will be worth your time. 
Atlanta, FX, Sept. 6
It's about time a talent as dizzying as Donald Glover got his own TV show, and by the looks of it, he did not waste the opportunity. Set in his hometown of Atlanta (duh), the trippy dramedy follows two cousins (one played by Glover) who are trying to make it in the city's labyrinthine rap scene. But Glover, who often paints his art with a surrealist brush, didn't set out to make a typical rags-to-riches story. "My thesis was, I want to make Twin Peaks but for rappers," he told Jimmy Fallon. That's all we had to hear.
Queen Sugar, OWN, Sept. 6
The powerhouse duo of Oprah Winfrey and Ava DuVernay are bringing their singular brand of heady, big-hearted drama to the small screen. They co-created this series based on the novel by Natalie Baszile about siblings who, after a tragedy, must return to the heart of Louisiana to tend to their family's sugar farm. (DuVernay directed the first two episodes, the rest were directed by other women.) That isn't the most thrilling description for a drama but one teary-eyed look at the astonishing trailer, and you'll see that this show's emotions will be devastatingly felt.
Better Things, FX, Sept 8
Pamela Adlon has long been one of those unsung heroes of television who instantly elevate any show they're in. So it's only justice that the actress and comedian is finally getting her own vehicle, with this comedy about a mother trying to make it in show business while raising three daughters all by herself. Louis C.K., who cast Adlon as his will-they-or-won't-they love interest on Louie, co-created the show with Adlon and directed the pilot. But make no mistake that this is Adlon's baby, and she owns it.  
One Mississippi, Amazon, Sept. 9
Also in the category of hilarious and brilliant women finally getting their own television shows comes One Mississippi, from the soulful mind of comedian Tig Notaro (this one is also produced by Louie C.K.). Set in in the Deep South, the story follows a woman (Notaro) who returns to her hometown following the death of her mother. It's a story we've seen a million times before, but in the careful hands of Notaro and co-writer Diablo Cody, you can expect something funny, honest, and true.
Fleabag, Amazon, Sept. 16
Unless you're an Edinburgh Fringe Festival die-hard, the name Phoebe Waller-Bridge probably won't ring a bell. But within a few minutes of watching her raunchy new comedy Fleabag, you'll be wondering how a talent this mega flew under the radar for so long. Waller-Bridge based this series off her wildly successful play of the same name (and aspects of her own life), and plays the title character, a hilariously unfiltered woman who says what she thinks at all times, usually directly to the audience. 
High Maintenance, HBO, Sept. 16
This series about a weed dealer and the oddball clients he encounters on his daily deliveries began as a no-budget production that aired on Vimeo (that's a web-only video platform for all the Luddites in the house). But last April, HBO did the unthinkable and told creators Katja Blichfeld and Ben Sinclair (who also stars) that they had picked up the show for six new episodes and will make the other 19 available on all of its streaming platforms. That's like getting called up to the majors from the little leagues, and it could only happen in 2016.  
Pitch, Fox, Sept. 22
Despite its title, this is not a show about two dudes pitching a bunch of Fox executives on their idea for a show about the first female pitcher to play major league baseball. It's actually a show about the first female pitcher to play major league baseball that happens to be created by those two dudes. Relative newcomer Kylie Bunbury has breakout potential in the role of Ginny, and early buzz points to this hour-long drama becoming a hit. (We know what we did there.)
Easy, Netflix, Sept. 22
Prolific director Joe Swanberg—who, whether he likes it or not will forever be associated with the mumblecore movement he helped spawn—brings his indie sensibilities to the streaming world with this tangled story about "diverse Chicago characters as they fumble through the modern maze of love, sex, technology, and culture." The anthology series—each of the eight episodes will focus on different characters—features an acting dream team that includes Jake Johnson, Gugu Mbatha-Raw, Dave Franco, Kiersey Clemons, Aya Cash, Malin Akerman, and some newcomer named Orlando Bloom.
Westworld, HBO, Oct. 2
HBO's hunt for the next Game of Thrones officially begins when this sweeping, ambitious, and long-delayed saga finally hits the airwaves. Based on a 1973 movie written and directed by Michael Crichton, the sci-fi/Western hybrid is set in a Wild West-themed amusement park populated by human-like androids, whose sole purpose is to help the park's patrons act out their fantasies. (Those range from dark to darker.) When they suddenly become self-aware, things get very, very complicated. The stacked cast includes Anthony Hopkins, Thandie Newton, Evan Rachel Wood, and James Marsden. We've seen the first two episodes and they are dazzling.
Notorious, ABC, Sept. 22
In a network television landscape littered with shows about cops, lawyers, and doctors, the concept behind this salacious new drama is refreshing. Get this: Piper Perabo plays the producer of a provocative news show, and Daniel Sunjata plays a defense lawyer whose clients often end up in front of her cameras. In public, they're total antagonists. But behind the scenes, they're the puppet masters pulling strings to benefit one another. The show is based on the real-life relationship between famed defense attorney Mark Geragos and Larry King Live producer Wendy Walker, and the ABC brass are hoping they've got the next Scandal on their hands; they just might. 
Divorce, HBO, Oct. 16
Sarah Jessica Parker. HBO. That is all.
Insecure, HBO, Oct. 16
Issa Rae is going to be a very big deal. The creator and star of the Awkward Black Girl web series was given the green light by HBO to make something, and what she made was this show about two best friends who are stumbling through life in south L.A. Rae, who created Insecure with Larry Wilmore, told reporters that her show is so location specific because "it's an area that in classic TV and film has been portrayed as gang-ridden and violent. [South L.A.] is rich with culture and extremely diverse, and it's something that we wanted to put in the best light." We can't wait.
Black Mirror, Netflix, Oct. 21
Anticipation is building for the return of this groundbreaking anthology series from actual genius Charlie Brooker. And if you've seen previous episodes, which aired on BBC from 2011 to 2014, you'll know why. No show has tapped into the unsettling and unspoken truths of our technology-dependent society as effectively as this one, while still managing to be so damn entertaining. The pilot episode, "The National Anthem," remains one of the most shocking and unforgettable hours of television ever made. It will tell you everything you need to know about this show.