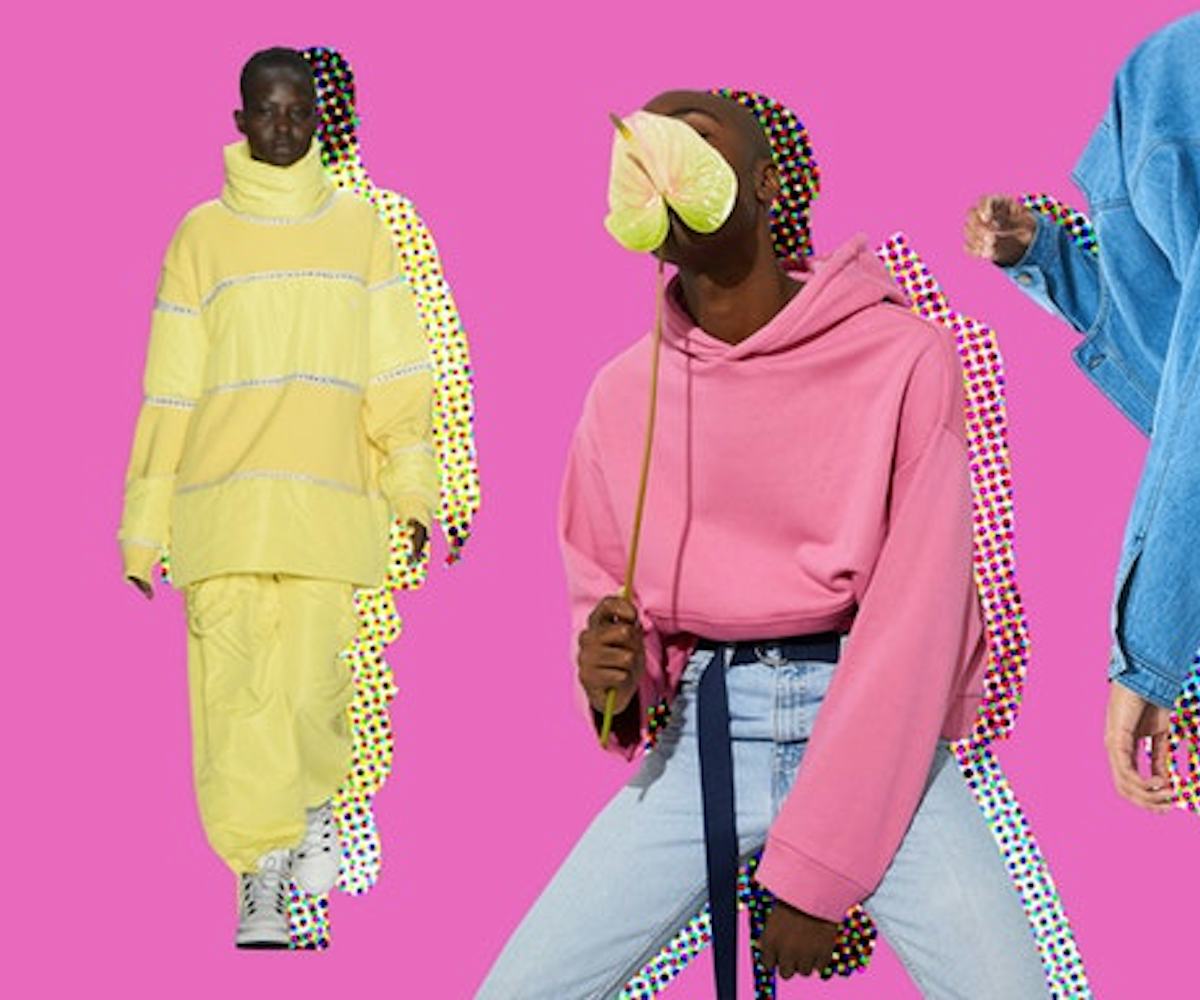 Resist: 8 Brands That Reject The Gender Binary
The gender-bending brands to put on your radar
It's Pride Month; what better way to celebrate than to explore the work of people breaking down fashion's gender barriers?
Gender-neutral fashion is nothing new, of course. But over the past few years, we've seen a significant rise in gender-bending fashion on the catwalk, from a range of labels like Hood by Air and Gypsy Sport to even Gucci. Below, we highlight some of the pioneers of unisex collections and the up-and-comers that are currently shaking up the industry. Each of these brands preaches a sense of gender neutrality, inclusivity, and an overall desire to destroy gender binary that has been instilled in this industry since the birth of ready-to-wear clothing.
What it comes down to is that we should all feel comfortable in our own skin, and part of that comfort comes with the way we dress. And if we don't want to conform to society's ideas of gender-specific clothing, why should we?
Keep reading to take a closer at each of these eight non-conforming labels.
Bad Decision Adventure Club
L.A.-based Bad Decision Adventure Club is the brand-new philanthropic, "uniluxe" (unisex-luxury), and eco-friendly brand that you're going to want to live in.
Its minimal, easy-to-style pieces in wearable neutrals (hello, nude and millennial pink) are meant for all, regardless of gender. "It's important for us, as a brand, to be inclusive of everyone, no matter what your gender or sexual orientation is," says co-founder Rachel Grant. "We want to be able to empower and help those individuals that haven't felt like they have a place in fashion—we want everyone to be a part of Bad Decision Adventure Club."
Pieces are sized on a genderless scale of XS to XXL so that they can be styled and interpreted by all in their own way. "Embracing gender fluidity is so important right now because there is still a need to break down borders within the fashion industry," says co-founder Alyssa Gudino. "Female fashion designers [are] still a minority, so being able to speak out and have our views seen and heard is essential. With BDAC, you don't have the title of wearing menswear or womenswear—it's about minimal and mixable pieces that feel good on, however you interpret them. It's the future of fashion."
In addition to their dedication to breaking gender barriers, they have a strong focus on being ethical and following sustainable clothing practices, ensuring that all materials are organic and locally sourced. They also donate $5 from each purchase to Skid Row Housing Trust, so that they can give back to their community and help fight homelessness.
Telfar
Telfar Clemens is something of a fashion prodigy. The Liberian-American designer launched his namesake label when he was just 15 years old, bringing unisex, gender-bending fashion to the runways. Basic tanks and tees pair with unique pieces such as cutout denim jeans and backward-collared tops, making for everyday pieces with a statement-making touch.
From having a 10-year retrospective showing at the Berlin Biennale for Contemporary Art to NYFW after-parties thrown at White Castle, Clemens incorporates both originality and a high-fashion aesthetic into his label, establishing himself as a major player in the gender-fluid fashion movement.
69
We're longtime fans of 69, a non-gender and non-demographic clothing line based in downtown L.A. The brand's fluid designs, most often done in denim, have already been embraced by a number of celebrity It Kids from Kylie Jenner to Dev Hynes. Its pieces are genderless, while still managing to flatter all body types.
When I spoke with the designer—who remains anonymous—about the importance of creating a line that rejects the gender binary, they said, it has to do with their longtime habit of wearing both men's and women's clothing, with no preference for either one. "It wasn't a decision, it was more of a reflex," they said. "Personally, I have always worn both men and women's clothing growing up, mainly because I wanted more variety."
Not Equal
Not Equal's beautifully draped, genderless pieces aim to challenge traditional tailoring and push fashion's boundaries. After winning runner-up on Project Runway: Season 10, Brazilian designer Fabio Costa launched the brand in 2012, drawing inspiration from both the worlds of fashion and art to create innovative designs that, while slightly unconventional, were universally flattering.
When it comes to why he took his brand in a genderless direction, the decision was rooted in his desire to go against fashion norms. "It started almost as a vendetta against traditionalism," says Costa. "We've inherited this idea of gender-appropriate clothing, and it was never something I agreed with. I feel that genderless clothing is more inclusive, as it doesn't dictate parameters. It can be liberating and empowering—and we need more of that these days."
One DNA
Gender-fluid clothing is nothing new for designer Travis Weaver, co-founder of emerging brand One DNA. He's been designing one-off pieces for several years now, but it wasn't until last year that he decided to start his own brand with his partner, Simon, to bring a collection of unisex basics to the market. "I didn't want to create a traditional brand," says Weaver. "Gender-bending comes naturally to me, so I started with that. I want One DNA to be clothing for all."
The core collection of the NYC-designed and produced line currently features three styles in interesting cuts: a cropped hoodie, a pull-over tunic with detachable side belt, and a cropped crewneck tee with dropped shoulders.
To Weaver, genderless fashion is a way to connect people and bring them together. "If we put ourselves into boxes less, then I feel like we could find more common ground," he says. "It's important we know we can be, say, and wear what we want in life."
Rad Hourani
Rad Hourani is an innovator. Aside from being a fashion designer, starting his label back in 2007 at the age of 25, he's also a photographer and an artist of many mediums. All of his work is centered on one, distinct theme: neutrality. Long embracing a genderless approach to the clothing he designs, he became the first-ever designer to present a unisex haute couture collection during the Paris Haute Couture Fashion Week back in 2013.
While we didn't speak with Hourani directly, a quote on his bio explains his philosophy beautifully: "I started creating with a sense of curiosity and innocence, driven by my 'no-background' background. No school. No teachers. No telly. No boundaries. No formatting. I like the idea of a world that we could live and shape by ourselves, only by observing. Each our own. My visuals have erupted from this world of mine. They are genderless, ageless, and limitless. They come from no nation, no race, no religion, yet they could be home anywhere, anytime. They exude the essence of timeless style for anti-conformist individuals."
Toogood
U.K.-based clothing line Toogood is the brainchild of two sisters, Faye and Erica Toogood. Both combined their individual skill sets—Faye a self-confessed "tinker" and a designer of furniture, interiors, and sculpture; Erica, a fashion designer with an affinity for draping and shape—to launch a line of their own. Their pieces are practical yet sculptural—and always with a gender-bending facet. They're also always displayed on androgynous male and female models.
Today, you can find the label sold at luxury specialty boutiques such as Dover Street Market and Selfridges.
TILLYandWILLIAM
Founded by friends Tilly deWolfe (neé Jessica Lapidos) and William Poet (Tom Barranca), TILLYandWILLIAM is Brooklyn, New York-based clothing line that preaches gender-inclusivity with socially and environmentally responsible production.
All pieces are transformative and versatile, able to be worn in multiple ways to suit the individual's needs. From flowing tops of all cuts and crops to wraps of all lengths and shapes, this is clothing that really flows with the body's movement. A philosophy the brand lives by? "There is no wrong way to wear TILLYandWILLIAM."
As part of their sustainability efforts, they will help work to fix your garment if anything gets seriously damaged, as part of their Re-Uptake program.