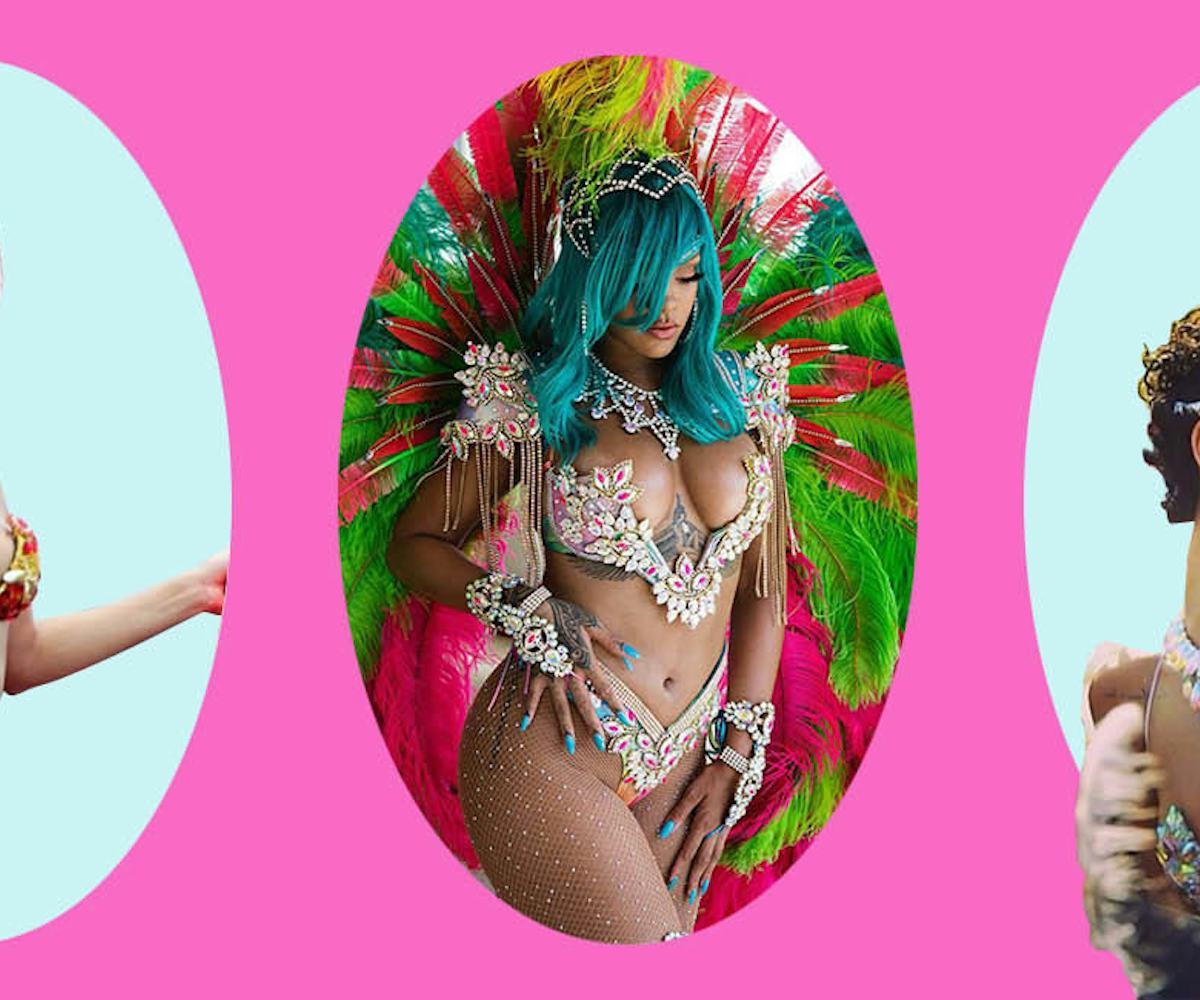 Meet The Fashion Designer Behind Rihanna's Outrageous Crop Over Looks
We caught up with Lauren Austin at this year's festival in Barbados
Crop Over, the annual harvest festival celebrating the end of a successful sugar cane season in Barbados, has been around for a long time. But we can thank Bajan queen of fashion, Rihanna, for bringing it to a wider audience than ever before.
"Over the years, Crop Over has grown so much as a festival. More and more tourists are traveling to Barbados for it, especially given the increase in celebrities coming to the island for the parties and the main events," says Lauren Austin, co-founder, director, and head designer of Aura Experience and the designer behind Rihanna's looks over the years. "Everyone wants a costume, and they want their costumes to look like what the celebrities are wearing."
Seriously though. Who wouldn't want to look like RiRi for a day?
For six weeks, Crop Over festivities take over Barbados. From Caribbean music, parades, and fêtes that rage on all day and all night (when one party stops, another one starts) to Bajan food fairs and sprawling arts and crafts markets, the rum-fueled fest is a partying marathon of epic proportions.
The biggest, most incredible display of Bajan culture takes place on Grand Kadooment Day, which marks the end of Crop Over. Revelers come decked out in everything from feathers, jewels, and glitter to headpieces and bedazzled bras to whine the day away to soca and calypso music.
"With any era in the fashion world, there is change, and you can definitely see the difference in the style of costumes at Crop Over," Austin says. "From the designs and the types of colors paired together to the increase in the number of feathers on each costume."
Rihanna has participated four times and absolutely stunned with her incredible festival looks each year. I mean, who could forget last year's look? With her turquoise hair, jewel-encrusted bikini-shoulder pad combo, and massive pink-, green-, and blue-feather plumage framing her radiant body, she looked incredible. And Austin was responsible for it.
Austin hails from Trinidad and has been creating eye-catching costumes for over eight years now. Before building her rep as the go-to designer for carnival fashion, she spent time as a makeup artist, hair stylist, and nail technician. Austin found success as a stylist and designer after zeroing in on the niche market of costume design for large festivals including Carnival in Trinidad. Today she's worked with some major celebs including Mia, V. Bozeman, Beenie Man, and Lewis Hamilton.
In 2000, Austin moved to Barbados, and in 2013, she formed her first Crop Over band (during Kadooment Day, every attendee walks with a band which plays the music, provides the rum, and keeps the party going), and now has a new one she started with a friend, which they called Aura Experience. The is the band Rhianna jumped with last year. Austin has also designed for bands such as Bacchanal Jamaica Mas Camp, Bajan Fuh Evah Eva in Miami, Rogue Tribe in Trinidad, Party Nation Vincent Mas, and Labor Day in NYC.
We sat down with Austin to talk about Crop Over, working with Rihanna, her creative process, and more. Read, below.
What do you love most about working with Rihanna?
I enjoy working with Rihanna because she constantly challenges the norm in the fashion world, pushes the boundaries, and is not afraid to break the rules. She does not care about what others think and she does and wears what she wants. She is an amazing person—very easygoing, fun, and friendly.
Were you nervous about being the designer behind her looks?
I was a little nervous at first because I was not sure what she thought about my work. But once I met her, she made me feel very at ease. I was very excited and happy with my work. She told me how much she loved my work. She made me very comfortable, and I haven't felt nervous since.
Was there a bonding moment between you two, where you were like, "Yes, this is going to work out"?
I have loads of personal and fun stories of her, but I won't tell… If I tell you it won't be personal, right?
The internet went insane over Rihanna's look last year, do you feel the pressure to up the ante year after year?
I think the pressure is always on when I am designing any costume, but I love what I do. Designing for Rihanna is an amazing feeling, so the design process is often fun. She is very understanding and very easy to work with.
Although Rihanna did not attend Crop Over this year, her best friend Melissa [picture above] did, and I made her costume. I am sure there are going to be many more [Crop Overs for Rihanna] to come, and each year I'll try to make her costume even better than the previous one.
What inspires your designs?
I design each piece organically and I play around with different looks, patterns, colors, and ideas until I start to see the costume come to life. I do not sketch my designs and I work freehand. My inspiration comes from everything around me. I try to challenge myself to do something different with each piece. 
Designing for Rihanna is exciting and fun because there are no boundaries. This allows me to experiment with different looks and I try to incorporate her personality into each costume with my own creative touch.
Give us some insight into your creative process. How long does it take, start to finish? Are there multiple revisions to a look?
I do not exactly have a specific formula to creating my designs. It depends on the client. I do not sketch my designs, and I prefer for my creative process to be very organic. But for Rihanna, I give her an option of seven sections that include color combos and looks to choose from. When she chooses one, I then work with her to design the specific look that she wants. She is usually pleased with every piece I've done for her. I design each costume using different materials, gems, spikes, chains, feathers etc. The time it takes to create a costume can be anywhere between one to four weeks depending on the client.
I also design privately under my brand Lauren Austin. People can check out @lauren_bylaurenaustin on Instagram for costumes and @carnivalstop for carnival accessories, including the bejeweled shades, shoes, cups, and more which I also did for the past four years for Rihanna and her team.