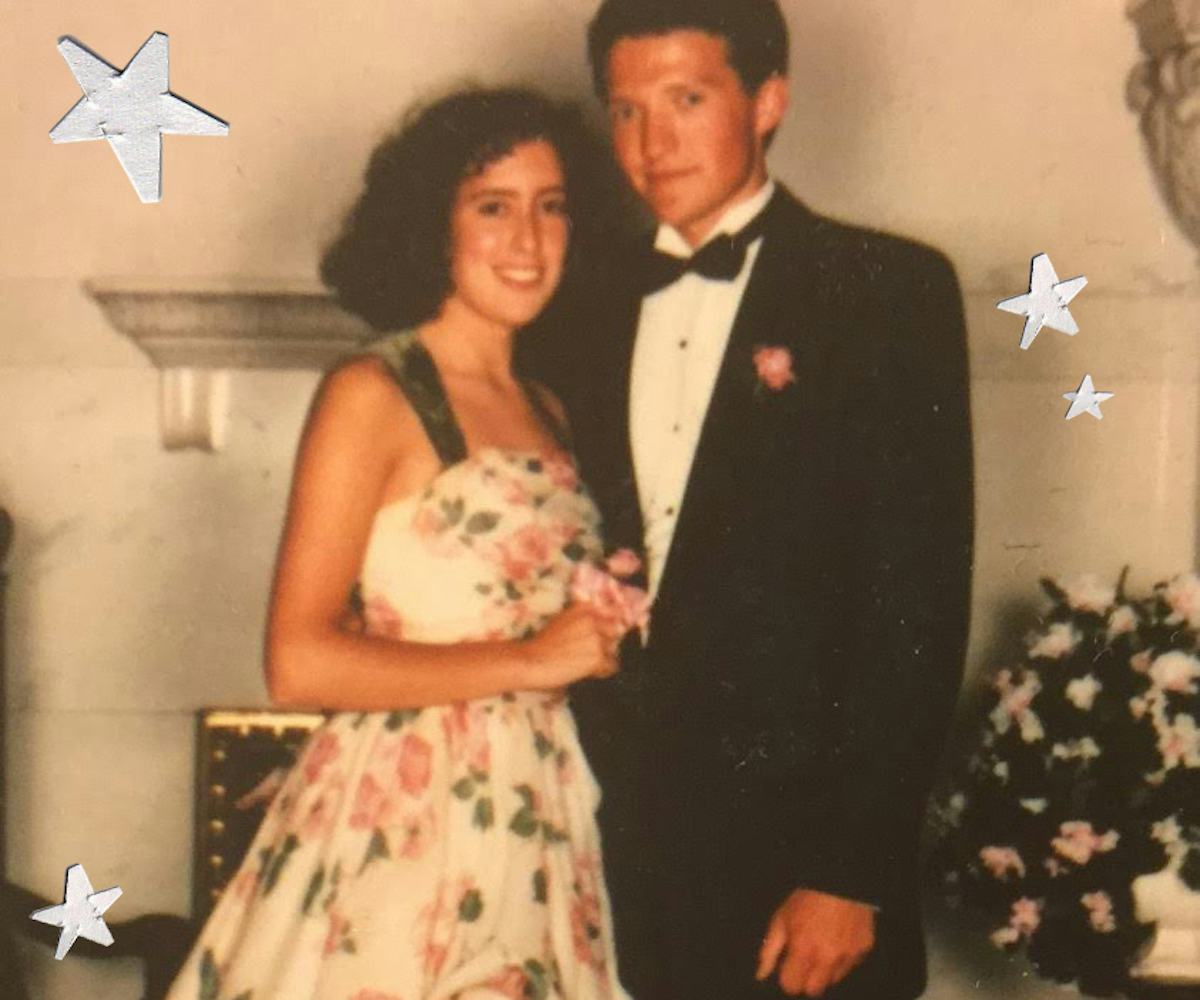 5 Fashion Insiders On What They Wore To Prom Night
We chatted with some of the coolest girls in the game
Ah, prom season is finally in full swing. To get you even more excited, we talked to some of the coolest girls in the fashion game, from designers to editors, to find out what prom was like for them. From the dresses they wore to the dates they brought, these industry ladies took us back in time to their special night. In a day where many of us buy or rent our dresses, and therefore face the fear of possibly having the same dress as someone else (the horror!), we're not surprised to see that many of these insiders chose to make their own looks (or make alterations to ones they already had).
Click through the gallery below to read their stories—and check out their amazing prom pics.
Shiona Turini
Fashion Editor and Consultant
"In high school, when I started to really get interested in fashion, not only was the access to clothing limited on a 21-mile island in the middle of the ocean (Bermuda!), but my mother wouldn't let me spend what I wanted to on clothes. The solution was: a sewing class and my mom's old sewing machine. I made my own prom dress with my next door neighbor, and it's pretty similar to what I would choose now, to be honest. The dress was super simple from the front but the open back dipped low with multiple crisscross straps—it also had an insanely high slit up the side. I took a pair of white shoes I found on the island to a car detailing company and had them spray painted to match the silver color of the dress, and then added a layer of iridescent sparkles. 
I didn't take my boyfriend at the time—I guess I knew it was inevitable that we would break up one day—so I took a friend. And, since we didn't have Prom Queens in Bermuda, I bought my own crown and crowned myself in true Shiona fashion."
Clare Vivier
Accessories Designer, Clare V
"I wore my mother's cabbage print silk dress with green velvet straps from the 1950s, which her mother had made for her. I made it more modern by pinning up the bottom to make it shorter—I liked the pouf of the short skirt. 
I had some satin pumps dyed green to match—I wish I still had them!" 
Charlotte Ronson
Fashion Designer, Charlotte Ronson
"This was at the end of a long junior prom night. My boyfriend at the time thought it would be a good idea to have a drinking contest in the limo before we even go to my prom. Let's just say, he never made it out of the car! But, nevertheless, you can see by my bright red feet that this ended up being one of my favorite nights."
Rajni Jacques (not pictured)
Creative & Fashion Content Director/Contributor at Racked.com
"I actually made my dress myself—very Pretty in Pink, which also happens to be one of my favorite movies!
It was black velvet, and I cut a hole on the side so my waist would stick out. I got some fake flowers and stitched them around the hole—very garden party. The top was scrappy; because I wore the dress lower than it should be, my boobs would be exposed. How did I handle that? I took some extra velvet fabric and made a hybrid bra/sleeveless crop top that matched. Then I bought some velvet sandals from Wild Pair to complete my look.
There were never any regrets when it came to that dress. I didn't want to look like everyone else, so that's the main reason why I wanted to create something of my own. I also got a lot of compliments from my peers, but some of the teachers were looking at me with a side-eye like, 'Hmmm, a bit risky.' But I didn't care—it wasn't skanky, just different. It was similar to that Gucci dress
Toni Braxton wore for her 'Un-Break My Heart' video
but in black velvet.
I believe my prom date's name was Corey, but I don't remember for sure. No one asked me to prom—in the town I grew up in, none of the boys were checking me out 
at all
. So I went with my best friend's friend's friend. We took pictures, ate chicken, and danced to Puff Daddy—then he went back to his town and I went back to mine. It's not that I never really cared for the prom, I just was in the mindset that this is not the be-all and end-all. It's a dance essentially, a dance that's meant to say goodbye to all your peers. But for me, it was more like, 'Um, I'm going to see you all on Monday, so...'
Hayley Elsaesser
Fashion Designer, Hayley Elsaesser
"My prom was in 2006, a time when typical fluffy princess prom dresses ruled. I knew I wanted to wear something really different, so my mom and I went shopping in Manhattan, and I ended up choosing a cream silk chiffon dress. This dress was my second choice after a bright orange leopard print dress that I still remember vividly, but sadly, it was too small!
However, my actual prom was a bit of a disaster. I stupidly had some tests done earlier that day that required me to drink some special liquid that puffed my stomach up like a balloon. I was burping like crazy all night which is obviously pretty embarrassing to a 17-year-old. After the prom, we all went camping and had a bonfire which was so much fun. Sadly, I had a few too many coolers that reacted very badly with the medicine I'd taken earlier. I spent the majority of the night with only my head poking out of the tent throwing up."