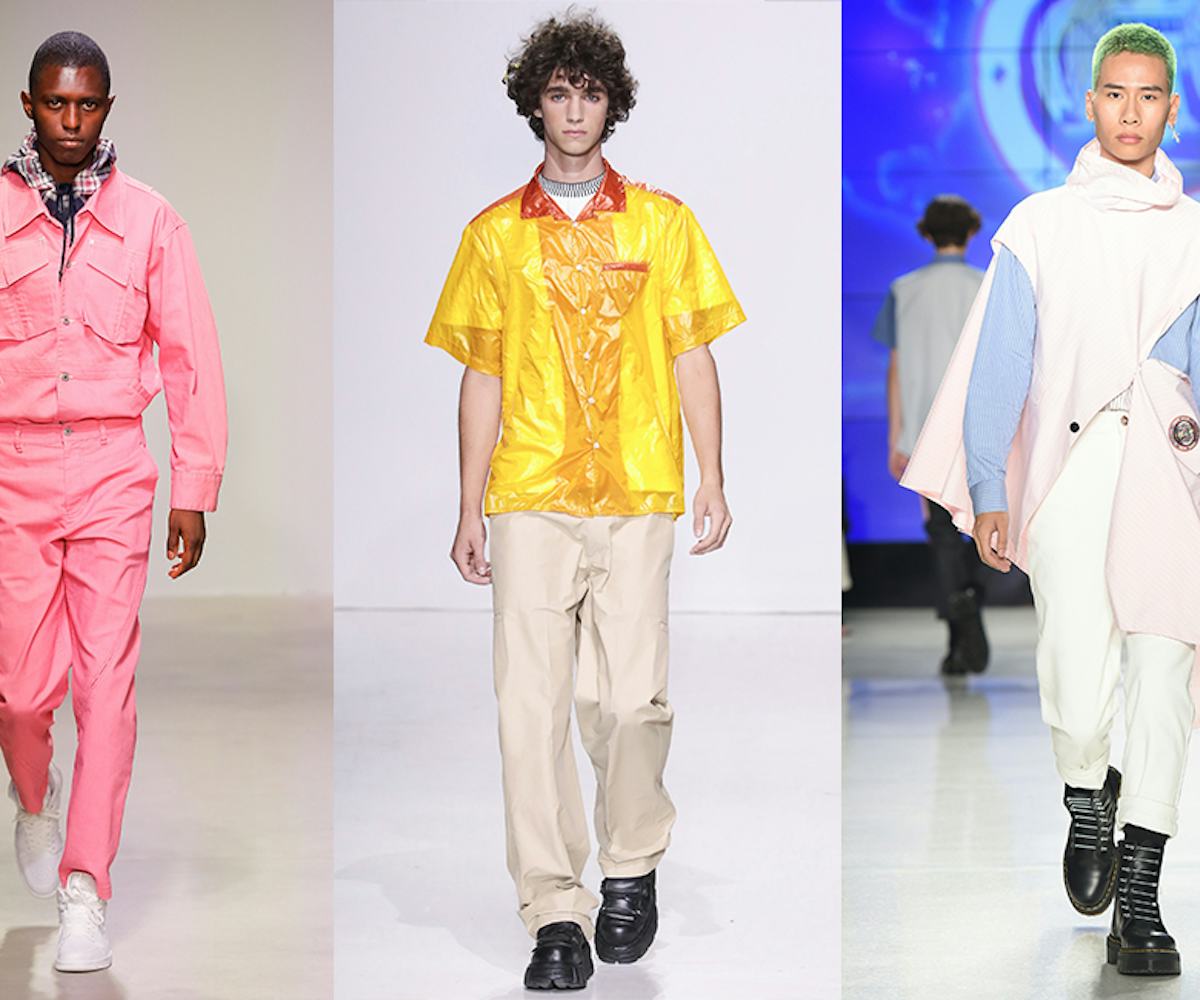 Photos courtesy of Feng Chen Wang, Patrik Ervell and Yuchen Liao/Getty Images
9 Looks That Won The NYFW: Men's Runways
From windbreaker button-downs to millennial pink Canadian tuxedos
Earlier this week, New York's fashion elite put on their Sunday best—despite sweltering temperatures—to check out what menswear designers had in store for spring 2018 via New York Fashion Week: Men's.
Last month, we fawned over what Europe had to offer, and now that we've completed the season with New York's four-day showing, we can safely say that we know what to expect come spring. There's no denying that it will be a colorful, print-heavy (stripes, animal prints, and more!), and vibrant season. Oh, and chock-full of '90s references, from Patrik Ervell's neon windbreakers to Ovadia & Sons' bucket hats.
While next spring may seem like ages away, it'll be here before we know it—so why not take a minute to appreciate the collections that had us swooning? We rounded up nine looks that totally won men's Fashion Week. Keep scrolling to see them all.
Raf SimonsRaf Simons' latest menswear collection focused heavily on weathering the rain; it paid homage to fisherman, whilst mixing prints and textures such as plaids, shiny vinyls, and soft knits (with an ode to New Order and Joy Division in there, as well). Oh—and those umbrellas glow in the dark, so, there's that.
Patrik ErvellPatrik Ervell took us back to the '90s with his use of neon windbreakers—including introducing us to the (genius?) windbreaker button-down.
N-P-ElliottAmongst the many prints, harnesses, and, er, shirtlessness at N-P-Elliott, this Matrix-y print and neon look would have to be our pick for favorite—just imagine it under black light!
Palmiers du MalLuxury resort wear label Palmiers du Mal's latest collection is for the ultimate beach bum with quite an unexpected twist. The "Palm Wednesday"-themed collection was inspired by a hypothetical clergy gone wild, hitting up everywhere from the safari to the Riviera. The combination of tropical and animal print pieces makes for quite a statement-making collection, despite still feeling laid-back and cozy.
Todd SnyderAt Todd Snyder, we saw stripes on stripes (on stripes) amongst pops of color blocking, camo, and tropical prints.
Feng Chen WangFeng Chen Wang just debuted the millennial pink version of the Canadian tuxedo—how can we resist?
N. HoolywoodDaisuke Obana's latest menswear collection for N. Hoolywood had a surprise inspiration: John F. Kennedy. Looks paid tribute to different stages of the man who was once our president, from boyish to military-inspired (and even including a Marilyn Monroe-printed jacket). While this look may not initially remind us of the former commander-in-chief, we can't help but love it for its preppy—but totally laid-back—feel.
Kenneth NingKenneth Ning's SS18 collection had its fair share of our favorite wardrobe staples: patched and cropped denim jackets, mom jeans, and camo. If we had to choose, though, this deconstructed version of the hoodie tank would have to be our favorite.
Ovadia & SonsFor Ovadia & Son's Spring 2018 collection, twin brother designers, Ariel and Shimon, paid homage to their teenage years spent working in their father's warehouse in Brooklyn, New York, in the late '90s. Prints like plaid, checkerboard, and camo walked down the runway amongst neon yellows, vibrant purples, and plenty of bucket hats.