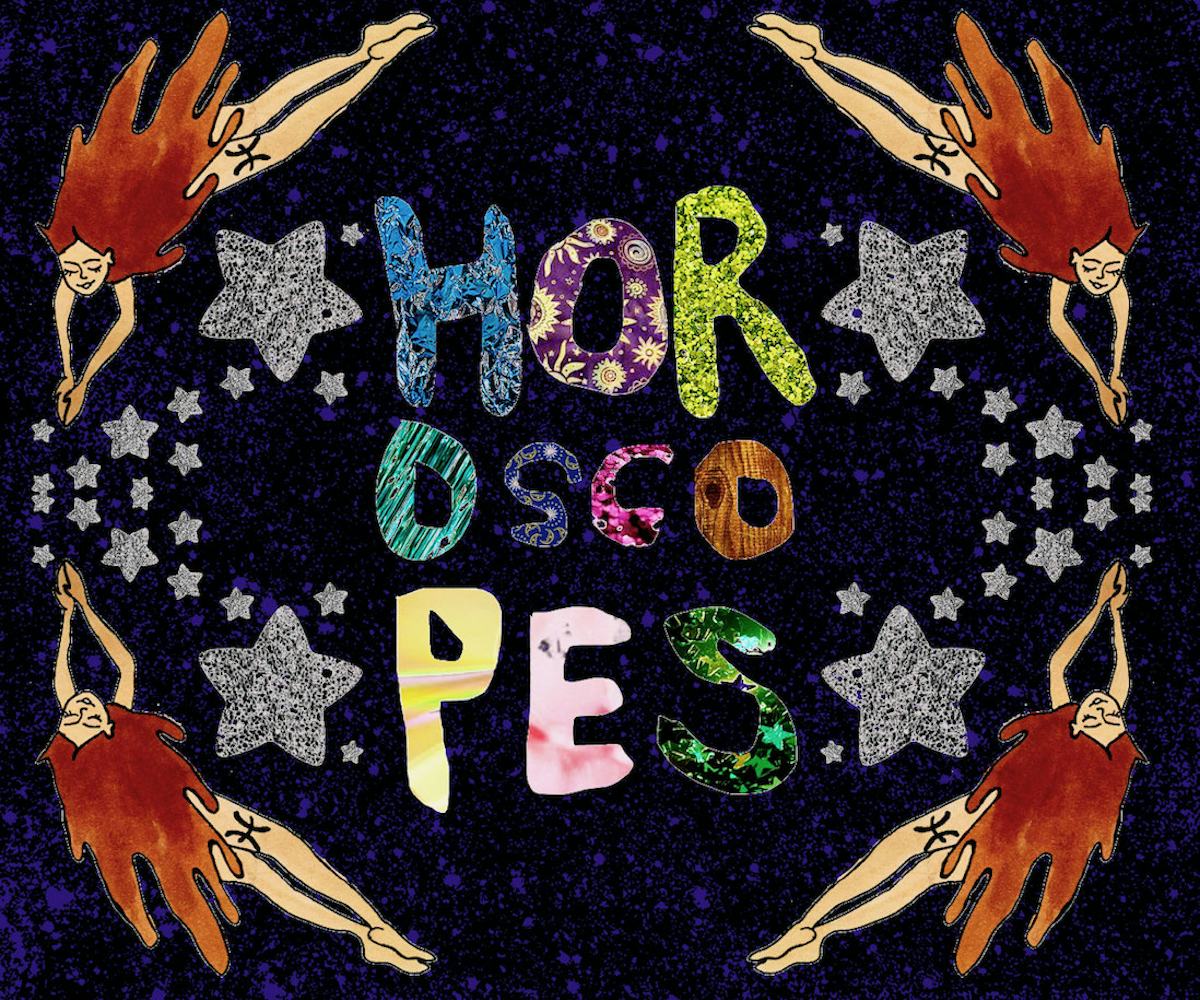 Illustrated by Georgia Laughlin.
Your February Horoscopes Are Here
happy birthday, aquarius!
Here in the Northern Hemisphere, January's ascent into February is little consolation as deep winter creeps toward spring. February's stark backdrop prevails along with a quiet mood of contemplation, and we're all driven a little more insane by another month of vitamin D deficiency and bundling up in layers. It's no wonder that Valentine's Day—a glittery, heart-shaped holiday designed to bring people together and celebrate romantic love (among other things)—would fall smack dab in the middle of the calendar year's bleakest month.
Our chocolate-covered, modern-day fertility rite is backed by February's astrological outlook, dominated by a deep, universal craving for human understanding and communion. A new moon in Aquarius opens the month on February 8, broadening our perspective as well as our social reach, and urging each of us to nurture our most unique qualities. This is no month to be a recluse—network and mingle socially as much as possible. You never know, you may find yourself rubbing elbows with the influential social climber destined to bankroll your first feature film.
Mercury and Venus will join together in a planetary embrace with Aquarius between February 13 and 16, highlighting our need for self-love and acceptance. In romantic affairs, respecting your partner's individuality and honoring your core friendship will become imperative themes this V-Day season. The month closes on a crest of energy with a Virgo full moon on February 22, which may signal the end of a long job search or the finalization of an important work assignment.
It's your birthday month, Aquarius, and February truly is all about you. You're calling the shots—you are the ultimate creative force of your life's destiny. "Fiercely independent" could be your middle name, but this jolt of birthday-month confidence could inspire you to butt heads with authority figures around February 7. A little honey will lubricate tense energy between you and any higher-ups at work.
A new moon in your sign on February 8 will help diffuse any restlessness you might've been fighting over the past weeks, sending you clear signs that it's time to rise from your winter slumber. What do you want to achieve over the next year? Whether it's blazing into a new career, buying a home, or building a relationship, whatever seeds are planted in the week of the new moon will germinate over the next year. 
Serendipitously, communicating even your most complex ideas will be seamless as Mercury enters Aquarius on February 13. And with sweet Venus perching in your sign on February 16 until mid-March, charisma and charm will be practically oozing from your pores. Even if you aren't looking for love, don't be surprised if you end the month with a more than a few new admirers.
Empaths are often magnetic to toxic energy and Pisces' depth for pain makes this sign a coveted host for psychic vampires. One of the most powerful lessons in your life is drawing healthy boundaries to protect yourself emotionally and energetically, and February's tone will be set by this recurrent theme.
Someone close to you might be extra demanding around February 7, draining your batteries and tempting you to retreat into solitude instead of dealing with conflict head-on. Your support network will likely spring into action, providing the muscle you need to reinforce your inner strength. Therapeutic counseling or professional life coaching could be helpful if you don't have a confident grip on whatever's draining you emotionally, spiritually, or financially by mid-month. Partnered Pisces will receive an extra boost of support from their sweetie in the days surrounding the ultra-complimentary Virgo full moon on February 22.
You're in for a fairy tale IRL this month, starting with a downright exciting new moon in friendly, enterprising Aquarius on February 8. Focus on your wildest dreams and highest goals in the two weeks following the new moon. But be careful—this lunation is so powerful, you could conjure more than you've budgeted for.
Chatty Mercury slides into Aquarius in your 11th House on February 13, boosting your cerebral energy and lending you a silver tongue. Social opportunities with an influential set will be plentiful mid-month, so be prepared to communicate your concepts and ideas in a seamless elevator pitch. Whoever you meet now could play a critical role in making your dreams a reality, so try not to turn down opportunities to network and socialize. As if your prospects couldn't get any brighter, on February 16, sensual Venus embraces Aquarius, enhancing your brain power even further and making you a lightning rod for influencing masses in your favor. Single and ready to get it? The last two weeks of February is primetime for firing up your favorite dating app (eww). Romance will be found in the most unusual places—seriously. 
February comes loaded with professional opportunities coming in hot from practically every angle. Prioritize personal organization early in the month, lest you pop a blood vessel in your forehead when your schedule really gets chaotic after the new moon on February 8. You'll be eager to blaze a new path in your career or even to launch something new and entrepreneurial in the following weeks, but before any progress can be made, there may be some kinks to iron out with a business partner or coworker. Hold steady any emotional responses and try not to engage in petty arguing, even if you realize you're better off parting. Then dust that dirt off your shoulders, because from February 13 to 16, Mercury and Venus will cluster together in your career sector, illuminating your professional reputation, honors, and awards. But it's not all work and no play this month, Taurus; the supportive Virgo full moon on February 22 in your true love sector could enrich your bonds with your partner or SO.      
Harnessing your sharp, cerebral energy is just the thing to get you through winter's bleakest month. Take full advantage of your laser-like focus at work—Geminis pursuing careers in communication and media will find this month especially rich with opportunity for professional advancement, possibly with an international bent.
Though all the fanfare doesn't come conflict-free: If you've been butting heads with a coworker, the friction may crescendo when they try to take credit for your hard work. You'll need to muster every shred of inner strength to defuse a full-on workplace fight near February 7. The new moon in compatible Aquarius on February 8 delivers a fresh start like a deep exhale. The atmosphere will cool down by February 16 and you'll notice the stress melt away like ice. A full moon in Virgo on February 22 could deliver heartwarming family news leaving you feeling way too blessed to be stressed. 
For self-starting Cancers looking to launch new enterprises, February could be the most lucrative month of the year. This month is ideal for securing investments, loans, and venture capital to give your fledgeling business mighty wings to soar. Alternately, for domestic-minded crabs hoping to purchase their own home this year, February's aspects will give you a razor-sharp edge on being approved for a mortgage or line of credit. On February 8, the new moon in your Eighth House will shake up money earned outside of your primary income (think: your partner's salary, an inheritance, or a settlement). This new moon encourages tremendous new beginnings—but only if you can think outside of your comfort zone. Investing in technology and science could prove to be the winning ticket. Fortune favors the bold!
February's focus is squarely on relationships—in business and your personal life. The airy Aquarius new moon on February 8 has the potential to build great bonds, particularly if you need to hire someone like a lawyer or a publicist. Wait until after February 13 when Mercury alights on your relationships sector to sign any official documents or contracts. Venus will enter your partnership sector on February 16 where she'll stay until mid-March, giving you the upper hand in establishing a sublime working relationship. All this energy swirling in your Seventh House of Partnerships is bound to bleed into your personal life. If you're dating, February could hold giant strides in establishing more commitment. Don't let your financial insecurities hamper your ambition near the full moon on February 22. 
Your motivation has been sinking faster than Artax in the Swamp of Sadness, lately. Nothing's new under the sun in the winter doldrums this February, amirite? Wrong.
Take extra measures to steer clear of work drama in the days around February 7 when your fuse will be shorter and more volatile. Fortunately, a brilliant new moon on February 8 affords you a clean slate and the opportunity to work on a brand-new assignment. Communication glistens and gleams in your work life after February 13, and in the weeks beyond February 16, you'll be in an ideal position to make important presentations to VIPs or schedule big interviews. A workplace flirtation might be elevated to the next level around the full moon in your sign on February 22. Have fun, but make sure to check your company's policy on dating coworkers before going too deep.
February is a huge month for love, and I'm not talking about candy hearts and Hallmark profit margins. The energetic atmosphere will be ripe for declaring your intentions in attracting a certain kind of love or partner in your life—it's your call! A lighthearted new moon in Aquarius on February 8 in your Fifth House makes your potential for finding true love this month bright.
Mercury, ruler of communication, enters your romance sector on February 13, followed by love goddess Venus on the 16th. Are you dating? You might strike up an immediate and uncanny connection with a complete stranger, which may progress—physically and emotionally—much faster than you anticipated. Committed Libras will certainly benefit from this energy, too: Sparks could fly between you and your Number One when you stroke your adventurous side together.
Resist the urge to become your own worst enemy in the first week of the month when your tendency toward self-sabotage is heightened. February 7 raises red flags when it comes to domestic situations, and you may do more damage than intended by becoming too forceful or demanding. Should you feel a tidal wave of sass or a bratty temper tantrum approaching—especially when communicating with your partner or SO—take time to excuse yourself to chill! Count to 10 and re-engage with the sane world when you've suppressed your Scorpio crazy.
After the new moon on February 8, the rest of the month will glide along smoothly. Progress will come swiftly in domestic and family matters, and if you've been making plans to upgrade your living situation, the weeks after February 13 will be ideal to take action. Spend cautiously after February 16 when opulent Venus inspires you to drop some serious dough on feathering your nest. Don't be hasty or sassy—you'll likely end up regretting it. 
All the time you've been spending perfecting your creative talents will come in handy this month. And it's time well-spent, too—not only are you good at it, it's also quite nourishing to your soul. Still, the days around February 7 could bring frustrations connected to conquering your insecurities. Your highest creative potential can only be met if you can slay the demons of your own self-doubt.
The Aquarius new moon on February 8 falls in your communication sector, sending you clear indications that it's time to forge ahead in your creative work. Mercury and Venus will come together in that same area of your chart on February 13 and 16, lending a massive planetary boost to your Third House of speaking, learning, writing, and teaching. Perhaps you'll land a publishing deal—something big is on the horizon, especially if you work in industries highlighted by these themes. Expect to be struck by a powerful sense of validation around February 22, when the earthy full moon brings honors and recognition your way.  
Pressure on your finances seems to be intensifying, and you may hemorrhage money all month in order to bankroll a dream. Though painful now, all the steep spending will pay off in the future. Luckily, the new moon in your earning sector on February 8 will bring plentiful opportunities to make positive changes in your income. Thinking of asking for a raise or promotion? Take the plunge after February 16 when Venus and Mercury will be supporting you. The second half of February is ideal for nurturing your talents for business and marketing. Even if you can't make money off of your talents now, developing them further will make an impact on your future earning potential. Take advantage of the last weeks of the month to explore your hidden talents. Think of the bigger picture.