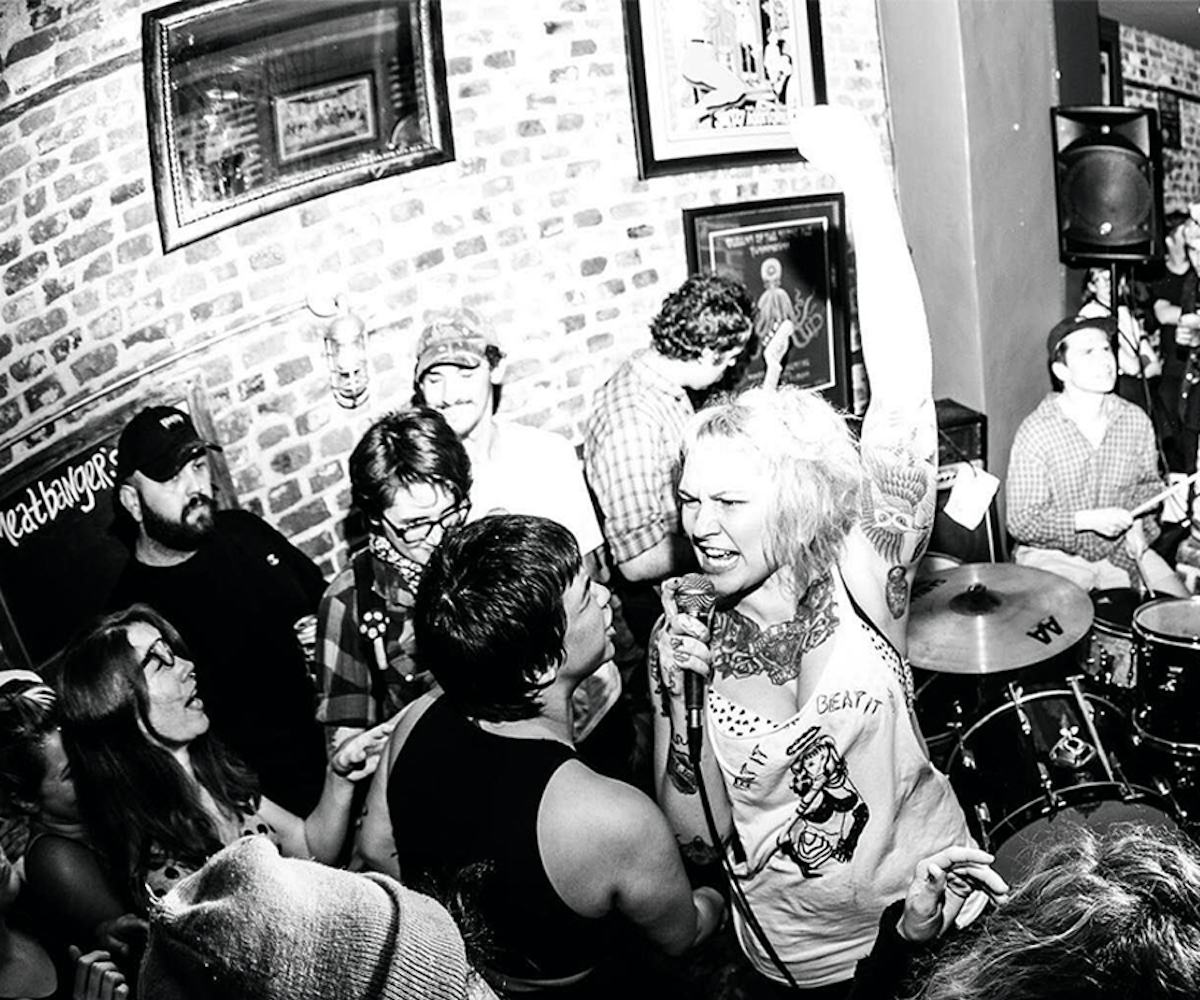 5 Women-Fronted Punk Bands We're Obsessed With
+ their advice on creating your own path
Whether it's angry music to thrash your limbs to or slow, melodic, dreamy grunge meant to make you fall in love, punk music made by women occupies a special, permanent place in our hearts. But the punk scene isn't the easiest place to be a woman in. Typically something of a boy's club, making it as a woman in this music genre is no small feat. 
With that in mind, we've highlighted five women who are using their voice, literally and figuratively, to break the stereotypes associated with women in music. Whether it's by heading their own band like Jenny Tuite of Dirty Dishes, speaking up for causes that are important à la Glittoris, or working with feminist charities like Art School Jocks is doing, these women are anything but complacent; they're using their dissatisfaction with a cisgender white male scene to create their own path, and alter the sound of what "punk" is while they're at it. In case you didn't know where to start on your journey to discovering these punk goddesses, here are some of our favorite women-fronted punk bands that are making waves (and mosh pits) one show at a time. Added bonus: We got them to dish out advice on how women can embark on their own journeys to empowerment.
Dirty Dishes
To listen to when: You're making out
Don't categorize Jenny Tuite. If you do, you'll miss the best part about her. The frontwoman and guitarist of New York City-based band Dirty Dishes is straightforward when it comes to her band's sound, a mixed bag that culminates in a shoegaze, hip-swaying climax of subtle punk rock. "We sound kind of rock, kind of sludge, a little shoegaze with some experimentation. We are sonically heavy but also delicate and pretty. I've heard it described as 'the prettiest heavy,'" Tuite says. And the prettiest heavy isn't wrong—it's in the band's DNA to experiment and find the sweet spot between tried, true, and new, something that's evident in their latest LP, Guilty.
"Thank You Come Again" is the first song on Guilty, and its perfect mix of in your face lyrics and gritty, brash sound encompasses what Dirty Dishes is all about. In "Androgynous Love Song," Tuite croons over the sound of a sharp guitar, bringing you back to the last time you felt your heart rip in half. "All of Me," the band's latest single, has this same sort of emotional and melodic power, this time with Tuite's voice pouring slowly over whiny guitar and slow drums creating a dark stoner rock fantasy with plenty of reverb.
Recording has always been an important part of Tuite's relationship with the band. But as she's grown as a musician, playing live music has become equally as significant to her as creating a timeless album. And the pressure that woman feel when they want to perform or create a band is something that Jenny is also keenly aware of. "Women shouldn't be faulted for feeling shy or uncomfortable playing at first. Learning an instrument is hard enough, and women have the added pressure of people critiquing them prematurely. Learn, however, to be comfortable," Jenny says. At the end, it comes down to one piece of advice: Start a band and be your own boss.
The Coathangers
To listen to when: You are dancing around your apartment in your underwear
"Psycho pop" may not be the first words you think of when listening to The Coathangers, but if you listen long enough, we promise you'll get it. For the Atlanta-based band, composed of guitarist-vocalist Julia Kugel, bassist-vocalist Meredith Franco, and drummer-vocalist Stephanie Luke, diversity is key. After all, psycho pop and punk may not always be in the same vein, but that hasn't limited the musical choices The Coathangers have made over the past decade.
Quite the opposite, in fact. Whether they're influenced by hip-hop, rock, dance music, punk, post-punk, metal, or rock and roll, The Coathangers are constantly striving to do something different. And the fact that their sound has evolved over the past ten years without losing the screaming, in-your-face power is testament to that. It takes only one listen to "Don't Touch My Shit" to understand what has made The Coathangers so successful and distinctive.
Nosebleed Weekend, the latest full-length from the band, has the same upbeat, off-the-wall sound that has defined The Coathangers in the past. "Perfume," the first track of the record, packs a punch with catchy basslines and group vocals with lyrics like "Please don't concern me/ Stop dragging me around" that are indicative of the take-no-shit attitude that makes The Coathangers so damn good. Yes to shrill screams, yes to loud, and yes to fast-paced music that makes you move your limbs.
For the band, the most exciting part is when young women tell The Coathangers that they've inspired them to pick up instruments. "We have played and done special events with Girls Rock Camp, as well, that have definitely been highlights of inspiration for us," says Kugel. "Everyone is capable and deserving of having a voice, and it gives us great joy to be able to empower people to find it. The way to change the status quo is to change it, not just discuss it. Actions speak volume, so... START A BAND!" Oh, and never say sorry for it. 
Glittoris
To listen to when: You're alone in your room and need to get out some pent-up aggression at the patriarchy
Success and loud, feminist, body thrashing music can be found in the most surprising of places—that's what punk's all about, after all. Take it from Glittoris (yes like glitter and clitoris), a four-piece punk band from Columbia, South Carolina. Coined by frontwoman Katie Sheridan as "snooty, sassy, unapologetic punk," Glittoris's music is brash, in your face, and political; it's intersectional feminism without any inhibitions. It only takes one listen to "Be the Change," the first song off of the band's latest EP, to understand what their manifesto is: "Be unafraid to speak up." Glittoris is angry, they're loud, they're fast, and they'll make you want to scream, yell, and move around, and they're not saying sorry about it.
Composed of Sheridan on vocals, Jason Burroughs on guitar, Lewis Mckenzie on bass, and Andy Munz on drums, Glittoris feels like more than a band—they feel like a movement. With lyrics that touch on everything from sexual abuse to refusing to conform to what society deems acceptable, Glittoris is a call to action and an invitation to have hard conversations and to create safe space where change can actually manifest. With Sheridan's shrill yells over shrewd, fast-paced guitar, there's no way you can't internalize her message; from beginning to the end of each of their songs, you're moving, caught in a cathartic wave of girl power at its best.
And for Sheridan, her mission in empowering women is easy. "I want women to be at peace with their truth in whatever way they see fit. Aggressive or not. I would never try to guide anyone's reaction to their feelings of oppression or just being fed up and pissed," she says. Working with other women and supporting important causes are close to the band's heart too. Whether it's playing Get Better Fest for Attic Youth Center,Morris Home, Women Against Abuse, and Project Meow or throwing a benefit show in August to help the victims of the Orlando, Florida shooting, Glittoris is embodying their own message. That's noteworthy in itself.
Art School Jocks
To listen to when: You're stoned by the pool
Art School Jocks may be the rookies of this roster, but that doesn't mean they should be underestimated. The Atlanta-based band is making waves with their latest releases, "Catdog" and "Nina," chill, lo-fi sounding tracks featuring just the right amount of angst. Deborah Hudson on guitar and vocals, Camille Lindsley on bass and vocals, Dianna Settles on guitar and vocals, and Ileana Bragg on drums and vocals form the all-girl group which uses a melding of collective influences that range from '70s rock to girl groups, goth, pop, and art rock.
For the four-piece, and as for many women in punk music, the act of performing becomes political; reclaiming space that has often been held by cisgender white men can be revolutionary. And for Art School Jocks, this political statement is just as important as the music itself. "Seeing other bands that are likewise comprised of women, queer folks, and people of color is refreshing and inspiring for us. At many shows, seeking such instances is like picking for crumbs, but it is a strong motivator to know of folks besides cis white men performing," says Hudson. "There are ways to engage others in the music scene apart from mere 'visibility.'" They suggest encouraging and supporting other women in the music and art scene as an easy way to get involved. Supporting, collaborating, talking, and coming to events helps to create a thriving community, one with the end goal of being more encompassing and inviting for all people.
Beyond creating a community of artists and musicians in Atlanta, Art School Jocks has recently partnered with The Peach Coven, an organization that collects donations of menstrual hygiene products and distributes them to shelters to support the homeless in Atlanta. You can learn more by visiting TPC here.
Screaming Females
To listen to when: You're doing something naughty
Take one listen to Screaming Females latest LP, Rose Mountain, and you'll understand. You're not a band for a decade without learning a thing or two about what makes a song enjoyable. "Empty Head," the first song off of Rose Mountain starts off full force, with the commanding guitar riffs and vocals of Marissa Paternoster leading the way with lyrics like "Why must I be the angry one/ I won't cry, fine line between our love/ I can't speak but you ask/ What have I done?" Joined by Jarrett Dougherty and King Mike, Screaming Females is a fierce trio with a conviction to create music that's actually good and exciting.
And for the past ten years, they have been doing just that, with their gravelly, wailing ballads that are infused with the perfect amount of distraught. The band is a constant work in progress, and for Paternoster, so is what it means to front a band as a female. In fact, being a female-fronted punk band wasn't something she consciously realized they were until journalists began pointing it out to her. As she's grown older, it's something that's come to the forefront of her mind, but she's still working on what she's meant to do with this newfound status.
Throughout the journey of being a band, learning to be polite, gracious, and pragmatic has been a staple, and one of the most important lessons the group has encountered. Another lesson they've learned is that one woman's truth may not be another woman's truth. "I think it is important to contextualize someone's message within their experience of being a woman, queer, or a person of color, but let's never forget that we are all individuals and no two of us are exactly the same. I do not have a personal agenda, but I'm by no means shy when it comes to getting on stage and singing about being a queer lady. People can take from it what they will," says Paternoster. Another lesson, in true punk fashion, is to take no shit—if you want to play music, do it; hell or high water, never stop fighting.