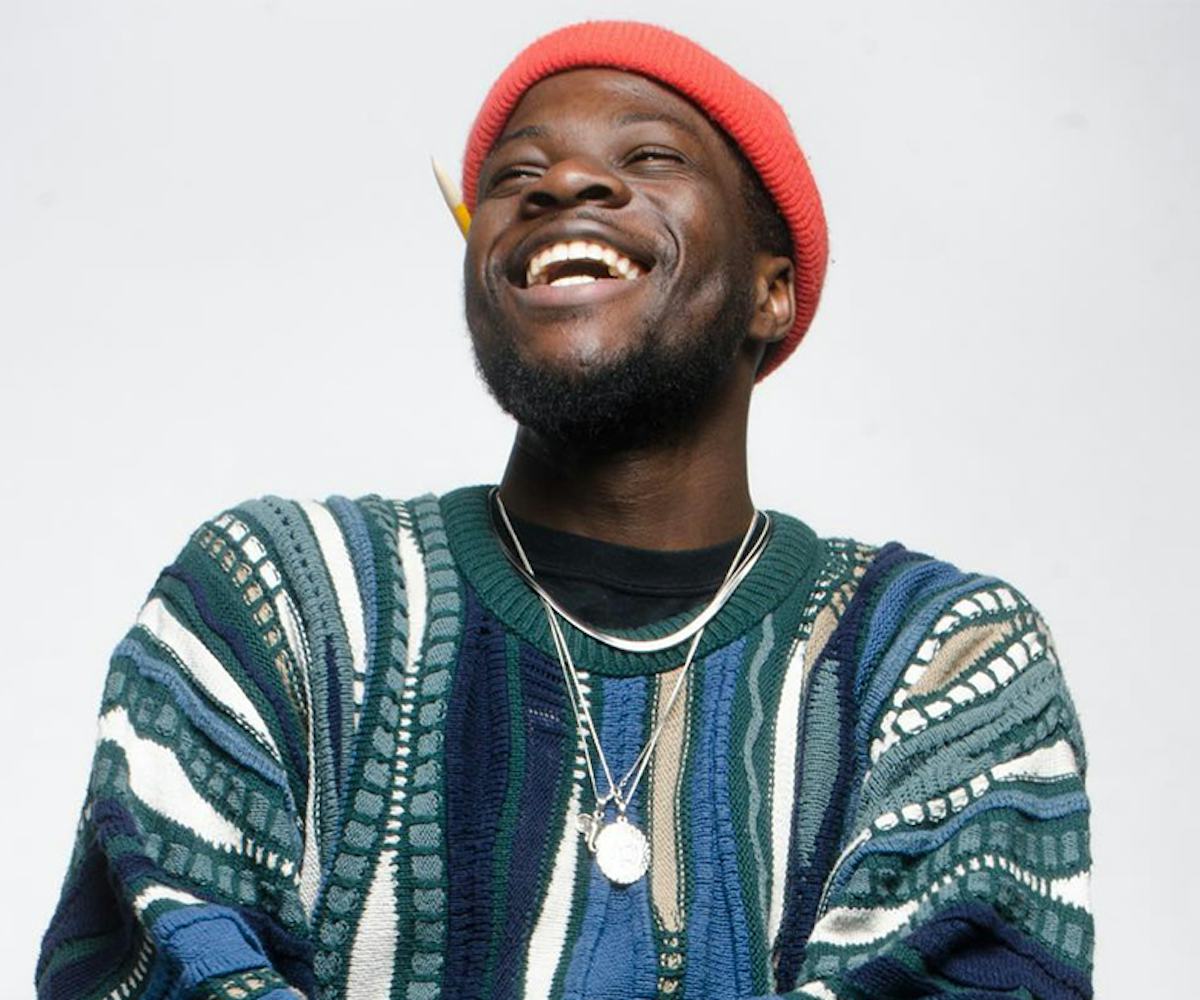 Photo by @helloimbiancaa
Femdot Is Chicago's Newest Rap Sensation
"I want to be able to translate information in a language that other people can understand"
Chicago's latest generation of rappers has never had much time for demure Midwestern manners. Artists like Noname, Chance the Rapper, and Saba don't shy away from articulating their thoughts on difficult topics, writing incisive bars about insecurity, systemic oppression, and mental health with fierce intelligence and deftness. Now, a new name appears poised to join the ranks of the city's unflinching lyrical thought leaders, as 23-year-old Femdot (born Femi Adigun) prepares to drop Delacreme 2, a sweeping project that tackles everything from student loans to cigarettes to school shooters across its 13 tracks.
Born in nearby Evanston but raised all over Chicago, Femdot has been a local mainstay in Windy City rap. With a raspy delivery that sinks into his production like boots on a snowy sidewalk, Fem is capable of rapping over chest-thumping drill production and headier backpack beats. The first-generation son of Nigerian immigrants, he's been blessed with an unflagging work ethic and diligence that allowed him to excel both artistically and academically, and his dual passions for music and science placed him at a crossroads early in his career. The rapper headed to Penn State in 2013, spending a year studying immunology and infectious diseases in State College, Pennsylvania, while his hometown became the focal point of the hip-hop universe in the wake of Chance's Acid Rap. Suddenly, Fem saw friends and collaborators he'd been working with for years rocketing to prominence while he was 500 miles away, a reality he found troubling.
"I was kind of discouraged at first while I was at Penn State. I was like, Damn, am I missing my moment? Maybe I could have been in this wave," he remembers. "But coming back home, that ended up being my motivation, and it still is. I would never miss my moment... I'm never going to miss my moment again."
He eventually transferred to DePaul University downtown, and since returning to the city, Femdot has been on a tear, releasing a slew of music, including the standout 20/20 Hour, while earning an audience for his blend of punchline rap panache and poetic eye for detail. Delacreme 2, his first project for local powerhouse Closed Sessions, is his most fully realized work yet. Both autobiographical and socially-minded, Fem tackles thorny subjects, never committing the cardinal sin of pointing a finger without realizing there are three pointing back his way. College life has often been reduced to frat boy platitudes, but on "No Scholarships," the unrelenting stress of academia takes on a creeping, slow-moving menace akin to Kendrick Lamar's shadowy "Sherane," and Fem certainly isn't above a night of binge drinking to blow off steam or strategically sitting next to an overachiever during an exam.
"People talk a lot about school, but they don't talk about what else goes into school, like bursar offices and financial aid, or even teachers that don't really care and get paid anyway, or skipping classes, or going out and drinking," he says. "It's a lot more to a lot of these situations that I feel like because of the experiences I've been through, I can press light on."
Throughout Delacreme 2, Femdot's empathetic pen forms a kind of double helix with his more analytical, scientific way of thinking. To Fem, nothing simply happens in isolation. On "Red Marlboros," a friend's smoking habit is the product of years of trauma and the deep nihilism that comes from living in Chicago's dangerous neighborhoods. On the single "Alright," Fem is equally fatalistic and determined, detailing his rise from open mic outcast to fearsome rhymer while interspersing harrowing scenes of staring down gun barrels and sagging beneath the weight of those who depend on him. It's an arresting and vivid self-portrait, the kind that most young rappers rarely offer, but that his Chicago peers have made into an inimitable local export.
"There are a lot of reasons why people do certain things, and that's another thing where [I look] at stuff from a scientific standpoint. Being in school for science, you have to see if there are any confounding factors, any outside factors that may cause this exact outcome," he explains. "That's the whole point of research. You specify A to B, but you have to make sure you account for C, D, and E, just in case that those also equal B. So, when I look into things that go on in terms of chainsmoking or certain societal issues or things of that sort, everyone wants to always jump to that: Oh, this happened because of this, and they ignore everything else that is occurring."
In addition to his scientific proclivities, Fem says he's always been a writer, one with a passion for the medium's most evocative uses (poetry, screenwriting) and its more technical ones (grant proposals). As a reader, he particularly admires authors like Dorothy Roberts, Jonah Berger, and Robert Sapolsky who can distill complex scientific phenomena into language that is inviting and graspable for a casual reader. It's a skill he continually emphasizes in his music, one that shines on songs like the searing "Empty Bottle," which focuses on the differences in how black and white perpetrators of gun violence are portrayed in the media, as well as the racial biases of the prison industrial complex. But it's also apparent on more intimate moments, like the tender "Listen and Stay," where Fem spends the first two verses attempting to impress a girl only to realize how oblivious he'd been to her feelings on the song's coda.
"I can teach you about confounding variables and confounding factors by explaining why a girl can't get into the club. That's my linear connection, so if someone else can do that in another subject, I feel like that's really dope," Femdot says. "Because that's what I want to do with a lot of the stuff that I'm doing. I want to be able to translate information into a language that other people can understand."
Delacreme 2's contemplative closer, "Found," sees Fem reflecting on what it was like to grow up around extreme wealth while his family struggled with their financial footing. "Motivations changed at 13 years old/ In high school with kids whose vacations could pay off my loans/ Imagine your friend being in a million dollar home/ And you come back to yours being heated by the stove," he raps.
"Everyone doesn't have the same resources, so what that did for me was always allow me to take advantage of everything. In high school, I was involved in everything. I was in every club you could think of. I played sports, I was class president. I did everything," he says. "I was like, I've got to take full advantage of this because there are some people who I know who have way more money than me or people who are born with way more opportunity than I was, but obviously aren't [aware of] what other people face. And I'm like, Okay, let me take advantage to that."
Fem's blend of intelligence, ambition, and honesty has made him one of Chicago's most captivating secret weapons, and with the release of Delacreme 2, his problem may soon go from making sure he doesn't let opportunities slip by to being flooded with them.