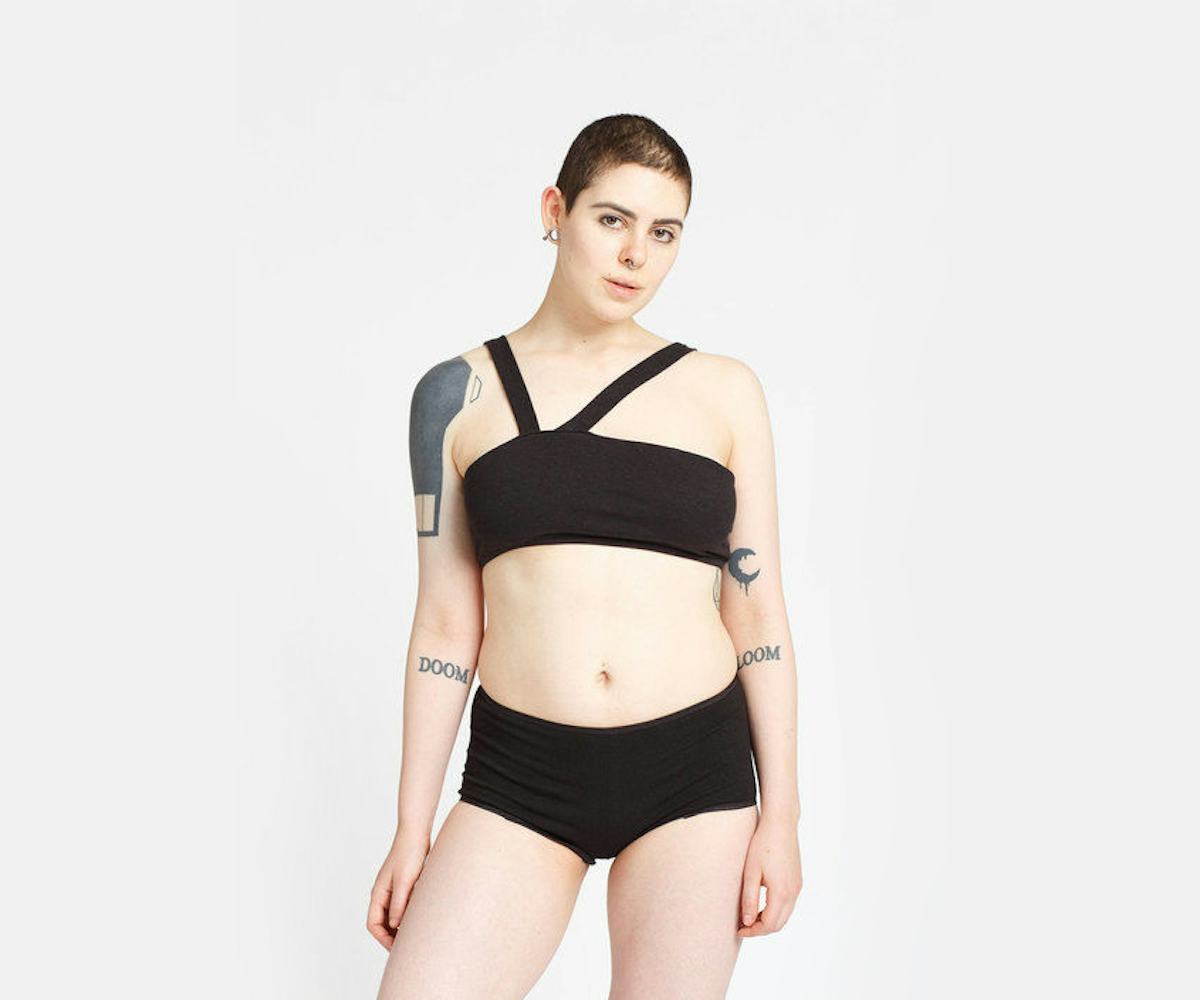 9 Feminist Lingerie Brands To Empower Your Underwear Drawer
bras you won't want to burn
The evolution of lingerie in Western society can be closely correlated to the socioeconomic and political status of women in different times. The S-shaped corsets so popular at the Turn of the Century pointed toward Victorian social codes, and the girdles of the 1950s reflected the return of women to a sort of mandated femininity after World War II. The mostly mythical bra burning of the 1960s helped create a false stereotype of feminists, and visible thongs in the Aughts arguably helped women to express their sexuality in a new, quite overt way. Today, we like to think that women are free to wear whatever the hell they'd like under their clothes—but it's a major plus when their underwear is made by women, for women.
These nine lingerie labels have made it their mission to make women feel sexy, whatever that may mean to them. From androgynous underpinnings to retro-chic bustiers for women of all shapes and sizes, the offerings don't cater to one specific body ideal—and they certainly don't pander to a male gaze. Underwear shopping just got a whole lot more empowering.
This British brand was the product of a successful Kickstarter promoting lingerie that's comfortable and with advertising that does not sexualize women. With the affirmation that lingerie doesn't have to be stereotypically sexy, Neon Moon offers soft bras and briefs in sizes like "lovely," "gorgeous," and "beautiful."
This Brooklyn-based brand has made it its mission "to empower women with lingerie that's both sexy and comfortable." Many of the soft bamboo-jersey designs are made to be seen, so don't shy away from wearing one of the colorful bralettes peeking out from under a sheer blouse or loose sweater.
"Nude" and "flesh-tone" are not a one-shade-matches-all deal, yet most bras offered in those so-called shades often pander to white women. But thanks to Nubian Skin, women of color can easily find the perfect bra and panties to match their skin tone. The London-based company hopes to empower women of color by providing them with these wardrobe basics—that just so happen to also be really, really pretty.
Using sustainable fabrics and materials, Under the Root's lingerie designs are matched in uniqueness by their inspiration: "Naturalistic undergear, the mysterious adventures of the human experience, and the devotion of the wild, witch, person." With a wide selection of goods, including garters and bondage sets, this brand offers a natural, modern dance-influenced alternative to mass-produced lingerie.
Drawing inspiration from the 1920s, Blackbird Underpinnings offers retro garmets in a wide range of sizes. The women-run brand's handmade garments are "infused with a positive message of inclusivity and self-expression," and seek to empower women through a "renegade feminine." While a select few designs are offered every season, the indie brand is devoted to craftmanship as well as uniqueness.
This female-fronted brand is all about pushing the limit with breathtaking designs that also just so happen to be majorly comfortable. Each order is specially produced to ensure that every garment is made with care. The Chilean-based company is run by a superstar team of three women, and their creations are redefining lingerie styles for the best.
Far too often, pretty lingerie is offered in a very limited size range, forcing bustier gals to opt for more drab underthings. That's why Claudette offers gorgeous bras in sizes up to a G cup. Owned and operated by women, the company was founded to make sure every woman who wanted a pretty bra could get one—in the appropriate size that fits well and feels good.
Described as a brand "for women who wear lingerie as a love letter to themselves," Lonely Label lingerie's lovely bras and panties are set apart from others, thanks to their comfy stretch fabrics and lack of padding. The Lonely Girls Project also aims to show that this lingerie isn't meant for women of a certain age or size—it can be beloved by everyone. And hey,
, too.
Self-described "sparkle fairy princess" Sophie Hines makes lingerie with simple geometric designs that finds a balance between "luxe
femme and stark minimalism." The soft-cupped bras and intricate harnesses alike create a new space in the lingerie world for androgyny, and the handmade garments are intimate to their core.