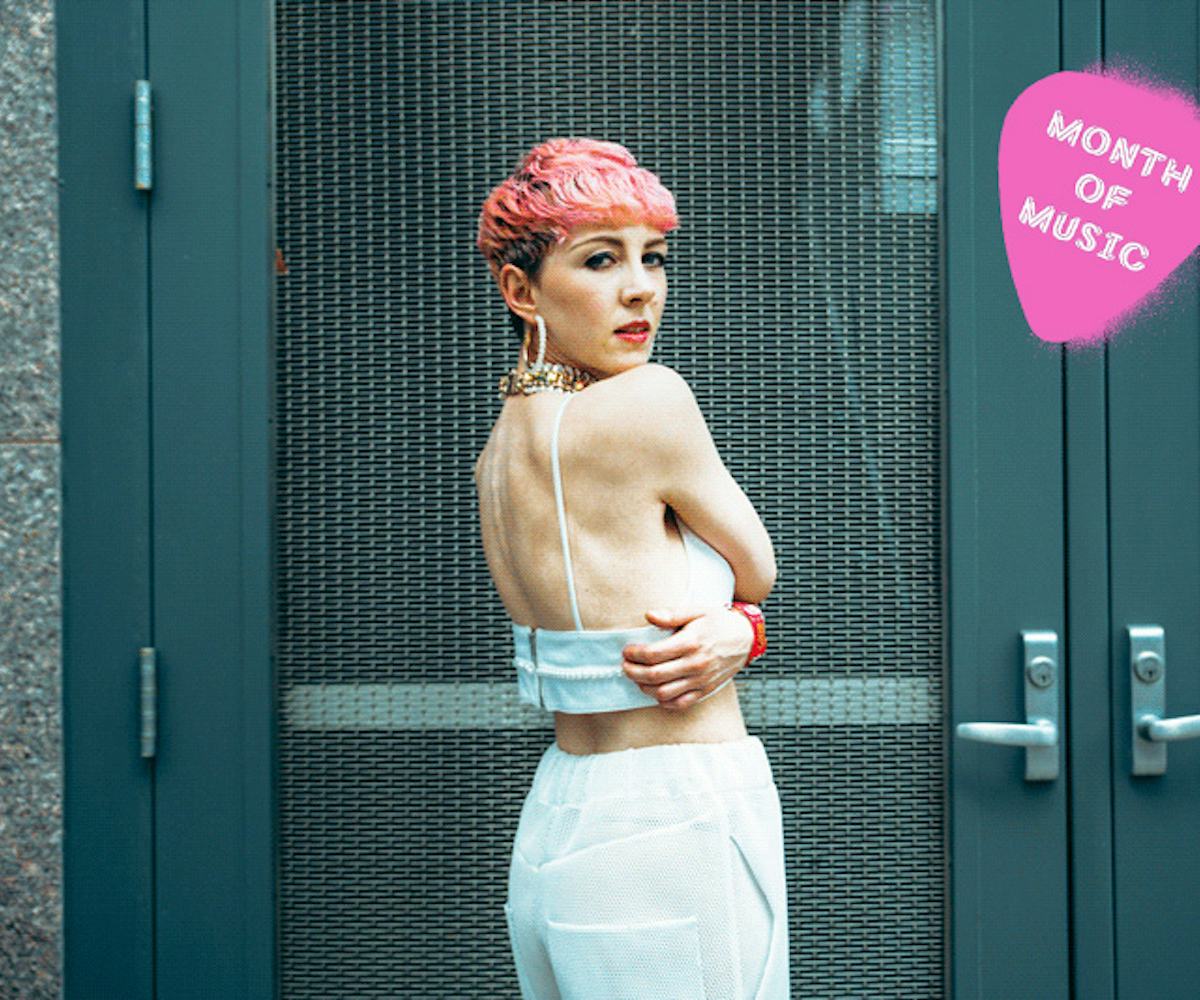 Photographed by Kara Smarsh.
This Is What The Color Pink Sounds Like
Prepare to fall in major love with FEMME
We share music because we want to connect with others on a deeper level. We want to relay and relate to a message that can't be said with just words. This April, NYLON is dedicating six days a week to introducing you to new artists and budding favorites. With interviews and GIF portraits done down at SXSW, NYLON's Month of Music is an exercise in finding aural pleasures outside of the Top 40. It's an exercise in challenging you and ourselves to not stick to one genre. But above all, it's a celebration of bold voices and sheer talent. Enjoy.
Synesthesia is the phenomenon of hearing colors. Research suggests that one in every 100 people in the world possess the ability, but if we were to wager how pink sounds, it'd be the kind of music FEMME makes. English singer-songwriter Laura Bettinson refuses to bow to the demands of pop music today. Instead, she (and she herself) creates songs that tip their hat to the bliss of the '60s, mixes in some hip-hop influence, and coats it in bubblegum punk. Her debut album Debutante (out April 15) is a surreal experience— one that's light and airy, but mixed with some cheeky darkness. FEMME's sound is optimistic at its heart, though, and delivers all the good vibes one could ask for. It's a pink, pink world she's created and we're just happy to be a part of it.
What song of yours fits the following situations?
Getting ready in the morning?
"Fever Boy," because it's quite energetic. It'll rev you up in the morning. It's got that bouncy beat. If you're anyone like me, you need a kick in the ass to get out.
Me time?
I would put on "Sirens." It's the last song on my album. It's a bit more downtempo, has a slightly tropical feeling to it, but it's laid-back.
Hooking up?
I'd probably put on "Double Trouble." It's laid-back, but it's one of my more sensual tunes. I don't really write sensual songs, but that is certainly as sensual as it gets.
Can you recall a moment in your life—whether it's a song, a show, a video—that convinced you, you wanted to be doing music?
I'll let you know a secret, actually. When I was 16, I secretly, without telling my friends or parents, entered a talent competition in my town. It was called Teen Idol. I ended up winning it, singing "Natural Woman." That was the moment I thought I might take this singing thing more seriously. It's been a natural progression for me, from writing songs at 16 and exploring what I want to do artistically with myself. Since I was a kid, I remember singing into a brush in my bedroom, imagining I was in Destiny's Child or the Spice Girls.
If you could be any Spice Girl, who would it be?
I would like to say Ginger, but I might be more Scary. Somewhere between the two of them—actually, I'd be a mix of them with Sporty.
If any artist, dead or alive, could cover your music, who would you want it to be?
Wow! One of my favorite singers, ever, is Dusty Springfield. I love her voice, so I'd love to hear her sing one of my songs. More than anything, I'd love to hear The Rosettes or The Shangri-Las do a cover of "Romeo." They'd do a good cover of that or "Fever Boy."Any of my songs, actually. I think The Ronettes or The Shangri-Las would do well with them.
Have you ever been starstruck?
Yes! It doesn't happen very often. I don't think I've met many of my hero heroes yet, but there's was this one bizarre situation: the first time I went to L.A. when I was still in uni—so, [I was] 19 or so. I was flown out there for about four days, a weird trip. The first thing I did when I got there was go straight to the studio to meet Beck. I had no warning. My friend just told me we were going to stop by the studio to say hi to their friends. I was really jet lagged from an 11-hour flight when I got there. I was, like, "Uh, what is going on? Oh, it's Beck! Hi! What am I doing here?" I had a really bizarre four days; it was mental. I went to the club later on and Prince was there, with his bodyguards in the corner. It was very strange. My first impression of the city was, "What is this strange adult celebrity wonderland I've just walked into?" Whereas, every time I've been back, it's been less weird. Which is good!
At the end of the day, how do you wind down and ground yourself?
I usually get home and I try to not look at my social stuff. I usually put on a movie. I really like when I've got some time to watch all the things I can watch when my boyfriend isn't home. He basically wants to watch '80s action movies; whereas I'm more of an art house fiend. I like to dig up Andy Warhol documentaries, stuff on YouTube—actually, I usually end up watching old Madonna tour videos from the '80s. As soon as I fall down that YouTube rabbit hole, I wind up watching Madonna or Michael Jackson videos.
Photographed by Kara Smarsh.