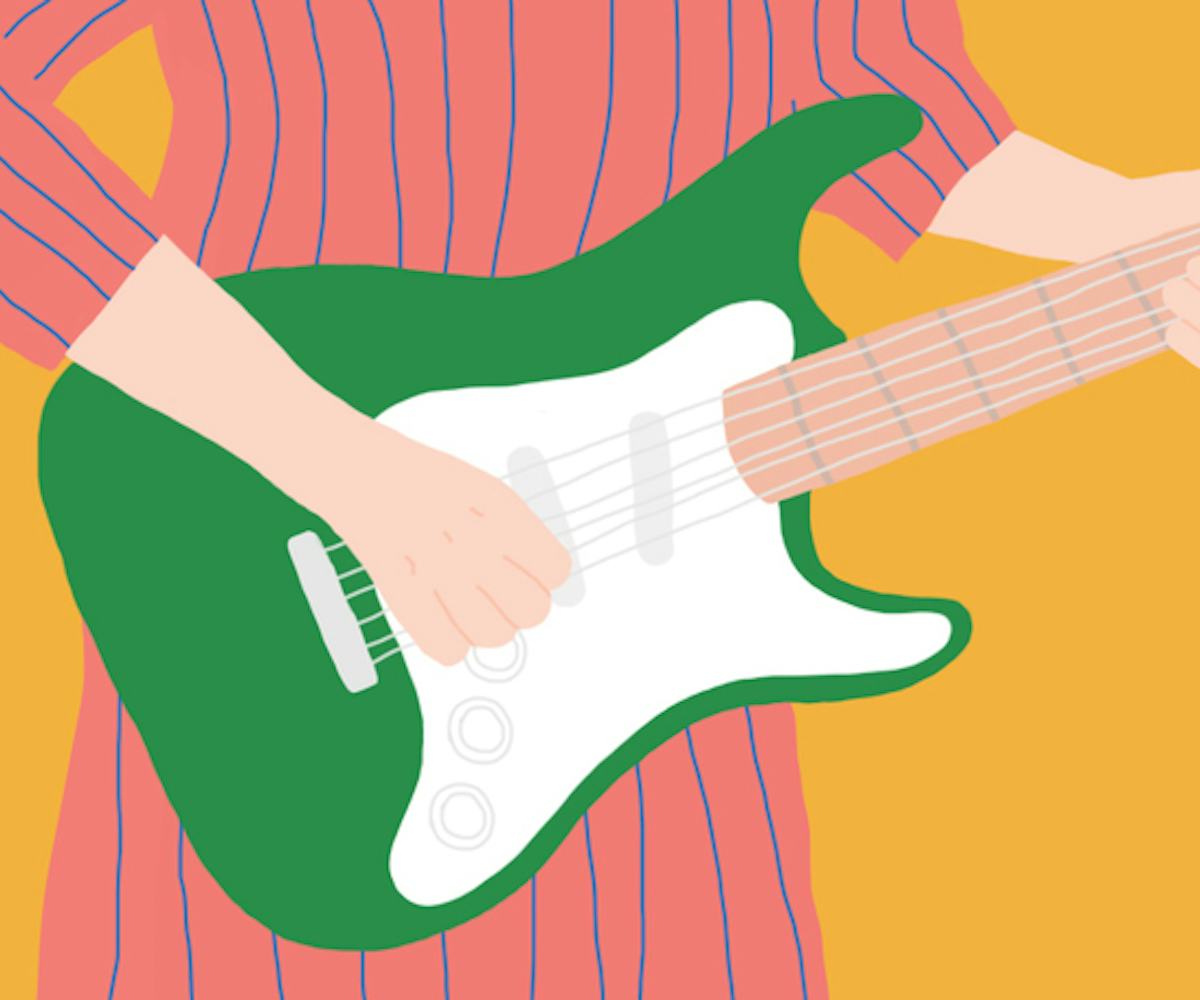 Illustration by Jihyang Lim
I'm A Busy Millennial, So I Learned To Play Guitar Through An App
Honestly, what else would you expect from me?
Hi, I'm a 27-year old New Yorker with a job in media. That sentence alone indicates that the free minutes I have in a day, especially minutes to pursue a hobby of some sort, are far and few.
After a period of feeling generally burnt out on life, I found that I was in dire need of a new creative outlet—especially one that would help me blow off some steam and fit into my busy schedule. Particularly, one that didn't involve a happy hour or late-night snacking in bed with reruns of Bob's Burgers.
The good news? Being a millennial working in media means that I'm not only just really busy, but that I'm also quite tech savvy, a trait made apparent by the fact that I'm glued to my devices at all times.  So when I caught wind that Fender guitars was releasing Fender Play, a digital guitar lesson platform that can be streamed on a computer OR mobile phone, that I could access whenever I felt like it (without having to book expensive lessons I would likely end up cancelling, like I do with 90 percent of the rest of my planned commitments), I knew this was the hobby for me. I picked out a guitar and began my journey.
So, how does this convenient new platform work, you ask? For starters, it's nothing like watching a hodgepodge of videos on YouTube and trying to figure everything out on your own. No, Fender Play is smart.
The lessons are ordered in a way that makes sense and taught by a really nice dude named Matt, along with appearances from a handful of other guitar geniuses. You're easily able to repeat each lesson as often as needed, so you can learn at your own pace. It also automatically bookmarks you every time you log out, so you never have to worry about losing your spot or accidentally skipping a crucial lesson.
And the lessons are no BS. The curriculum was created with a panel of educational advisors from some of the best music programs out there. Experts and instructors constantly oversee the creation of lessons, while research-based pedagogy is used to ensure these lessons are above par for users.
Throughout the levels, which contain numerous lessons in each, Matt and Co. will teach you everything from how to hold and tune your guitar to how to play strings, chords, and full-on songs—making it ideal for both complete novices-slash-aspiring rock stars, like me, to veteran guitarists looking to brush up on certain skills. Additionally, there is a whole library full of songs you can learn to play, from Thin Lizzy to Demi Lovato (yes—quite the range), rated by difficulty level.
The real beauty of it all is how you can learn this new skill on your own time. Saturday morning at 10am? Sure! How about 2am on a Thursday? Fine!
While an IRL guitar teacher would likely roll their eyes at me when I tell them I'll probably be too busy to touch my guitar again until after NYFW, I don't have to feel any guilt with Fender Play. I can pick up my guitar, log in, and hang out with Matt whenever I damn well please.
So, am I ready to leave my job in the editorial world to become a full-fledged rock star? Not quite, but I can certainly string together chords to play an actual song—and I'll only be getting better from here. Like any skill, practice makes perfect, so I still have to put in the time to really see an improvement in my guitar playing.
If there's anything I've taken away from this, it's that nothing beats anxiety and stress like jumping around your room playing an electric guitar (especially while yelling), even if it pisses off your roommates.
You can try Fender Play for yourself at Play.Fender.com. New users can sign up for a 30-day trial and choose to cancel or continue learning for $19.99 a month.