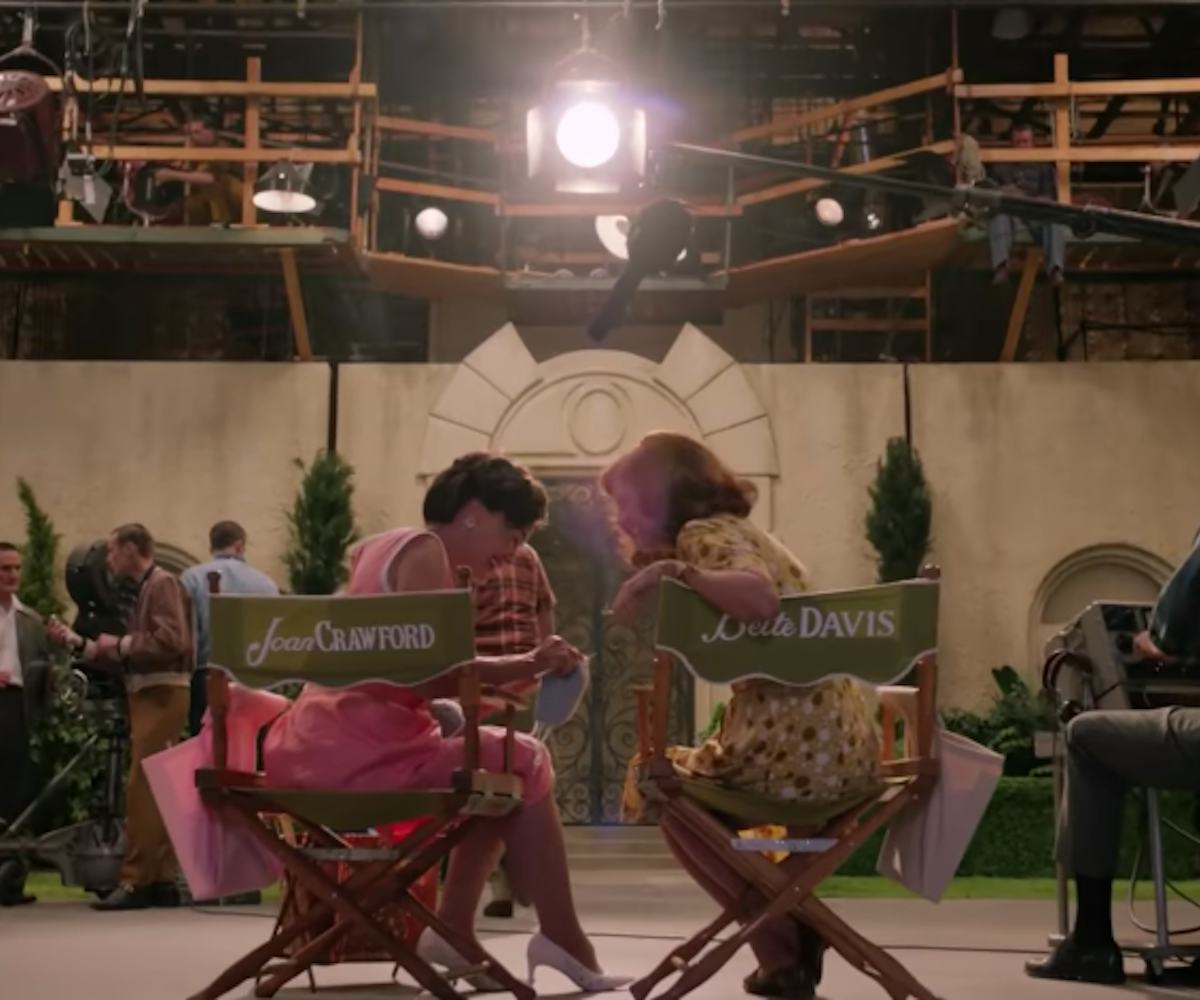 Photo via FX Networks
'Feud: Bette And Joan' Recap
Episode 5: "And the Winner Is … (The Oscars of 1963)"
This somewhat climactic fifth episode of Feud: Bette and Joan is set during the lead-up to the Oscars, and it begins with a newsreel showing us the nominees for Best Actress: Lee Remick for Days of Wine and Roses, Anne Bancroft for The Miracle Worker, Geraldine Page for Sweet Bird of Youth, Katharine Hepburn for Long Day's Journey Into Night, and Bette for Baby Jane.
This was certainly one of the most competitive years ever for this award, and any one of these nominees would have been a worthy winner. If we're talking just about highest quality—and also highest level of difficulty—the Oscar should have gone to Hepburn for her Mary Tyrone in Long Day's Journey Into Night, a role for which Jessica Lange recently won a Tony for when she played it on Broadway. This was Hepburn's ninth nomination, but she never attended any Oscar ceremonies when she was nominated because she didn't want to be seen losing. Davis was on her 10th nomination, and she was quietly desperate to win. 
Catherine Zeta-Jones' Olivia de Havilland speaks of her own feud with her sister Joan Fontaine and the famous photo where she cut her sister dead after winning an Oscar for To Each His Own (1946). "I wasn't turning my back on my sister in that photo," says Zeta-Jones' de Havilland. "I just didn't see that she was there." The back story on this is that Fontaine had made a very cutting remark to the press about de Havilland's spouse, a much-married writer named Marcus Goodrich. "It's too bad that Olivia's husband has had so many wives and only one book," Fontaine said. This zinger did not please de Havilland, who refused to acknowledge Fontaine at the Oscars.
Lange's Joan very stiffly and defiantly marches into the office of actor Wendell Corey (Anthony Tyler Quinn), who is president of the Academy, to offer her services as presenter of either Best Picture or Best Director, but she will require them to pay for her hair and make-up plus a car and chauffeur. Meanwhile, over in Paris, de Havilland takes a call from her old friend Bette and tosses the script for Lady in a Cage into the trash. (Pickings were so slim for actresses their age that Olivia wound up doing this movie in 1964, unfortunately.) "My Joan is far worse than your Joan," Bette tells Olivia.
Judy Davis' Hedda Hopper schemes with Joan to steal Bette's thunder at the Oscars, and Davis takes full control of the sequence where Hedda and Joan call Academy members to criticize Bette and push for Page and Bancroft to win. Davis has a very sharp moment here when Hedda swiftly explains why she feels Hepburn isn't a threat. "Her and those slacks," she says out of the side of her mouth, an aside tinged with homophobia that Lange's Crawford eats up merrily and gratefully.
Davis gives such drive and zest to these scenes that she doesn't even slow down once for a big monologue where Hedda speaks of sacrificing herself to the Hollywood industry. It's a keen pleasure to watch the formidable Lange cede the focus here to an actress who is fully her equal. What might be finally best remembered from Feud: Bette and Joan are the scenes where the flinty Davis casts a cold and skeptical eye on Lange's more unfettered emoting. The fun here is that these scenes present Hedda surveying Joan, but there are also moments where Davis seems to be sizing up Lange, too, with some suspicion but with grudging respect.  
Joan calls the Manhattan townhouse where Geraldine Page (Sarah Paulson) and her husband Rip Torn (Cash Black) are living (the doorbell outside of their home supposedly read "Torn/Page"). Crawford intimidates first Page and then Anne Bancroft (Serinda Swan) into letting her accept for them should they win, and it is clear that both women understand how badly Joan needs this attention, which is why they both say yes to her. Lange is the most Joan-like she has ever been in this episode and really emphasizes Crawford's physical rigidity, her piss-elegant diction, her frosty warrior surface, and the insecurities and pain roiling away underneath it.
Taking advice from costumer Edith Head, Joan decides to go to the Oscars all in silver and wears a silver dress, silver nails, and even a dusting of silver in her hair. Her friend and former director George Cukor (John Rubinstein) tries to persuade Joan to forgo her attempted revenge on Davis and tells her, "Joannie, you're bigger than this." But Lange's Joan just looks at Cukor very sadly and says, "No I'm not," all on one breath, and in her lowest vocal tone. It is at this moment that Lange really catches the tragic flaw in Crawford: that she could never forgive or forget a slight, either perceived or actual.
This is a mournful scene, but Lange's Crawford is also hilarious here when she commandeers the green room at the Oscars as her own private lounge and blithely tells supporting actress victor Patty Duke (Paris Verra), "An Oscar winner at 17… the only way to go is down!" When Joan walks out to present Best Director, Lange physically embodies Crawford in full battleship mode, ramrod straight and utterly tense, both intimidating and a little absurd. 
Creator Ryan Murphy directed this episode himself, and he indulges in a very long take where we see Joan sweep all the way through the back of the auditorium with Best Director winner David Lean behind her as she walks herself to the other side of the stage in case she needs to accept the Best Actress award. (Funniest moment here: when Lange's Joan gives a man at a urinal a friendly pat on the back! This is a woman who is never not networking.) We see Joan and Bette waiting to hear the winner's name, and it is clear that Joan needs the spotlight far more than Bette.
What's particularly impressive about Lange's work here, finally, is that she herself does not seem to be a performer who cares that much about awards. (Just go to YouTube and look at the coltish, diffident way that Lange accepted her own two Oscars.) And yet she is able to imagine what it would be like to be a woman for whom an Oscar is everything—even if it isn't actually her own—as Joan glides back onto the stage to accept the award for Bancroft.
Somehow Susan Sarandon's Bette and her own desire for the award gets lost in the shuffle here beside all the fascinatingly contradictory impulses of Lange's Crawford, who ends this episode alone in her bedroom with two Oscars, one of her own and one borrowed, in a slumped posture that suggests just how empty this victory has been for her.