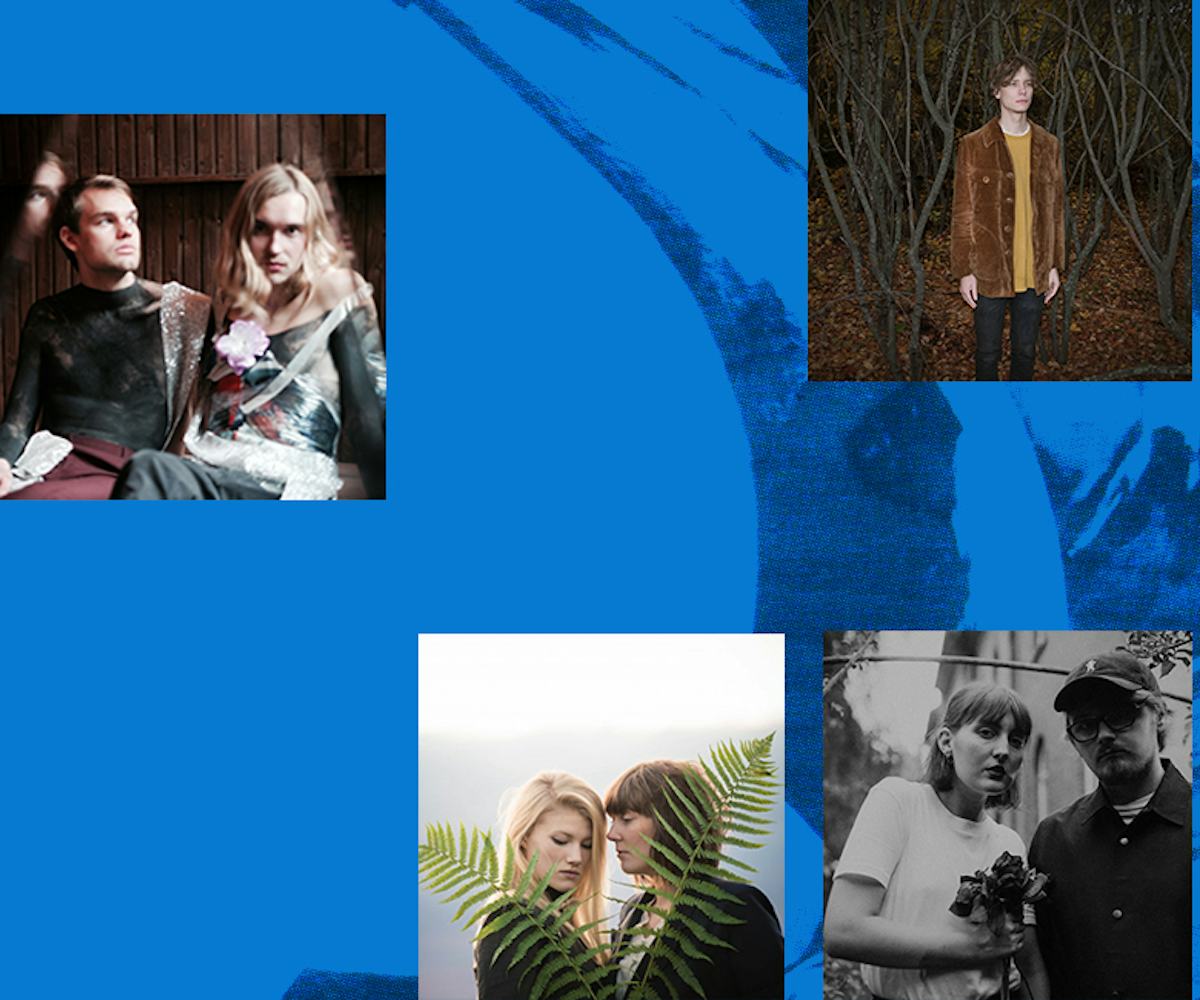 Get To Know These Five Up-And-Coming Swedish Musicians
They're all bound for international superstardom
If you were to look to Sweden as an example, you might think that making music is as easy as assembling Ikea furniture. See: ABBA's world-dominating harmonies; Robyn's insistence that the best cure for heartache is dancing on your own; producer Max Martin's inescapable handiwork, available at a radio frequency of your choosing. The country makes the art form look as effortless as constructing a prefab bookshelf! (Or, if we're being honest, paying someone off TaskRabbit 20 bucks to do it for you.)
But what about the smaller acts? Does Sweden have a thriving indie scene? Or does it just operate in pop superstardom? This is why I'm braving the terrifyingly icy sidewalks of Norrköping, the country's 10th largest city: to find out what's happening at the lower levels.
Norrköping's Where's the Music festival, held every February, has a talent for inviting promising artists from across Europe. But special attention is given to the home team, as Swedes make up nearly half the bill. While only in its fourth year, the festival has yet to pick the next international superstar, but given the strong pop, folk, and emoji rock (yes) we heard this year, it's only a matter of time.
Amanda Mair
Although Amanda Mair released her first album of soft-spoken pop at just 16, long before experiencing any teenage hallmarks like high school dances and diplomas, it wasn't until later that the singer-songwriter came into her own as an artist. Having time to be a kid and collecting a few life experiences (like getting her driver's license), gave her the opportunity to realize she does want to be a musician.
"I think I would feel a bit relieved if I had something else than music, because sometimes, it feels like it's the only thing I'm good at," she confesses. "I also tried to accept myself for taking the time to figure it out. That was a bit hard." 
Now at 23, Mair has returned with a new EP, To the Moon. Thanks to her crystalline soprano, the songs have a deliciously melancholy edge. But coupled with slick, radio-friendly production, the Stockholm native is able to flex her range on tracks like "Stay You and I" and "Rush." But power ballads and sentimentality aren't mutually exclusive. Even on the EP's darkest moment, "Empty Blockings," a song about giving into a relationship that isn't good for you, there's hope. As Mair reveals, the goal was to leave the listener feeling positive. Even the title is a reminder that it's important to keep looking up. 
"[To the Moon is] actually something I say to myself," she reveals. "Sometimes I feel like I don't have any self-confidence. I have to remind myself I'm reaching for something bigger. That's the moon. It's important to think about something bigger or higher than yourself… all the things you've done and you've gone through is building you up."  
Ruby Empress
I only last a few minutes into the conversation before I mention Tom Serner's ring. The Ruby Empress frontman grins and leans forward to show off the oversized red heart before revealing that he also has a smiley face keychain attached to his belt. The jewelry was selected for its goofiness, but it's also become part of Ruby Empress' calling card. 
"You have to have some emoji value in your life and songs," Serner says resolutely. "We like boogie/psych/disco, but if you add emoji value, that would be something very contemporary. Very pop culture."
That special emoji power he's referring to came in the form of the spoken word intro to the band's recent single "Kimono House," which was recorded on a whim after meeting a girl in a Berlin club called Sisyphus. ("No one knows that!" he chirps, pleased to offer up an exclusive.)
It's only one of Ruby Empress' decadent decisions. Obsessed with the glitter of the 1970s and excesses of Studio 54, the Gothenburg-based band peppers their slick disco pop with spiky guitar solos, falsetto vocals, and plenty of psych rock reverb. It's a mix that sits somewhere between MGMT and Phoenix and, live, plays out like Serner is auditioning for the role of Jim Morrison. But who is the Ruby Empress? Guiding spirit? Alter Ego? Secret love? As it turns out, all those answers are correct.  
"It's a concept and a lifestyle," Serner confirms. "The empress is a character that gives us courage to explore and be ourselves. And reinvent stuff in an interesting way. I like to see Ruby Empress as a toy. An action figure. A gender-bending Frankenstein from the '70s. Placed in our world to save it from narrow-minded people."
Good Harvest
Although they don't share any physical DNA, Hanna Enlöf and Ylva Eriksson call themselves musical twins, a term of endearment that plays out in the heavenly harmonies of their debut album, In a Life and Place Like This. But even though they were the only fans of Americana in their hometown of Falun, when they met as teenagers, they initially didn't see their similarities. 
"I pictured you like the cool girl," Enlöf says to her bandmate. "You had a group gang of girls, that was the cool girls. I know now you didn't look at yourself like that. But you were definitely the cool girl." 
"Really?! I did not know this!" Eriksson yelps. "I saw you as the calm—there is a word in Swedish—a forest person who likes to walk around in the forest and wear wool sweaters." 
Through playing together, the women formed a friendship and later the band. Although they've dealt with their share of drunk hecklers and audiences who only wanted to hear covers ("I got so angry I turned away from the audience and just focused on Hanna," says Eriksson of one particularly dramatic concert), their guitar-based folk has gained its share of fans. Since releasing their first singles in 2014, Enlöf and Eriksson have toured extensively, performed for the king of Sweden, and even met a child in Denmark who was born to their album. But none of it would have been possible without their powers combined. 
"Hanna has always been the driven one," Eriksson admits. "I've always had this view of myself that I can't do this. I can sing, I know that. But I thought I couldn't write music and I had stage fright. I would black out on stage and forget lyrics. I pushed through it. Every day, I am surprised that we keep doing this. That we can keep doing this and stuff keeps happening, and it feels natural. It feels like this is what we're supposed to do." 
WY
When Ebba Agren met Michel Gustafsson when she was 13, she recalls it as being love at first sight. But when the teenagers started collaborating on songs inspired by Crystal Castles and Washed Out a few years later, they also discovered a shared musical language. Since those initial experiments, WY's sound has evolved into reverb-heavy guitar pop that feels like the very definition of Scandinavian melancholy. But as Agren reveals, WY's songs are about moving past your pain, not wallowing in it.
"I think we both can relate a lot to working on yourself and working on the feelings towards yourself," she says. "We've both changed a lot in our appearance and interests. Just finding out who we are and learning to love yourself in the process. Since we have known each other for so long, we have talked about how we are so much happier with who we are now than with who we were when we were younger."
With songs about learning to accept the person you are right now ("It makes me smile/ To think that people laugh at me/ When I can barely laugh at myself," Agren sings on "Hate to Fall Asleep"), the duo's debut album offers a wealth of life advice. But folded into Okay's twilight rock isn't the promise of perfection—but rather the idea that you can get through the tough times and be okay. 
"It's a very powerful word even if it's a small and common word," says Agren of the meaning-heavy title. "It means a lot to me to feel okay. It's what I strive for. Even if things aren't great, as long as they're okay."
Nicky William
When Nicky William was 14, he had a song go viral… that he hadn't written. The troubadour still cringes at the memory. "It was a really shitty thing," says the Oxensund, Sweden, native, telling the story in English for the first time. "I'm from a musical family. The one thing growing up that was sacred was music." 
Perhaps because of this, William is careful to point out that he wrote every note and word of his debut album, Set Your Loved Ones Free, We Have You Surrounded. Alongside his ambling folk rock, William displays a Father John Misty-knack for lyrics that point out his characters' weak spots even while he celebrates their humanity. ("Takes himself so seriously/ Got a job at his dad's company/ He's making a buck/ Just to get going/ With his newfound passion/ Poetry.")
"I'm self-aware to the point where it's almost crippling," says William. "I can't even begin a sentence without thinking about the end of it. It hinders you. That's kind of what the album is about. The realization that you're not really the person you thought you were. You depend too much on other people." 
Even though he also uses music as a place to poke fun of himself ("I've laughed at jokes that aren't even funny/ I've made people think they're cunning"), William sees his work as a refuge from his overbearing internal monologue. 
"It sounds cheesy, but music is where I can make myself clear," he laughs. "When you're writing, you can stop and think about what you're saying and make sure that it fully encapsulates what you mean. With writing, I'm the most comfortable."